Abstract
Purpose
Selenium (Se) supplementation may help reduce inflammation and disease activity in ulcerative colitis (UC) patients. We investigated the therapeutic effects of Se administration in cases with mild-to-moderate active UC.
Methods
A multicenter, double-blind, randomized clinical trial (RCT) was conducted on 100 cases with active mild-to-moderate UC. The patients were randomly allocated to be given an oral selenomethionine capsule (200 mcg/day, n = 50) or a placebo capsule (n = 50) for 10 weeks. The primary outcome was defined as disease activity via the Simple Clinical Colitis Activity Index (SCCAI), and secondary outcomes were measured at the end of the study.
Results
After 10 weeks, the SCCAI score's mean was reduced in the Se group (P < 0.001). At the end of the intervention, clinical improvement (decline of 3 ≥ score from baseline score) was observed in 19 patients (38%) of the Se group and 3 patients (6%) of the placebo group. The patients with clinical remission (defined as SCCAI ≤ 2) were assigned in the Se group (P = 0.014). The Se group's quality of life and Se serum levels were enhanced at the end of the study (P < 0/001). In the Se group, the mean concentration of interleukin-17 decreased (P < 0/001). However, the levels of interleukin-10 showed no considerable change between the two groups in the 10th week (P = 0.23).
Conclusion
Se supplementation as add-on therapy with medical management induced remission and improved the quality of life in patients with active mild-to-moderate UC.
Trial registration number and date of registration
IRCT20091114002709N51; 2020-04-13.
Access options
Buy single article
Instant access to the full article PDF.
USD 39.95
Price excludes VAT (USA)
Tax calculation will be finalised during checkout.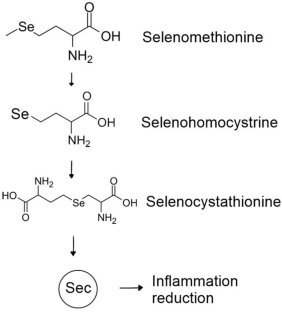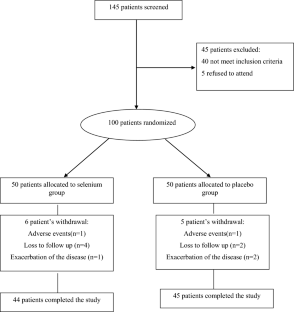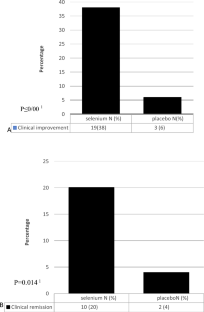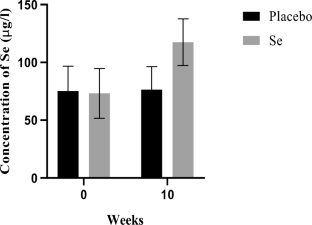 Availability of data and materials
The datasets generated and/or analyzed during the current study are not publicly available due to security issues but are available from the corresponding author upon reasonable request.
References
Tatiya-Aphiradee N, Chatuphonprasert W, Jarukamjorn K (2019) Immune response and inflammatory pathway of ulcerative colitis. J Basic Clin Physiol Pharmacol 30(1):1–10

Kaser A, Zeissig S, Blumberg RS (2010) Genes and environment: how will our concepts on the pathophysiology of IBD develop in the future? Dig Dis 28(3):395–405

Zhang Y-Z, Li Y-Y (2014) Inflammatory bowel disease: pathogenesis. World J Gastroenterol: WJG 20(1):91

Hisamatsu T, Kanai T, Mikami Y, Yoneno K, Matsuoka K, Hibi T (2013) Immune aspects of the pathogenesis of inflammatory bowel disease. Pharmacol Ther 137(3):283–297

de Moura MSB, Soares NRM, Barros SÉdL, de Pinho FA, Silva TMC, Bráz DC, Vieira EC, Lima MM, Parente JML, Marreiro DdN, da Silva AS, Nogueira NdN (2020) Zinc gluconate supplementation impacts the clinical improvement in patients with ulcerative colitis. Biometals 33(1):15–27. https://doi.org/10.1007/s10534-019-00225-0

Yang X, Yan Y, Li J, Tang Z, Sun J, Zhang H, Hao S, Wen A, Liu L (2016) Protective effects of ethanol extract from Portulaca oleracea L on dextran sulphate sodium-induced mice ulcerative colitis involving anti-inflammatory and antioxidant. Am J Translatl Res 8(5):2138

Cholapranee A, Hazlewood GS, Kaplan GG, Peyrin-Biroulet L, Ananthakrishnan AN (2017) Systematic review with meta-analysis: comparative efficacy of biologics for induction and maintenance of mucosal healing in Crohn's disease and ulcerative colitis controlled trials. Aliment Pharmacol Ther 45(10):1291–1302

Samsami-Kor M, Daryani NE, Asl PR, Hekmatdoost A (2015) Anti-inflammatory effects of resveratrol in patients with ulcerative colitis: a randomized, double-blind, placebo-controlled pilot study. Arch Med Res 46(4):280–285

Rutgeerts P (2002) A critical assessment of new therapies in inflammatory bowel disease. J Gastroenterol Hepatol 17:S176–S185

Yao J, Wang J-Y, Liu L, Li Y-X, Xun A-Y, Zeng W-S, Jia C-H, Wei X-X, Feng J-L, Zhao L (2010) Anti-oxidant effects of resveratrol on mice with DSS-induced ulcerative colitis. Arch Med Res 41(4):288–294

Benstoem C, Goetzenich A, Kraemer S, Borosch S, Manzanares W, Hardy G, Stoppe C (2015) Selenium and its supplementation in cardiovascular disease—what do we know? Nutrients 7(5):3094–3118

Sang L, Chang B, Zhu J, Yang F, Li Y, Jiang X, Sun X, Lu C, Wang D (2016) Dextran sulfate sodium-induced acute experimental colitis in C57BL/6 mice is mitigated by selenium. Int Immunopharmacol 39:359–368

Short SP, Pilat JM, Williams CS (2018) Roles for selenium and selenoprotein P in the development, progression, and prevention of intestinal disease. Free Radical Biol Med 127:26–35

Poursadegh F, Ahadi M, Vosoughinia H, Salehi M, Namdar AB, Farzanehfar MR, Memar B, Ziaolhagh R (2018) A STROBE compliant observational study on trace elements in patients with ulcerative colitis and their relationship with disease activity. Medicine 97(52):e13523

Kaushal N, Kudva AK, Patterson AD, Chiaro C, Kennett MJ, Desai D, Amin S, Carlson BA, Cantorna MT, Prabhu KS (2014) Crucial role of macrophage selenoproteins in experimental colitis. J Immunol 193(7):3683–3692

Sang L-X, Chang B, Zhu J-F, Yang F-L, Li Y, Jiang X-F, Wang D-N, Lu C-L, Sun X (2017) Sodium selenite ameliorates dextran sulfate sodium-induced chronic colitis in mice by decreasing Th1, Th17, and γδT and increasing CD4 (+) CD25 (+) regulatory T-cell responses. World J Gastroenterol 23(21):3850

Zhu C, Zhang S, Song C, Zhang Y, Ling Q, Hoffmann PR, Li J, Chen T, Zheng W, Huang Z (2017) Selenium nanoparticles decorated with Ulva lactuca polysaccharide potentially attenuate colitis by inhibiting NF-κB mediated hyper inflammation. J Nanobiotechnol 15(1):20

Stedman J, Spyrou N, Millar A, Altaf W, Akanle O, Rampton D (1997) Selenium supplementation in the diets of patients suffering from ulcerative colitis. J Radioanal Nucl Chem 217(2):189–191

Speckmann B, Steinbrenner H (2014) Selenium and selenoproteins in inflammatory bowel diseases and experimental colitis. Inflamm Bowel Dis 20(6):1110–1119

Khazdouz M, Daryani NE, Alborzi F, Jazayeri MH, Farsi F, Hasani M, Heshmati J, Shidfar F (2020) Effect of selenium supplementation on expression of SIRT1 and PGC-1α genes in ulcerative colitis patients: a double blind randomized clinical trial. Clin Nutr Res 9(4):284

Gholamrezaei A, Haghdani S, Shemshaki H, Tavakoli H, Emami MH (2011) Linguistic validation of the inflammatory bowel disease questionnaire-short form (IBDQ-9) in Iranian population. J Isfahan Med School 28(123):1850–1859

Lang A, Salomon N, Wu JC, Kopylov U, Lahat A, Har-Noy O, Ching JY, Cheong PK, Avidan B, Gamus D (2015) Curcumin in combination with mesalamine induces remission in patients with mild-to-moderate ulcerative colitis in a randomized controlled trial. Clin Gastroenterol Hepatol 13(8):1444-1449.e1441

Shapira S, Leshno A, Katz D, Maharshak N, Hevroni G, Jean-David M, Kraus S, Galazan L, Aroch I, Kazanov D (2018) Of mice and men: a novel dietary supplement for the treatment of ulcerative colitis. Therapeut Adv Gastroenterol 11:1756283X17741864

Fairweather-Tait SJ, Collings R, Hurst R (2010) Selenium bioavailability: current knowledge and future research requirements. Am J Clin Nutr 91(5):1484S-1491S

Hardy G, Hardy I, Manzanares W (2012) Selenium supplementation in the critically ill. Nutr Clin Pract 27(1):21–33

Hadrup N, Ravn-Haren G (2023) Toxicity of repeated oral intake of organic selenium, inorganic selenium, and selenium nanoparticles: a review. J Trace Elements Med Biol 79:127235

Hariharan S, Dharmaraj S (2020) Selenium and selenoproteins: it's role in regulation of inflammation. Inflammopharmacology 28:667–695

Hoffmann PR, Berry MJ (2008) The influence of selenium on immune responses. Mol Nutr Food Res 52(11):1273–1280

Huang Z, Rose AH, Hoffmann PR (2012) The role of selenium in inflammation and immunity: from molecular mechanisms to therapeutic opportunities. Antioxid Redox Signal 16(7):705–743

Bitiren M, Karakilcik AZ, Zerin M, Ozardalı I, Selek S, Nazlıgül Y, Ozgonul A, Musa D, Uzunkoy A (2010) Protective effects of selenium and vitamin E combination on experimental colitis in blood plasma and colon of rats. Biol Trace Elem Res 136(1):87–95

Tirosh O, Levy E, Reifen R (2007) High selenium diet protects against TNBS-induced acute inflammation, mitochondrial dysfunction, and secondary necrosis in rat colon. Nutrition 23(11):878–886

Kretz-Remy C, Arrigo A-P (2001) Selenium: A key element that controls NF-κB activation and IκBα half life. BioFactors 14(1–4):117–125

Xia Y, Shen S, Verma IM (2014) NF-κB, an active player in human cancers. Cancer Immunol Res 2(9):823–830. https://doi.org/10.1158/2326-6066.cir-14-0112

Mehta RS, Nishihara R, Cao Y, Song M, Mima K, Qian ZR, Nowak JA, Kosumi K, Hamada T, Masugi Y, Bullman S, Drew DA, Kostic AD, Fung TT, Garrett WS, Huttenhower C, Wu K, Meyerhardt JA, Zhang X, Willett WC, Giovannucci EL, Fuchs CS, Chan AT, Ogino S (2017) Association of dietary patterns with risk of colorectal cancer subtypes classified by Fusobacterium nucleatum in tumor tissue. JAMA Oncol 3(7):921–927. https://doi.org/10.1001/jamaoncol.2016.6374

Prabhu KS, Zamamiri-Davis F, Stewart JB, Thompson JT, Sordillo LM, Reddy CC (2002) Selenium deficiency increases the expression of inducible nitric oxide synthase in RAW 264.7 macrophages: role of nuclear factor-κB in up-regulation. Biochem J 366(1):203–209

Zamamiri-Davis F, Lu Y, Thompson JT, Prabhu KS, Reddy PV, Sordillo LM, Reddy CC (2002) Nuclear factor-κB mediates over-expression of cyclooxygenase-2 during activation of RAW 264.7 macrophages in selenium deficiency. Free Rad Biol Med 32(9):890–897

Gandhi UH, Kaushal N, Ravindra KC, Hegde S, Nelson SM, Narayan V, Vunta H, Paulson RF, Prabhu KS (2011) Selenoprotein-dependent up-regulation of hematopoietic prostaglandin D2 synthase in macrophages is mediated through the activation of peroxisome proliferator-activated receptor (PPAR) γ. J Biol Chem 286(31):27471–27482

Vunta H, Davis F, Palempalli UD, Bhat D, Arner RJ, Thompson JT, Peterson DG, Reddy CC, Prabhu KS (2007) The anti-inflammatory effects of selenium are mediated through 15-deoxy-Δ12, 14-prostaglandin J2 in macrophages. J Biol Chem 282(25):17964–17973

Cao Y-Z, Reddy CC, Sordillo LM (2000) Altered eicosanoid biosynthesis in selenium-deficient endothelial cells. Free Radical Biol Med 28(3):381–389

De Silva PS, Olsen A, Christensen J, Schmidt EB, Overvaad K, Tjonneland A, Hart AR (2010) An association between dietary arachidonic acid, measured in adipose tissue, and ulcerative colitis. Gastroenterology 139(6):1912–1917

Sharon P, Ligumsky M, Rachmilewitz D, Zor U (1978) Role of prostaglandins in ulcerative colitis: enhanced production during active disease and inhibition by sulfasalazine. Gastroenterology 75(4):638–640

Wiercińska-Drapało A, Flisiak R, Prokopowicz D (2001) Plasma and mucosal prostaglandin E2 as a surrogate marker of ulcerative colitis activity. Roczniki Akademii Medycznej w Bialymstoku (1995) 46:60–68

Vong L, Ferraz JG, Panaccione R, Beck PL, Wallace JL (2010) A pro-resolution mediator, prostaglandin D2, is specifically up-regulated in individuals in long-term remission from ulcerative colitis. Proc Natl Acad Sci 107(26):12023–12027

Papp LV, Lu J, Holmgren A, Khanna KK (2007) From selenium to selenoproteins: synthesis, identity, and their role in human health. Antioxid Redox Signal 9(7):775–806

Forman BM, Tontonoz P, Chen J, Brun RP, Spiegelman BM, Evans RM (1995) 15-deoxy-Δ12, 14-prostaglandin J2 is a ligand for the adipocyte determination factor PPARγ. Cell 83(5):803–812

Xue H, Wang W, Li Y, Shan Z, Li Y, Teng X, Gao Y, Fan C, Teng W (2010) Selenium upregulates CD4(+)CD25(+) regulatory T cells in iodine-induced autoimmune thyroiditis model of NOD.H-2(h4) mice. Endocrine J 57(7):595–601. https://doi.org/10.1507/endocrj.k10e-063

Ala M, Kheyri Z (2021) The rationale for selenium supplementation in inflammatory bowel disease: a mechanism-based point of view. Nutrition 85:111153

Razi S, Baradaran Noveiry B, Keshavarz-Fathi M, Rezaei N (2019) IL-17 and colorectal cancer: from carcinogenesis to treatment. Cytokine 116:7–12. https://doi.org/10.1016/j.cyto.2018.12.021

Mohammadi M, Zahedi MJ, Nikpoor AR, Baneshi MR, Hayatbakhsh MM (2013) Interleukin-17 serum levels and TLR4 polymorphisms in ulcerative colitis. Iran J Immunol 10(2):83–92

Öhman L, Dahlén R, Isaksson S, Sjöling Å, Wick M-J, Sjövall H, Van Oudenhove L, Simrén M, Strid H (2013) Serum IL-17A in newly diagnosed treatment-naive patients with ulcerative colitis reflects clinical disease severity and predicts the course of disease. Inflamm Bowel Dis 19(11):2433–2439

Barrett CW, Singh K, Motley AK, Lintel MK, Matafonova E, Bradley AM, Ning W, Poindexter SV, Parang B, Reddy VK (2013) Dietary selenium deficiency exacerbates DSS-induced epithelial injury and AOM/DSS-induced tumorigenesis. PLoS ONE 8(7):e67845

Karanikas G, Schuetz M, Kontur S, Duan H, Kommata S, Schoen R, Antoni A, Kletter K, Dudczak R, Willheim M (2008) No immunological benefit of selenium in consecutive patients with autoimmune thyroiditis. Thyroid 18(1):7–12

Mitsuyama K, Tomiyasu N, Takaki K, Masuda J, Yamasaki H, Kuwaki K, Takeda T, Kitazaki S, Tsuruta O, Sata M (2006) Interleukin-10 in the pathophysiology of inflammatory bowel disease: increased serum concentrations during the recovery phase. Mediators Inflam 2006:1

Geerling B, Badart-Smook A, Stockbrügger R, Brummer R-J (2000) Comprehensive nutritional status in recently diagnosed patients with inflammatory bowel disease compared with population controls. Eur J Clin Nutr 54(6):514–521

Castro Aguilar-Tablada T, Navarro-Alarcón M, Quesada Granados J, Samaniego Sánchez C, Rufián-Henares JÁ, Nogueras-Lopez F (2016) Ulcerative colitis and Crohn's disease are associated with decreased serum selenium concentrations and increased cardiovascular risk. Nutrients 8(12):780–788

Weisshof R, Chermesh I (2015) Micronutrient deficiencies in inflammatory bowel disease. Curr Opin Clin Nutr Metab Care 18(6):576–581

Cao Q, Huang Y-H, Jiang M, Dai C (2019) The prevalence and risk factors of psychological disorders, malnutrition and quality of life in IBD patients. Scand J Gastroenterol 54(12):1458–1466

Scaldaferri F, Pizzoferrato M, Lopetuso LR, Musca T, Ingravalle F, Sicignano LL, Mentella M, Miggiano G, Mele MC, Gaetani E (2017) Nutrition and IBD: malnutrition and/or sarcopenia? A practical guide. Gastroenterol Res Practice 2017

Kuroki F, Matsumoto T, Iida M (2003) Selenium is depleted in Crohn's disease on enteral nutrition. Dig Dis 21(3):266–270

Han YM, Yoon H, Lim S, Sung M-K, Shin CM, Park YS, Kim N, Lee DH, Kim JS (2017) Risk factors for vitamin D, zinc, and selenium deficiencies in Korean patients with inflammatory bowel disease. Gut and liver 11(3):363

Elkjaer M, Shuhaibar M, Burisch J, Bailey Y, Scherfig H, Laugesen B, Avnstrøm S, Langholz E, O'Morain C, Lynge E (2010) E-health empowers patients with ulcerative colitis: a randomised controlled trial of the web-guided 'Constant-care'approach. Gut 59(12):1652–1661
Funding
This study with research code (33894) was funded by the Iran University of Medical Sciences, Tehran, Iran.
Ethics declarations
Conflict of interest
The authors declare that they have no conflicts of interest.
Supplementary Information
Below is the link to the electronic supplementary material.
Rights and permissions
Springer Nature or its licensor (e.g. a society or other partner) holds exclusive rights to this article under a publishing agreement with the author(s) or other rightsholder(s); author self-archiving of the accepted manuscript version of this article is solely governed by the terms of such publishing agreement and applicable law.
About this article
Cite this article
Khazdouz, M., Daryani, N.E., Cheraghpour, M. et al. The effect of selenium supplementation on disease activity and immune-inflammatory biomarkers in patients with mild-to-moderate ulcerative colitis: a randomized, double-blind, placebo-controlled clinical trial. Eur J Nutr 62, 3125–3134 (2023). https://doi.org/10.1007/s00394-023-03214-9
Received:

Accepted:

Published:

Issue Date:

DOI: https://doi.org/10.1007/s00394-023-03214-9
Keywords