Abstract
Purpose
Although fresh vegetable consumption has been linked with a lower risk of colorectal polyps, a precursor lesion for colorectal cancer (CRC), the association between preserved vegetable consumption and colorectal polyps is unknown. We aimed to assess the association of preserved vegetable intake with the prevalence of colorectal polyps with the consideration of subsites, sizes and multiplicity of polyps.
Methods
We analyzed the cross-sectional data from 40–80 years Chinese at a high risk of CRC from the Lanxi Pre-colorectal Cancer Cohort (LP3C) baseline survey, which was conducted between March 2018 and December 2019. Dietary information was obtained via a validated food frequency questionnaire. Multivariate logistic regression was employed to estimate the odds ratios (ORs) and 95% confidence intervals (CIs) of preserved vegetable consumption and the prevalence of colorectal polyps.
Results
Of 6783 eligible participants in 2018–2019 survey of LP3C, 2064 prevalent colorectal polyp cases were identified. In the multivariable-adjusted model, preserved vegetable consumption was positively associated with the prevalence of colorectal polyps (OR for fourth vs. first quartile: 1.18; 95% CI 1.01–1.36; P trend = 0.02). The similar association was also detected for small polyps [ORQ4 vs Q1 (95% CI): 1.17 (1.00–1.37); P trend = 0.03]. The similar trend was detected for multiple polyps [OR Q4 vs Q1 (95% CI):1.27 (0.98–1.64); P trend = 0.04], proximal colon polyps [ORQ4 vs Q1 (95% CI): 1.12 (0.90–1.38); P trend = 0.07], and single polyp [ORQ4 vs Q1 (95% CI) for 1.15 (0.98–1.35); P trend = 0.06]. No significant association was observed for distal colon [ORQ4 vs Q1 (95% CI) 1.19 (0.98–1.45); P trend = 0.09]. Replacing one serving per day of preserved vegetables with fresh vegetables was related to 20%, 23%, and 37% lower prevalence of overall, small, and multiple polyps, respectively.
Conclusions
Preserved vegetable consumption was associated with a higher prevalence of colorectal polyps in a Chinese population at a high risk of CRC. Replacing preserved vegetables with fresh vegetables may be conducive to lower prevalent colorectal polyps.
Access options
Buy single article
Instant access to the full article PDF.
USD 39.95
Price excludes VAT (USA)
Tax calculation will be finalised during checkout.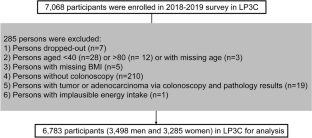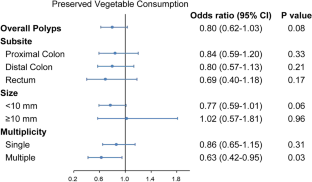 Availability of data and material
All data and materials as well as software application or custom code comply with field standards.
Abbreviations
BMI:

Body mass index

CRC:

Colorectal cancer

CI:

Confidence intervals

CL:

Confidence limits

ESCC:

Esophageal squamous cell carcinoma

FFQ:

Food frequency questionnaire

LP3C:

Lanxi Pre-colorectal Cancer Cohort

NPC:

Nasopharyngeal carcinoma

OR:

Odds ratio

RE OR:

Random effects odds ratio
References
Chen W, Zheng R, Zeng H, Zhang S, He J (2011) Annual report on status of cancer in China. Chin J Cancer Res 27(1):2–12. https://doi.org/10.3978/j.issn.1000-9604.2015.01.06

Zheng RS, Sun KX, Zhang SW, Zeng HM, Zou XN, Chen R, Gu XY, Wei WW, He J (2019) Report of cancer epidemiology in China, 2015. Zhonghua Zhong Liu Za Zhi 41(1):19–28. https://doi.org/10.3760/cma.j.issn.0253-3766.2019.01.005

Arnold M, Sierra MS, Laversanne M, Soerjomataram I, Jemal A, Bray F (2017) Global patterns and trends in colorectal cancer incidence and mortality. Gut 66(4):683–691. https://doi.org/10.1136/gutjnl-2015-310912

Oines M, Helsingen LM, Bretthauer M, Emilsson L (2017) Epidemiology and risk factors of colorectal polyps. Best Pract Res Clin Gastroenterol 31(4):419–424. https://doi.org/10.1016/j.bpg.2017.06.004

He X, Wu K, Ogino S, Giovannucci EL, Chan AT, Song M (2018) Association between risk factors for colorectal cancer and risk of serrated polyps and conventional adenomas. Gastroenterology 155(2):355-373 e318. https://doi.org/10.1053/j.gastro.2018.04.019

Crockett SD, Barry EL, Mott LA, Ahnen DJ, Robertson DJ, Anderson JC, Wallace K, Burke CA, Bresalier RS, Figueiredo JC, Snover DC, Baron JA (2019) Calcium and vitamin D supplementation and increased risk of serrated polyps: results from a randomised clinical trial. Gut 68(3):475–486. https://doi.org/10.1136/gutjnl-2017-315242

Song M, Lee IM, Manson JE, Buring JE, Dushkes R, Gordon D, Walter J, Wu K, Chan AT, Ogino S, Fuchs CS, Meyerhardt JA, Giovannucci EL, Group VR (2019) Effect of supplementation with marine omega-3 fatty acid on risk of colorectal adenomas and serrated polyps in the US general population: a prespecified ancillary study of a randomized clinical trial. JAMA Oncol. https://doi.org/10.1001/jamaoncol.2019.4587

Turati F, Guercio V, Pelucchi C, La Vecchia C, Galeone C (2014) Colorectal cancer and adenomatous polyps in relation to allium vegetables intake: a meta-analysis of observational studies. Mol Nutr Food Res 58(9):1907–1914. https://doi.org/10.1002/mnfr.201400169

Kunzmann AT, Coleman HG, Huang WY, Cantwell MM, Kitahara CM, Berndt SI (2016) Fruit and vegetable intakes and risk of colorectal cancer and incident and recurrent adenomas in the PLCO cancer screening trial. Int J Cancer 138(8):1851–1861. https://doi.org/10.1002/ijc.29922

Song QK, Zhao L, Li J, He YM, Jiang CP, Jiang HD, Qu CX (2013) Adverse effects of preserved vegetables on squamous cell carcinoma of esophagus and precancer lesions in a high risk area. Asian Pac J Cancer Prev 14(2):659–663. https://doi.org/10.7314/apjcp.2013.14.2.659

Song Q, Wang X, Yu IT, Huang C, Zhou X, Li J, Wang D (2012) Processed food consumption and risk of esophageal squamous cell carcinoma: a case-control study in a high risk area. Cancer Sci 103(11):2007–2011. https://doi.org/10.1111/j.1349-7006.2012.02387.x

Gallicchio L, Matanoski G, Tao XG, Chen L, Lam TK, Boyd K, Robinson KA, Balick L, Mickelson S, Caulfield LE, Herman JG, Guallar E, Alberg AJ (2006) Adulthood consumption of preserved and nonpreserved vegetables and the risk of nasopharyngeal carcinoma: a systematic review. Int J Cancer 119(5):1125–1135. https://doi.org/10.1002/ijc.21946

Shi Z, Zhang T, Byles J, Martin S, Avery JC, Taylor AW (2015) Food habits, lifestyle factors and mortality among oldest old Chinese: The Chinese Longitudinal Healthy Longevity Survey (CLHLS). Nutrients 7(9):7562–7579. https://doi.org/10.3390/nu7095353

Early Diagnosis and Treatment group OB, Chinese Medical Association (2020) Consensus of Chinese experts on early diagnosis and treatment of colorectal cancer. Natl Med J China 100

Yu C, Shi Z, Lv J, Du H, Qi L, Guo Y, Bian Z, Chang L, Tang X, Jiang Q, Mu H, Pan D, Chen J, Chen Z, Li L (2015) Major dietary patterns in relation to general and central obesity among Chinese adults. Nutrients 7(7):5834–5849. https://doi.org/10.3390/nu7075253

Peking University Medical Press (2019) China Food Composition 2018.

Ma H, Li X, Zhou T, Sun D, Liang Z, Li Y, Heianza Y, Qi L (2020) Glucosamine use, inflammation, and genetic susceptibility, and incidence of type 2 diabetes: a prospective study in UK biobank. Diabetes Care 43(4):719–725. https://doi.org/10.2337/dc19-1836

Li J, Zhu L, Wei Y, Lv J, Guo Y, Bian Z, Du H, Yang L, Chen Y, Zhou Y, Gao R, Chen J, Chen Z, Cao W, Yu C, Li L (2020) Association between adiposity measures and COPD risk in Chinese adults. Eur Respir J. https://doi.org/10.1183/13993003.01899-2019

Ainsworth BE, Haskell WL, Herrmann SD, Meckes N, Bassett DR Jr, Tudor-Locke C, Greer JL, Vezina J, Whitt-Glover MC, Leon AS (2011) 2011 Compendium of physical activities: a second update of codes and MET values. Med Sci Sports Exerc 43(8):1575–1581. https://doi.org/10.1249/MSS.0b013e31821ece12

Wang K, Li Y, Liu G, Rimm E, Chan AT, Giovannucci EL, Song M (2020) Healthy lifestyle for prevention of premature death among users and nonusers of common preventive medications: a prospective study in 2 US cohorts. J Am Heart Assoc 9(13):e016692. https://doi.org/10.1161/JAHA.119.016692

Willett W (2021) Chapter 5: Food frequency methods; Chapter 6: Reproducibility and validity of food-frequency questionnaires; Chapter 11: Implications of total energy intake for epidemiologic analyses.

Guasch-Ferre M, Hruby A, Salas-Salvado J, Martinez-Gonzalez MA, Sun Q, Willett WC, Hu FB (2015) Olive oil consumption and risk of type 2 diabetes in US women. Am J Clin Nutr 102(2):479–486. https://doi.org/10.3945/ajcn.115.112029

Shi F, Yan F, Jin M, Chang H, Zhou Q, Zhao L, Hu Z, Song Q, Li J, He Y, Qu C (2018) Pre-diagnosis consumption of preserved vegetables and prognosis of invasive oesophageal squamous cell carcinoma: a prospective cohort study in one high-risk area in China. J Int Med Res 46(10):4306–4314. https://doi.org/10.1177/0300060518775585

Lin SH, Li YH, Leung K, Huang CY, Wang XR (2014) Salt processed food and gastric cancer in a Chinese population. Asian Pac J Cancer Prev 15(13):5293–5298. https://doi.org/10.7314/apjcp.2014.15.13.5293

Zhang Z, Zhang X (2011) Salt taste preference, sodium intake and gastric cancer in China. Asian Pac J Cancer Prev 12(5):1207–1210

Fiolet T, Srour B, Sellem L, Kesse-Guyot E, Alles B, Mejean C, Deschasaux M, Fassier P, Latino-Martel P, Beslay M, Hercberg S, Lavalette C, Monteiro CA, Julia C, Touvier M (2018) Consumption of ultra-processed foods and cancer risk: results from NutriNet-Sante prospective cohort. BMJ 360:k322. https://doi.org/10.1136/bmj.k322

Sd M, El Kinany K, Huybrechts I, Gunter MJ, Hatime Z, Boudouaya HA, Benslimane A, Nejjari C, El Abkari M, Badre W, El Feydi AE, Afkir S, Abda N, El Rhazi K (2020) Consumption of meat, traditional and modern processed meat and colorectal cancer risk among the Moroccan population: a large-scale case-control study. Int J Cancer 146(5):1333–1345. https://doi.org/10.1002/ijc.32689

Carr PR, Banbury BL, Berndt SI, Campbell PT, Chang-Claude J, Hayes RB, Howard BV, Jansen L, Jacobs EJ, Lane DS, Nishihara R, Ogino S, Phipps AI, Slattery ML, Stefanick ML, Wallace R, Walter V, White E, Wu K, Peters U, Chan AT, Newcomb PA, Brenner H, Hoffmeister M (2019) Association between intake of red and processed meat and survival in patients with colorectal cancer in a pooled analysis. Clin Gastroenterol Hepatol 17(8):1561-1570 e1563. https://doi.org/10.1016/j.cgh.2018.11.036

Mehta SS, Arroyave WD, Lunn RM, Park YM, Boyd WA, Sandler DP (2020) A prospective analysis of red and processed meat consumption and risk of colorectal cancer in women. Cancer Epidemiol Biomarkers Prev 29(1):141–150. https://doi.org/10.1158/1055-9965.EPI-19-0459

Carr PR, Jansen L, Bienert S, Roth W, Herpel E, Kloor M, Blaker H, Chang-Claude J, Brenner H, Hoffmeister M (2017) Associations of red and processed meat intake with major molecular pathological features of colorectal cancer. Eur J Epidemiol 32(5):409–418. https://doi.org/10.1007/s10654-017-0275-6

Uddin R, Thakur MU, Uddin MZ, Islam GMR (2021) Study of nitrate levels in fruits and vegetables to assess the potential health risks in Bangladesh. Sci Rep 11(1):4704. https://doi.org/10.1038/s41598-021-84032-z

Schullehner J, Hansen B, Thygesen M, Pedersen CB, Sigsgaard T (2018) Nitrate in drinking water and colorectal cancer risk: a nationwide population-based cohort study. Int J Cancer 143(1):73–79. https://doi.org/10.1002/ijc.31306

Espejo-Herrera N, Gràcia-Lavedan E, Boldo E, Aragonés N, Pérez-Gómez B, Pollán M, Molina AJ, Fernández T, Martín V, La Vecchia C, Bosetti C, Tavani A, Polesel J, Serraino D, Gómez Acebo I, Altzibar JM, Ardanaz E, Burgui R, Pisa F, Fernández-Tardón G, Tardón A, Peiró R, Navarro C, Castaño-Vinyals G, Moreno V, Righi E, Aggazzotti G, Basagaña X, Nieuwenhuijsen M, Kogevinas M, Villanueva CM (2016) Colorectal cancer risk and nitrate exposure through drinking water and diet. Int J Cancer 139(2):334–346. https://doi.org/10.1002/ijc.30083

Etemadi A, Abnet CC, Graubard BI, Beane-Freeman L, Freedman ND, Liao L, Dawsey SM, Sinha R (2018) Anatomical subsite can modify the association between meat and meat compounds and risk of colorectal adenocarcinoma: findings from three large US cohorts. Int J Cancer 143(9):2261–2270. https://doi.org/10.1002/ijc.31612

Araki K, Furuya Y, Kobayashi M, Matsuura K, Ogata T, Isozaki H (1996) Comparison of mucosal microvasculature between the proximal and distal human colon. J Electron Microsc (Tokyo) 45(3):202–206. https://doi.org/10.1093/oxfordjournals.jmicro.a023433

Skinner SA, O'Brien PE (1996) The microvascular structure of the normal colon in rats and humans. J Surg Res 61(2):482–490. https://doi.org/10.1006/jsre.1996.0151

Drew DA, Mo A, Grady JJ, Stevens RG, Levine JB, Brenner BM, Anderson JC, Forouhar F, O'Brien MJ, Devers TJ, Rosenberg DW (2018) Proximal aberrant crypt foci associate with synchronous neoplasia and are primed for neoplastic progression. Mol Cancer Res 16(3):486–495. https://doi.org/10.1158/1541-7786.Mcr-17-0380

Launoy G, Pottier D, Gignoux M (1989) Proximal and distal cancers of the colon: 2 epidemiologically different cancers. Gastroenterol Clin Biol 13(3):255–259

Bara J, Nardelli J, Gadenne C, Prade M, Burtin P (1984) Differences in the expression of mucus-associated antigens between proximal and distal human colon adenocarcinomas. Br J Cancer 49(4):495–501. https://doi.org/10.1038/bjc.1984.77

Wang L, Lo CH, He X, Hang D, Wang M, Wu K, Chan AT, Ogino S, Giovannucci EL, Song M (2020) Risk factor profiles differ for cancers of different regions of the colorectum. Gastroenterology 159(1):241-256 e213. https://doi.org/10.1053/j.gastro.2020.03.054

Donaldson GP, Lee SM, Mazmanian SK (2016) Gut biogeography of the bacterial microbiota. Nat Rev Microbiol 14(1):20–32. https://doi.org/10.1038/nrmicro3552

Song M, Chan AT (2019) Environmental factors, gut microbiota, and colorectal cancer prevention. Clin Gastroenterol Hepatol 17(2):275–289. https://doi.org/10.1016/j.cgh.2018.07.012

Yamauchi M, Morikawa T, Kuchiba A, Imamura Y, Qian ZR, Nishihara R, Liao X, Waldron L, Hoshida Y, Huttenhower C, Chan AT, Giovannucci E, Fuchs C, Ogino S (2012) Assessment of colorectal cancer molecular features along bowel subsites challenges the conception of distinct dichotomy of proximal versus distal colorectum. Gut 61(6):847–854. https://doi.org/10.1136/gutjnl-2011-300865

Kono S, Imanishi K, Shinchi K, Yanai F (1993) Relationship of diet to small and large adenomas of the sigmoid colon. Jpn J Cancer Res 84(1):13–19. https://doi.org/10.1111/j.1349-7006.1993.tb02777.x

Senesse P, Boutron-Ruault MC, Faivre J, Chatelain N, Belghiti C, Meance S (2002) Foods as risk factors for colorectal adenomas: a case-control study in Burgundy (France). Nutr Cancer 44(1):7–15. https://doi.org/10.1207/S15327914NC441_2

Buchner AM, Shahid MW, Heckman MG, Diehl NN, McNeil RB, Cleveland P, Gill KR, Schore A, Ghabril M, Raimondo M, Gross SA, Wallace MB (2011) Trainee participation is associated with increased small adenoma detection. Gastrointest Endosc 73(6):1223–1231. https://doi.org/10.1016/j.gie.2011.01.060

Okamoto M, Kawabe T, Yamaji Y, Kato J, Ikenoue T, Togo G, Yoshida H, Shiratori Y, Omata M (2005) Rectosigmoid findings are not associated with proximal colon cancer: analysis of 6 196 consecutive cases undergoing total colonoscopy. World J Gastroenterol 11(15):2249–2254. https://doi.org/10.3748/wjg.v11.i15.2249

Chung YW, Han DS, Park YK, Son BK, Paik CH, Jeon YC, Sohn JH (2006) Risk of advanced proximal adenoma and cancer according to rectosigmoid findings in the Korean population. Dig Dis Sci 51(12):2206–2212. https://doi.org/10.1007/s10620-006-9295-x

Moon CM, Jung SA, Eun CS, Park JJ, Seo GS, Cha JM, Park SC, Chun J, Lee HJ, Jung Y, Boo SJ, Kim JO, Joo YE, Park DI (2018) The effect of small or diminutive adenomas at baseline colonoscopy on the risk of developing metachronous advanced colorectal neoplasia: KASID multicenter study. Dig Liver Dis 50(8):847–852. https://doi.org/10.1016/j.dld.2018.04.001

Giacchetti G, Ronconi V, Rilli S, Guerrieri M, Turchi F, Boscaro M (2009) Small tumor size as favorable prognostic factor after adrenalectomy in Conn's adenoma. Eur J Endocrinol 160(4):639–646. https://doi.org/10.1530/EJE-08-0902

Budhathoki S, Iwasaki M, Yamaji T, Sasazuki S, Tsugane S (2015) Coffee intake and the risk of colorectal adenoma: the colorectal adenoma study in Tokyo. Int J Cancer 137(2):463–470. https://doi.org/10.1002/ijc.29390
Acknowledgements
We thank Grants from Lanxi Municipal Government, all participants and staff of the Lanxi Pre-colorectal Cancer Cohort for their contributions and Lanxi Red Cross Hospital for support of project development.
Funding
The Lanxi Municipal Government funds this research.
Ethics declarations
Conflict of interest
The authors declare that they have no conflicts of interest.
Ethics approval
The study was approved by the ethical committee of Lanxi Red Cross Hospital (No. 20180302) and the study was performed in accordance with the ethical standards as laid down in the 1964 Declaration of Helsinki. This analysis of cohort was registered at register clinicaltrials.gov as NCT03708952.
Consent to participate
Informed consent was obtained from all individual participants included in the study.
Consent for publication
Not applicable.
Supplementary Information
Below is the link to the electronic supplementary material.
About this article
Cite this article
Wu, F., Wang, B., Zhuang, P. et al. Association of preserved vegetable consumption and prevalence of colorectal polyps: results from the Lanxi Pre-colorectal Cancer Cohort (LP3C). Eur J Nutr 61, 1273–1284 (2022). https://doi.org/10.1007/s00394-021-02719-5
Received:

Accepted:

Published:

Issue Date:

DOI: https://doi.org/10.1007/s00394-021-02719-5
Keywords