Abstract
Purpose
Non-alcoholic fatty liver disease (NAFLD) is worldwide recognized as the most common cause of chronic liver disease. Current NAFLD clinical management relies on lifestyle change, nevertheless, the importance of the genetic make-up on liver damage and the possible interactions with diet are still poorly understood. The aim of the study was to evaluate the influence of the SH2B1 rs7359397 genetic variant on changes in body composition, metabolic status and liver health after 6-month energy-restricted treatment in overweight/obese subjects with NAFLD. In addition, gene-treatment interactions over the course of the intervention were examined.
Methods
The SH2B1 genetic variant was genotyped in 86 overweight/obese subjects with NAFLD from the FLiO study (Fatty Liver in Obesity study). Subjects were metabolically evaluated at baseline and at 6-months. Liver assessment included ultrasonography, Magnetic Resonance Imaging, elastography, a lipidomic test (OWL®-test) and specific blood liver biomarkers. Additionally, body composition, general biochemical markers and dietary intake were determined.
Results
Both genotypes significantly improved their body composition, general metabolic status and liver health after following an energy-restricted strategy. Liver imaging techniques showed a greater decrease in liver fat content (− 44.3%, p < 0.001) and in serum ferritin levels (p < 0.001) in the carriers of the T allele after the intervention. Moreover, lipidomic analysis, revealed a higher improvement in liver status when comparing risk vs. no-risk genotype (p = 0.006 vs. p = 0.926, respectively). Gene-treatment interactions showed an increase in fiber intake and omega-3 fatty acid in risk genotype (p interaction = 0.056 and p interaction = 0.053, respectively), while a significant increase in MedDiet score was observed in both genotype groups (p = 0.020). Moreover, no-risk genotype presented a relevant decrease in hepatic iron as well as in MUFA intake (p = 0.047 and p = 0.034, respectively).
Conclusion
Subjects carrying the T allele of the rs7359397 polymorphism may benefit more in terms of hepatic health and liver status when prescribed an energy-restricted treatment, where a Mediterranean dietary pattern rich in fiber and other components such as omega-3 fatty acids might boost the benefits.
Trial registration
The Fatty Liver in Obesity was approved by the Research Ethics Committee of the University of Navarra and retrospectively registered (NCT03183193; www.clinicaltrials.gov); June 2017.
Access options
Buy single article
Instant access to the full article PDF.
US$ 39.95
Tax calculation will be finalised during checkout.
Subscribe to journal
Immediate online access to all issues from 2019. Subscription will auto renew annually.
US$ 159
Tax calculation will be finalised during checkout.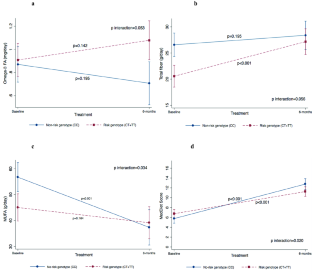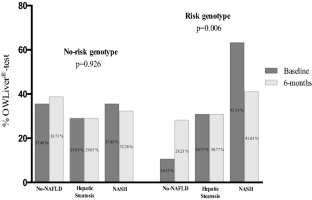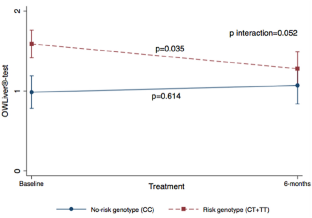 Availability of data and material
All data and materials support their published claims and comply with field standards.
Abbreviations
AASLD:

American Association for the Study of Liver Diseases

AHA:

American Heart Association

AIP:

Atherogenic Index of Plasma

ALT:

Alanine aminotransferase

AST:

Aspartate aminotransferase

BMI:

Body Mass Index

CRP:

C-reactive protein

DXA:

Dual-energy X-ray absorptiometry

EASL:

European Association for the Study of the Liver

FFQ:

Food Frequency Questionnaire

FLI:

Fatty Liver Index

FLiO:

Fatty liver in obesity

GGT:

Gamma-glutamyl transferase

GWAs:

Genome-wide associations

HCC:

Hepatocellular carcinoma

HDL-c:

High density lipoprotein cholesterol

HOMA-IR:

Homeostasis model assessment insulin resistance

IQR:

Interquartile ranges

LDL-c:

Low-density lipoprotein cholesterol

MedDiet Score:

Mediterranean Diet Score

METs:

Metabolic equivalent of the task

MRI:

Magnetic resonance imaging

MUFA:

Monounsaturated fatty acid

NAFLD:

Non-alcoholic fatty liver disease

NASH:

Non-alcoholic steatohepatitis

OWLiver® :

One Way Liver®

PA:

Physical activity

PUFA:

Polyunsaturated fatty acid

SD:

Standard deviations

SFA:

Saturated fatty acid

SH2 :

Src-homology-2

SH2B1 :

Src-homology-2 B adaptor protein 1

SNP:

Single nucleotide polymorphism

TC:

Total cholesterol

TG:

Triglycerides

TGs:

Triacylglycerols

TE:

Transient elastography

TyG index:

Triglycerides and Glucose Index

VAT:

Visceral adipose tissue

WC:

Waist circumference
Acknowledgements
The authors are grateful to the volunteers of the study as well as Veronica Ciaurriz and to the nurses from the departments of Clinical Chemistry, Radiology, Internal Medicine and the Liver Unit of the Clinica Universidad de Navarra for their contribution to FLiO project. We also would like to thank Marta García Granero for statistical assistance. The pre-doctoral research grant to Nuria Pérez from the Centre for Nutrition Research of the University of Navarra is gratefully acknowledged. The tractor role from LABORATORIOS CINFA, S.A. and VISCOFAN S.A. for financial support of the Center for Nutrition Research as well as the support from the Government of Navarra are also appreciated. Finally, the authors wish to express their gratitude to the Government of Navarra, CIBERobn and Fundació La Marató de TV3 for the financial support.
Funding
This research was funded by the Health Department of the Government of Navarra (61/2015), CIBERobn (Physiopathology of Obesity and Nutrition) (CB12/03/3002) and Fundació La Marató de TV3 (201630.10).
Ethics declarations
Conflict of interest
The authors declare no conflict of interest concerning this research.
Ethical standards
The present study was approved by the Research Ethics Committee of the University of Navarra on 24 April 2015 (ref. 54/2015) and have therefore been performed in accordance with the ethical standards laid down in the 1964 Declaration of Helsinki and its latter amendments.
Informed consent
All participants gave written informed consent in a clinical interview for their participation in the study.
About this article
Cite this article
Perez-Diaz-del-Campo, N., Marin-Alejandre, B.A., Cantero, I. et al. Differential response to a 6-month energy-restricted treatment depending on SH2B1 rs7359397 variant in NAFLD subjects: Fatty Liver in Obesity (FLiO) Study. Eur J Nutr (2021). https://doi.org/10.1007/s00394-020-02476-x
Received:

Accepted:

Published:
Keywords
NAFLD

Gene-treatment interaction

SH2B1

Energy-restricted diet

Obesity

Weight-loss