Abstract
Purpose
To provide a new and efficient at-the-toilet-bowl method of self-assessing urine concentration via urine color (Uc) to identify hypohydration.
Methods
A large athletic population (n = 189) delivered a urine sample, then chose a color panel that was displayed on the back wall of the lavatory stall. Selection was based on duration of urine voiding time, so that for a short-duration, the lighter panel was selected; for a mid-duration, the mid color panel; and for a longer-void-duration, the darker panel was selected. Then, subjects noted if their urine was lighter than, similar to, or darker than the selected color panel. Trained investigators also rated subjects' urine samples. To assess validity of Uc classification, the outcome was compared with a urine concentration (urine specific gravity, USG, and urine osmolality) threshold indicating hypohydration.
Results
Urine color was scored similarly by subjects and investigators (P = 0.99). Based on receiver operating curves (ROC), the method scored fair, i.e., the area under the curve ranging 0.73–0.82, with an accuracy of participants and investigators correctly classifying 72% and 75% urine samples compared to a USG threshold of 1.020, respectively, and 62% and 70% compared to a urine osmolality threshold of 836 mmol·kg−1, respectively.
Conclusion
This new lavatory urine color (LUC) method of scoring Uc levels to assess potential hypohydration gives results similar to those of traditional urine color charts, but it has the advantage of an immediate assessment of hydration status based on scoring urine color directly from the toilet bowl.
Access options
Buy single article
Instant access to the full article PDF.
US$ 39.95
Tax calculation will be finalised during checkout.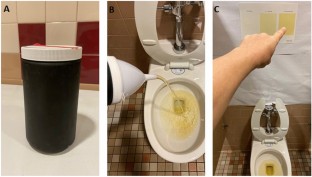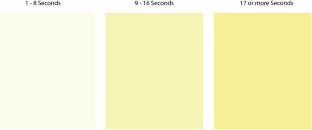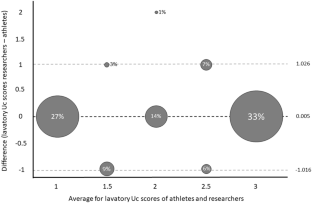 References
1.

Armstrong LE, Maresh CM, Castellani JW et al (1994) Urinary indices of hydration status. Int J Sport Nutr 4:265–279. https://doi.org/10.1123/ijsn.4.3.265

2.

Armstrong LE, Herrera Soto JA, Hacker FT et al (1998) Urinary indices during dehydration, exercise, and rehydration. Int J Sport Nutr Exerc Metab 8:345–355. https://doi.org/10.1123/ijsn.8.4.345

3.

McDermott BP, Anderson SA, Armstrong LE et al (2017) National athletic trainers' association position statement: fluid replacement for the physically active. J Athl Train 52:877–895. https://doi.org/10.4085/1062-6050-52.9.02

4.

Kavouras SA, Johnson EC, Bougatsas D et al (2016) Validation of a urine color scale for assessment of urine osmolality in healthy children. Eur J Nutr 55:907–915. https://doi.org/10.1007/s00394-015-0905-2

5.

Perrier ET, Bottin JH, Vecchio M, Lemetais G (2017) Criterion values for urine-specific gravity and urine color representing adequate water intake in healthy adults. Eur J Clin Nutr 71:561–563. https://doi.org/10.1038/ejcn.2016.269

6.

Baron S, Courbebaisse M, Lepicard EM, Friedlander G (2015) Assessment of hydration status in a large population. Br J Nutr 113:147–158. https://doi.org/10.1017/S0007114514003213

7.

Armstrong LE, Pumerantz AC, Fiala KA et al (2010) Human hydration indices: acute and longitudinal reference values. Int J Sport Nutr Exerc Metab 20:145–153

8.

Armstrong LE, Johnson EC, McKenzie AL, Muñoz CX (2016) An empirical method to determine inadequacy of dietary water. Nutrition 32:79–82. https://doi.org/10.1016/j.nut.2015.07.013

9.

Armstrong LE, Johnson EC, Kunces LJ et al (2014) Drinking to thirst versus drinking ad libitum during road cycling. J Athl Train 49:624–631. https://doi.org/10.4085/1062-6050-49.3.85

10.

Adams JD, Kavouras SA, Johnson EC et al (2017) The effect of storing temperature and duration on urinary hydration markers. Int J Sport Nutr Exerc Metab 27:18–24. https://doi.org/10.1123/ijsnem.2016-0098

11.

Sommerfield LM, McAnulty SR, McBride JM et al (2016) Validity of urine specific gravity when compared with plasma osmolality as a measure of hydration status in male and female NCAA collegiate athletes. J Strength Cond Res 30:2219–2225. https://doi.org/10.1519/JSC.0000000000001313

12.

Cohen J (1998) Statistical power analysis for the behavioral sciences

13.

Cheuvront SN, Ely BR, Kenefick RW, Sawka MN (2010) Biological variation and diagnostic accuracy of dehydration assessment markers. Am J Clin Nutr 92:565–573. https://doi.org/10.3945/ajcn.2010.29490

14.

Zweig MH, Campbell G (1993) Receiver-operating characteristic (ROC) plots: a fundamental evaluation tool in clinical medicine. Clin Chem 39:561–577

15.

McKenzie AL, Muñoz CX, Ellis LA et al (2017) Urine color as an indicator of urine concentration in pregnant and lactating women. Eur J Nutr 56:355–362. https://doi.org/10.1007/s00394-015-1085-9

16.

Kavouras SA (2019) Hydration, dehydration, underhydration, optimal hydration: are we barking up the wrong tree? Eur J Nutr 58:471–473

17.

Sawka MN, Burke LM, Eichner ER et al (2007) Exercise and fluid replacement. Med Sci Sports Exerc 39:377–390
Acknowledgements
We thank all participants. We also thank the student helpers of the Athleat Field Lab with the data collection: Brooke Butterick, Rebecca Mrotek, Gabriel Gonzales, Darya Youssefi, Jensen Skinner, Katie Pesek, Deanna Driss, Scott Armistead, Yat Chan, Caitlyn Donnelly, Kayla Rasmussen, Sarah Fagus, Maryam Nalbandian, Kayla Lundy, Ann Provencio and Alexandra Williams. Finally we want to thank Terry Christenson for his critical feedback on the manuscript.
Funding
The study was funded by the Global Sport Institute at Arizona State University.
Ethics declarations
Conflict of interest
None of the authors have any commercial conflicts of interest to disclose.
Ethical approval
All study procedures were approved by the Institutional Review Board at Arizona State University (STUDY00010071).
Consent to participate
At the start of the experiment, participants signed giving their informed consent.
Supplementary Information
Below is the link to the electronic supplementary material.
About this article
Cite this article
Wardenaar, F.C., Thompsett, D., Vento, K.A. et al. A lavatory urine color (LUC) chart method can identify hypohydration in a physically active population. Eur J Nutr 60, 2795–2805 (2021). https://doi.org/10.1007/s00394-020-02460-5
Received:

Accepted:

Published:

Issue Date:
Keywords
Self-assessment

Hydration status

Osmolality

Urine specific gravity

USG