Abstract
Purpose
In celiac disease (CD) there is a need for precise and non-invasive tools to assess dietary compliance to the gluten-free diet (GFD). Our aim is to evaluate the efficacy of the detection of gluten immunogenic peptides (GIP) in feces, to monitor in real life, the adherence to GFD in pediatric patients with CD.
Methods
A cross-sectional, prospective study was conducted. Fecal samples from CD children were analyzed by a rapid immunochromatographic (IC) test and by an ELISA method, both based on the antigliadin 33-mer monoclonal antibody.
Results
Group 1 comprises 43 children on a GFD. According to the food records (FR), 39/43 patients were compliant with the GFD and gluten consumption was recorded in 4. GIP were detected in 15/43 individuals by the ELISA method and also in 7 by IC strips. Group 2: comprise 18 children at CD diagnosis; GIP levels decreased over time (p < 0.001) in a non-linear way (p = 0.028) after starting a GFD and were below the detection limit on the third day in most individuals.
Conclusion
GIP were detected, both by ELISA and by IC strips, in CD patients on a GFD, in which no consumption of gluten had been registered on the FR, confirming GIP detection to be superior to FR discovering involuntary transgressions. Despite a positive correlation between the amount of gluten intake and the concentration of GIP in feces, the interindividual variations observed suggest gastrointestinal factors influencing GIP recovery need to be further investigated.
Access options
Buy single article
Instant access to the full article PDF.
USD 39.95
Price includes VAT (USA)
Tax calculation will be finalised during checkout.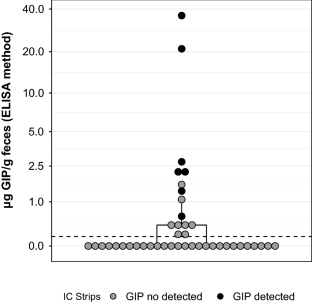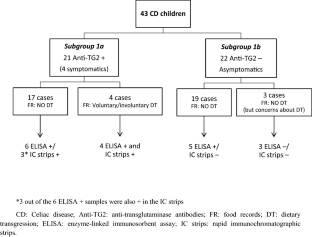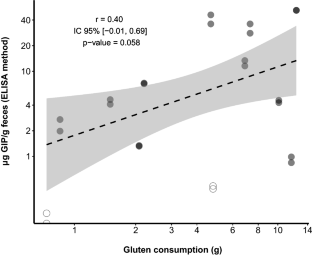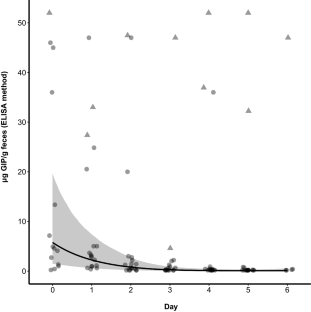 Abbreviations
Anti-TG2:

Anti-tissue transglutaminase antibodies

CD:

Celiac disease

CI:

Confidence interval

ELISA:

Sandwich enzyme-linked immunosorbent

ESPGHAN:

European Society for Paediatric Gastroenterology, Hepatology and Nutrition

FR:

Food record

GFD:

Gluten-free diet

GIP:

Gluten immunogenic peptides

GFP:

Gluten-free products

IC test:

Immunochromatographic test

PGU:

Pediatric Gastroenterology Unit

SD:

Standard deviation

ULN:

Upper limit of normal
References
1.

Husby S, Koletzko S, Korponay-Szabó IR, Mearin ML, Phillips A, Shamir R et al (2012) European Society for Pediatric Gastroenterology, Hepatology, and Nutrition guidelines for the diagnosis of coeliac disease. J Pediatr Gastroenterol Nutr 54:136–160

2.

Comino I, Fernández-Bañares F, Esteve M, Ortigosa L, Castillejo G, Fambuena B et al (2016) Fecal gluten peptides reveal limitations of serological tests and food questionnaires for monitoring gluten-free diet in celiac disease patients. Am J Gastroenterol 111(10):1456–1465

3.

Laurikka P, Salmi T, Collin P, Huhtala H, Mäki M, Kaukinen K et al (2016) Gastrointestinal symptoms in celiac disease patients on a long-term gluten-free diet. Nutrients 8(7):429

4.

Monzani A, Rapa A, Fonio P, Tognato E, Panigati L, Oderda G (2011) Use of deamidated gliadin peptide antibodies to monitor diet compliance in childhood celiac disease. J Pediatr Gastroenterol Nutr 53(1):55–60

5.

Lau MS, Mooney PD, White WL, Rees MA, Wong SH, Kurien M et al (2017) The Role of an IgA/IgG-deamidated gliadin peptide point-of-care test in predicting persistent villous atrophy in patients with celiac disease on a gluten-free diet. Am J Gastroenterol 112(12):1859–1867

6.

Koletzko S, Auricchio R, Dolinsek J, Gillett P, Korponay-Szabo I, Kurppa K et al (2017) No need for routine, endoscopy in children with celiac disease on a gluten-free diet. J Pediatr Gastroenterol Nutr 65:267–269

7.

Comino I, Real A, Vivas S, Síglez MÁ, Caminero A, Nistal E et al (2012) Monitoring of gluten-free diet compliance in celiac patients by assessment of gliadin 33-mer equivalent epitopes in feces. Am J Clin Nutr 95(3):670–677

8.

Roca M, Donat E, Masip E, Crespo Escobar P, Fornes-Ferrer V, Polo B et al (2019) Detection and quantification of gluten immunogenic peptides in feces of infants and their relationship with diet. Rev Esp Enferm Dig 111(2):106–110

9.

Morón B, Bethune MT, Comino I, Manyani H, Ferragud M, López MC et al (2008) Toward the assessment of food toxicity for celiac patients: characterization of monoclonal antibodies to a main immunogenic gluten peptide. PLoS One 3(5):e2294

10.

Moreno ML, Cebolla Á, Muñoz-Suano A, Carrillo-Carrion C, Comino I, Pizarro Á et al (2017) Detection of gluten immunogenic peptides in the urine of patients with coeliac disease reveals transgressions in the gluten-free diet and incomplete mucosal healing. Gut 66(2):250–257

11.

Costa AF, Sugai E, Temprano MP, Niveloni SI, Vázquez H, Moreno ML et al (2019) Gluten immunogenic peptide excretion detects dietary transgressions in treated celiac disease patients. World J Gastroenterol 25(11):1409–1420

12.

Report of Working Group of European Society of Paediatric Gastroenterology and Nutrition (1990) Revised criteria for the diagnosis of celiac disease. Arch Dis Child 65:909–911

13.

Thomas B (2001) Dietary assessment. Manual of dietetic practice, 3rd edn. Blackwell Science, Oxford, pp 30–37

14.

Ortiz-Andrellucchi A, Henríquez-Sánchez P, Sánchez-Villegas A, Peña-Quintana L, Mendez M, Serra-Majem L (2009) Dietary assessment methods for micronutrient intake in infants, children and adolescents: a systematic review. Br J Nutr 102(Suppl 1):S87–S117

15.

Yang J, Lynch KF, Uusitalo UM et al (2016) Factors associated with longitudinal food record compliance in a paediatric cohort study. Public Health Nutr 19(5):804–813. https://doi.org/10.1017/S1368980015001883

16.

Andrén Aronsson C, Lee HS, Hård AF, Segerstad EM et al (2019) Association of gluten intake during the first 5 years of life with incidence of celiac disease autoimmunity and celiac disease among children at increased risk. JAMA 322(6):514–523. https://doi.org/10.1001/jama.2019.10329

17.

van Overbeek FM, Uil-Dieterman IG, Mol IW, Köhler-Brands L, Heymans HS, Mulder CJ (1997) The daily gluten intake in relatives of patients with coeliac disease compared with that of the general Dutch population. Eur J Gastroenterol Hepatol 9(11):1097–1099

18.

Kaukinen K, Sulkanen S, Mäki M, Collin P (2002) IgA-class transglutaminase antibodies in evaluating the efficacy of gluten-free diet in coeliac disease. Eur J Gastroenterol Hepatol 14(3):311–315

19.

Tursi A, Brandimarte G, Giorgetti GM (2003) Lack of usefulness of anti-transglutaminase antibodies in assessing histologic recovery after gluten-free diet in celiac disease. J Clin Gastroenterol 37(5):387–391

20.

Comino I, Segura V, Ortigosa L, Espín B, Castillejo G, Garrote JA et al (2019) Prospective longitudinal study: use of faecal gluten immunogenic peptides to monitor children diagnosed with coeliac disease during transition to a gluten-free diet. Aliment Pharmacol Ther 49(12):1484–1492

21.

Thompson T, Simpson S (2015) A comparison of gluten levels in labeled gluten-free and certified gluten-free foods sold in the United States. Eur J Clin Nutr 69(2):143–146

22.

Makovicky P, Makovicky P, Lupan I, Samasca G, Sur G, Freeman HJ (2017) Perspective: gluten-free products for patients with celiac disease should not contain trace levels. Adv Nutr 8(3):409–411

23.

Hall NJ, Rubin GP, Charnock A (2013) Intentional and inadvertent non-adherence in adult coeliac disease. A cross-sectional survey. Appetite 68:56–62

24.

Czaja-Bulsa G, Bulsa M (2018) Adherence to gluten-free diet in children with celiac disease. Nutrients 10(10):1424

25.

White LE, Bannerman E, Gillett PM (2016) Coeliac disease and the gluten-free diet: a review of the burdens; factors associated with adherence and impact on health-related quality of life, with specific focus on adolescence. J Hum Nutr Diet 29(5):593–606

26.

Myléus A, Reilly NR, Green PHR (2020) Rate, risk factors, and outcomes of nonadherence in pediatric patients with celiac disease: a systematic review. Clin Gastroenterol Hepatol 18(3):562–573. https://doi.org/10.1016/j.cgh.2019.05.046

27.

MacCulloch K, Rashid M (2014) Factors affecting adherence to a gluten-free diet in children with celiac disease. Paediatr Child Health 19(6):305–309

28.

Silvester JA, Weiten D, Graff LA, Walker JR, Duerksen DR (2016) Is it gluten-free? Relationship between self-reported gluten-free diet adherence and knowledge of gluten content of foods. Nutrition 32(7–8):777–783

29.

Syage JA, Kelly CP, Dickason MA, Ramirez AC, Leon F, Dominguez R et al (2018) Determination of gluten consumption in celiac disease patients on a gluten-free diet. Am J Clin Nutr 107(2):201–207
Acknowledgements
We thank all the families who participated in this study. The authors are grateful for the professional English language editing by Sara Carrasco.
Funding
This study was partially supported by grant from the Coeliac Disease & Gluten Sensitivity Association Madrid, Spain.
Ethics declarations
Conflict of interest
The authors declare that they have no conflicts of interest.
Ethical statement
The Ethical Committee of University and Polytechnic La Fe Hospital reviewed and approved this study in 2015.
About this article
Cite this article
Roca, M., Donat, E., Masip, E. et al. Analysis of gluten immunogenic peptides in feces to assess adherence to the gluten-free diet in pediatric celiac patients. Eur J Nutr 60, 2131–2140 (2021). https://doi.org/10.1007/s00394-020-02404-z
Received:

Accepted:

Published:

Issue Date:
Keywords
Celiac disease

Gluten-free diet

Gluten immunogenic peptides