Abstract
Purpose
Past work suggests milk consumption may facilitate cognition in children and college students with higher fasting glucose compared to other beverages (e.g., fruit juice). However, no studies have evaluated this phenomenon in adults, or considered other measures of glucoregulatory function. This open-label study assessed the role of glucoregulatory function in postprandial cognition after milk intake in adults. We hypothesized participants with lower fasting or post-consumption plasma glucose following a glucose excursion challenge (glucose response) would demonstrate better cognition following beverages of higher (juice) versus lower (milk) or no (water) glycemic content.
Methods
Forty-four nondiabetic, overnight-fasted adults attended three laboratory visits, ingesting 237 mL of 2% fat milk, apple juice, or water at each visit in a randomized, counterbalanced, crossover design. Participants completed cognitive testing (CNS Vital Signs) at baseline and 30, 90, and 150 min post-ingestion; primary outcomes were CNS Vital Signs composite scores. Fasting and post-consumption plasma glucose levels were assessed, with glucose response indexed as the change in plasma glucose from baseline to 30 min after juice (ΔGlucose).
Results
Mixed modeling revealed participants with higher fasting glucose demonstrated better complex attention after water versus juice at 30 min, but better performance after juice versus water at 150 min (p = 0.02). Participants with a larger ΔGlucose demonstrated better processing speed (p = 0.01) 30 min after milk versus water; this effect also reversed at 150 min.
Conclusion
Different methods of measuring glucoregulatory function reveal its differing roles in postprandial cognition. Time since ingestion may also determine which beverages best optimize cognition.
This is a preview of subscription content, log in to check access.
Access options
Buy single article
Instant access to the full article PDF.
US$ 39.95
Price includes VAT for USA
Subscribe to journal
Immediate online access to all issues from 2019. Subscription will auto renew annually.
US$ 199
This is the net price. Taxes to be calculated in checkout.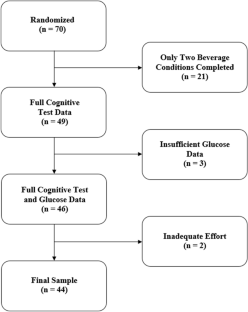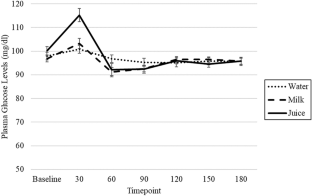 References
1.

Benau EM, Orloff NC, Janke EA, Serpell L, Timko CA (2014) A systematic review of the effects of experimental fasting on cognition. Appetite 11:52–61

2.

Galioto R, Spitznagel MB (2016) The effects of breakfast and breakfast composition on cognition in adults. Adv Nutr 7(3):S576–S589

3.

Boyle NB, Lawton CL, Dye L (2018) The effects of carbohydrates, in isolation and combined with caffeine, on cognitive performance and mood—current evidence and future directions. Nutrients 10(2):192

4.

Edefonti V, Rosato V, Parpinel M, Nebbia G, Forica L, Fossali E, Ferraroni M, Decarli A, Agostoni C (2014) The effect of breakfast composition and energy contribution on cognitive and academic performance: a systematic review. Am J Clin Nutr 100:626–656

5.

Hawkins MAW, Keirns NG, Helms Z (2018) Carbohydrates and cognitive function. Curr Opin Clin Nutr Metab Care 21(4):302–307

6.

Edefonti V, Bravi F, Ferraroni M (2017) Breakfast and behavior in morning tasks: facts or fads? J Affect Disord 224:16–26

7.

Brindal E, Baird D, Slater A, Ganthiir V, Wilson C, Bowen J, Noakes M (2013) The effect of beverages varying in glycaemic load on postprandial glucose responses, appetite and cognition in 10–12-year-old school children. Br J Nutr 110(3):529–537

8.

Galioto R, Alosco ML, Calvo D, Gunstad J, Van Dulmen M, Spitznagel MB (2015) Neurocognitive response to dairy milk versus fruit juice in obese and lean individuals. Transl Issues Psychol Sci 1(3):250–261

9.

Ceriello A (2010) The glucose triad and its role in comprehensive glycaemic control: current status, future management. Int J Clin Pract 64(12):1705–1711

10.

Anderson JR, Hawkins MAW, Updegraff J, Gunstad J, Spitznagel MB (2017) Baseline glucoregulatory function moderates the effect of dairy milk and fruit juice on postprandial cognition in healthy young adults. Eur J Nutr 57(7):2343–2352

11.

Anderson JR, Gunstad J, Updegraff J, Sato A, Hagerdorn PL, Spitznagel MB (2018) Biological sex and glucoregulation modulate postprandial cognition following dairy milk and fruit juice in healthy school-age children. Nutr Neurosci. https://doi.org/10.1080/1028415X.2018.1507963

12.

Chen W, Balland E, Cowley MA (2017) Hypothalamic insulin resistance in obesity: effects on glucose homeostasis. Neuroendocrinology 104(4):364–381

13.

Mauvais-Jarvis F (2018) Gender differences in glucose homeostasis and diabetes. Physiol Behav 187:20–23

14.

Gualtieri CT, Johnson LG (2006) Reliability and validity of a computerized neurocognitive test battery. CNS Vital Signs Arch Clin Neuropsychol 21(7):623–643

15.

Golden CJ, Freshwater SM (2002) Stroop color and word test: revised examiner's manual. Stoelting Co, Wood Dale

16.

Cohen J (1992) A power primer. Psychol Bull 112(2):155–159

17.

Chiu S, Gericke N, Farina-Woodbury M, Badmaev V, Raheb H, Terpstra K, Antongiorgi J, Bureau Y, Cernovsky Z, Hou J et al (2014) Proof-of-concept randomized controlled study of cognition effects of the proprietary extract sceletium tortuosum (Zembrin) targeting phosphodiesterase-4 in cognitively healthy subjects: implications for Alzheimer's dementia. Evid Based Complement Alternat Med 2014:682014

18.

Udani JK (2013) Effects of SuperUlam on supporting concentration and mood: a randomized, double-blind, placebo-controlled crossover study. Evid Based Complement Alternat Med 2013:238454

19.

Renzi-Hammond LM, Bovier ER, Fletcher LM, Miller LS, Mewborn CM, Lindbergh CA, Baxter JH, Hammond BR (2017) Effects of a lutein and zeaxanthin intervention on cognitive function: a randomized, double-masked, placebo-controlled trial of younger healthy adults. Nutrients 9(11):E1246

20.

Masley SC, Masley LV, Gualtieri T (2012) Effect of mercury levels and seafood intake on cognitive function in middle-aged adults. Integr Med 11(3):32–40

21.

Brouns F, Bjorck I, Frayn KN, Gibbs AL, Lang V, Slama G, Wolever TM (2005) Glycaemic index methodology. Nutr Res Rev 18(1):145–171

22.

Beglinger LJ, Gaydos B, Tangphao-Daniels O, Duff K, Kareken DA, Crawford J, Fastenau PS, Siemers ER (2005) Practice effects and the use of alternate forms in serial neuropsychological testing. Arch Clin Neuropsychol 20(4):517–529

23.

Tabachnick BG, Fidell LS (2006) Using multivariate statistics, 5th edn. Allyn & Bacon, Boston

24.

Peugh JL (2010) A practical guide to multilevel modeling. J Sch Psychol 48:85–112

25.

Preacher KJ, Curran PJ, Bauer DJ (2006) Computational tools for probing interaction effects in multiple linear regression, multilevel modeling, and latent curve analysis. J Educ Behav Stat 31:437–448

26.

American Diabetes Association (2014) Diagnosis and classification of diabetes mellitus. Diabetes Care 37(Supple. 1):S81–S90

27.

McNay EC, Gold PE (2001) Age-related differences in hippocampal extracellular fluid glucose concentration during behavioral testing and following systemic glucose administration. J Gerontol A Biol Sci Med Sci 56(2):B66–71

28.

Hoyt G, Hickey MS, Cordain L (2005) Dissociation of the glycaemic and insulinaemic responses to whole and skimmed milk. Br J Nutr 93(2):175–177

29.

Awad N, Gagnon M, Desrochers A, Tsiakas M, Messier C (2002) Impact of peripheral glucoregulation on memory. Behav Neurosci 116(4):691–702

30.

Abdul-Ghani MA, Tripathy D, DeFronzo RA (2006) Contributions of β-cell dysfunction and insulin resistance to the pathogenesis of impaired glucose tolerance and impaired fasting glucose. Diabetes Care 29(5):1130–1139

31.

Smith MA, Riby LM, Van Eekelen JAM, Foster JK (2011) Glucose enhancement of human memory: a comprehensive research review of the glucose memory facilitation effect. Neurosci Biobehav Rev 35(3):770–783

32.

Hawkins MAW, Gunstad J, Calvo D, Spitznagel MB (2016) Higher fasting glucose is associated with poorer cognition among healthy young adults. Health Psychol 35(2):199–202

33.

Rolandsson O, Backeström A, Eriksson S, Hallmans G, Nilsson LG (2008) Increased glucose levels are associated with episodic memory in nondiabetic women. Diabetes 57(2):440–443

34.

Sünram-Lea SI, Owen L (2017) The impact of diet-based glycaemic response and glucose regulation on cognition: evidence across the lifespan. Proc Nutr Soc 76(4):466–477

35.

Gunstad J, Paul RH, Cohen RA, Tate DF, Spitznagel MB, Gordon E (2007) Elevated body mass index is associated with executive dysfunction in otherwise healthy adults. Compr Psychiatry 48(1):57–61

36.

Wu G, Lin L, Zhang Q, Wu J (2017) Brain gray matter changes in type 2 diabetes mellitus: a meta-analysis of whole-brain voxel-based morphometry study. J Diabetes Complicat 31(12):1698–1703

37.

Bell L, Lamport DJ, Butler LT, Williams CM (2015) A review of the cognitive effects observed in humans following acute supplementation with flavonoids, and their associated mechanisms of action. Nutrients 7(12):10290–10306

38.

Morris MC, Tangney CC (2014) Dietary fat composition and dementia risk. Neurobiol Aging 35(Suppl. 2):S59–64

39.

Matthews DR, Hosker JP, Rudenski AS, Naylor BA, Treacher DF, Turner RC (1985) Homeostasis model assessment: insulin resistance and beta-cell function from fasting plasma glucose and insulin concentrations in man. Diabetologia 28(7):412–419
Acknowledgements
This work was funded by the National Dairy Council.
Funding
M.B. Spitznagel and K.C. Maki serve on the Scientific Advisory Committee for Nutrition Research for the National Dairy Council. This work was funded by the National Dairy Council (grant awarded to K.C. Maki, 2845).
Ethics declarations
Conflict of interest
J.R. Anderson, O.M. Palacios, I. Edirisinghe, and B. Burton-Freeman report no conflicts of interest.
About this article
Cite this article
Anderson, J.R., Maki, K.C., Palacios, O.M. et al. Varying roles of glucoregulatory function measures in postprandial cognition following milk consumption. Eur J Nutr (2020). https://doi.org/10.1007/s00394-020-02343-9
Received:

Accepted:

Published:
Keywords
Postprandial cognition

Milk

Adults

CNS vital signs

Glucoregulatory function

Glucoregulation