Abstract
Purpose
To investigate the effect of consuming quinoa biscuits on markers of CVD risk over 4 weeks in free-living older adults.
Methods
A randomized-controlled, double-blind crossover trial was conducted in which consenting healthy adults aged 50–75 years (n = 40) consumed 15 g quinoa biscuits (60 g quinoa flour/100 g) or control iso–energetic biscuits (made using wheat flour) daily for 28 consecutive days (4 weeks), in addition to their normal diet. Following a 6-week washout, participants consumed the alternate biscuit for a final 4 weeks. Anthropometry and fasted blood samples were obtained before and after each intervention period.
Results
At the beginning of the trial, mean ± SD total cholesterol concentrations were 6.02 ± 1.22 mmol/L (3.7–9.2 mmol/L); 33 participants (82.5%) had high cholesterol (> 5 mmol/L). No participants were lost to follow-up and there were no changes in habitual dietary intakes or levels of physical activity between each 4-week intervention period. Significantly greater decreases in total and LDL cholesterol concentrations (− 0.30 ± 0.58 and − 0.25 ± 0.38 mmol/L, respectively), TC: HDL ratio (− 0.11 ± 0.30), weight (− 0.61 ± 0.89 kg) and BMI (− 0.22 ± 0.34 kg/m2) were apparent following consumption of the quinoa versus control biscuits (all P < 0.05). Changes in triglycerides, HDL cholesterol, or PUFA or CRP concentrations were not significant between treatment groups.
Conclusion
Consumption of novel quinoa biscuits produced small, but favorable changes in body weight, BMI, and circulating cholesterol concentrations, all of which may contribute to lowered CVD risk in older adults.
This is a preview of subscription content, log in to check access.
Access options
Buy single article
Instant access to the full article PDF.
US$ 39.95
Tax calculation will be finalised during checkout.
Subscribe to journal
Immediate online access to all issues from 2019. Subscription will auto renew annually.
US$ 159
Tax calculation will be finalised during checkout.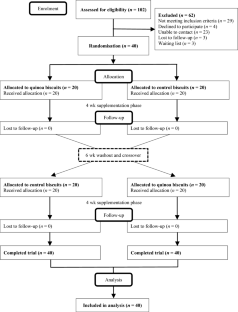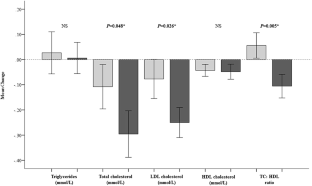 Abbreviations
AA:

Arachidonic acid

ALA:

α-Linolenic acid

BMI:

Body mass index

BP:

Blood pressure

CRP:

C-reactive protein

CVD:

Cardiovascular disease

DHA:

Docosahexaenoic acid

EPA:

Eicosapentaenoic acid

FRAP:

Ferric reducing ability of plasma

HDL:

High density lipoprotein

LA:

Linoleic acid

LDL:

Low density lipoprotein

MET:

Metabolic equivalents

PA:

Physical activity

PAEE:

Physical activity energy expenditure

PUFA:

Polyunsaturated fatty acid

SFA:

Saturated fatty acid

TC:

Total cholesterol

UFA:

Unsaturated fatty acid
References
1.

Vega-Galvez A, Miranda M, Vergara J, Uribe E, Puente L, Martinez EA (2010) Nutrition facts and functional potential of quinoa (Chenopodium quinoa willd.), an ancient Andean grain: a review. J Sci Food Agric 90(15):2541–2547.

2.

Jacobsen S (2011) The situation for quinoa and its production in southern bolivia: from economic success to environmental disaster. J Agro Crop Sci 197(5):390–399

3.

Bazile D, Jacobsen SE, Verniau A (2016) The global expansion of quinoa: trends and limits. Front Plant Sci 7:622

4.

Tang Y, Li X, Zhang B, Chen PX, Liu R, Tsao R (2015) Characterisation of phenolics, betanins and antioxidant activities in seeds of three Chenopodium quinoa Willd. genotypes. Food Chem 166:380–388

5.

Filho AM, Pirozi MR, Borges JT, Pinheiro Sant'Ana HM, Chaves JB, Coimbra JS (2017) Quinoa: nutritional, functional, and antinutritional aspects. Crit Rev Food Sci Nutr 57(8):1618–1630

6.

Tang Y, Tsao R (2017) Phytochemicals in quinoa and amaranth grains and their antioxidant, anti-inflammatory, and potential health beneficial effects: a review. Mol Nutr Food Res 2017;61:7. https://doi.org/10.1002/mnfr.201600767. (Epub 2017 Apr 18)

7.

Simnadis TG, Tapsell LC, Beck EJ (2015) Physiological effects associated with quinoa consumption and implications for research involving humans: a review. Plant Foods Hum Nutr 70(3):238–249

8.

Ryan E, Galvin K, O'Connor TP, Maguire AR, O'Brien NM (2007) Phytosterol, squalene, tocopherol content and fatty acid profile of selected seeds, grains, and legumes. Plant Foods Hum Nutr 62(3):85–91

9.

Tang Y, Li X, Chen PX et al (2015) Characterisation of fatty acid, carotenoid, tocopherol/tocotrienol compositions and antioxidant activities in seeds of three Chenopodium quinoa Willd. genotypes. Food Chem 174:502–508

10.

Graf BL, Rojas-Silva P, Rojo LE, Delatorre-Herrera J, Baldeon ME, Raskin I (2015) Innovations in health value and functional food development of quinoa (Chenopodium quinoa Willd.). Compr Rev Food Sci Food Saf 14(4):431–445

11.

Simopoulos AP (2002) The importance of the ratio of omega-6/omega-3 essential fatty acids. Biomed Pharmacother 56(8):365–379

12.

McEwen BJ, Morel-Kopp MC, Tofler GH, Ward CM (2015) The effect of omega-3 polyunsaturated fatty acids on fibrin and thrombin generation in healthy subjects and subjects with cardiovascular disease. Semin Thromb Hemost 41(3):315–322

13.

Oscarsson J, Hurt-Camejo E (2017) Omega-3 fatty acids eicosapentaenoic acid and docosahexaenoic acid and their mechanisms of action on apolipoprotein B-containing lipoproteins in humans: a review. Lipids Health Dis 16(1):149-017-0541-3

14.

NDNS (2016) National Diet and Nutrition Survey. Results from Years 5 and 6 (combined) of the rolling programme (2012/2013—2013/2014). PHE, London

15.

Raatz SK, Silverstein JT, Jahns L, Picklo MJ (2013) Issues of fish consumption for cardiovascular disease risk reduction. Nutrients 5(4):1081–1097

16.

Newton JN, Briggs AD, Murray CJ et al (2015) Changes in health in England, with analysis by English regions and areas of deprivation, 1990–2013: a systematic analysis for the Global Burden of Disease Study 2013. Lancet 386(10010):2257–2274

17.

Griffin BA (2017) Serum low-density lipoprotein as a dietary responsive biomarker of cardiovascular disease risk: consensus and confusion. Nutr Bull 42:266–273

18.

Clark LT (2003) Treating dyslipidemia with statins: the risk-benefit profile. Am Heart J 145(3):387–396

19.

Ward S, Lloyd Jones M, Pandor A et al (2007) A systematic review and economic evaluation of statins for the prevention of coronary events. Health Technol Assess 11(14):1–160, iii–iv.

20.

Jones PJ, AbuMweis SS (2009) Phytosterols as functional food ingredients: linkages to cardiovascular disease and cancer. Curr Opin Clin Nutr Metab Care 12(2):147–151

21.

National Cholesterol Education Program (NCEP) Expert Panel on Detection, Evaluation, and Treatment of High Blood Cholesterol in Adults (Adult Treatment Panel III) (2002) Third report of the national cholesterol education program (NCEP) expert panel on detection, evaluation, and treatment of high blood cholesterol in adults (adult treatment panel III) final report. Circulation 106(25):3143–3421

22.

Konishi Y, Arai N, Umeda J et al (1999) Cholesterol lowering effect of the methanol insoluble materials from the quinoa seed pericarp. Hydrocolloids (Pt 2):417–422.

23.

Takao T, Nakamichi W, Kana Y et al (2005) Hypocholesterolemic effect of protein isolated from quinoa (Chenopodium quinoa Willd.) seeds. Food Sci Technol Res 11(2):161–167.

24.

Pasko P, Zagrodzki P, Barton H, Chlopicka J, Gorinstein S (2010) Effect of quinoa seeds (Chenopodium quinoa) in diet on some biochemical parameters and essential elements in blood of high fructose-fed rats. Plant Foods Hum Nutr 65(4):333–338

25.

Foucault AS, Mathe V, Lafont R et al (2012) Quinoa extract enriched in 20-hydroxyecdysone protects mice from diet-induced obesity and modulates adipokines expression. Obesity (Silver Spring) 20(2):270–277

26.

Farinazzi-Machado FMV, Barbalho SM, Oshiiwa M, Goulart R, Pessan Junior O (2012) Use of cereal bars with quinoa (Chenopodium quinoa W.) to reduce risk factors related to cardiovascular diseases. Food Sci Tech 32(2):239–244

27.

Zevallos VF, Herencia LI, Chang F, Donnelly S, Ellis HJ, Ciclitira PJ (2014) Gastrointestinal effects of eating quinoa (Chenopodium quinoa Willd.) in celiac patients. Am J Gastroenterol 109(2):270–278

28.

De Carvalho FG, Ovidio PP, Padovan GJ, Jordao Junior AA, Marchini JS, Navarro AM (2014) Metabolic parameters of postmenopausal women after quinoa or corn flakes intake—a prospective and double-blind study. Int J Food Sci Nutr 65(3):380–385

29.

Carvalho FGD, Santos RdS, Carvalho ALd, Iannetta O, Marchini JS, Navarro AM (2015) Quinoa or corn flakes to prevent peripheral inflammation after menopause? J Obes Eat Disord 1:8

30.

Navarro-Perez D, Radcliffe J, Tierney A, Jois M (2017) Quinoa seed lowers serum triglycerides in overweight and obese subjects: a dose-response randomized controlled clinical trial. Curr Dev Nutr 1(9):e001321

31.

Li L, Lietz G, Bal W, Watson A, Morfey B, Seal C (2018) Effects of quinoa (Chenopodium quinoa Willd.) consumption on markers of CVD risk. Nutrients 10:6. https://doi.org/10.3390/nu10060777

32.

Evans S, Royston P, Day S (2017) Minim: allocation by minimisation in clinical trials. https://www-users.york.ac.uk/~mb55/guide/minim.htm. Accessed March, 2017.

33.

Besson H, Brage S, Jakes RW, Ekelund U, Wareham NJ (2010) Estimating physical activity energy expenditure, sedentary time, and physical activity intensity by self-report in adults. Am J Clin Nutr 91(1):106–114

34.

Martini D, Rossi S, Biasini B et al (2017) Claimed effects, outcome variables and methods of measurement for health claims proposed under European Community Regulation 1924/2006 in the framework of protection against oxidative damage and cardiovascular health. Nutr Metab Cardiovasc Dis 27(6):473–503

35.

Tremblay AJ, Morrissette H, Gagne JM, Bergeron J, Gagne C, Couture P (2004) Validation of the Friedewald formula for the determination of low-density lipoprotein cholesterol compared with beta-quantification in a large population. Clin Biochem 37(9):785–790

36.

Benzie IF, Strain JJ (1996) The ferric reducing ability of plasma (FRAP) as a measure of "antioxidant power": the FRAP assay. Anal Biochem 239(1):70–76

37.

Folch J, Lees M, Sloane Stanley GH (1957) A simple method for the isolation and purification of total lipides from animal tissues. J Biol Chem 226(1):497–509

38.

Strain JJ, Davidson PW, Bonham MP et al (2008) Associations of maternal long-chain polyunsaturated fatty acids, methyl mercury, and infant development in the Seychelles Child Development Nutrition Study. Neurotoxicology 29(5):776–782

39.

Conway V, Couture P, Richard C, Gauthier SF, Pouliot Y, Lamarche B (2013) Impact of buttermilk consumption on plasma lipids and surrogate markers of cholesterol homeostasis in men and women. Nutr Metab Cardiovasc Dis 23:1255–1262

40.

Guo Q, Ye A, Bellissimo N, Singh H, Rousseau D (2017) Modulating fat digestion through food structure design. Prog Lipid Res 68:109–118

41.

Angelino D, Cossu M, Marti A, Zanoletti M, Chiavaroli L, Brighenti F, Del Rio D, Martini D (2017) Bioaccessibility and bioavailability of phenolic compounds in bread: a review. Food Funct 8(7):2368–2393

42.

Mandalari G, Merali Z, Ryden P, Chessa S, Bisignano C, Barreca D, Bellocco E, Laganà G, Faulks RM, Waldron KW (2018) Durum wheat particle size affects starch and protein digestion in vitro. Eur J Nutr 57(1):319–325

43.

Foucault AS, Even P, Lafont R et al (2014) Quinoa extract enriched in 20-hydroxyecdysone affects energy homeostasis and intestinal fat absorption in mice fed a high-fat diet. Physiol Behav 128:226–231

44.

Meneguetti QA, Brenzan MA, Batista MR, Bazotte RB, Silva DR, Garcia Cortez DA (2011) Biological effects of hydrolyzed quinoa extract from seeds of Chenopodium quinoa Willd. J Med Food 14(6):653–657

45.

Mithila MV, Khanum F (2015) Effectual comparison of quinoa and amaranth supplemented diets in controlling appetite; a biochemical study in rats. J Food Sci Technol 52(10):6735–6741

46.

Forsythe LK, Wallace JM, Livingstone MB (2008) Obesity and inflammation: the effects of weight loss. Nutr Res Rev 21(2):117–133

47.

Ross AB, Svelander C, Karlsson G, Savolainen OI (2017) Identification and quantification of even and odd chained 5-n alkylresorcinols, branched chain-alkylresorcinols and methylalkylresorcinols in Quinoa (Chenopodium quinoa). Food Chem 220:344–351

48.

Baigent C, Keech A, Kearney PM et al (2005) Efficacy and safety of cholesterol-lowering treatment: prospective meta-analysis of data from 90,056 participants in 14 randomised trials of statins. Lancet 366(9493):1267–1278

49.

Ras RT, Geleijnse JM, Trautwein EA (2014) LDL-cholesterol-lowering effect of plant sterols and stanols across different dose ranges: a meta-analysis of randomised controlled studies. Br J Nutr 112(2):214–219
Acknowledgements
The authors' responsibilities were as follows—EC, AO, NGT, and CIRG contributed to study conception and designed research; LKP, EC, BWH and CIRG conducted research and/or laboratory analysis; LKP analyzed data; EC and AO provided essential materials for research; LKP, EC and NGT wrote the paper; CIRG had primary responsibility for final content. All authors read and approved the final manuscript. We acknowledge Dr Ruth Price for randomization of the study biscuits, Mr Neil Dennison for his help with laboratory analysis, Mr Dermot Liddy for help with data entry, and all participants for taking part in the study.
Funding
This project was funded by the National Commission for Scientific and Technological Research (Comisión Nacional de Investigación Científica y Tecnológica, CONICYT) Chile/UK (ref: R15F10005).
Ethics declarations
Conflict of interest
The authors declare that they have no conflicts of interest.
Ethical approval
The study was conducted with the prior approval of the Ulster University Research Ethics Committee (REC/16/0106) and with the informed consent of participants. The study was conducted in accordance with the Declaration of Helsinki and the trial was registered at www.clinicaltrials.gov (NCT03291548).
Electronic supplementary material
Below is the link to the electronic supplementary material.
About this article
Cite this article
Pourshahidi, L.K., Caballero, E., Osses, A. et al. Modest improvement in CVD risk markers in older adults following quinoa (Chenopodium quinoa Willd.) consumption: a randomized-controlled crossover study with a novel food product. Eur J Nutr 59, 3313–3323 (2020). https://doi.org/10.1007/s00394-019-02169-0
Received:

Accepted:

Published:

Issue Date:
Keywords
Quinoa

Cholesterol

PUFA

Fatty acids

Randomized controlled trial

Cardiovascular disease