Abstract
Introduction
There is growing evidence that a diet low in fermentable oligosaccharides, disaccharides, monosaccharides, and polyols (FODMAP) improves symptoms in irritable bowel syndrome (IBS) patients. We aimed to retrospectively investigate the effects of this diet in Irish IBS cohort over a 12-month follow-up period, including after re-introduction of the high FODMAP foods.
Methods
All the tertiary referrals seen by an FODMAP-trained dietician were reviewed (2013–2016). Patients were evaluated for IBS symptoms by a questionnaire (four-point Likert scale). Subsequently, advice regarding the low FODMAP diet was given. Symptoms' response was assessed at 3-, 6-, and 12-month follow-up, by use of the same questionnaire. Re-introduction of high FODMAP foods was aimed to commence at the subsequent follow-up.
Results
A total of 164 patients were identified. Thirty-seven patients were excluded due to failure to attend for follow-up. Hundred and twenty-seven patients (77% patients, of which 85% were female) completed the initial 3-month follow-up. Forty-five percent (74/164) and twenty-five percent (41/164) of the patients had continued follow-up at 6 and 12 months, respectively. Of the 127 patients who returned for follow-up, their commonest baseline symptoms were lethargy (92%), bloating (91%), flatulence (91%), and abdominal pain (89%). All symptoms were significantly improved at the initial follow-up (p < 0.0001 for all). Most patients (66%) were satisfied with their overall symptoms control. In patients who had a longer follow-up duration, all symptoms remained significantly improved compared to the baseline (p < 0.0001 for combined symptoms at 6 and 12 months). After re-introduction of the high FODMAP foods, all patients maintained their symptomatic response (n = 14/14 and n = 7/7 at 6- and 12-month follow-up, respectively). The best symptoms' improvement was seen in those who were fully adherent to the FODMAP diet.
Conclusion
In this Irish retrospective cohort study, the low FODMAP diet significantly improved all IBS symptoms at 3-, 6-, and 12-month follow-up. Following the re-introduction of the high FODMAP foods in a subgroup of patients, they were able to maintain their long-term symptomatic response up to 9 months. The low FODMAP diet might be continued for longer than 3 months; however, further studies are needed to assess the long-term safety of this diet.
This is a preview of subscription content, log in to check access.
Access options
Buy single article
Instant access to the full article PDF.
US$ 39.95
Price includes VAT for USA
Subscribe to journal
Immediate online access to all issues from 2019. Subscription will auto renew annually.
US$ 199
This is the net price. Taxes to be calculated in checkout.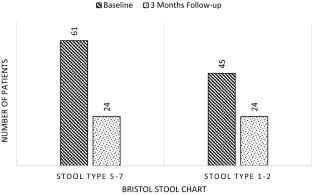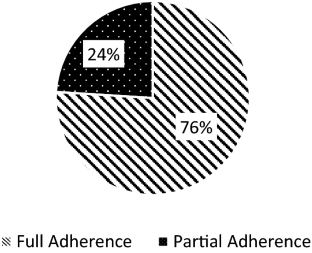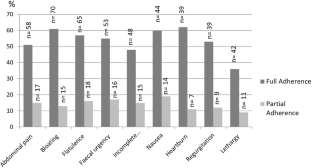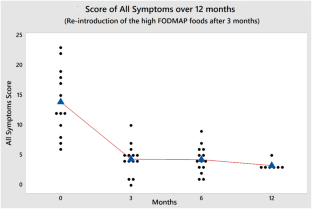 References
1.

Agréus L, Svärdsudd K, Nyrén O, Tibblin G (1995) Irritable bowel syndrome and dyspepsia in the general population: overlap and lack of stability over time. Gastroenterology 109(3):671–680

2.

Husain N, Chaudhry IB, Jafri F, Niaz SK, Tomenson B, Creed F (2008) A population-based study of irritable bowel syndrome in a non-Western population. Neurogastroenterol Motil 20(9):1022–1029

3.

Thompson WG, Irvine EJ, Pare P, Ferrazzi S, Rance L (2002) Functional gastrointestinal disorders in Canada: first population-based survey using Rome II criteria with suggestions for improving the questionnaire. Dig Dis Sci 47(1):225–235

4.

Wilson S, Roberts L, Roalfe A, Bridge P, Singh S (2004) Prevalence of irritable bowel syndrome: a community survey. Br J Gen Pract 54(504):495–502

5.

Markowitz MA, Jhingran P, Asgharian A, Harris WA, Brod M, Wentz AL, Gordon SH, Carter E (2000) IBS prevalence: results from a community based patient registry based on the Rome II criteria. Am J Gastroenterol 95:2634

6.

Lovell RM, Ford AC (2012) Global prevalence of and risk factors for irritable bowel syndrome: a meta-analysis. Clin Gastroenterol Hepatol 10(7):712–721

7.

Schmulson MJ, Drossman DA (2017) What is new in Rome IV. J Neurogastroenterol Motil 23(2):151–163

8.

Ford AC, Tally NJ, Spiegel BM, Foxx-Orenstein AE, Schiller L, Quigley EM, Moayyedi P (2008) Effect of fibre, antispasmodics and peppermint oil in the treatment of irritable bowel syndrome: systematic review and meta-analysis. BMJ 337:a2313

9.

Gibson PR (2017) History of the low FODMAP diet. J Gastroenterol Hepatol 32:5–7

10.

Eswaran S (2017) Low FODMAP in 2017: lessons learned from clinical trials and mechanistic studies. Neurogastroenterol Motil 29:e13055

11.

Nanayakkara WS, Skidmore PM, O'Brien L, Wilkinson TJ, Gearry RB (2016) Efficacy of the low FODMAP diet for treating irritable bowel syndrome: the evidence to date. Clin Exp Gastroenterol 9:131–142. https://doi.org/10.2147/CEG.S86798

12.

Barrett JS (2017) How to institute the low-FODMAP diet. J Gastroenterol Hepatol 32(Suppl 1):8–10

13.

Staudacher HM, Lomer MC, Anderson JL, Barrett JS, Muir JG, Irving PM, Whelan K (2012) Fermentable carbohydrate restriction reduces luminal bifidobacteria and gastrointestinal symptoms in patients with irritable bowel syndrome. J Nutr 142(8):1510–1518

14.

Canavan C, West J, Card T (2014) The epidemiology of irritable bowel syndrome. Clin Epidemiol 6:71–80. https://doi.org/10.2147/CLEP.S40245

15.

Marsh A, Eslick EM, Eslick GD (2015) Does a diet low in FODMAPs reduce symptoms associated with functional gastrointestinal disorders? A comprehensive systematic review and meta-analysis. Eur J Nutr 55(3):897–906

16.

Halmos EP, Christophersen CT, Bird AR, Shepherd SJ, Gibson PR, Muir JG (2015) Diets that differ in their FODMAP content alter the colonic luminal microenvironment. Gut 64:93–100

17.

O'Keeffe M, Jansen C, Martin L, Williams M, Seamark L, Staudacher HM, Irving PM, Whelan K, Lomer MC (2018) Long-term impact of the low-FODMAP diet on gastrointestinal symptoms, dietary intake, patient acceptability, and healthcare utilization in irritable bowel syndrome. Neurogastroenterol Motil 30(1):712–721

18.

Peters SL, Yao CK, Philpott H, Yelland GW, Muir JG, Gibson PR (2016) Randomised clinical trial: the efficacy of gut-directed hypnotherapy is similar to that of the low FODMAP diet for the treatment of irritable bowel syndrome. Aliment Pharmacol Ther 44:447–459
Acknowledgements
We would like to acknowledge the rest of the team members in the gastroenterology unit and the nutrition and dietetic department, for their support and assistance with the study.
Ethics declarations
Conflict of interest
The authors declare that there are no conflicts of interest to disclose.
Ethics
This study had been performed in accordance with the ethical standards laid down in the 1964 Declaration of Helsinki and its later amendments.
About this article
Cite this article
Nawawi, K.N.M., Belov, M. & Goulding, C. Low FODMAP diet significantly improves IBS symptoms: an Irish retrospective cohort study. Eur J Nutr 59, 2237–2248 (2020). https://doi.org/10.1007/s00394-019-02074-6
Received:

Accepted:

Published:

Issue Date:
Keywords
Irritable bowel syndrome

Low FODMAP diet

Retrospective study

Ireland