Abstract
Purpose
The aim of the present study was to derive overall and sex-specific dietary patterns associated with inflammatory biomarkers in a general population sample from Northern Germany.
Methods
The present analysis included 1158 participants (477 men, 681 women, mean age: 53.1 years; mean body mass index: 26.2 kg/m2) of the Food Chain Plus (FoCus) cohort in Kiel, Germany. Participants completed a semi-quantitative food frequency questionnaire and provided blood samples. Reduced rank regression with C-reactive protein (CRP) and Interleukin 6 (IL-6) as response variables was used to derive dietary patterns. After a mean follow-up of 1.7 years, a second blood sample was obtained in a subsample of 112 individuals. Multiple regression models were used to examine the association between dietary patterns at baseline and inflammatory biomarkers at follow-up.
Results
The overall pattern characterised by high intakes of soft drinks, meat, potatoes and sauce, and low intakes of other cereals (except pasta/rice), wine, nuts, seeds, vegetarian dishes, vegetable oil, and fish was positively associated with CRP (OR 2.20; 95% CI 1.12, 4.35) and IL-6 (OR 3.14; 95% CI 1.26, 7.87) at follow-up. In men, the dietary pattern was higher in soft drinks, processed meat and low in cereals and plant-based fats. In women, the pattern was characterised by soft drinks, meat, vegetables and low in other cereals, wine, nuts, and seeds. The association between sex-specific patterns with inflammatory biomarkers was weaker for CRP.
Conclusion
We identified dietary patterns positively associated with established biomarkers of chronic low-grade inflammation.
Access options
Buy single article
Instant access to the full article PDF.
US$ 39.95
Tax calculation will be finalised during checkout.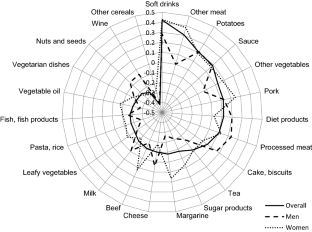 References
1.

Liu CX, Feng X, Li Q, Wang Y, Li Q, Hua MJ (2016) Adiponectin, TNF-alpha and inflammatory cytokines and risk of type 2 diabetes: a systematic review and meta-analysis. Cytokine 86:100–109. https://doi.org/10.1016/j.cyto.2016.06.028

2.

Buckley DI, Fu R, Freeman M, Rogers K, Helfand M (2009) C-reactive protein as a risk factor for coronary heart disease: a systematic review and meta-analyses for the US Preventive Services Task Force. Ann Intern Med 151(7):483–495

3.

Barbaresko J, Koch M, Schulze MB, Nothlings U (2013) Dietary pattern analysis and biomarkers of low-grade inflammation: a systematic literature review. Nutr Rev 71(8):511–527. https://doi.org/10.1111/nure.12035

4.

Galland L (2010) Diet and inflammation. Nutr Clin Pract 25(6):634–640. https://doi.org/10.1177/0884533610385703

5.

Calder PC, Ahluwalia N, Brouns F, Buetler T, Clement K, Cunningham K, Esposito K, Jonsson LS, Kolb H, Lansink M, Marcos A, Margioris A, Matusheski N, Nordmann H, O'Brien J, Pugliese G, Rizkalla S, Schalkwijk C, Tuomilehto J, Warnberg J, Watzl B, Winklhofer-Roob BM (2011) Dietary factors and low-grade inflammation in relation to overweight and obesity. Br J Nutr 106(Suppl 3):S5–S78. https://doi.org/10.1017/S0007114511005460

6.

Hoffmann K, Schulze MB, Schienkiewitz A, Nothlings U, Boeing H (2004) Application of a new statistical method to derive dietary patterns in nutritional epidemiology. Am J Epidemiol 159(10):935–944

7.

Newby PK, Tucker KL (2004) Empirically derived eating patterns using factor or cluster analysis: a review. Nutr Rev 62(5):177–203

8.

Fransson EI et al (2010) Association between change in body composition and change in inflammatory markers: an 11-year follow-up in the Whitehall II Study. J Clin Endocrinol Metab 95(12):5370–5374

9.

Julia C, Meunier N, Touvier M, Ahluwalia N, Sapin V, Papet I, Cano N, Hercberg S, Galan P, Kesse-Guyot E (2013) Dietary patterns and risk of elevated C-reactive protein concentrations 12 years later. Br J Nutr 110(4):747–754. https://doi.org/10.1017/S0007114512005636

10.

Tabung FK, Smith-Warner SA, Chavarro JE, Fung TT, Hu FB, Willett WC, Giovannucci EL (2017) An empirical dietary inflammatory pattern score enhances prediction of circulating inflammatory biomarkers in adults. J Nutr 147(8):1567–1577. https://doi.org/10.3945/jn.117.248377

11.

Devlin UM, McNulty BA, Nugent AP, Gibney MJ (2012) The use of cluster analysis to derive dietary patterns: methodological considerations, reproducibility, validity and the effect of energy mis-reporting. Proc Nutr Soc 71(4):599–609. https://doi.org/10.1017/S0029665112000729

12.

Nöthlings U, Hoffmann K, Bergmann MM, Boeing H (2007) Fitting portion sizes in a self-administered food frequency questionnaire. J Nutr 137(12):2781–2786

13.

Barbaresko J, Siegert S, Koch M, Aits I, Lieb W, Nikolaus S, Laudes M, Jacobs G, Nothlings U (2014) Comparison of two exploratory dietary patterns in association with the metabolic syndrome in a Northern German population. Br J Nutr 112(8):1364–1372. https://doi.org/10.1017/S0007114514002098

14.

Verbovšek T (2011) A comparison of parameters below the limit of detection in geochemical analyses by substitution methods. RMZ Mater Geoenviron 58(4):393–404

15.

Ainsworth BE, Haskell WL, Herrmann SD, Meckes N, Bassett DR Jr, Tudor-Locke C, Greer JL, Vezina J, Whitt-Glover MC, Leon AS (2011) 2011 Compendium of Physical Activities: a second update of codes and MET values. Med Sci Sports Exerc 43(8):1575–1581. https://doi.org/10.1249/MSS.0b013e31821ece12

16.

Vermeulen E, Brouwer IA, Stronks K, Bandinelli S, Ferrucci L, Visser M, Nicolaou M (2018) Inflammatory dietary patterns and depressive symptoms in Italian older adults. Brain Behav Immun 67:290–298. https://doi.org/10.1016/j.bbi.2017.09.005

17.

Tabung FK, Smith-Warner SA, Chavarro JE, Wu K, Fuchs CS, Hu FB, Chan AT, Willett WC, Giovannucci EL (2016) Development and validation of an empirical dietary inflammatory index. J Nutr 146(8):1560–1570. https://doi.org/10.3945/jn.115.228718

18.

Lucas M, Chocano-Bedoya P, Schulze MB, Mirzaei F, O'Reilly EJ, Okereke OI, Hu FB, Willett WC, Ascherio A (2014) Inflammatory dietary pattern and risk of depression among women. Brain Behav Immun 36:46–53. https://doi.org/10.1016/j.bbi.2013.09.014

19.

Meyer J, Doring A, Herder C, Roden M, Koenig W, Thorand B (2011) Dietary patterns, subclinical inflammation, incident coronary heart disease and mortality in middle-aged men from the MONICA/KORA Augsburg cohort study. Eur J Clin Nutr 65(7):800–807. https://doi.org/10.1038/ejcn.2011.37

20.

Schulze MB, Hoffmann K, Manson JE, Willett WC, Meigs JB, Weikert C, Heidemann C, Colditz GA, Hu FB (2005) Dietary pattern, inflammation, and incidence of type 2 diabetes in women. Am J Clin Nutr 82(3):675–684 (quiz 714-675)

21.

Nettleton JA, Steffen LM, Schulze MB, Jenny NS, Barr RG, Bertoni AG, Jacobs DR Jr (2007) Associations between markers of subclinical atherosclerosis and dietary patterns derived by principal components analysis and reduced rank regression in the Multi-Ethnic Study of Atherosclerosis (MESA). Am J Clin Nutr 85(6):1615–1625

22.

Minihane AM, Vinoy S, Russell WR, Baka A, Roche HM, Tuohy KM, Teeling JL, Blaak EE, Fenech M, Vauzour D, McArdle HJ, Kremer BH, Sterkman L, Vafeiadou K, Benedetti MM, Williams CM, Calder PC (2015) Low-grade inflammation, diet composition and health: current research evidence and its translation. Br J Nutr 114(7):999–1012. https://doi.org/10.1017/S0007114515002093

23.

Esposito K, Marfella R, Ciotola M, Di Palo C, Giugliano F, Giugliano G, D'Armiento M, D'Andrea F, Giugliano D (2004) Effect of a mediterranean-style diet on endothelial dysfunction and markers of vascular inflammation in the metabolic syndrome: a randomized trial. JAMA 292(12):1440–1446. https://doi.org/10.1001/jama.292.12.1440

24.

Ding C, Parameswaran V, Udayan R, Burgess J, Jones G (2008) Circulating levels of inflammatory markers predict change in bone mineral density and resorption in older adults: a longitudinal study. J Clin Endocrinol Metab 93(5):1952–1958. https://doi.org/10.1210/jc.2007-2325
Funding
This research was supported by grants from the German Federal Ministry of Education and Research (0315540B and 01EY1103). The Popgen 2.0 network (P2 N) is supported by the Medical Faculty of the University of Kiel. The funders had no role in the design, analysis or writing of this article.
Ethics declarations
Conflict of interest
The authors declare that they have no conflict of interest.
Ethical approval
The study was conducted according to the guidelines laid down in the Declaration of Helsinki and was approved by the ethic committee of the Medical Faculty of the University of Kiel (Germany).
Informed consent
All participants had given their informed consent prior to participation.
Electronic supplementary material
Below is the link to the electronic supplementary material.
About this article
Cite this article
Barbaresko, J., Rienks, J., Oluwagbemigun, K. et al. Dietary patterns associated with inflammatory biomarkers in a Northern German population. Eur J Nutr 59, 1433–1441 (2020). https://doi.org/10.1007/s00394-019-02000-w
Received:

Accepted:

Published:

Issue Date:
Keywords
Dietary pattern analysis

Reduced rank regression

Low-grade inflammation