Abstract
Purpose
Stress is thought to stimulate unhealthy dietary choices towards fat and sweet foods. Nevertheless, individual vulnerabilities might exist depending on psychological factors. We wanted to check dietary change during examination stress via a longitudinal study, while identifying risk groups via moderation by eating behavior (emotional/external/restrained), food choice motive, taste preference, reward/punishment sensitivity, impulsivity, coping strategies, sedentary behavior, social support, living in a student home and being a first-year student.
Methods
Before and after the examination period January 2017, 232 Flemish students completed online questionnaires on diet (food frequency questionnaire with diet quality index), the above mentioned psychological factors, perceived exam stress and some demographics.
Results
During the examination period, diet quality decreased: lower general diet quality index, lower fruit and vegetables intake, higher fast food intake and more difficulties to eat healthy. Based on significant time moderation, emotional eaters, external eaters, sweet/fat lovers, those with health as food choice motive, sensitive to reward or punishment, highly sedentary, non-first-year students and those with high stress reports were at higher risk for exam-induced diet deteriorations (partial η2: 017–0.071; highest effects for health as food choice motive and external eating). Most tested variables were also related to baseline dietary intake which was of rather low quality.
Conclusion
The overall stress-diet hypothesis was confirmed as students were vulnerable to diet deterioration during examination periods and high-risk groups were identified. Prevention strategies should integrate psychological and lifestyle aspects: stress management, nutritional education with techniques for self-effectiveness, awareness of eating-without-hunger and a health stimulating environment.
Access options
Buy single article
Instant access to the full article PDF.
USD 39.95
Price excludes VAT (USA)
Tax calculation will be finalised during checkout.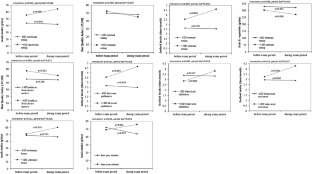 References
Wardle J, Chida Y, Gibson EL, Whitaker KL, Steptoe A (2011) Stress and adiposity: a meta-analysis of longitudinal studies. Obesity (Silver Spring) 19(4):771–778. https://doi.org/10.1038/oby.2010.241

Gatineau M, Dent M (2011) Obesity and mental health. National Obesity Observatory, Oxford

Macht M (2008) How emotions affect eating: a five-way model. Appetite 50(1):1–11. https://doi.org/10.1016/j.appet.2007.07.002

Adam TC, Epel ES (2007) Stress, eating and the reward system. Physiol Behav 91(4):449–458. https://doi.org/10.1016/j.physbeh.2007.04.011

Dallman MF, Pecoraro N, Akana SF, La Fleur SE, Gomez F, Houshyar H, Bell ME, Bhatnagar S, Laugero KD, Manalo S (2003) Chronic stress and obesity: a new view of "comfort food". Proc Natl Acad Sci USA 100(20):11696–11701. https://doi.org/10.1073/pnas.1934666100

Torres SJ, Nowson CA (2007) Relationship between stress, eating behavior, and obesity. Nutrition 23(11–12):887–894. https://doi.org/10.1016/j.nut.2007.08.008

Epel E, Tomiyama AJ, Dallman MF (2012) Stress and reward neural networks, eating, and obesity. In: Brownell K, Gold M (eds) Handbook of food and addiction. p 462

Maniam J, Morris MJ (2012) The link between stress and feeding behaviour. Neuropharmacology 63(1):97–110. https://doi.org/10.1016/j.neuropharm.2012.04.017

Scientific Institute of Public health (2015) health interview survey: reports. https://his.wiv-isp.be/SitePages/Reports.aspx

Beiter R, Nash R, McCrady M, Rhoades D, Linscomb M, Clarahan M, Sammut S (2015) The prevalence and correlates of depression, anxiety, and stress in a sample of college students. J Affect Disord 173:90–96. https://doi.org/10.1016/j.jad.2014.10.054

Robotham R, Julian C (2006) Stress and the higher education student: a critical review of the literature. J Further High Educ 30(2):107–117

Ekpenyong C, Daniel NE, Aribo N e (2013) Associations between academic stressors, reaction to stress, coping strategies and musculoskeletal disorders among college students. Ethiop J Health Sci 23(2):98–112

Vedhara K, Hyde J, Gilchrist ID, Tytherleigh M, Plummer S (2000) Acute stress, memory, attention and cortisol. Psychoneuroendocrino 25(6):535–549

Parletta N, Milte CM, Meyer BJ (2013) Nutritional modulation of cognitive function and mental health. J Nutr Biochem 24(5):725–743. https://doi.org/10.1016/j.jnutbio.2013.01.002

Burrows T, Goldman S, Pursey K, Lim R (2017) Is there an association between dietary intake and academic achievement: a systematic review. J Hum Nutr Diet 30(2):117–140. https://doi.org/10.1111/jhn.12407

Deforche B, Van Dyck D, Deliens T, De Bourdeaudhuij I (2015) Changes in weight, physical activity, sedentary behaviour and dietary intake during the transition to higher education: a prospective study. Int J Behav Nutr Phy. https://doi.org/10.1186/s12966-015-0173-9

Deliens T, Clarys P, De Bourdeaudhuij I, Deforche B (2014) Determinants of eating behaviour in university students: a qualitative study using focus group discussions. BMC Public Health. https://doi.org/10.1186/1471-2458-14-53

Greeno CG, Wing RR (1994) Stress-induced eating. Psychol Bull 115(3):444–464. https://doi.org/10.1037//0033-2909.115.3.444

Story M, Neumark-Sztainer D, French S (2002) Individual and environmental influences on adolescent eating behaviors. J Am Diet Assoc 102 (3):S40–S51. https://doi.org/10.1016/S0002-8223(02)90421-9

Newman E, O'Connor DB, Conner M (2008) Attentional biases for food stimuli in external eaters: possible mechanism for stress-induced eating? Appetite 51(2):339–342. https://doi.org/10.1016/j.appet.2008.03.007

Pollard TM, Steptoe A, Canaan L, Davies GJ, Wardle J (1995) Effects of academic examination stress on eating behavior and blood lipid levels. Int J Behav Med 2(4):299–320. https://doi.org/10.1207/s15327558ijbm0204_2

Stevenson RJ (2017) Psychological correlates of habitual diet in healthy adults. Psychol Bull 143(1):53–90. https://doi.org/10.1037/bul0000065

Stok FM, Renner B, Clarys P, Lien N, Lakerveld J, Deliens T (2018) Understanding eating behavior during the transition from adolescence to young adulthood: a literature review and perspective on future research directions. Nutrients. https://doi.org/10.3390/nu10060667

Huybrechts I, De Backer G, De Bacquer D, Maes L, De Henauw S (2009) Relative validity and reproducibility of a food-frequency questionnaire for estimating food intakes among flemish preschoolers. Int J Environ Res Public Health 6(1):382–399. https://doi.org/10.3390/ijerph6010382

VIGeZ (2006) De actieve voedingsdriehoek: een praktische voedings- en beweeggids (The active Food Pyramid: A practical guide to diet and physical activity). Vlaams Instituut voor Gezondheidspromotie en Ziektepreventie (VIGeZ), Brussels

Huybrechts I, Vereecken C, De Bacquer D, Vandevijvere S, Van Oyen H, Maes L, Vanhauwaert E, Temme L, De Backer G, De Henauw S (2010) Reproducibility and validity of a diet quality index for children assessed using a FFQ. Brit J Nutr 104(1):135–144. https://doi.org/10.1017/S0007114510000231

van Strien T, Frijters JER, Bergers GPA, Defares PB (1986) The Dutch Eating Behavior Questionnaire (Debq) for assessment of restrained, emotional, and external eating behavior. Int J Eat Disord 5(2):295–315

Franken IHA, Muris P, Rassin E (2005) Psychometric properties of the Dutch BIS/BAS Scales. J Psychopathol Behav 27(1):25–30. https://doi.org/10.1007/s10862-005-3262-2

Coutlee CG, Politzer CS, Hoyle RH, Huettel SA (2014) An abbreviated impulsiveness scale (ABIS) constructed through confirmatory factor analysis of the BIS-11. Arch Sci Psychol 2(1):1–12. https://doi.org/10.1037/arc0000005

Garnefski N, Kraaij V (2006) Cognitive emotion regulation questionnaire—development of a short 18-item version (CERQ-short). Pers Indiv Differ 41(6):1045–1053. https://doi.org/10.1016/j.paid.2006.04.010

Rosenberg DE, Norman GJ, Wagner N, Patrick K, Calfas KJ, Sallis JF (2010) Reliability and validity of the Sedentary Behavior Questionnaire (SBQ) for adults. J Phys Act Health 7(6):697–705

Zimet GD, Powell SS, Farley GK, Werkman S, Berkoff KA (1990) Psychometric characteristics of the multidimensional scale of perceived social support. J Pers Assess 55(3–4):610–617. https://doi.org/10.1207/s15327752jpa5503&%23x0026;4_17

Aiken LS, West S (1991) Multiple regression: testing and interpreting interactions. Sage, Newbury Park

Dawson JF (2014) Moderation in management research: what, why, when, and how. J Bus Psychol 29(1):1–19. https://doi.org/10.1007/s10869-013-9308-7

Cohen J (1988) Statistical power analysis for the behavioral sciences. Lawrence Erlbaum Associates, New Jersey

Michaud C, Kahn JP, Musse N, Burlet C, Nicolas JP, Mejean L (1990) Relationships between a critical life event and eating behavior in high-school-students. Stress Med 6(1):57–64. https://doi.org/10.1002/smi.2460060112

Macht M, Haupt C, Ellgring H (2005) The perceived function of eating is changed during examination stress: a field study. Eat Behav 6(2):109–112. https://doi.org/10.1016/j.eatbeh.2004.09.001

Heatherton TF, Baumeister RF (1991) Binge eating as escape from self-awareness. Psychol Bull 110(1):86–108

O'Connor DB, Jones F, Conner M, McMillan B, Ferguson E (2008) Effects of daily hassles and eating style on eating behavior. Health Psychol 27(1S):S20–S31. https://doi.org/10.1037/0278-6133.27.1.S20

Oliver G, Wardle J, Gibson EL (2000) Stress and food choice: a laboratory study. Psychosom Med 62(6):853–865

Conner M, Fitter M, Fletcher W (1999) Stress and snacking: a diary study of daily hassles and between-meal snacking. Psychol Health 14(1):51–63. https://doi.org/10.1080/08870449908407313

Zellner DA, Loaiza S, Gonzalez Z, Pita J, Morales J, Pecora D, Wolf A (2006) Food selection changes under stress. Physiol Behav 87(4):789–793. https://doi.org/10.1016/j.physbeh.2006.01.014

Wardle J, Steptoe A, Oliver G, Lipsey Z (2000) Stress, dietary restraint and food intake. J Psychosom Res 48(2):195–202

Oliver G, Wardle J (1999) Perceived effects of stress on food choice. Physiol Behav 66(3):511–515

Polivy J, Herman CP, McFarlane T (1994) Effects of anxiety on eating: does palatability moderate distress-induced overeating in dieters? J Abnorm Psychol 103(3):505–510

Kandiah J, Yake M, Jones J, Meyer M (2006) Stress influences appetite and comfort food preferences in college women. Nutr Res 26(3):118–123. https://doi.org/10.1016/j.nutres.2005.11.010

Guillaumie L, Godin G, Vezina-Im LA (2010) Psychosocial determinants of fruit and vegetable intake in adult population: a systematic review. Int J Behav Nutr Phys Act 7:12. https://doi.org/10.1186/1479-5868-7-12

Eertmans A, Baeyens F, Van den Bergh O (2001) Food likes and their relative importance in human eating behavior: review and preliminary suggestions for health promotion. Health Educ Res 16(4):443–456. https://doi.org/10.1093/her/16.4.443

Shannon C, Story M, Fulkerson JA, French SA (2002) Factors in the school cafeteria influencing food choices by high school students. J School Health 72(6):229–234. https://doi.org/10.1111/j.1746-1561.2002.tb07335.x

Corr PJ (2008) Reinforcement sensitivity theory (RST): Introduction. In: The reinforcement sensitivity theory of personality. Cambridge University Press, Cambridge

Stice E, Burger KS, Yokum S (2013) Relative ability of fat and sugar tastes to activate reward, gustatory, and somatosensory regions. Am J Clin Nutr 98(6):1377–1384. https://doi.org/10.3945/ajcn.113.069443

Davis C, Strachan S, Berkson M (2004) Sensitivity to reward: implications for overeating and overweight. Appetite 42(2):131–138. https://doi.org/10.1016/j.appet.2003.07.004

Tapper K, Pothos EM, Lawrence AD (2010) Feast your eyes: hunger and trait reward drive predict attentional bias for food cues. Emotion 10(6):949–954. https://doi.org/10.1037/a0020305

Voigt DC, Dillard JP, Braddock KH, Anderson JW, Sopory P, Stephenson MT (2009) Carver and White's (1994) BIS/BAS scales and their relationship to risky health behaviours. Pers Indiv Differ 47(2):89–93. https://doi.org/10.1016/j.paid.2009.02.003

Tapper K, Baker L, Jiga-Boy G, Haddock G, Maio GR (2015) Sensitivity to reward and punishment: Associations with diet, alcohol consumption, and smoking. Pers Indiv Differ 72:79–84. https://doi.org/10.1016/j.paid.2014.08.025

Tice DM, Bratslavsky E, Baumeister RF (2001) Emotional distress regulation takes precedence over impulse control: if you feel bad, do it! J Pers Soc Psychol 80(1):53–67

Lyke JA, Spinella M (2004) Associations among aspects of impulsivity and eating factors in a nonclinical sample. Int J Eat Disord 36(2):229–233. https://doi.org/10.1002/eat.20025

Pivarunas B, Conner BT (2015) Impulsivity and emotion dysregulation as predictors of food addiction. Eat Behav 19:9–14. https://doi.org/10.1016/j.eatbeh.2015.06.007

Folkman S, Lazarus RS (1985) If it changes it must be a process—study of emotion and coping during 3 stages of a college-examination. J Pers Soc Psychol 48(1):150–170. https://doi.org/10.1037//0022-3514.48.1.150

Evers C, Marijn Stok F, de Ridder DT (2010) Feeding your feelings: emotion regulation strategies and emotional eating. Pers Soc Psychol Bull 36(6):792–804. https://doi.org/10.1177/0146167210371383

Spoor STP, Bekker MH, Van Strien T, van Heck GL (2007) Relations between negative affect, coping, and emotional eating. Appetite 48(3):368–376. https://doi.org/10.1016/j.appet.2006.10.005

Vandewalle J, Moens E, Beyers W, Braet C (2016) Can we link emotional eating with the emotion regulation skills of adolescents? Psychol Health 31(7):857–872. https://doi.org/10.1080/08870446.2016.1149586

Forman EM, Hoffman KL, Juarascio AS, Butryn ML, Herbert JD (2013) Comparison of acceptance-based and standard cognitive-based coping strategies for craving sweets in overweight and obese women. Eat Behav 14(1):64–68. https://doi.org/10.1016/j.eatbeh.2012.10.016

Aparicio E, Canals J, Arija V, De Henauw S, Michels N (2016) The role of emotion regulation in childhood obesity: implications for prevention and treatment. Nutr Res Rev 29(1):17–29. https://doi.org/10.1017/S0954422415000153

Hoare E, Milton K, Foster C, Allender S (2016) The associations between sedentary behaviour and mental health among adolescents: a systematic review. Int J Behav Nutr Phy. https://doi.org/10.1186/s12966-016-0432-4

Delfino LD, Silva DAD, Tebar WR, Zanuto EF, Codogno JS, Fernandes RA, Christofaro DG (2018) Screen time by different devices in adolescents: association with physical inactivity domains and eating habits. J Sport Med Phys Fit 58(3):318–325. https://doi.org/10.23736/S0022-4707.17.06980-8

Dohle S, Hartmann C, Keller C (2014) Physical activity as a moderator of the association between emotional eating and BMI: Evidence from the Swiss Food Panel (vol 29, pg 1062, 2014). Psychol Health 29(9):Ii-Ii. https://doi.org/10.1080/08870446.2014.921419

DeBoer LB, Tart CD, Presnell KE, Powers MB, Baldwin AS, Smits JAJ (2012) Physical activity as a moderator of the association between anxiety sensitivity and binge eating. Eat Behav 13(3):194–201. https://doi.org/10.1016/j.eatbeh.2012.01.009

Cohen S (2004) Social relationships and health. Am Psychol 59(8):676–684. https://doi.org/10.1037/0003-066X.59.8.676

Steptoe A, Wardle J, Pollard TM, Canaan L, Davies GJ (1996) Stress, social support and health-related behavior: a study of smoking, alcohol consumption and physical exercise. J Psychosom Res 41(2):171–180

El Ansari W, Stock C, Mikolajczyk RT (2012) Relationships between food consumption and living arrangements among university students in four European countries—a cross-sectional study. Nutr J. https://doi.org/10.1186/1475-2891-11-28

Gallego J, Aguilar-Parra JM, Cangas AJ, Langer AI, Manas I (2015) Effect of a mindfulness program on stress, anxiety and depression in university students. Span J Psychol 17:E109. https://doi.org/10.1017/sjp.2014.102

Moss SB, Smith PO (2007) Wellness and impairment content in schools of medicine curricula in the United States and Canada. Med Educ Online 12(1):4459. https://doi.org/10.3402/meo.v12i.4459

Tsatsoulis A, Fountoulakis S (2006) The protective role of exercise on stress system dysregulation and comorbidities. Ann N Y Acad Sci 1083:196–213. https://doi.org/10.1196/annals.1367.020

Deliens T, Van Crombruggen R, Verbruggen S, De Bourdeaudhuij I, Deforche B, Clarys P (2016) Dietary interventions among university students: a systematic review. Appetite 105:14–26. https://doi.org/10.1016/j.appet.2016.05.003

O'Reilly GA, Cook L, Spruijt-Metz D, Black DS (2014) Mindfulness-based interventions for obesity-related eating behaviours: a literature review. Obes Rev 15(6):453–461. https://doi.org/10.1111/obr.12156

Wansink B, Cheney MM, Chan N (2003) Exploring comfort food preferences across age and gender. Physiol Behav 79(4–5):739–747

Becker JB, Berkley KJ, Geary N, Hampson E, Herman JP, Young EA (2008) Sex differences in the brain: from genes to behavior. Oxford University Press, New York

Newman E, O'Connor DB, Conner M (2007) Daily hassles and eating behaviour: the role of cortisol reactivity status. Psychoneuroendocrino 32(2):125–132. https://doi.org/10.1016/j.psyneuen.2006.11.006
Funding
No funding was received for this study. Nathalie Michels is funded by FWO (Research Foundation-Flanders).
Ethics declarations
Conflict of interest
The authors declare that they have no conflict of interest.
Electronic supplementary material
Below is the link to the electronic supplementary material.
About this article
Cite this article
Michels, N., Man, T., Vinck, B. et al. Dietary changes and its psychosocial moderators during the university examination period. Eur J Nutr 59, 273–286 (2020). https://doi.org/10.1007/s00394-019-01906-9
Received:

Accepted:

Published:

Issue Date:

DOI: https://doi.org/10.1007/s00394-019-01906-9
Keywords
Stress

Students

Moderation

Snack

Diet quality

Emotional eating