Abstract
Purpose
Gut microbiota composition was supposedly related to obesity and psychological factors. We examined the effects of a nutritional education intervention focusing on gut microbiota composition on obesity and psychological factors among obese women.
Methods
Forty-four obese Japanese women aged 40 or older were randomly assigned to either an intervention group (n = 22) or control group (n = 22). The intervention consisted of a 20-min dietary lecture and a 10-min counselling session by registered dieticians, every 2 weeks for eight consecutive weeks. Body weight, height, waist circumference, food frequency, and gut microbiota composition were measured, and self-rated health and psychological factors were scored before and after the intervention.
Results
All participants completed the 8 week program. After the intervention, dietary fibre intake (p < 0.01), frequency of vegetable consumption (p = 0.020), and frequency of milk and milk product consumption (p < 0.01) increased significantly in the intervention group compared with the control group. Body weight and body mass index (BMI; p < 0.001), waist circumference (p < 0.01), and the depression scale score (p < 0.01) decreased significantly, while significant improvements were found in self-rated health (p = 0.045) and microbiome diversity (p < 0.01).
Conclusion
Nutritional education focusing on gut microbiota composition may improve obesity and psychological factors in obese women.
This is a preview of subscription content, log in to check access.
Access options
Buy single article
Instant access to the full article PDF.
US$ 39.95
Price includes VAT for USA
Subscribe to journal
Immediate online access to all issues from 2019. Subscription will auto renew annually.
US$ 199
This is the net price. Taxes to be calculated in checkout.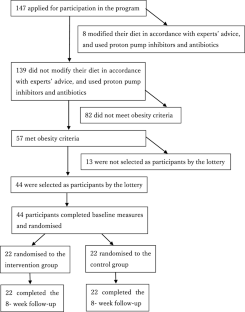 References
1.

Bäckhed F, Ley RE, Sonnenburg JL, Peterson DA, Gordon JI (2005) Host-bacterial mutualism in the human intestine. Science 307:1915–1920. https://doi.org/10.1126/science.1104816

2.

Mohajeri MH, Brummer RJM, Rastall RA, Weersma RK, Harmsen HJM, Faas M, Eggersdorfer M (2018) The role of the microbiome for human health: from basic science to clinical applications. Eur J Nutr. https://doi.org/10.1007/s00394-018-1703-4

3.

Kasai C, Sugimoto K, Moritani I, Tanaka J, Oya Y, Inoue H, Tameda M, Shiraki K, Ito M, Takei Y, Takase K (2015) Comparison of the gut microbiota composition between obese and non-obese individuals in a Japanese population, as analyzed by terminal restriction fragment length polymorphism and next-generation sequencing. BMC Gastroenterol 15:100. https://doi.org/10.1186/s12876-015-0330-2

4.

Turnbaugh PJ, Hamady M, Yatsunenko T, Cantarel BL, Duncan A, Ley RE, Sogin ML, Jones WJ, Roe BA, Affourtit JP, Egholm M, Henrissat B, Heath AC, Knight R, Gordon JI (2009) A core gut microbiome in obese and lean twins. Nature 457:480–484. https://doi.org/10.1113/jphysiol.2009.174136

5.

Karlsson FH, Tremaroli V, Nookaew I, Bergström G, Behre CJ, Fagerberg B, Nielsen J, Bäckhed F (2013) Gut metagenome in European women with normal, impaired and diabetic glucose control. Nature 498:99–103. https://doi.org/10.1038/nature12198

6.

Menni C, Jackson MA, Pallister T, Steves CJ, Spector TD, Valdes AM (2017) Gut microbiome diversity and high-fibre intake are related to lower long-term weight gain. Int J Obes (Lond) 41:1099–1105. https://doi.org/10.1038/ijo.2017.66

7.

Aizawa E, Tsuji H, Asahara T, Takahashi T, Teraishi T, Yoshida S, Ota M, Koga N, Hattori K, Kunugi H (2016) Possible association of Bifidobacterium and Lactobacillus in the gut microbiota of patients with major depressive disorder. J Affect Disord 15:254–257. https://doi.org/10.1016/j.jad.2016.05.038

8.

Terada A, Yamamoto M, Yoshimura E (1999) Effect of the fermented soybean product "natto" on the composition and metabolic activity of the human fecal flora. Jpn J Food Microbiol 16:221–230. https://doi.org/10.5803/jsfm.16.221

9.

Kadooka Y, Sato M, Imaizumi K, Ogawa A, Ikuyama K, Akai Y, Okano M, Kagoshima M, Tsuchida T (2010) Regulation of abdominal adiposity by probiotics (Lactobacillus gasseri SBT2055) in adults with obese tendencies in a randomized controlled trial. Eur J Clin Nutr 64:636–643. https://doi.org/10.1038/ejcn.2010.19

10.

Mohammadi AA, Jazayeri S, Khosravi-Darani K, Solati Z, Mohammadpour N, Asemi Z, Adab Z, Djalali M, Tehrani-Doost M, Hosseini M, Eghtesadi S (2015) The effects of probiotics on mental health and hypothalamic-pituitary-adrenal axis: a randomized, double-blind, placebo-controlled trial in petrochemical workers. Nutr Neurosci 19:387–395. https://doi.org/10.1179/1476830515Y.0000000023

11.

Silk DB, Davis A, Vulevic J, Tzortzis G, Gibson GR (2009) Clinical trial: the effects of a trans-galactooligosaccharide prebiotic on faecal microbiota and symptoms in irritable bowel syndrome. Aliment Pharmacol Ther 29:508–518. https://doi.org/10.1111/j.1365-2036.2008.03911.x

12.

Examination Committee of Criteria for 'Obesity Disease' in Japan; Japan Society for the Study of Obesity (2002) New criteria for 'obesity disease' in Japan. Circ J 66:987–992. https://doi.org/10.1253/circj.66.987

13.

Japan society for the study of obesity (2016) Guidelines for the management of obesity disease 2016. Life science co. Ltd, Japan

14.

Yoshiike N, Hayashi F, Takemi Y, Mizoguchi K, Seino F (2007) A new food guide in Japan: the Japanese food guide Spinning Top. Nutr Rev 65:149–154. https://doi.org/10.1111/j.1753-4887.2007.tb00294.x

15.

The Minister of Health, Labour and Welfare of Japan (2014) Dietary reference intakes for Japanese 2015. http://www.mhlw.go.jp/file/05-Shingikai-10901000-Kenkoukyoku-Soumuka/0000114399.pdf. Accessed 12 May 2018

16.

WHO (2015) World Health Organization. Fact sheet no. 394. http://www.who.int/mediacentre/factsheets/fs394/en/. Accessed 12 May 2018

17.

Ministry of Education, Culture, Sports, Science and Technology (2015) Standard tables of food composition in Japan 2015. http://www.mext.go.jp/a_menu/ syokuhinseibun/1365297.htm. Accessed 25 Oct 2018

18.

Radloff LS (1977) The CES-D Scale: a self-report depression scale for research in the general population. Appl Psychol Meas 1:385–401. https://doi.org/10.1177/014662167700100306

19.

Shima S, Shikano T, Kitamura T, Asai M (1985) New self-rating scale for depression. Clin Psychiatry 27:717–723. https://doi.org/10.11477/mf.1405203967

20.

Nedate Y, Tagami F (1995) Effects of happiness training program on subjective well-being modification. Jpn J Educ Psychol 43:177–184. https://doi.org/10.5926/jjep1953.43.2_177

21.

Kobayashi S, Murakami K, Sasaki S, Okubo H, Hirota N, Notsu A, Fukui M, Date C (2011) Comparison of relative validity of food group intakes estimated by comprehensive and brief-type self-administered diet history questionnaires against 16 d dietary records in Japanese adults. Public Health Nutr 14:1200–1211. https://doi.org/10.1017/S1368980011000504

22.

Kobayashi S, Honda S, Murakami K, Sasaki S, Okubo H, Hirota N, Notsu A, Fukui M, Date C (2012) Both comprehensive and brief self-administered diet history questionnaires satisfactorily rank nutrient intakes in Japanese adults. J Epidemiol 22:151–159. https://doi.org/10.2188/jea.JE20110075

23.

Sasaki S (2011) Calculation method of SV (in Japanese). http://www.ebnjapan.org/developer/pdf/1101161.pdf. Accessed 29 Oct 2018

24.

Kim SW, Suda W, Kim S, Oshima K, Fukuda S, Ohno H, Morita H, Hattori M (2013) Robustness of gut microbiota of healthy adults in response to probiotic intervention revealed by high-throughput pyrosequencing. DNA Res 20:241–253. https://doi.org/10.1093/dnares/dst006

25.

Gafan GP, Lucas VS, Roberts GJ, Petrie A, Wilson M, Spratt DA (2005) Statistical analyses of complex denaturing gradient gel electrophoresis profiles. J Clin Microbiol 43:3971–3978. https://doi.org/10.1128/JCM.43.8.3971-3978.2005

26.

Andoh A, Nishida A, Kobayashi T (2016) Comparison of the gut microbial community between obese and lean peoples using 16S gene sequencing in a Japanese population. J Clin Biochem Nutr 59:65–70. https://doi.org/10.3164/jcbn.15-152

27.

Ley RE, Turnbaugh PJ, Klein S, Gordon JI (2006) Microbial ecology: human gut microbes associated with obesity. Nature 444:1022–1023. https://doi.org/10.1038/4441022a

28.

Seki Y, Kakizaki S, Horiguchi N, Hashizume H, Tojima H, Yamazaki Y, Sato K, Kusano M, Yamada M, Kasama K (2016) Prevalence of nonalcoholic steatohepatitis in Japanese patients with morbid obesity undergoing bariatric surgery. J Gastroenterol 51:281–289. https://doi.org/10.1007/s00535-015-1114-8

29.

Kleiman SC, Watson HJ, Bulik-Sullivan EC (2015) The intestinal microbiota in acute anorexia nervosa and during renourishment: relationship to depression, anxiety, and eating disorder psychopathology. Psychosom Med 77:969–981. https://doi.org/10.1097/PSY.0000000000000247

30.

Nanri A, Kimura Y, Matsushita Y, Ohta M, Sato M, Mishima N, Sasaki S, Mizoue T (2010) Dietary patterns and depressive symptoms among Japanese men and women. Eur J Clin Nutr 64:832–839. https://doi.org/10.1038/ejcn.2010.86

31.

Kawase M, He F (2010) Anti-obesity effects of probiotics in fermented milk. J Intest Microbiol 24:265–271. https://doi.org/10.11209/jim.24.265

32.

Isawa K, Noma T, Yamamoto M (2008) Verifying the ability of yogurt prepared with LB81 lactic acid bacteria to improve skin function. J Intest Microbiol 22:1–5. https://doi.org/10.11209/jim.22.1

33.

Morishita Y (2000) Probiotics and prebiotics activate the intestinal bacteria for one's health Intestinal Bacteria Information Office. J Jpn Assoc Dietary Fiber Res 4:47–58. https://doi.org/10.11217/jjdf1997.4.47

34.

Ng SK, Hamilton IR (1971) Lactate metabolism by Veillonella parvula. J Bacteriol 105:999–1005

35.

Kasubuchi M, Hasegawa S, Hiramatsu T, Ichimura A, Kimura I (2015) Dietary gut microbial metabolites, short-chain fatty acids, and host metabolic regulation. Nutrients 7:2839–2849. https://doi.org/10.3390/nu7042839

36.

Armougom F, Henry M, Vialettes B, Raccah D, Raoult D (2009) Monitoring bacterial community of human gut microbiota reveals an increase in Lactobacillus in obese patients and Methanogens in anorexic patients. PLoS One 4:e7125. https://doi.org/10.1371/journal.pone.0007125

37.

Santacruz A, Collado MC, García-Valdés L, Segura MT, Martín-Lagos JA, Anjos T, Martí-Romero M, Lopez RM, Florido J, Campoy C, Sanz Y (2010) Gut microbiota composition is associated with body weight, weight gain and biochemical parameters in pregnant women. Br J Nutr 104:83–92. https://doi.org/10.1017/S0007114510000176

38.

Goldsmith JR, Sartor RB (2014) The role of diet on intestinal microbiota metabolism: downstream impacts on host immune function and health, and therapeutic implications. J Gastroenterol 49:785–798. https://doi.org/10.1007/s00535-014-0953-z

39.

Taira T, Yamaguchi S, Takahashi A, Okazaki Y, Yamaguchi A, Sakaguchi H, Chiji H (2015) Dietary polyphenols increase fecal mucin and immunoglobulin A and ameliorate the disturbance in gut microbiota caused by a high fat diet. J Clin Biochem Nutr 57:212–216. https://doi.org/10.3164/jcbn.15-15

40.

Schwiertz A, Taras D, Schäfer K, Beijer S, Bos NA, Donus C, Hardt PD (2010) Microbiota and SCFA in lean and overweight healthy subjects. Obesity (Silver Spring) 18:190–195. https://doi.org/10.1038/oby.2009.167

41.

Dncan SH, Lobley GE, Holtrop G, Ince J, Johnstone AM, Louis P, Flint HJ (2008) Human colonic microbiota associated with diet, obesity and weight loss. J Int J Obes (Lond) 32:1720–1724. https://doi.org/10.1038/ijo.2008.155

42.

Okubo S, Saito T, Lee HJ, Yoshie S, Wakui K, Kai I (2005) Correlates to male participation in disability prevention programs for the elderly. Nihon Koshu Eisei Zasshi 52:1050–1058. https://doi.org/10.11236/jph.52.12_10
Acknowledgements
The authors wish to express their sincere appreciation to the participants. This study was supported by grants from THE SKYLARK FOOD SCIENCE INSTITUTE and the Fostering Research Fund at Fukushima Medical University.
Ethics declarations
Conflict of interest
The authors declare that they have no conflict of interest.
Electronic supplementary material
Below is the link to the electronic supplementary material.
About this article
Cite this article
Uemura, M., Hayashi, F., Ishioka, K. et al. Obesity and mental health improvement following nutritional education focusing on gut microbiota composition in Japanese women: a randomised controlled trial. Eur J Nutr 58, 3291–3302 (2019). https://doi.org/10.1007/s00394-018-1873-0
Received:

Accepted:

Published:

Issue Date:
Keywords
Microbiota

Diet

Education

Obesity

Psychology