Abstract
Purpose
Quercetin is one of potential antidiabetic substances because of its powerful antioxidant and anti-inflammatory actions. The purpose of this study is to estimate daily quercetin intake and assess the relationship between dietary quercetin intake and the prevalence of type 2 diabetes mellitus (T2DM) in a Chinese population.
Methods
Dietary intake was investigated by a validated 100-item food frequency questionnaire. Daily intakes of quercetin and nutrients were calculated accordingly. T2DM was diagnosed based on the criteria of the American Diabetes Association. Adjusted logistic regression models were used to analyze the relationship between the quartiles of quercetin intake and the prevalence of T2DM.
Results
The prevalences of T2DM were 8.35% in men and 4.68% in women. The main food sources of quercetin were apple, orange, and green tea. Daily intake of quercetin was 20.9 ± 2.32 mg/day (mean ± SD). After adjusting for potentially confounding factors, the odds ratios (95% CI) for T2DM across the ascending quartiles of quercetin intake were: 1.00 (reference), 0.75 (0.60–0.95), 0.76 (0.59–0.99), and 0.63 (0.51–0.94).
Conclusions
The results of the present study showed that quercetin intake was inversely related to the prevalence of T2DM in the Chinese population, suggesting a protective effect of quercetin in the development of T2DM.
This is a preview of subscription content,
to check access.
Access this article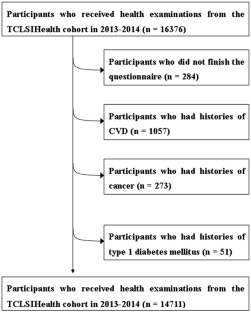 Similar content being viewed by others
References
Sheetz MJ, King GL (2002) Molecular understanding of hyperglycemia's adverse effects for diabetic complications. JAMA 288(20):2579–2588

Collaboration NRF (2016) Worldwide trends in diabetes since 1980: a pooled analysis of 751 population-based studies with 4.4 million participants. Lancet 387(10027):1513–1530. https://doi.org/10.1016/s0140-6736(16)00618-8

Yin J, Kong AP, Chan JC (2016) Prevention and care programs addressing the growing prevalence of diabetes in China. Curr Diabetes Rep 16(12):130. https://doi.org/10.1007/s11892-016-0821-8

Evans JL, Maddux BA, Goldfine ID (2005) The molecular basis for oxidative stress-induced insulin resistance. Antioxid Redox Signal 7(7–8):1040–1052. https://doi.org/10.1089/ars.2005.7.1040

Donath MY (2014) Targeting inflammation in the treatment of type 2 diabetes: time to start. Nat Rev Drug Discov 13(6):465–476. https://doi.org/10.1038/nrd4275

Xie W, Du L (2011) Diabetes is an inflammatory disease: evidence from traditional Chinese medicines. Diabetes Obes Metab 13(4):289–301. https://doi.org/10.1111/j.1463-1326.2010.01336.x

Aharoni-Simon M, Shumiatcher R, Yeung A, Shih AZ, Dolinsky VW, Doucette CA, Luciani DS (2016) Bcl-2 regulates reactive oxygen species signaling and a redox-sensitive mitochondrial proton leak in mouse pancreatic beta-cells. Endocrinology 157(6):2270–2281. https://doi.org/10.1210/en.2015-1964

Spranger J, Kroke A, Mohlig M, Hoffmann K, Bergmann MM, Ristow M, Boeing H, Pfeiffer AF (2003) Inflammatory cytokines and the risk to develop type 2 diabetes: results of the prospective population-based European Prospective Investigation into Cancer and Nutrition (EPIC)-Potsdam Study. Diabetes 52(3):812–817

Heijnen CG, Haenen GR, Oostveen RM, Stalpers EM, Bast A (2002) Protection of flavonoids against lipid peroxidation: the structure activity relationship revisited. Free Radic Res 36(5):575–581

Zhao L, Wu J, Yang J, Wei J, Gao W, Guo C (2011) Dietary quercetin supplementation increases serum antioxidant capacity and alters hepatic gene expression profile in rats. Exp Biol Med (Maywood, NJ) 236(6):701–706. https://doi.org/10.1258/ebm.2011.010258

Su JF, Guo CJ, Wei JY, Yang JJ, Jiang YG, Li YF (2003) Protection against hepatic ischemia-reperfusion injury in rats by oral pretreatment with quercetin. BES 16(1):1–8

Yoon JS, Chae MK, Lee SY, Lee EJ (2012) Anti-inflammatory effect of quercetin in a whole orbital tissue culture of Graves' orbitopathy. Br J Ophthalmol 96(8):1117–1121. https://doi.org/10.1136/bjophthalmol-2012-301537

Vessal M, Hemmati M, Vasei M (2003) Antidiabetic effects of quercetin in streptozocin-induced diabetic rats. CBP 135c(3):357–364

Veith C, Drent M, Bast A, van Schooten FJ, Boots AW (2017) The disturbed redox-balance in pulmonary fibrosis is modulated by the plant flavonoid quercetin. Toxicol Appl Pharmacol 336:40–48. https://doi.org/10.1016/j.taap.2017.10.001

Boots AW, Drent M, de Boer VC, Bast A, Haenen GR (2011) Quercetin reduces markers of oxidative stress and inflammation in sarcoidosis. Clinical nutrition (Edinburgh Scotland) 30(4):506–512. https://doi.org/10.1016/j.clnu.2011.01.010

Knekt P, Kumpulainen J, Jarvinen R, Rissanen H, Heliovaara M, Reunanen A, Hakulinen T, Aromaa A (2002) Flavonoid intake and risk of chronic diseases. Am J Clin Nutr 76(3):560–568

Song Y, Manson JE, Buring JE, Sesso HD, Liu S (2005) Associations of dietary flavonoids with risk of type 2 diabetes, and markers of insulin resistance and systemic inflammation in women: a prospective study and cross-sectional analysis. J Am Coll Nutr 24(5):376–384

Sun Q, Wedick NM, Tworoger SS, Pan A, Townsend MK, Cassidy A, Franke AA, Rimm EB, Hu FB, van Dam RM (2015) Urinary excretion of select dietary polyphenol metabolites is associated with a lower risk of type 2 diabetes in proximate but not remote follow-up in a prospective investigation in 2 cohorts of US women. J Nutr 145(6):1280–1288. https://doi.org/10.3945/jn.114.208736

Qi L, Cornelis MC, Zhang C, van Dam RM, Hu FB (2009) Genetic predisposition, Western dietary pattern, and the risk of type 2 diabetes in men. Am J Clin Nutr 89(5):1453–1458. https://doi.org/10.3945/ajcn.2008.27249

Shi Z, Hu X, Yuan B, Pan X, Meyer HE, Holmboe-Ottesen G (2006) Association between serum ferritin, hemoglobin, iron intake, and diabetes in adults in Jiangsu, China. Diabetes care 29(8):1878–1883. https://doi.org/10.2337/dc06-0327

Gu Y, Li H, Bao X, Zhang Q, Liu L, Meng G, Wu H, Du H, Shi H, Xia Y, Su Q, Fang L, Yu F, Yang H, Yu B, Sun S, Wang X, Zhou M, Jia Q, Guo Q, Chang H, Wang G, Huang G, Song K, Niu K (2017) The relationship between thyroid function and the prevalence of type 2 diabetes mellitus in euthyroid subjects. J Clin Endocrinol Metab 102(2):434–442. https://doi.org/10.1210/jc.2016-2965

Yuexin Y (2009) China food composition. Peking University Medical Press, Beijing

Guo CXJ, Wei J, Yang J, Wu J (2009) Flavonoid contents of common vegetables in china. Acta Nutrimenta Sinica 3:185–190

Guo C, Wei J, Yang J, Wu J (2008) The flavonoid content of common fruits in China. Acta Nutrimenta Sinica 30:130–135

Liu Y, Wei J, Pu L, Wu J, Yang J, Guo C (2010) Effect of different seasons on flavonoids contents of vegetables. Acta Nutrimenta Sinica 32(6):587–591

American Diabetes Association (2014) Diagnosis and classification of diabetes mellitus. Diabetes Care 37(Suppl 1):S81–S90. https://doi.org/10.2337/dc14-S081

Bao X, Wan M, Gu Y, Song Y, Zhang Q, Liu L, Meng G, Wu H, Xia Y, Shi H, Su Q, Fang L, Yang H, Yu F, Sun S, Wang X, Zhou M, Jia Q, Song K, Wang G, Yu M, Niu K (2017) Red cell distribution width is associated with hemoglobin A1C elevation, but not glucose elevation. J Diabetes Complicat 31(10):1544–1548. https://doi.org/10.1016/j.jdiacomp.2017.07.013

Macfarlane D, Chan A, Cerin E (2011) Examining the validity and reliability of the Chinese version of the International Physical Activity Questionnaire, long form (IPAQ-LC). Public Health Nutr 14(3):443–450. https://doi.org/10.1017/s1368980010002806

Alberti KG, Eckel RH, Grundy SM, Zimmet PZ, Cleeman JI, Donato KA, Fruchart JC, James WP, Loria CM, Smith SC Jr, International Diabetes Federation Task Force on E, Prevention, National Heart L, Blood I, American Heart A, World Heart F, International Atherosclerosis S, International Association for the Study of O (2009) Harmonizing the metabolic syndrome: a joint interim statement of the International Diabetes Federation Task Force on Epidemiology and Prevention; National Heart, Lung, and Blood Institute; American Heart Association; World Heart Federation; International Atherosclerosis Society; and International Association for the Study of Obesity. Circulation 120(16):1640–1645. https://doi.org/10.1161/CIRCULATIONAHA.109.192644

Zamora-Ros R, Knaze V, Lujan-Barroso L, Slimani N, Romieu I, Fedirko V, de Magistris MS, Ericson U, Amiano P, Trichopoulou A, Dilis V, Naska A, Engeset D, Skeie G, Cassidy A, Overvad K, Peeters PH, Huerta JM, Sanchez MJ, Quiros JR, Sacerdote C, Grioni S, Tumino R, Johansson G, Johansson I, Drake I, Crowe FL, Barricarte A, Kaaks R, Teucher B, Bueno-de-Mesquita HB, van Rossum CT, Norat T, Romaguera D, Vergnaud AC, Tjonneland A, Halkjaer J, Clavel-Chapelon F, Boutron-Ruault MC, Touillaud M, Salvini S, Khaw KT, Wareham N, Boeing H, Forster J, Riboli E, Gonzalez CA (2011) Estimated dietary intakes of flavonols, flavanones and flavones in the European Prospective Investigation into Cancer and Nutrition (EPIC) 24 hour dietary recall cohort. Br J Nutr 106(12):1915–1925. https://doi.org/10.1017/s000711451100239x

Ilow R, Regulska-Ilow B, Rozanska D, Misiewicz D, Grajeta H, Kowalisko A, Biernat J (2012) Assessment of dietary flavonoid intake among 50-year-old inhabitants of Wroclaw in 2008. Advances in clinical and experimental medicine: official organ. Wroclaw Med Univ 21(3):353–362

Hertog MG, Kromhout D, Aravanis C, Blackburn H, Buzina R, Fidanza F, Giampaoli S, Jansen A, Menotti A, Nedeljkovic S et al (1995) Flavonoid intake and long-term risk of coronary heart disease and cancer in the seven countries study. Arch Intern Med 155(4):381–386

Foster-Powell K, Miller JB (1995) International tables of glycemic index. Am J Clin Nutr 62(4):871s–890s

Arai Y, Watanabe S, Kimira M, Shimoi K, Mochizuki R, Kinae N (2000) Dietary intakes of flavonols, flavones and isoflavones by Japanese women and the inverse correlation between quercetin intake and plasma LDL cholesterol concentration. J Nutr 130(9):2243–2250

Kim YJ, Park MY, Chang N, Kwon O (2015) Intake and major sources of dietary flavonoid in Korean adults: Korean National Health and Nutrition Examination Survey 2010–2012. Asia Pac J Clin Nutr 24(3):456–463. https://doi.org/10.6133/apjcn.2015.24.3.04

Gao W, Wei J, Pu L, Liu Y, Guo C, Zhao L, Cai Y, Wu C (2014) Comparison of dietary intakes of myricetin, quercetin, kaempferol, apigenin and luteolin from vegetables and fruits in Chinese adults from four different regions. Acta Nutrimenta Sinica 36(6):559–564

Panda S, Kar A (2007) Antidiabetic and antioxidative effects of Annona squamosa leaves are possibly mediated through quercetin-3-O-glucoside. BioFactors 31(3–4):201–210

Crozier A, Jaganath IB, Clifford MN (2009) Dietary phenolics: chemistry, bioavailability and effects on health. Nat Prod Rep 26(8):1001–1043. https://doi.org/10.1039/b802662a

Lin CY, Ni CC, Yin MC, Lii CK (2012) Flavonoids protect pancreatic beta-cells from cytokines mediated apoptosis through the activation of PI3-kinase pathway. Cytokine 59(1):65–71. https://doi.org/10.1016/j.cyto.2012.04.011

Li JM, Wang W, Fan CY, Wang MX, Zhang X, Hu QH, Kong LD (2013) Quercetin preserves beta-cell mass and function in fructose-induced hyperinsulinemia through modulating pancreatic Akt/FoxO1 activation. eCAM 2013:303902. https://doi.org/10.1155/2013/303902

Bhattacharya S, Oksbjerg N, Young JF, Jeppesen PB (2014) Caffeic acid, naringenin and quercetin enhance glucose-stimulated insulin secretion and glucose sensitivity in INS-1E cells. Diabetes Obes Metab 16(7):602–612. https://doi.org/10.1111/dom.12236

Wang L, Waltenberger B, Pferschy-Wenzig EM, Blunder M, Liu X, Malainer C, Blazevic T, Schwaiger S, Rollinger JM, Heiss EH, Schuster D, Kopp B, Bauer R, Stuppner H, Dirsch VM, Atanasov AG (2014) Natural product agonists of peroxisome proliferator-activated receptor gamma (PPARgamma): a review. Biochem Pharmacol 92(1):73–89. https://doi.org/10.1016/j.bcp.2014.07.018

Shi Y, Williamson G (2016) Quercetin lowers plasma uric acid in pre-hyperuricaemic males: a randomised, double-blinded, placebo-controlled, cross-over trial. Br J Nutr 115(5):800–806. https://doi.org/10.1017/S0007114515005310

Valensi P, Le Devehat C, Richard JL, Farez C, Khodabandehlou T, Rosenbloom RA, LeFante C (2005) A multicenter, double-blind, safety study of QR-333 for the treatment of symptomatic diabetic peripheral neuropathy. A preliminary report. J Diabetes Complicat 19(5):247–253. https://doi.org/10.1016/j.jdiacomp.2005.05.011

K Declaration (2013) Promoting research for better diabetes care in Asia: Kyoto declaration on diabetes. J Diabetes Investig 4(2):222. https://doi.org/10.1111/jdi.12073

Tuomi T, Santoro N, Caprio S, Cai M, Weng J, Groop L (2014) The many faces of diabetes: a disease with increasing heterogeneity. Lancet 383(9922):1084–1094. https://doi.org/10.1016/s0140-6736(13)62219-9

Eckel RH, Kahn SE, Ferrannini E, Goldfine AB, Nathan DM, Schwartz MW, Smith RJ, Smith SR (2011) Obesity and type 2 diabetes: what can be unified and what needs to be individualized? J Clin Endocrinol Metab 96(6):1654–1663. https://doi.org/10.1210/jc.2011-0585

Kashino Y, Murota K, Matsuda N, Tomotake M, Hamano T, Mukai R, Terao J (2015) Effect of processed onions on the plasma concentration of quercetin in rats and humans. J Food Sci 80(11):H2597-2602. https://doi.org/10.1111/1750-3841.13079

Egert S, Wolffram S, Schulze B, Langguth P, Hubbermann EM, Schwarz K, Adolphi B, Bosy-Westphal A, Rimbach G, Muller MJ (2012) Enriched cereal bars are more effective in increasing plasma quercetin compared with quercetin from powder-filled hard capsules. Br J Nutr 107(4):539–546. https://doi.org/10.1017/s0007114511003242

Chen HF, Ho CA, Li CY (2006) Age and sex may significantly interact with diabetes on the risks of lower-extremity amputation and peripheral revascularization procedures: evidence from a cohort of a half-million diabetic patients. Diabetes Care 29(11):2409–2414. https://doi.org/10.2337/dc06-1343

Jarvandi S, Davidson NO, Jeffe DB, Schootman M (2012) Influence of lifestyle factors on inflammation in men and women with type 2 diabetes: results from the National Health and Nutrition Examination Survey, 1999–2004. Ann Behav Med 44(3):399–407. https://doi.org/10.1007/s12160-012-9397-y

Dyck R, Karunanayake C, Pahwa P, Hagel L, Lawson J, Rennie D, Dosman J, Saskatchewan Rural Health Study G (2013) Prevalence, risk factors and co-morbidities of diabetes among adults in rural Saskatchewan: the influence of farm residence and agriculture-related exposures. BMC Public Health 13:7. https://doi.org/10.1186/1471-2458-13-7

Qi L, Kraft P, Hunter DJ, Hu FB (2008) The common obesity variant near MC4R gene is associated with higher intakes of total energy and dietary fat, weight change and diabetes risk in women. Hum Mol Genet 17(22):3502–3508. https://doi.org/10.1093/hmg/ddn242

Martinell M, Pingel R, Hallqvist J, Dorkhan M, Groop L, Rosengren A, Storm P, Stalhammar J (2017) Education, immigration and income as risk factors for hemoglobin A1c> 70 mmol/mol when diagnosed with type 2 diabetes or latent autoimmune diabetes in adult: a population-based cohort study. BMJ Open Diabetes Res Care 5(1):e000346. https://doi.org/10.1136/bmjdrc-2016-000346

Bando N, Wakamatsu S, Terao J (2007) Effect of an excessive intake of quercetin on the vitamin E level and antioxidative enzyme activities of mouse liver under paraquat-induced oxidative stress. Biosci Biotechnol Biochem 71(10):2569–2572. https://doi.org/10.1271/bbb.70282

Casuso RA, Martinez-Lopez EJ, Hita-Contreras F, Camiletti-Moiron D, Martinez-Amat A (2014) Quercetin effects on weight gain and caloric intake in exercised rats. Biol Sport 31(1):63–67. https://doi.org/10.5604/20831862.1086734

Ruhe RC, McDonald RB (2001) Use of antioxidant nutrients in the prevention and treatment of type 2 diabetes. J Am Coll Nutr 20(5 Suppl):363S–369S (discussion 381S–383S)

Vitolins MZ, Anderson AM, Delahanty L, Raynor H, Miller GD, Mobley C, Reeves R, Yamamoto M, Champagne C, Wing RR, Mayer-Davis E, Look ARG (2009) Action for Health in Diabetes (Look AHEAD) trial: baseline evaluation of selected nutrients and food group intake. J Am Diet Assoc 109(8):1367–1375. https://doi.org/10.1016/j.jada.2009.05.016
Acknowledgements
The authors gratefully acknowledge all the people that have made this study. This work was supported financially by grants from the Tianjin Research Program of Application Foundation and Advanced Technology (Project no. 13JCQNJC11800), the National Natural Science Foundation of China (nos. 81673166, 81372118, 81372467 and 81302422), and the key technologies R&D program of Tianjin (Key Project: nos. 11ZCGYSY05700, 12ZCZDSY20400, 13ZCZDSY20200, and 15YFYZSY00020).
Ethics declarations
Conflict of interest
The authors declare no competing financial interests.
About this article
Cite this article
Yao, Z., Gu, Y., Zhang, Q. et al. Estimated daily quercetin intake and association with the prevalence of type 2 diabetes mellitus in Chinese adults. Eur J Nutr 58, 819–830 (2019). https://doi.org/10.1007/s00394-018-1713-2
Received:

Accepted:

Published:

Issue Date:

DOI: https://doi.org/10.1007/s00394-018-1713-2
Keywords