Abstract
Background
A combination of genetic and environmental factors is involved in depression etiology. During the last years, the prevalence of depression has increased in both developed and developing countries. Several studies indicated an association between dietary glycemic index (GI) and glycemic load (GL) with risk of depression. This systematic review was undertaken to summarize the effect of these diet indicators in depression pathogenesis.
Methods
A comprehensive search strategy was performed in the Pubmed, Embase, Cochrane Library and Scopus databases from 1966 to March 2017. Finally, six studies (three prospective cohort studies and three cross-sectional) were ultimately selected for inclusion in the systematic review.
Results
75298 adults and elderly entered the reviewed studies. All of the included studies had high methodological quality. The present study indicated that the intake of foods with higher GI is associated with disease risk. However, the relationship was found to be inverse for GL, though the association was rather weak.
Conclusions
Overall, the findings indicated that a diet with lower dietary glycemic index may be effective to reduce the risk or risk of depression.
Access options
Buy single article
Instant access to the full article PDF.
US$ 39.95
Tax calculation will be finalised during checkout.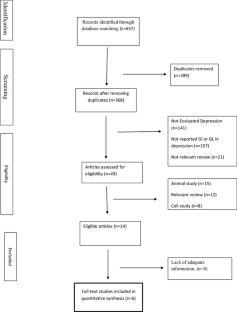 References
1.

Luppino FS (2015) Metabolic disturbances in depression: epidemiological studies on the role of diagnostic approach and treatment setting. Department of Psychiatry, Faculty of Medicine, Leiden University Medical Center (LUMC), Leiden University, Leiden

2.

Kessler RC, Bromet EJ (2013) The epidemiology of depression across cultures. Annu Rev Public Health 34:119–138

3.

Avenevoli S, Swendsen J, He J-P, Burstein M, Merikangas KR (2015) Major depression in the National Comorbidity Survey—adolescent supplement: prevalence, correlates, and treatment. J Am Acad Child Adolesc Psychiatry 54(1):37.e32–44.e32

4.

Patten SB, Wang JL, Williams JV, Currie S, Beck CA, Maxwell CJ, el-Guebaly N (2006) Descriptive epidemiology of major depression in Canada. Can J Psychiatry 51(2):84–90

5.

Taylor DJ, Lichstein KL, Durrence HH, Reidel BW, Bush AJ (2005) Epidemiology of insomnia, depression, and anxiety. SLEEP-NEW YORK THEN WESTCHESTER 28(11):1457

6.

Beck AT, Alford BA (2009) Depression: causes and treatment. University of Pennsylvania Press, Philadelphia

7.

Rahe C, Unrath M, Berger K (2014) Dietary patterns and the risk of depression in adults: a systematic review of observational studies. Eur J Nutr 53(4):997–1013. https://doi.org/10.1007/s00394-014-0652-9

8.

Akbaraly TN, Brunner EJ, Ferrie JE, Marmot MG, Kivimaki M, Singh-Manoux A (2009) Dietary pattern and depressive symptoms in middle age. Br J Psychiatry 195(5):408–413

9.

Bodnar LM, Wisner KL (2005) Nutrition and depression: implications for improving mental health among childbearing-aged women. Biol Psychiatry 58(9):679–685

10.

Spadaro PA, Naug HL, Du Toit EF, Donner D, Colson NJ (2015) A refined high carbohydrate diet is associated with changes in the serotonin pathway and visceral obesity. Genet Res 97:e23

11.

Wolever T (2013) Is glycaemic index (GI) a valid measure of carbohydrate quality? Eur J Clin Nutr 67(5):522–531

12.

Nanri A, Eguchi M, Kuwahara K, Kochi T, Kurotani K, Ito R, Pham NM, Tsuruoka H, Akter S, Jacka F (2014) Macronutrient intake and depressive symptoms among Japanese male workers: the Furukawa Nutrition and Health Study. Psychiatry Res 220(1):263–268

13.

Haghighatdoost F, Azadbakht L, Keshteli AH, Feinle-Bisset C, Daghaghzadeh H, Afshar H, Feizi A, Esmaillzadeh A, Adibi P (2015) Glycemic index, glycemic load, and common psychological disorders. Am J Clin Nutr 103(1):201–209

14.

Ali S, Stone M, Peters J, Davies M, Khunti K (2006) The prevalence of co-morbid depression in adults with type 2 diabetes: a systematic review and meta-analysis. Diabet Med 23(11):1165–1173

15.

Liberati A, Altman DG, Tetzlaff J, Mulrow C, Gøtzsche PC, Ioannidis JP, Clarke M, Devereaux PJ, Kleijnen J, Moher D (2009) The PRISMA statement for reporting systematic reviews and meta-analyses of studies that evaluate health care interventions: explanation and elaboration. PLoS Med 6(7):e1000100

16.

Stang A (2010) Critical evaluation of the Newcastle–Ottawa scale for the assessment of the quality of nonrandomized studies in meta-analyses. Eur J Epidemiol 25(9):603–605

17.

Wells G, Shea B, O'connell D, Peterson J, Welch V, Losos M, Tugwell P (2015) The Newcastle–Ottawa Scale (NOS) for assessing the quality of nonrandomised studies in meta-analyses. Ottawa Hospital Research Institute, Oxford

18.

Namazi N, Saneei P, Larijani B, Esmaillzadeh A (2018) Soy product consumption and the risk of all-cause, cardiovascular and cancer mortality: a systematic review and meta-analysis of cohort studies. Food Funct. https://doi.org/10.1039/c7fo01622k

19.

Umegaki H, Iimuro S, Araki A, Sakurai T, Iguchi A, Yoshimura Y, Ohashi Y, Ito H (2009) Association of higher carbohydrate intake with depressive mood in elderly diabetic women. Nutr Neurosci 12(6):267–271. https://doi.org/10.1179/147683009x423463

20.

Gangwisch JE, Hale L, Garcia L, Malaspina D, Opler MG, Payne ME, Rossom RC, Lane D (2015) High glycemic index diet as a risk factor for depression: analyses from the Women's Health Initiative. Am J Clin Nutr 102(2):454–463. https://doi.org/10.3945/ajcn.114.103846

21.

Aparicio A, Robles F, López-Sobaler AM, Ortega RM (2013) Dietary glycaemic load and odds of depression in a group of institutionalized elderly people without antidepressant treatment. Eur J Nutr 52(3):1059–1066. https://doi.org/10.1007/s00394-012-0412-7

22.

Mwamburi DM, Liebson E, Folstein M, Bungay K, Tucker KL, Qiu WQ (2011) Depression and glycemic intake in the homebound elderly. J Affect Disord 132(1):94–98

23.

Murakami K, Miyake Y, Sasaki S, Tanaka K, Yokoyama T, Ohya Y, Fukushima W, Kiyohara C, Hirota Y, Maternal TO (2008) Dietary glycemic index and load and the risk of postpartum depression in Japan: the Osaka Maternal and Child Health Study. J Affect Disord 110(1):174–179

24.

Wolever TM, Yang M, Zeng XY, Atkinson F, Brand-Miller JC (2006) Food glycemic index, as given in glycemic index tables, is a significant determinant of glycemic responses elicited by composite breakfast meals. Am J Clin Nutr 83(6):1306–1312

25.

Payne ME, Steck SE, George RR, Steffens DC (2012) Fruit, vegetable, and antioxidant intakes are lower in older adults with depression. J Acad Nutr Dietetics 112(12):2022–2027

26.

Casper RC (2011) Diet and mental health: an up-to-date analysis. In: Simopoulos AP (ed) Healthy agriculture, healthy nutrition, healthy people, World Rev Nutr Diet., vol 102. Karger Publishers, pp 98–113

27.

Merrill RM, Taylor P, Aldana SG (2008) Coronary Health Improvement Project (CHIP) is associated with improved nutrient intake and decreased depression. Nutrition 24(4):314–321

28.

Hamer M, Bates CJ, Mishra GD (2011) Depression, physical function, and risk of mortality: National Diet and Nutrition Survey in adults older than 65 years. Am J Geriatr Psychiatry 19(1):72–78

29.

Milaneschi Y, Bandinelli S, Penninx BW, Corsi AM, Lauretani F, Vazzana R, Semba RD, Guralnik JM, Ferrucci L (2012) The relationship between plasma carotenoids and depressive symptoms in older persons. World J Biol Psychiatry 13(8):588–598

30.

Derom M-L, Sayón-Orea C, Martínez-Ortega JM, Martínez-González MA (2013) Magnesium and depression: a systematic review. Nutr Neurosci 16(5):191–206

31.

Buyken AE, Goletzke J, Joslowski G, Felbick A, Cheng G, Herder C, Brand-Miller JC (2014) Association between carbohydrate quality and inflammatory markers: systematic review of observational and interventional studies. Am J Clin Nutr 99(4):813–833

32.

Lai-Ling H, Nelson EAS, Kai-Chow C, Wong GW, Sung R (2005) Twelve-hour glycemic profiles with meals of high, medium, or low glycemic load. Diabetes Care 28(12):2981

33.

Cheatham RA, Roberts SB, Das SK, Gilhooly CH, Golden JK, Hyatt R, Lerner D, Saltzman E, Lieberman HR (2009) Long-term effects of provided low and high glycemic load low energy diets on mood and cognition. Physiol Behav 98(3):374–379. https://doi.org/10.1016/j.physbeh.2009.06.015

34.

Markus C (2007) Effects of carbohydrates on brain tryptophan availability and stress performance. Biol Psychol 76(1):83–90

35.

Dunner DL, Goodwin FK (1972) Effect of l-tryptophan on brain serotonin metabolism in depressed patients. Arch Gen Psychiatry 26(4):364–366
Ethics declarations
Conflict of interest
The authors declare that they have no conflict of interest.
About this article
Cite this article
Rahimlou, M., Morshedzadeh, N., Karimi, S. et al. Association between dietary glycemic index and glycemic load with depression: a systematic review. Eur J Nutr 57, 2333–2340 (2018). https://doi.org/10.1007/s00394-018-1710-5
Received:

Accepted:

Published:

Issue Date:
Keywords
Depression

Glycemic index

Glycemic load

Carbohydrate

Diet