Abstract
Purpose
The main objective of this study was to test the therapeutic potential of hydroxytyrosol and its combination with paclitaxel in breast cancer on oxidative stress status.
Methods
Impact on proliferation rates of different chemotherapy administration patterns was assayed in MCF-7 and MDA-MB-231 breast cancer cell lines. Breast tumor-bearing rats were randomly assigned to Control, Hydroxytyrosol, Paclitaxel and Paclitaxel plus hydroxytyrosol groups, for 6 weeks. Tumor volume, cell proliferation and several systemic oxidative stress parameters were measured. Anti-proliferative activity in vitro experiments was correlated with in vivo experiments.
Results
Combination group did significantly reduce tumor volume when compared with paclitaxel alone. Additionally, the combination improved the antioxidant status without compromising the antitumor activity of standard chemotherapy.
Conclusion
These findings reveal for the first time that hydroxytyrosol is an active partner in combined therapies with paclitaxel against breast cancer. Combination with hydroxytyrosol would also ensure a less oxidative impact of chemotherapeutic drugs that could potentially improve patient wellness.
Access options
Buy single article
Instant access to the full article PDF.
US$ 39.95
Tax calculation will be finalised during checkout.
Subscribe to journal
Immediate online access to all issues from 2019. Subscription will auto renew annually.
US$ 159
Tax calculation will be finalised during checkout.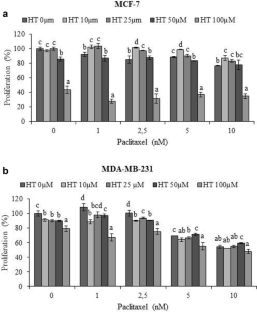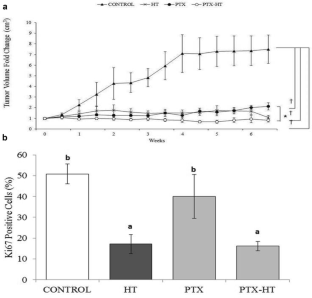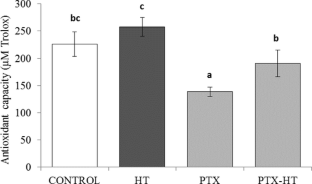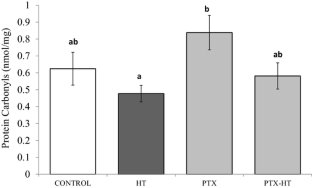 References
1.

Gomez SL, Von Behren J, McKinley M, Clarke CA, Shariff-Marco S, Cheng I, Reynolds P, Glaser SL (2017) Breast cancer in Asian Americans in California, 1988–2013: increasing incidence trends and recent data on breast cancer subtypes. Breast Cancer Res Treat 164(1):139–147

2.

Jemal A, Ward EM, Johnson CJ, Cronin KA, Ma J, Ryerson B, Mariotto A, Lake AJ, Wilson R, Sherman RL, Anderson RN, Henley SJ, Kohler BA, Penberthy L, Feuer EJ, Weir HK (2017) Annual Report to the Nation on the Status of Cancer, 1975–2014, Featuring Survival. J Natl Cancer Inst 109(9). https://doi.org/10.1093/jnci/djx030

3.

Jemal A, Bray F, Center MM, Ferlay J, Ward E, Forman D (2011) Global cancer statistics. CA Cancer J Clin 61(2):69–90

4.

Vera-Ramirez L, Sanchez-Rovira P, Ramirez-Tortosa CL, Quiles JL, Ramirez-Tortosa M, Lorente JA (2013) Transcriptional shift identifies a set of genes driving breast cancer chemoresistance. PLoS One 8(1):e53983

5.

Wu X, Ye Y, Barcenas CH, Chow W-H, Meng QH, Chavez-MacGregor M, Hildebrandt MAT, Zhao H, Gu X, Deng Y, Wagar E, Esteva FJ, Tripathy D, Hortobagyi GN (2017) Personalized prognostic prediction models for breast cancer recurrence and survival incorporating multidimensional data. J Natl Cancer Inst 109(7). https://doi.org/10.1093/jnci/djw314

6.

Buckland G, Gonzalez CA (2015) The role of olive oil in disease prevention: a focus on the recent epidemiological evidence from cohort studies and dietary intervention trials. Br J Nutr 113(Suppl 2):S94-101

7.

Rodriguez-Morato J, Xicota L, Fito M, Farre M, Dierssen M, de la Torre R (2015) Potential role of olive oil phenolic compounds in the prevention of neurodegenerative diseases. Molecules 20(3):4655–4680

8.

Granados-Principal S, Quiles JL, Ramirez-Tortosa CL, Ochoa-Herrera J, Perez-Lopez P, Pulido-Moran M, Ramirez-Tortosa MC (2012) Squalene ameliorates atherosclerotic lesions through the reduction of CD36 scavenger receptor expression in macrophages. Mol Nutr Food Res 56(5):733–740

9.

Granados-Principal S, Quiles JL, Ramirez-Tortosa CL, Sanchez-Rovira P, Ramirez-Tortosa MC (2010) Hydroxytyrosol: from laboratory investigations to future clinical trials. Nutr Rev 68(4):191–206

10.

Arunsundar M, Shanmugarajan TS, Ravichandran V (2015) 3,4-dihydroxyphenylethanol attenuates spatio-cognitive deficits in an Alzheimer's disease mouse model: modulation of the molecular signals in neuronal survival-apoptotic programs. Neurotox Res 27(2):143–155. https://doi.org/10.1007/s12640-014-9492-x

11.

Catalan U, Rubio L, Lopez de Las Hazas M-C, Herrero P, Nadal P, Canela N, Pedret A, Motilva M-J, Sola R (2016) Hydroxytyrosol and its complex forms (secoiridoids) modulate aorta and heart proteome in healthy rats: Potential cardio-protective effects. Mol Nutr Food Res 60(10):2114–2129

12.

Medina-Martinez MS, Truchado P, Castro-Ibanez I, Allende A (2016) Antimicrobial activity of hydroxytyrosol: a current controversy. Biosci Biotechnol Biochem 80(4):801–810

13.

Warleta F, Quesada CS, Campos M, Allouche Y, Beltran G, Gaforio JJ (2011) Hydroxytyrosol protects against oxidative DNA damage in human breast cells. Nutrients 3(10):839–857

14.

Zheng A, Li H, Cao K, Xu J, Zou X, Li Y, Chen C, Liu J, Feng Z (2015) Maternal hydroxytyrosol administration improves neurogenesis and cognitive function in prenatally stressed offspring. J Nutr Biochem 26(2):190–199

15.

Nogueira V, Park Y, Chen C-C, Xu P-Z, Chen M-L, Tonic I, Unterman T, Hay N (2008) Akt determines replicative senescence and oxidative or oncogenic premature senescence and sensitizes cells to oxidative apoptosis. Cancer Cell 14(6):458–470

16.

Notarnicola M, Pisanti S, Tutino V, Bocale D, Rotelli MT, Gentile A, Memeo V, Bifulco M, Perri E, Caruso MG (2011) Effects of olive oil polyphenols on fatty acid synthase gene expression and activity in human colorectal cancer cells. Genes Nutr 6(1):63–69

17.

Granados-Principal S, Quiles JL, Ramirez-Tortosa C, Camacho-Corencia P, Sanchez-Rovira P, Vera-Ramirez L, Ramirez-Tortosa MC (2011) Hydroxytyrosol inhibits growth and cell proliferation and promotes high expression of sfrp4 in rat mammary tumours. Mol Nutr Food Res 55(Suppl 1):S117–S126

18.

Jezierska-Drutel A, Rosenzweig SA, Neumann CA (2013) Role of oxidative stress and the microenvironment in breast cancer development and progression. Adv Cancer Res 119:107–125

19.

Castel M, Despas F, Modesto A, Gales C, Honton B, Galinier M, Senard J-M, Pathak A (2013) [Cardiotoxicity of chemotherapies]. Effets indesirables cardiaques des chimiotherapies. Presse Med 42(1):26–39

20.

Granados-Principal S, Quiles JL, Ramirez-Tortosa CL, Sanchez-Rovira P, Ramirez-Tortosa MC (2010) New advances in molecular mechanisms and the prevention of adriamycin toxicity by antioxidant nutrients. Food Chem Toxicol 48(6):1425–1438

21.

Vera-Ramirez L, Sanchez-Rovira P, Ramirez-Tortosa MC, Ramirez-Tortosa CL, Granados-Principal S, Fernandez-Navarro M, Lorente JA, Quiles JL (2011) Does chemotherapy-induced oxidative stress improve the survival rates of breast cancer patients? Antioxid Redox Signal 15(4):903–909

22.

Vera-Ramirez L, Sanchez-Rovira P, Ramirez-Tortosa MC, Ramirez-Tortosa CL, Granados-Principal S, Lorente JA, Quiles JL (2012) Oxidative stress status in metastatic breast cancer patients receiving palliative chemotherapy and its impact on survival rates. Free Radic Res 46(1):2–10

23.

Varela-Lopez A, Ochoa JJ, Llamas-Elvira JM, Lopez-Frias M, Planells E, Ramirez-Tortosa M, Ramirez-Tortosa CL, Giampieri F, Battino M, Quiles JL (2017) Age-related loss in bone mineral density of rats fed lifelong on a fish oil-based diet is avoided by coenzyme Q10 addition. Nutrients 9(2):pii: E176. https://doi.org/10.3390/nu9020176

24.

Vera-Ramirez L, Ramirez-Tortosa M, Perez-Lopez P, Granados-Principal S, Battino M, Quiles JL (2012) Long-term effects of systemic cancer treatment on DNA oxidative damage: the potential for targeted therapies. Cancer Lett 327(1–2):134–141

25.

McCormick B, Lowes DA, Colvin L, Torsney C, Galley HF (2016) MitoVitE, a mitochondria-targeted antioxidant, limits paclitaxel-induced oxidative stress and mitochondrial damage in vitro, and paclitaxel-induced mechanical hypersensitivity in a rat pain model. Br J Anaesth 117(5):659–666

26.

Sarsour EH, Goswami M, Kalen AL, Lafin JT, Goswami PC (2014) Hydroxytyrosol inhibits chemokine C-C motif ligand 5 mediated aged quiescent fibroblast-induced stimulation of breast cancer cell proliferation. Age (Dordr) 36(3):9645

27.

Toteda G, Lupinacci S, Vizza D, Bonofiglio R, Perri E, Bonofiglio M, Lofaro D, La Russa A, Leone F, Gigliotti P, Cifarelli RA, Perri A (2017) High doses of hydroxytyrosol induce apoptosis in papillary and follicular thyroid cancer cells. J Endocrinol Invest 40(2):153–162

28.

Granados-Principal S, El-Azem N, Pamplona R, Ramirez-Tortosa C, Pulido-Moran M, Vera-Ramirez L, Quiles JL, Sanchez-Rovira P, Naudi A, Portero-Otin M, Perez-Lopez P, Ramirez-Tortosa M (2014) Hydroxytyrosol ameliorates oxidative stress and mitochondrial dysfunction in doxorubicin-induced cardiotoxicity in rats with breast cancer. Biochem Pharmacol 90(1):25–33

29.

Rosignoli P, Fuccelli R, Sepporta MV, Fabiani R (2016) In vitro chemo-preventive activities of hydroxytyrosol: the main phenolic compound present in extra-virgin olive oil. Food Funct 7(1):301–307

30.

Cardeno A, Sanchez-Hidalgo M, Rosillo MA, Alarcon de la Lastra C (2013) Oleuropein, a secoiridoid derived from olive tree, inhibits the proliferation of human colorectal cancer cell through downregulation of HIF-1alpha. Nutr Cancer 65(1):147–156

31.

Sirianni R, Chimento A, De Luca A, Casaburi I, Rizza P, Onofrio A, Iacopetta D, Puoci F, Ando S, Maggiolini M, Pezzi V (2010) Oleuropein and hydroxytyrosol inhibit MCF-7 breast cancer cell proliferation interfering with ERK1/2 activation. Mol Nutr Food Res 54(6):833–840

32.

Alvarado A, Lopes AC, Faustino-Rocha AI, Cabrita AMS, Ferreira R, Oliveira PA, Colaco B (2017) Prognostic factors in MNU and DMBA-induced mammary tumors in female rats. Pathol Res Pract 213(5):441–446

33.

Terzuoli E, Nannelli G, Frosini M, Giachetti A, Ziche M, Donnini S (2017) Inhibition of cell cycle progression by the hydroxytyrosol–cetuximab combination yields enhanced chemotherapeutic efficacy in colon cancer cells. Oncotarget 8(47):83207–88322

34.

Burcombe R, Wilson G, Dowsett M, Khan I, Richman P, Daley F, Detre S, Makris A (2006) Evaluation of Ki-67 proliferation and apoptotic index before, during and after neoadjuvant chemotherapy for primary breast cancer. Breast Cancer Res 8:R31

35.

Tokuda E, Horimoto Y, Arakawa A, Himuro T, Senuma K, Nakai K, Saito M (2017) Differences in Ki67 expressions between pre-and post-neoadjuvant chemotherapy specimens might predict early recurrence of breast cancer. Hum Pathol 63:40–45

36.

Enomoto Y, Morimoto T, Nishimukai A, Higuchi T, Yanai A, Miyagawa Y, Murase K, Imamura M, Takatsuka Y, Nomura T, Takeda M, Watanabe T, Hirota S, Miyoshi Y (2016) Impact of biomarker changes during neoadjuvant chemotherapy for clinical response in patients with residual breast cancers. Int J Clin Oncol 21:254–261

37.

Diaz-Botero S, Espinosa-Bravo M, Gonçalves VR, Esgueva-Colmenarejo A, Peg V, Perez J, Cortes J (2016) Rubio IT. Different prognostic implications of residual disease after neoadjuvant treatment: impact of Ki 67 and site of response. Ann Surg Oncol 23:3831–3837

38.

Jorgenson TC, Zhong W, Oberley TD (2013) Redox imbalance and biochemical changes in cancer. Cancer Res 73(20):6118–6123

39.

Jimenez-Del-Rio M, Velez-Pardo C (2012) The bad, the good, and the ugly about oxidative stress. Oxid Med Cell Longev 2012:163913

40.

Khan SR (2012) Is oxidative stress, a link between nephrolithiasis and obesity, hypertension, diabetes, chronic kidney disease, metabolic syndrome? Urol Res 40(2):95–112

41.

Panis C, Herrera ACSA., Victorino VJ, Campos FC, Freitas LF, De Rossi T, Colado Simao AN, Cecchini AL, Cecchini R (2012) Oxidative stress and hematological profiles of advanced breast cancer patients subjected to paclitaxel or doxorubicin chemotherapy. Breast Cancer Res Treat 133(1):89–97

42.

Barnett LE, Broomfield AM, Hendriks WH, Hunt MB, McGhie TK (2007) The in vivo antioxidant action and the reduction of oxidative stress by boysenberry extract is dependent on base diet constituents in rats. J Med Food 10(2):281–289

43.

Fukui M, Yamabe N, Zhu BT (2010) Resveratrol attenuates the anticancer efficacy of paclitaxel in human breast cancer cells in vitro and in vivo. Eur J Cancer 46(10):1882–1891

44.

Marone M, D'Andrilli G, Das N, Ferlini C, Chatterjee S, Scambia G (2001) Quercetin abrogates taxol-mediated signaling by inhibiting multiple kinases. Exp Cell Res 270(1):1–12

45.

Robles-Almazan M, Pulido-Moran M, Moreno Fernandez J, Ramirez-Tortosa C, Rodriguez-Garcia C, Quiles JL, Ramirez-Tortosa MC (2018) Hydroxytyrosol: Bioavailability, toxicity and clinical applications. Food Res Int 2018(105):654–667
Acknowledgements
This research was supported by Grants from Excelentísima Diputación de Jaén, CEAS Foundation 30.C0.244500 and Junta de Andalucía PI-0210/2007.
Ethics declarations
Ethical standards
Manuscript submitted for publication has been approved by the appropriate ethics committee and have, therefore, been performed in accordance with the ethical standards laid down in the 1964 Declaration of Helsinki and its later amendments.
Conflict of interest
The authors have declared no conflict of interest.
About this article
Cite this article
El-azem, N., Pulido-Moran, M., Ramirez-Tortosa, C.L. et al. Modulation by hydroxytyrosol of oxidative stress and antitumor activities of paclitaxel in breast cancer. Eur J Nutr 58, 1203–1211 (2019). https://doi.org/10.1007/s00394-018-1638-9
Received:

Accepted:

Published:

Issue Date:
Keywords
Breast cancer

Hydroxytyrosol

Cell proliferation

Oxidative stress

Multimodal treatment and paclitaxel