Abstract
We conducted a secondary analysis of a previously completed trial to determine the effects of 8-week guanidinoacetic acid (GAA) loading on brain GAA levels in five healthy men. Brain magnetic resonance spectroscopy (1H-MRS) was taken at baseline and post-administration, with spectra additionally analyzed for brain GAA and glutamate concentrations using TARQUIN 4.3.10 software. Brain GAA levels remained essentially unchanged at follow-up (an increase of 7.7% from baseline levels; 95% confidence interval, - 24.1% to 39.5%; P = 0.88) when averaged across 12 white and grey matter voxel locations. No significant changes were found for brain glutamate levels during the study (P = 0.64). Supplemental GAA appears to be safe intervention concerning brain GAA deposition, at least with GAA dosages used.
Access options
Buy single article
Instant access to the full article PDF.
USD 39.95
Price includes VAT (USA)
Tax calculation will be finalised during checkout.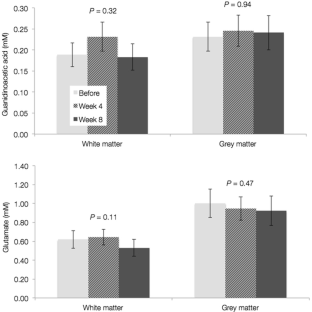 References
1.

Ostojic SM, Stojanovic MD, Hoffman JR (2015) Six-week oral guanidinoacetic acid administration improves muscular performance in healthy volunteers. J Investig Med 63:942–946

2.

Ostojic SM, Stojanovic M, Drid P, Hoffman JR, Sekulic D, Zenic N (2016) Supplementation with guanidinoacetic acid in women with chronic fatigue syndrome. Nutrients 8:72

3.

Ostojic SM, Ostojic J, Drid P, Vranes M, Jovanov P (2017) Dietary guanidinoacetic acid increases brain creatine levels in healthy men. Nutrition 33:149–156

4.

Mercimek-Mahmutoglu S, Stoeckler-Ipsiroglu S, Adami A, Appleton R, Araújo HC, Duran M, Ensenauer R, Fernandez-Alvarez E, Garcia P, Grolik C, Item CB, Leuzzi V, Marquardt I, Mühl A, Saelke-Kellermann RA, Salomons GS, Schulze A, Surtees R, van der Knaap MS, Vasconcelos R, Verhoeven NM, Vilarinho L, Wilichowski E, Jakobs C (2006) GAMT deficiency: features, treatment, and outcome in an inborn error of creatine synthesis. Neurology 67:480–484

5.

Liversedge LA (1956) Glycocyamine and betaine in motor-neurone disease. Lancet 271:1136–1138

6.

Tsubakihara Y, Suzuki A, Hayashi T, Shoji T, Togawa M, Okada N (1999) The effect of guanidinoacetic acid supplementation in patients with chronic renal failure. In: Mori A, Ishida M, Clark JF (eds) Guanidino compounds in biology and medicine vol 5. Blackwell, Tokyo, pp 139–144

7.

Ostojic SM, Niess B, Stojanovic M, Obrenovic M (2013) Creatine metabolism and safety profiles after six-week oral guanidinoacetic acid administration in healthy humans. Int J Med Sci 10:141–147

8.

European Food Safety Authority (2009) Safety and efficacy of guanidinoacetic acid as feed additive for chickens for fattening. EFSA J 988:1–30

9.

Wilson M, Reynolds G, Kauppinen RA, Arvanitis TN, Peet AC (2011) A constrained least-squares approach to the automated quantitation of in vivo 1H magnetic resonance spectroscopy data. Magn Reson Med 65:1–12

10.

Clark JF, Cecil KM (2015) Diagnostic methods and recommendations for the cerebral creatine deficiency syndromes. Pediatr Res 77:398–405

11.

Bianchi MC, Tosetti M, Battini R, Leuzzi V, Alessandri' MG, Carducci C, Antonozzi I, Cioni G (2007) Treatment monitoring of brain creatine deficiency syndromes: a 1H- and 31P-MR spectroscopy study. AJNR Am J Neuroradiol 28:548–554

12.

Verbruggen KT, Sijens PE, Schulze A, Lunsing RJ, Jakobs C, Salomons GS, van Spronsen FJ (2007) Successful treatment of a guanidinoacetate methyltransferase deficient patient: findings with relevance to treatment strategy and pathophysiology. Mol Genet Metab 91:294–296

13.

Ostojic SM, Ostojic J, Drid P, Vranes M (2016) Guanidinoacetic acid versus creatine for improved brain and muscle creatine levels: a superiority pilot trial in healthy men. Appl Physiol Nutr Metab 41:1005–1007

14.

Neu A, Neuhoff H, Trube G, Fehr S, Ullrich K, Roeper J, Isbrandt D (2002) Activation of GABA(A) receptors by guanidinoacetate: a novel pathophysiological mechanism. Neurobiol Dis 11:298–307
Acknowledgements
Study was supported by the Serbian Ministry of Education, Science and Technological Development (175037), the Provincial Secretariat for Higher Education and Scientific Research (114-451-710), and the Center for Health, Exercise and Sport Sciences.
Ethics declarations
Conflict of interest
There is no conflict of interest in this study.
About this article
Cite this article
Ostojic, S.M., Ostojic, J. Dietary guanidinoacetic acid does not accumulate in the brain of healthy men. Eur J Nutr 57, 3003–3005 (2018). https://doi.org/10.1007/s00394-017-1600-2
Received:

Accepted:

Published:

Issue Date:
Keywords
MR spectroscopy

Guanidinoacetic acid

Glutamate

Supplementation