Abstract
Purpose
Although several studies have examined the link between different types of carbohydrate consumption and depression and anxiety, limited data are available linking whole and refined grains consumption to psychological disorders. We aimed to investigate the association of whole and refined grains consumption with psychological disorders among Iranian adults.
Methods
A total of 3172 adult people with age range of 18–55 years were included in this cross-sectional study. Data on grains consumption were collected using a validated dish-based 106-item semi-quantitative food frequency questionnaire. To assess depression and anxiety, Iranian validated version of Hospital Anxiety and Depression Scale (HADS) was applied. Furthermore, psychological distress was examined using General Health Questionnaire (GHQ). Psychological disorders were defined based on standard criteria.
Results
Mean age of participants was 36.5 ± 7.9 years. Women in the third quartile of whole grains consumption had lower odds for having anxiety (OR 0.62, 95% CI 0.45–0.85) compared with those in the first quartile. This relationship was also seen even after controlling for potential confounders (OR 0.65, 95% CI 0.44–0.96). In contrast, compared with the first quartile, women in the highest quartile of refined grains consumption had greater odds to have depression (OR 1.76, 95% CI 1.00–3.09) and anxiety (OR 2.03, 95% CI 1.00–4.10) after adjusting for covariates. Such relationships were not observed among men.
Conclusion
Moderate consumption of whole grain foods was inversely associated with anxiety in women, but not in men. Furthermore, we found a significant positive association between refined grains consumption, depression and anxiety in women.
Access options
Buy single article
Instant access to the full article PDF.
USD 39.95
Price includes VAT (USA)
Tax calculation will be finalised during checkout.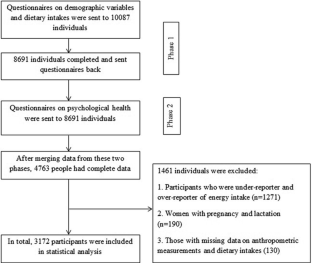 References
1.

Murphy JM, Horton NJ, Laird NM, Monson RR, Sobol AM, Leighton AH (2004) Anxiety and depression: a 40-year perspective on relationships regarding prevalence, distribution, and comorbidity. Acta Psychiatr Scand 109:355–375. https://doi.org/10.1111/j.1600-0447.2003.00286.x

2.

Mojtabai R (2011) National trends in mental health disability, 1997–2009. Am J Public Health 101:2156–2163. https://doi.org/10.2105/AJPH.2011.300258

3.

Olesen J, Gustavsson A, Svensson M, Wittchen HU, Jo¨nsson B (2012) The economic cost of brain disorders in Europe. Eur J Neurol 19:155–162. https://doi.org/10.1111/j.1468-1331.2011.03590.x

4.

Sobocki P, Jo¨nsson B, Angst J, Rehnberg C (2006) Cost of depression in Europe. J Ment Health Policy Econ 9:87–98

5.

Baxter A, Scott K, Vos T, Whiteford H (2012) Global prevalence of anxiety disorders: a systematic review and meta-regression. Psychol Med 10:1–14. https://doi.org/10.1017/S003329171200147X

6.

Ferrari A, Somerville A, Baxter A, Norman R, Patten S, Vos T, Whiteford H (2012) Global variation in the prevalence and incidence of major depressive disorder: a systematic review of the epidemiological literature. Psychol Med 43:471–481. https://doi.org/10.1017/S0033291712001511

7.

Noorbala AA, Bagheri Yazdi SA, Yasamy MT et al (2004) Mental health survey of the adult population in Iran. Br J Psychiatry 184:70–73

8.

Saveanu RV, Nemeroff CB (2012) Etiology of depression: genetic and environmental factors. Psychiatr Clin North Am 35:51–71. https://doi.org/10.1016/j.psc.2011.12.001

9.

Guo X, Park Y, Freedman ND, Sinha R, Hollenbeck AR, Blair A, Chen H (2014) Sweetened beverages, coffee, and tea and depression risk among older US adults. PLoS One 9:e94715. https://doi.org/10.1371/journal.pone.0094715

10.

Akbaraly TN, Brunner EJ, Ferrie JE, Marmot MG, Kivimaki M, Singh-Manoux A (2009) Dietary pattern and depressive symptoms in middle age. Br J Psychiatry 195:408–413. https://doi.org/10.1192/bjp.bp.108.058925

11.

Sánchez-Villegas A, Toledo E, de Irala J, Ruiz-Canela M, PlaVidal J, Martinez-Gonzalez MA (2012) Fast-food and commercial baked goods consumption and the risk of depression. Public Health Nutr 15:424–432. https://doi.org/10.1017/S1368980011001856

12.

Skarupski KA, Tangney C, Li H, Ouyang B, Evans DA, Morris MC (2010) Longitudinal association of vitamin B-6, folate, and vitamin B-12 with depressive symptoms among older adults over time. Am J Clin Nutr 92:330–335. https://doi.org/10.3945/ajcn.2010.29413

13.

Hibbeln JR (2009) Depression, suicide and deficiencies of omega-3 essential fatty acids in modern diets. World Rev Nutr Diet 99:17–30. https://doi.org/10.1159/000192992

14.

Cheatham RA, Roberts SB, Das SK, Gilhooly CH, Golden JK, Hyatt R, Lerner D, Saltzman E, Lieberman HR (2009) Long-term effects of providing low and high glycemic load energy diets on mood and cognition. Physiol Behav 98:374–379. https://doi.org/10.1016/j.physbeh

15.

Nabb SL, Benton D (2006) The effect of the interaction between glucose tolerance and breakfasts varying in carbohydrate and fibre on mood and cognition. Nutr Neurosci 9:161–168. https://doi.org/10.1080/10284150600955099

16.

Micha R, Rogers PJ, Nelson M (2011) Glycaemic index and glycaemic load of breakfast predict cognitive function and mood in school children: a randomized controlled trial. Br J Nutr 106:1552–1561. https://doi.org/10.1017/S0007114511002303

17.

Gangwisch JE, Hale L, Garcia L, Malaspina D, Opler MG, Payne ME et al (2015) High glycemic index diet as a risk factor for depression: analyses from the Women's Health Initiative. Am J Clin Nutr 102:454–463. https://doi.org/10.3945/ajcn.114.103846

18.

Slavin J, Jacobs D, Marquart L (1997) Whole grain consumption and chronic disease: protective mechanisms. Nutr Cancer 27:14–21. https://doi.org/10.1080/01635589709514495

19.

Shahyoun N, Jacques P, Zhang X, Joun W et al (2006) Wholegrain intake inversely is associated with the metabolic syndrome and mortality in older adults. Am J Clin Nutr 83:124–131

20.

Yary T, Soleimannejad K, Abd Rahim F, Kandiah M, Aazami S, Poor SJ et al (2010) Contribution of diet and major depression to incidence of acute myocardial infarction (AMI). Lipids Health Dis 9:133. https://doi.org/10.1186/1476-511X-9-133

21.

Serefko A, Szopa A, Poleszak E (2016) Magnesium and depression. Magnesium Res 29:112–119. https://doi.org/10.1684/mrh.2016.0407

22.

Moylan S, Berk M, Dean OM, Samuni Y, Williams LJ, O'Neil A et al (2014) Oxidative & nitrosative stress in depression: why so much stress? Neurosci Biobehav Rev 45:46–62. https://doi.org/10.1016/j.neubiorev

23.

Mikkelsen K, Stojanovska L, Apostolopoulos V (2016) The effects of vitamin B in depression. Current medicinal chemistry. Curr Med Chem 23:4317–4337

24.

Hvas AM, Juul S, Bech P, Nexo E (2004) Vitamin B6 level is associated with symptoms of depression. Psychother Psychosom 73:340–343. https://doi.org/10.1159/000080386

25.

Nguyen PH, Grajeda R, Melgar P, Marcinkevage J, DiGirolamo AM, Flores R et al (2009) Micronutrient supplementation may reduce symptoms of depression in Guatemalan women. Arch Latinoam Nutr 59:278–286

26.

Gariballa S (2014) Poor vitamin C status is associated with increased depression symptoms following acute illness in older people. Int J Vitam Nutr Res 84:12–17. https://doi.org/10.1024/0300-9831/a000188

27.

Haghighatdoost F, Azadbakht L, Keshteli AH, Feinle-Bisset C, Daghaghzadeh H, Afshar H et al (2016) Glycemic index, glycemic load, and common psychological disorders. Am J Clin Nutr 103:201–209. https://doi.org/10.3945/ajcn.114.105445

28.

Murakami K, Miyake Y, Sasaki S, Tanaka K, Yokoyama T, Ohya Y et al (2008) Dietary glycemic index and load and the risk of postpartum depression in Japan: the Osaka Maternal and Child Health Study. J Affect Disord 110:174–179. https://doi.org/10.1016/j.jad.2007.12.230

29.

Adibi P, Keshteli AH, Esmaillzadeh A, Afshar H et al (2012) The study on the epidemiology of psychological, alimentary health and nutrition (SEPAHAN): overview of methodology. J Res Med Sci 17:S291-S297

30.

Willett W (2013) Nutritional epidemiology. Oxford University Press, Oxford

31.

Keshteli A, Esmaillzadeh A, Rajaie S, Askari G, Feinle-Bisset C, Adibi P (2014) A dish based semi-quantitative food frequency questionnaire for assessment of dietary intakes in epidemiologic studies in Iran: design and development. Int J Prev Med 5:29–36

32.

Ghaffarpour M, Houshiar-Rad A, Kianfar H (1999) The manual for household measures, cooking yields factors and edible portion of foods. Nashre Olume Keshavarzy, Tehran, pp 1–40

33.

Kimura Y, Wada T, Okumiya K et al (2012) Eating alone among community-dwelling Japanese elderly: association with depression and food diversity. J Nutr Health Aging 16:728–731. https://doi.org/10.1007/s12603-012-0067-3

34.

Salehi-Abargouei A, Esmaillzadeh A, Azadbakht L et al (2016) Nutrient patterns and their relation to general and abdominal obesity in Iranian adults: findings from the SEPAHAN study. Eur J Nutr 55:505–518. https://doi.org/10.1007/s00394-015-0867-4

35.

Montazeri A, Vahdaninia M, Ebrahimi M, Jarvandi S (2003) The Hospital Anxiety and Depression Scale (HADS): translation and validation study of the Iranian version. Health Qual Life Outcomes 1:14

36.

Schmitz N, Kruse J, Heckrath C, Alberti L, Tress W (1999) Diagnosing mental disorders in primary care: the General Health Questionnaire (GHQ) and the Symptom Check List (SCL-90-R) as screening instruments. Soc Psychiatry Psychiatr Epidemiol 34:360–366

37.

Montazeri A, Harirchi AM, Shariati M, Garmaroudi G, Ebadi M, Fateh A (2003) The 12-item General Health Questionnaire (GHQ-12): translation and validation study of the Iranian version. Health Qual Life Outcomes 1:66. https://doi.org/10.1186/1477-7525-1-66

38.

Howe GR, Miller AB, Jain M (1986) Re: Total energy intake: implications for epidemiologic analyses. Am J Epidemiol 124:157–159

39.

Whiteford HA, Degenhardt L, Rehm J, Baxter AJ, Ferrari AJ, Erskine HE, Charlson FJ, Norman RE, Flaxman AD, Johns N (2013) Global burden of disease attributable to mental and substance use disorders: findings from the Global Burden of Disease Study 2010. Lancet 382:1575–1586. https://doi.org/10.1016/S0140-6736(13)61611-6

40.

Opie RS, O'Neil A, Itsiopoulos C, Jacka FN (2014) The impact of whole-of-diet interventions on depression and anxiety: a systematic review of randomised controlled trials. Public Health Nutr 18:2074–2093. https://doi.org/10.1017/S1368980014002614

41.

Kim WK, Shin D, Song WO (2016) Are Dietary Patterns Associated with Depression in U.S. Adults? J Med Food 19:1074–1084. https://doi.org/10.1089/jmf.2016.0043

42.

Crichton GE, Bryan J, Hodgson JM, Murphy KJ (2013) Mediterranean diet adherence and self-reported psychological functioning in an Australian sample. Appetite 70:53–59. https://doi.org/10.1016/j.appet.2013.06.088

43.

McMillan L, Owen L, Kras M, Scholey A (2011) Behavioural effects of a 10-day Mediterranean diet. Results from a pilot study evaluating mood and cognitive performance. Appetite 56:143–147. https://doi.org/10.1016/j.appet.2010.11.149

44.

Forster SE, Powers HJ, Foulds GA et al (2012) Improvement in nutritional status reduces the clinical impact of infections in older adults. J Am Geriatr Soc 60:1645–1654. https://doi.org/10.1111/j.1532-5415.2012.04118.x

45.

McKeown NM, Meigs JB, Liu S, Saltzman E, Wilson PW, Jacques PF (2004) Carbohydrate nutrition, insulin resistance, and the prevalence of the metabolic syndrome in the Framingham Offspring Cohort. Diabetes Care 27:538–546

46.

McIntyre RS, Kenna HA, Nguyen HT, Law CW, Sultan F, Woldeyohannes HO, Adams AK, Cheng JS, Lourenco M, Kennedy SH et al (2010) Brain volume abnormalities and neurocognitive deficits in diabetes mellitus: points of pathophysiological commonality with mood disorders? Adv Ther 27:63–80. https://doi.org/10.1007/s12325-010-0011-z

47.

Gougeon L, Payette H, Morais JA, Gaudreau P, Shatenstein B, Gray-Donald K (2016) Intakes of folate, vitamin B6 and B12 and risk of depression in community-dwelling older adults: the Quebec Longitudinal Study on Nutrition and Aging. Eur J Clin Nutr 70:380–385. https://doi.org/10.1038/ejcn.2015.202

48.

Wurtman RJ, Wurtman JJ (1995) Brain serotonin, carbohydrate-craving, obesity and depression. Obes Res 3:477S-80S

49.

Poorrezaeian M, Siassi F, Qorbani M et al (2015) Association of dietary diversity score with anxiety in women. Psychiatry Res 230:622–627. https://doi.org/10.1016/j.psychres.2015.10.016

50.

Sánchez-Villegas A, Martínez-González MA, Estruch R et al (2013) Mediterranean dietary pattern and depression: the PREDIMED randomized trial. BMC Med 11:208. https://doi.org/10.1186/1741-7015-11-208

51.

Michalak J, Zhang XC, Jacobi F (2012) Vegetarian diet and mental disorders: results from a representative community survey. Int J Behav Nutr Phys Act 9:67. https://doi.org/10.1186/1479-5868-9-67

52.

Lai JS, Oldmeadow C, Hure AJ et al (2016) Longitudinal diet quality is not associated with depressive symptoms in a cohort of middle-aged Australian women. Br J Nutr 115:842–850. https://doi.org/10.1017/S000711451500519X

53.

Baskin R, Hill B, Jacka FN et al (2015) Antenatal dietary patterns and depressive symptoms during pregnancy and early post-partum. Matern Child Nutr 13:e12218. https://doi.org/10.1111/mcn.12218

54.

Lopez-Garcia E, Schultze MB, Fung TT, Meigs JB, Rifai N, Manson JE, Hu FB (2004) Major dietary patterns are related to plasma concentrations of markers of inflammation and endothelial dysfunction. Am J Clin Nutr 80:1029–1035

55.

Rumsfeld JS, Ho PM (2005) Depression and cardiovascular disease: a call for recognition. Circulation 111:250–253. https://doi.org/10.1161/01.CIR.0000154573.62822.89

56.

Bao J, Atkinson F, Petocz P, Willett WC, Brand-Miller JC (2011) Prediction of postprandial glycemia and insulinemia in lean, young, healthy adults: glycemic load compared with carbohydrate content alone. Am J Clin Nutr 93:984–996. https://doi.org/10.3945/ajcn.110.005033

57.

Seaquist ER, Anderson J, Childs B, Cryer P, Dagogo-Jack S, Fish L, Heller SR, Rodriguez H, Rosenzweig J, Vigersky R (2013) Hypoglycemia and diabetes: a report of a workgroup of the American Diabetes Association and The Endocrine Society. Diabetes Care:1384–1395. https://doi.org/10.2337/dc12-2480

58.

Ludwig DS (2002) The glycemic index: physiological mechanisms relating to obesity, diabetes, and cardiovascular disease. JAMA 287:2414–2423

59.

Beer-Borst S, Hercberg S, Morabia A et al (2000) Dietary patterns in six european populations: results from EURALIM, a collaborative European data harmonization and information campaign. Eur J Clin Nutr 54:253–262

60.

O'Doherty Jensen K, Holm L (1999) Preferences, quantities and concerns: socio-cultural perspectives on the gendered consumption of foods. Eur J Clin Nutr 53:351–359

61.

Marks GC, Hughes MC, van der Pols JC (2006) Relative validity of food intake estimates using a food frequency questionnaire is associated with sex, age, and other personal characteristics. J Nutr 136:459–465
Acknowledgements
This study was supported by Isfahan University of Medical Sciences. Dr. Ahmad Esmaillzadeh was supported by a grant from Iran National Science Foundation (INSF).
Ethics declarations
Ethics
All participants provided signed informed written consent forms. The Bioethics Committee of Isfahan University of Medical Sciences, Isfahan, Iran approved the study [29].
Conflict of interest
Authors declared no personal or financial conflicts of interest.
Additional information
Ammar Hassanzadeh-Keshteli: Co-first author.
About this article
Cite this article
Sadeghi, O., Hassanzadeh-Keshteli, A., Afshar, H. et al. The association of whole and refined grains consumption with psychological disorders among Iranian adults. Eur J Nutr 58, 211–225 (2019). https://doi.org/10.1007/s00394-017-1585-x
Received:

Accepted:

Published:

Issue Date:
Keywords
Anxiety

Depression

Diet

Psychological distress

Whole grains