Abstract
Introduction
The testicular milieu is the machinery for the metabolism of testosterone in the male reproductive system.
Purpose
The dysfunction of this highly regenerating system is inevitable in the condition of glucose imbalance as a result of insulin machinery impairment. Therefore, it is imperative to recommend dietary intervention for attenuating the testicular dysfunction and oxidative stress resulting from STZ-induction of diabetes.
Methods
STZ-induced diabetes (65 mg/kg, ip) was treated with QEYEM (50, 100 and 200 mg/kg/day) and quercetin (50 mg/kg/day) for 7weeks. In serum, glucose, testosterone, IL-6 and TNF-α levels were estimated, and in testis, tissues TBARS, sulfhydryl groups, nucleic acids and total protein (TP) levels were estimated. SOD, CAT and GST activities were also determined in testicular cells. Histopathological changes were evaluated in a cross-section of testis.
Results
Testosterone concentration was decreased while pro-inflammatory markers were increased in STZ-assaulted rats. Treatment using QEYEM of diabetic rats corrected assaults and reverse significantly the diabetic conditions. QEYEM-treated groups showed significant inhibition of TBARS levels and elevation of testicular GSH, NP-SH, total protein (TP) and nucleic acids—DNA and RNA levels. The QEYEM administration reversed the inhibited activities of SOD, CAT and GST in testicular cells in diabetic rats. The characterization of the extract carried out through HPLC analytical techniques revealed vitamins A, D and E concentrations of 0.645, 0.012 and 6.3 mg/100 g, respectively.
Conclusion
QEYEM supplementation to STZ-induced diabetic rats for seven (7) consecutive weeks is a potential intervention against testicular damage in adult diabetic rats, probably by decreasing oxidative stress.
Access options
Buy single article
Instant access to the full article PDF.
USD 39.95
Price excludes VAT (USA)
Tax calculation will be finalised during checkout.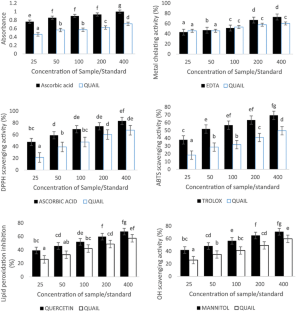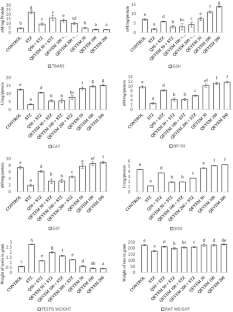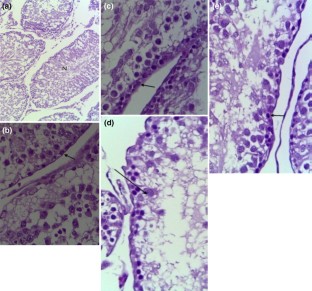 References
American Diabetes Association (2011) Diagnosis and classification of diabetes mellitus. Diabetes Care 34(Suppl 1):62–69

Jain GC, Jangir RN (2014) Modulation of diabetes-mellitus-induced male reproductive dysfunctions in experimental animal models with medicinal plants. Pharmacogn Rev 8(16):113–121

Alkhamees OA (2014) Quercetin attenuates testicular damage and oxidative stress in streptozotocin-induced diabetic rats. Br J Pharmacol Toxicol 5(2):88–97

Arya A, Cheah SC, Looi CY, Taha H, Mustafa MR, Mohd MA (2012) The methanolic fraction of Centratherum anthelminticum seed downregulates pro-inflammatory cytokines, oxidative stress and hyperglycemia in STZ-nicotinamide-induced type 2 diabetic rats. Food Chem Toxicol 50:4209–4220

Kanter M, Aktas C, Erboga M (2012) Protective effects of quercetin against apoptosis and oxidative stress in streptozotocin-induced diabetic rat testis. Food Chem Toxicol 50:719–725

Cai L, Chen S, Evans T, Deng DX, Mukherjee K, Chakrabarti S (2000) Apoptotic germcell death and testicular damage in experimental diabetes: prevention by endothelin antagonism. Urol Res 28:342–347

Baynes JW, Thorpe SR (1999) Role of oxidative stress in diabetic complications: a new perspective on an old paradigm. Diabetes 48:1–9

Mallidis C, Agbaje I, O'Neill J, McClure N (2009) The influence of type 1 diabetes mellitus on spermatogenic gene expression. Fertil Steril 92:2085–2087

Tsounapi P, Saito M, Dimitriadis F, Koukos S, Shimizu S, Satoh K (2012) Antioxidant treatment with edaravone or taurine ameliorates diabetes-induced testicular dysfunction in the rat. Mol Cell Biochem 369:195–204

Navarro-Casado L, Juncos-Tobarra MA, Chafer- Rudilla M, de Onzono LI, Blazquez-Cabrera JA, Miralles-Garcia JM (2010) Effect of experimental diabetes and STZ on male fertility capacity. Study in rats. J Androl 31:584–592

Soudamani S, Yuvaraj S, Malini T, Balasubramanian K (2005) Experimental diabetes has adverse effects on the differentiation of ventral prostate during sexual maturation of rats. Anat Rec Part A 287:1281–1289

Scarano WR, Messias AG, Oliva SU, Klinefelter GR, Kempinas WG (2006) Sexual behaviour, sperm quantity and quality after short-term streptozotocin-induced hyperglycaemia in rats. Int J Androl 29:482–488

Baccetti B, La Marca A, Piomboni P, Capitani S, Bruni E, Petraglia F, De Leo V (2002) Insulin-dependent diabetes in men is associated with hypothalamo-pituitary derangement and with impairment in semen quality. Hum Reprod 17:2673–2677

Hanke J (2001) Apoptosis in cultured rat islets of langerhans and occurrence of Bcl-2, Bak, Bax, Fas and Fas ligand. Cells Tissues Organs 169(2):113–124

Karmakar S, Das D, Maiti A, Majumdar S, Mukherjee P, Das AS, Mitra C (2011) Black tea prevents high fat diet-induced non-alcoholic steatohepatitis. Phytother Res 25(7):1073–1081

Zhang J, Li AM, Liu BX, Han F, Liu F, Sun SP, Li X, Cui SJ, Xian SZ, Kong GQ, Ji ZCZL (2013) Effect of icarisid II on diabetic rats with erectile dysfunction and its potential mechanism via assessment of AGEs, autophagy, mTOR and the NO. Asian J Androl 15:143–148

Oladipo GO, Ibukun EO (2016) BioActivities of Coturnix japonica (quail) egg yolk and albumen against physiological stress. J Food Sci Nutr. doi: 10.1002/fsn3.397;1-10

Tanasorn T, Wanna T, Wattasit S (2013) Nutrient benefits of Quail (Coturnix Coturnix Japonica) eggs. Int J Sci Res Publ 3(5):1–8

Jianping W, Daise L, Andreas S, Chamila N (2011) Free aromatic amino acids in egg yolk show antioxidant properties. Food Chem 129:155–161

DeVries JW (2005) Concurrent analysis of vitamin A and vitamin E by reversed phase high performance liquid. Liq Chromatogr Anal Food Beverage 2:477–495

Oyaizu M (1986) Studies on products of browning reactions: antioxidant activities of products of browning reaction prepared from glucose amine. Jpn J Nutr 44:307–315

Leong LP, Shui G (2002) An investigation of antioxidant capacity of fruits in Singapore markets. Food Chem 76:65–75

Re R, Pellegrini N, Proteggente A, Pannala A, Yang M, Rice-Evans C (1999) Antioxidant activity applying an improved ABTS radical cation decolorization assay. Free Rad Biol Med 26:1231–1237

Haro-Vicente JF, Martinez-Gracia C, Ros G (2006) Optimisation of invitro measurement of available iron from different fortification in citric fruit juices. J Food Chem 98:639–648

Halliwell B, Gutteridge JMC, Aruoma OI (1987) The deoxyribose method: a simple 'test tube' assay for determination of rate constants for reactions of hydroxyl radicals. Anal Biochem 165:215–219

Ohkawa H, Ohishi N, Yagi K (1979) Assay for lipid peroxides in animal tissues by thiobarbituric acid reaction. Anal Biochem 95:351–358

Abuohashish HM, Al-Rejaie SS, Al-Hosaini KA, Parmar MY, Ahmed MM (2013) Alleviating effects of morin against experimentally-induced diabetic osteopenia. Diabetol Metab Syndr 5:1–8

Sedlak J, Lindsay RH (1968) Estimation of total, protein-bound and nonprotein sulfhydryl groups in tissue with Ellman's reagent. Anal Biochem 25:192–205

Habig WH, Pabst MJ, Jakoby WB (1974) Glutathione S-transferases. The first enzymatic step in mercapturic acid formation. J Biol Chem 249:7130–7139

Kono Y (1978) Generation of superoxide radical during autoxidation of hydroxylamine and an assay for superoxide dismutase. Arch Biochem Biophys 186:189–195

Aebi H (1974) Catalase. In: Bergmeyer HU (ed) Methods in enzymatic analysis. Academic Press, New York, pp 674–684

Bregman AA (1983) Laboratory investigation and cell biology. Wiley, New York, pp 51–60

Weichselbaumin TE (1995) An accurate and rapid method for the determination of protein in small amount of blood serum. Am J Clin Pathol 16:40

Touyz RM (2004) Reactive oxygen species, vascular oxidative stress and redox signaling in hypertension: what is the clinical significance? Hypertension 44:248–252

Senn JJ, Klover PJ, Nowak IA, Zimmers TA, Koniaris LG, Furlanetto RW, Mooney RA (2003) Suppressor of cytokine signaling-3 (SOCS-3): a potential mediator of interleukin-6-dependent insulin resistance in hepatocytes. J Biol Chem 278:13740–13746

Emanuelli B, Peraldi P, Filloux C, Sawka-Verhelle D, Hilton D, Van Obberghen E (2000) SOCS-3 is an insulin-induced negative regulator of insulin signaling. J Biol Chem 2(75):15985–15991

Fang Y, Yang S, Wu G (2002) Free radicals, antioxidants and nutrition. Nutrition 18:872–879

Pastore A, Federici G, Bertini E, Piemonte F (2003) Analysis of glutathione: implication in redox and detoxification. Clin Chim Acta 333:19–39
Ethics declarations
Conflict of interest
There is no conflict of interest among authors.
About this article
Cite this article
Oladipo, G.O., Nlekerem, C.M., Ibukun, E.O. et al. Quail (Coturnix japonica) egg yolk bioactive components attenuate streptozotocin-induced testicular damage and oxidative stress in diabetic rats. Eur J Nutr 57, 2857–2867 (2018). https://doi.org/10.1007/s00394-017-1554-4
Received:

Accepted:

Published:

Issue Date:

DOI: https://doi.org/10.1007/s00394-017-1554-4
Keywords
Pro-inflammation markers

Diabetes

Oxidative stress

Testosterone dysfunction

Quail egg yolk