Abstract
Purpose
In Malaysia, hip fracture incidence is higher in Chinese women than other ethnic groups. This study compared the effects of a high-calcium vitamin D fortified milk with added FOS-inulin versus regular milk over 1 year on aspects of bone health in Chinese postmenopausal women in Malaysia.
Methods
One-hundred and twenty-one women (mean age 59 (± 4) years) were randomized into two groups: control (n = 60; regular milk, 428 mg calcium per day) or intervention (n = 61; fortified milk at 1200 mg calcium, 96 mg magnesium, 2.4 mg zinc, 15 μg vitamin D and 4 g FOS-inulin per day). At baseline, weeks 12, 24, 36 and 52, parathyroid hormone (PTH), C-Telopeptide of Type I Collagen (CTx-1), Procollagen I Intact N-Terminal propeptide (PINP) and vitamin D levels were assessed. Bone density (BMD) was measured at baseline and week 52 using a GE Lunar iDXA.
Results
Body mass index, lumbar spine and femoral neck BMD did not differ between groups at baseline. Over 52 weeks, mean plasma 25 (OH) D3 levels increased to 74.8 nmol/L (intervention group) or remained at 63.1 nmol/L (control group) (p < 0.001 between groups). PTH levels increased in the control group (p = 0.001). The intervention resulted in a significant suppression of CTx-1 and PINP at p = 0.018 and p = 0.004. Femoral neck BMD remained stable in the intervention group but decreased significantly in the controls, with a borderline treatment effect (p = 0.07).
Conclusion
Compared with regular milk, the fortified milk suppressed bone turnover markers and tended to increase femoral neck BMD.
Access options
Buy single article
Instant access to the full article PDF.
USD 39.95
Price includes VAT (USA)
Tax calculation will be finalised during checkout.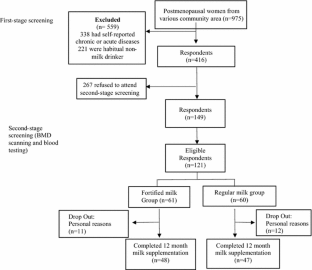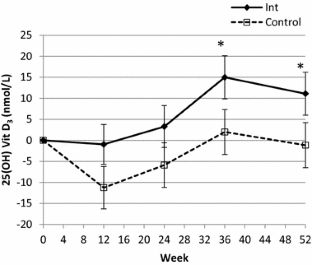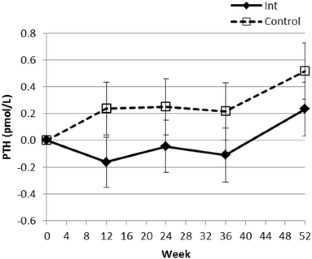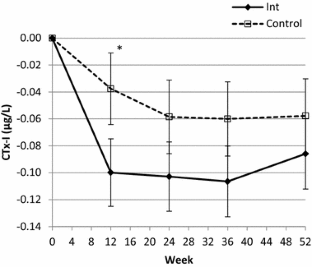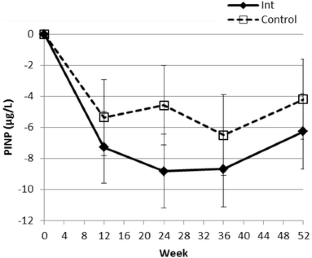 References
1.

Liu J, Ning G, Chen J (2007) Osteoporotic fractures in Asia: risk factors and strategies for prevention. J Bone Min Metab 25(1):1–5

2.

Hernlund E, Svedbom A, Ivergård M, Compston J, Cooper C, Stenmark J, McCloskey E, Jönsson B, Kanis J (2013) Osteoporosis in the European Union: medical management, epidemiology and economic burden. A report prepared in collaboration with the International Osteoporosis Foundation (IOF) and the European Federation of Pharmaceutical Industry Associations (EFPIA). Arch Osteoporos 8(1–2):136

3.

Cooper C, Campion G, Melton L III (1992) Hip fractures in the elderly: a world-wide projection. Osteoporos Int 2(6):285–289

4.

Lau EMC, Suriwongpaisal P, Lee JK, De Das S, Festin MR, Saw SM, Khir A, Torralba T, Sham A, Sambrook P (2001) Risk factors for hip fracture in Asian Men and Women: the Asian Osteoporosis Study. J Bone Mineral Res 16:572–580

5.

Suzuki T (2001) Risk factors for osteoporosis in Asia. J Bone Min Metab 19:133–141

6.

Mithal V, Dhingra V, Lau E (2009) The Asian Audit. Epidemiology, costs and burden of osteoporosis in Asia. International Osteoporosis Foundation. www.iofbonehealth.org/sites/default/files/PDFs/Audit%20Asia/Asian_regional_audit_2009.pdf. Accessed 11 Oct 2016

7.

Chee WS, Suriah AR, Chan SP, Yap SL, Chan YM (2002) Dietary calcium intake in postmenopausal Malaysian women: comparison between the food frequency questionnaire and three day food records. Asia Pac J Clin Nutr 11(2):142–146

8.

Lee J-K, Khir ASM (2007) The incidence of hip fracture in Malaysians above 50 years of age: variation in different ethnic groups. Int J Rheum Dis 10(4):300–305

9.

Heaney RP (2002) Ethnicity, bone status and the calcium requirement. Nutr Res 22:153–178

10.

Green TJ, Skeaff CM, Rockell JEP, Venn BJ, Lambert A, Todd J, Khor GL, Loh SP, Muslimatun S, Agustina R, Whiting SJ (2008) Vitamin D status and its association with parathyroid hormone concentrations in women of child-bearing age living in Jakarta and Kuala Lumpur. Eur J Clin Nutr 62:373–378

11.

Lau EMC, Cooper C (1996) The epidemiology of osteoporosis: the oriental perspective in a world context. Clin Orthop 323:65–74

12.

Rahman SA, Chee WSS, Yassin Z, Chan SP (2004) Vitamin D status among postmenopausal Malaysian women. Asia Pacific J CLin Nutr 13(3):255–260

13.

Sirichakwal PP, Kamchansuppasin A, Akoh CC, Kriengsinyos W, Charoenkaitkhul S, O'Brien KO (2015) Vitamin D status is positively associated with calcium absorption among postmenopausal Thai women with low calcium intakes. J Nutr 145:990–995

14.

Malaysian Dietary Guidelines (2010) http://www.moh.gov.my/english.php/pages/view/536. Accessed 11 Oct 2016

15.

Ho-Pham L, Nguyen N, Lai T, Eisman J, Nguyen T (2011) Vitamin D status and parathyroid hormone in a urban population in Vietnam. Osteoporos Intl 22(1):241–248

16.

Lu H, Zhang Z, Ke Y, He J, Fu W, Zhang C, Zhang Z (2012) High prevalence of vitamin D insufficiency in China: relationship with the levels of parathyroid hormone and markers of bone turnover. PLoS One 7(11):e7264

17.

Nguyen H, von Schoultz B, Nguyen T, Dzung D, Duc P, Thuy V, Hirschberg A (2012) Vitamin D deficiency in northern Vietnam: prevalence, risk factors and associations with bone mineral density. Bone 51(6):1029–1034

18.

Oemardi M, Horowitz M, Wishart J, Morris H, Need A, O'loughlin P, Nordin B (2007) The effect of menopause on bone mineral density and bone-related biochemical variables in Indonesian women. Clin Endocrinol 67(1):93–100

19.

Zhen D, Liu L, Guan C, Zhao N, Tang X (2015) High prevalence of vitamin D deficiency among middle-aged and elderly individuals in North-Western China: its relationship to osteoporosis and lifestyle factors. Bone 71:1–6

20.

Lau EMC, Woo J, Lam V, Hong A (2001) Milk supplementation of the diet of postmenopausal Chinese women on a low calcium intake retards bone loss. J Bone Min Res 16:1704–1709

21.

Lau E, Lynn H, Chan Y, Woo J (2002) Milk supplementation prevents bone loss in postmenopausal Chinese women over 3 years. Bone 31(4):536–540

22.

Chee W, Suriah A, Chan S, Zaitun Y, Chan Y (2003) The effect of milk supplementation on bone mineral density in postmenopausal Chinese women in Malaysia. Osteoporos Int 14(10):828–834

23.

Holick MF, Binkley NC, Bischoff-Ferrari HA, Gordon CM, Hanley DA, Heaney RP, Murad MH, Weaver CM (2011) Evaluation, treatment and prevention of vitamin D deficiency and Endocrine Society clinical practice guidelines. J Clin Endocrinol Metab 96(7):1911–1930

24.

Holloway L, Moynihan S, Abrams SA, Kent K, Hsu AR, Friedlander AL (2007) Effects of oligofructose-enriched inulin on intestinal absorption of calcium and magnesium and bone turnover markers in postmenopausal women. Br J Nutr 97:365–372

25.

Palacios C (2006) The role of nutrients in bone health, from a to Z. Crit Rev Food Sci Nutr 46:621–628

26.

Maunzell Z, Wright DJ, Rainbow SJ (2005) Routine isotope-dilution liquid chromatography-tandem mass spectrometry assay for simultaneous measurement of the 25-hydroxy metabolites of vitamins D2 and D3. Clin Chem 51(9):1683–1690

27.

Ross AC, Manson JE, Abrams SA, Aloia JF, Brannon PM, Clinton SK, Durazo-Arvizu RA, Gallagher JC, Gallo RL, Jones G, Kovacs CS, Mayne ST, Rosen CJ, Shapses SA (2011) The 2011 report on dietary reference intakes for calcium and vitamin D from the Institute of Medicine: what clinicians need to know. J Clin Encrinol Metab 96(1):53–58

28.

Haines CJ, Chung TKH, Leung PC, Leung DHY, Wong MY, Lam LL (1994) Dietary calcium intake in postmenopausal Chinese women. Eur J Clin Nutr 48:591–594

29.

Woo JW, Lau W, Ling X, Lam CWK, Zhao X, Yu W, Xing X, Lau E, Kuhn-Sherlock B, Pocock N, Eastell R (2007) Milk supplementation and bone health in young adult Chinese women. J Women's Health 16(5):695–702

30.

Kruger MC, Ha P, Todd JM, Kuhn-Sherlock B, Schollum LM, Jiliang M, Qin G, Lau E (2012) High-calcium, vitamin D fortified milk is effective in improving bone turnover markers and vitamin D status in healthy post-menopausal Chinese women. Eur J Clin Nutr 66:856–861

31.

Kruger MC, Ha P, Todd JM, Kuhn-Sherlock B, Schollum LM, Jiliang M, Qin G, Lau E (2013) High-calcium, vitamin D fortified milk is effective in improving vitamin D status and reducing bone resorption in healthy post-menopausal Chinese women. Chin J Osteoporos 19(2):107–113

32.

Bacon CJ, Woo J, Lau EMC, Lam CWK, Gamble GD, Reid IR (2010) Effects of 25-hydroxyvitamin D level and its change on parathyroid hormone in premenopausal Chinese women. Osteoporos Int 21(11):1935–1941

33.

Lim SK, Kung AWC, Sompongse S, Soontrapa S, Tsai KS (2008) Vitamin D inadequacy in postmenopausal women in Eastern Asia. Curr Med Res Opinions 4(1):99–106

34.

Dawson-Hughes B, Heaney RP, Holick MF, Lips P, Meunier PJ, Vieth R (2005) Estimates of optimal vitamin D status. Osteoporos Int 16:713–716

35.

Shibli-Rahhal A, Patiru B (2014) Variations in parathyroid hormone concentration in patients with low 25 hydroxyvitamin D. Osteoporos Int 25(7):1931–1936

36.

Kuchuk NO, Van Schoor NM, Pluijm SM, Chines A, Lips P (2009) Vitamin D status, parathyroid function, bone turnover and BMD in postmenopausal women with osteoporosis: global perspective. J Bone Min Res 24(4):693–701

37.

Huang OR, Lu JH, Zhou Q, Liu YJ, Wang QH (2000) Effect of calcium and vitamin D supplementation on bone loss in postmenopausal Chinese women: a comparative study. Osteoporos Int 11(2):S183

38.

Kruger MC, Schollum LM, Kuhn-Sherlock B, Hestiantoro A, Wijanto P, Li-Yu J, Agdeppa I, Todd JM, Eastell R (2010) The effect of a fortified milk drink on vitamin D status and bone turnover in post-menopausal women from South-East Asia. Bone 46:759–767

39.

Aloia JF, Dhaliwal R, Shieh A, Mikhail M, Islam S, Yeh JK (2013) Calcim and vitamin D supplementation in postmenopausal women. J Clin Endocrinol Metab 98(11):E1702–E1709

40.

Pi Y-Z, Wu X-P, Liu S-P (2006) Age-related changes in bone biochemical markers and their relationship with bone mineral density in normal Chinese women. J Bone Min Res 24(5):380–385

41.

Trento LK, Pietropolli A, Ticconi C, Gravotta E, De Martino MU (2009) Role of type I collagen C telopeptide, bone specific alkaline phosphatase and osteocalcin in the assessment of bone status in postmenopausal women. J Obstet Gynaecol Res 35(1):152–159

42.

Lenora J, Ivaska KK, Obrant KJ, Gerdhem P (2007) Prediction of bone loss using biochemical markers of bone turnover. Osteoporos Int 18:1297–1305

43.

Grados F, Brazier M, Kamel S, Mathieu M, Hurtebize N, Maamer M, Garabedien M, Sebert J-L, Fardellone P (2003) Prediction of bone mass density variation by bone remodelling markers in postmenopausal women with vitamin D insufficiency treated with calcium and vitamin D supplementation. J Clin Endocrin Metab 88(11):5175–5179

44.

Sahni SS, Mangano KM, Tucker KL, Kiel DP, Casey VA, Hannan MT (2014) Protective association of milk intake on the risk of hip fracture results from the Framingham original cohort. J Bone Min Res 29(8):1756–1762

45.

Tamaki J, Iki M, Kadowaki E, Sato Y, Chiba Y, Akiba T, Matsumoto T, Nishino H, Kagamimori S, Kagawa Y, Yoneshima H, for JPOS study group (2013) Biochemical markers of bone turnover predict risk of vertebral fractures in postmenopausal women over 10 years: the Japanese Population-based Osteoporosis Cohort Study. Osteoporos Int 24:887–897

46.

Liao E-Y, Wu X-P, Deng X-G, Huang G, Zhu X-P, Long Z-F, Wang W-B, Tang W-L, Zhang H (2002) Age-related bone density, accumulated bone loss rate and prevalence of osteoporosis at multiple skeletal sites in Chinese women. Osteoporos Int 13:669–676

47.

Ting GP, Tan SY, Chan SP, Karuthan C, Zaitun Y, Suriah AR, Chee WSS (2007) A follow-up study on the effects of a milk supplement on bone mineral density of postmenopausal Chinese women in Malaysia. J Nutr Health Ageing 11(1):69–73

48.

Ma D, Zheng W, Ding M, Zhang Y, Wang P (2014) Milk intake increases bone mineral content through inhibiting bone resorption: meta-analysis of randomized controlled trials. e-SPEN J 8(1):e1–e7

49.

Bischoff-Ferrari HA, Dawson-Huges B, Baron JA, Kanis JA, Orav EJ, Staehelin HB, Kiel DP, Burckhardt P, Henschowski J, Spiegelman D, Li R, Wong JB, Feskanich D, Willett WC (2011) Milk intake and risk of hip fracture in men and women: a meta-analyses of prospective cohort studies. J Bone Miner Res 26(4):833–889

50.

Coxam V (2007) Current data with inulin-type fructans and calcium, targeting bone health in adults. J Nutr 137:25275–25335

51.

Hayhoe RPG, Lentjes MAH, Luben RN, Khaw K-T, Welch AA (2015) Combined dietary magnesium and potassium intake is associated with greater bone density in women in the EPIC-Norfolk cohort. Proc Nutr Soc. 74:OEC1

52.

Fung EB, Kwiatkowski JL, Huang JN, Gildengorin G, King J, Vichinsky EP (2013) Zinc supplementation improves bone density in patients with thalassemia: a double-blind randomised placebo-controlled trial. Am J Clin Nutr 98:960–971

53.

Shiota J, Tagawa H, Izumi N, Higashikawa S, Kasahara H (2015) effect of zinc supplementation on bone formation in hemodialysis patients with normal or low bone turnover. Ren Fail 37:57–60

54.

Asmawi MZ, Seppo L, Vapaatalo H, Korpela R (2006) Hypolactasia and lactose intolerance among three ethnic groups in Malaysia. Indian J Med Res 124:697–704
Acknowledgements
The study was funded by Fonterra Brands Singapore Pte Ltd.
Ethics declarations
Conflict of interest
L.M Schollum and JM Todd are employees of Fonterra Cooperative Ltd. B Kuhn-Sherlock is a consultant statistician engaged by Fonterra Cooperative Group Ltd, New Zealand. All other authors do not have a conflict to declare.
About this article
Cite this article
Kruger, M.C., Chan, Y.M., Lau, L.T. et al. Calcium and vitamin D fortified milk reduces bone turnover and improves bone density in postmenopausal women over 1 year. Eur J Nutr 57, 2785–2794 (2018). https://doi.org/10.1007/s00394-017-1544-6
Received:

Accepted:

Published:

Issue Date:
Keywords
Postmenopausal women

Fortified milk

Bone markers

Bone density