Abstract
Purpose
Despite the fact that extra virgin olive oil (EVOO) is widely used in obese individuals to treat cardiovascular diseases, the role of EVOO on weight/fat reduction remains unclear. We investigated the effects of energy-restricted diet containing EVOO on body composition and metabolic disruptions related to obesity.
Methods
This is a randomized, double-blinded, placebo-controlled clinical trial in which 41 adult women with excess body fat (mean ± SD 27.0 ± 0.9 year old, 46.8 ± 0.6% of total body fat) received daily high-fat breakfasts containing 25 mL of soybean oil (control group, n = 20) or EVOO (EVOO group, n = 21) during nine consecutive weeks. Breakfasts were part of an energy-restricted normal-fat diets (−2090 kJ, ~32%E from fat). Anthropometric and dual-energy X-ray absorptiometry were assessed, and fasting blood was collected on the first and last day of the experiment.
Results
Fat loss was ~80% higher on EVOO compared to the control group (mean ± SE: −2.4 ± 0.3 kg vs. −1.3 ± 0.4 kg, P = 0.037). EVOO also reduced diastolic blood pressure when compared to control (–5.1 ± 1.6 mmHg vs. +0.3 ± 1.2 mmHg, P = 0.011). Within-group differences (P < 0.050) were observed for HDL-c (−2.9 ± 1.2 mmol/L) and IL-10 (+0.9 ± 0.1 pg/mL) in control group, and for serum creatinine (+0.04 ± 0.01 µmol/L) and alkaline phosphatase (−3.3 ± 1.8 IU/L) in the EVOO group. There was also a trend for IL-1β EVOO reduction (−0.3 ± 0.1 pg/mL, P = 0.060).
Conclusion
EVOO consumption reduced body fat and improved blood pressure. Our results indicate that EVOO should be included into energy-restricted programs for obesity treatment.
This is a preview of subscription content, log in to check access.
Access options
Buy single article
Instant access to the full article PDF.
US$ 39.95
Price includes VAT for USA
Subscribe to journal
Immediate online access to all issues from 2019. Subscription will auto renew annually.
US$ 199
This is the net price. Taxes to be calculated in checkout.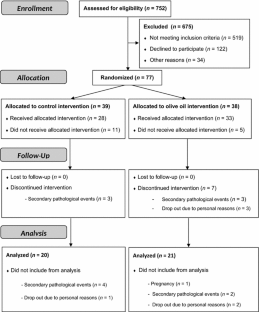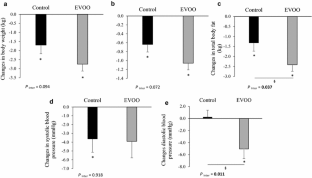 References
1.

Popkin BM, Adair LS, Ng SW (2012) Global nutrition transition and the pandemic of obesity in developing countries. Nutr Rev 70:3–21. doi:10.1111/j.1753-4887.2011.00456.x

2.

Malik VS, Willett WC, Hu FB (2012) Global obesity: trends, risk factors and policy implications. Nat Rev Endocrinol 9:13–27. doi:10.1038/nrendo.2012.199

3.

Hruby A, Manson JE, Qi L et al (2016) Determinants and consequences of obesity. Am J Public Heal 106:1656–1662

4.

Servili M, Selvaggini R, Esposto S et al (2004) Health and sensory properties of virgin olive oil hydrophilic phenols: agronomic and technological aspects of production that affect their occurrence in the oil. J Chromatogr A 1054:113–127. doi:10.1016/j.chroma.2004.08.070

5.

Covas M-I, Konstantinidou V, Fitó M (2009) Olive oil and cardiovascular health. J Cardiovasc Pharmacol 54:477–482. doi:10.1097/FJC.0b013e3181c5e7fd

6.

López-Miranda J, Pérez-Jiménez F, Ros E et al (2010) Olive oil and health: summary of the II international conference on olive oil and health consensus report, Jaén and Córdoba (Spain) 2008. Nutr Metab Cardiovasc Dis 20:284–294. doi:10.1016/j.numecd.2009.12.007

7.

Pérez-Jiménez F, Ruano J, Perez-Martinez P et al (2007) The influence of olive oil on human health: not a question of fat alone. Mol Nutr Food Res 51:1199–1208. doi:10.1002/mnfr.200600273

8.

Ruiz-Canela M, Martínez-González MA (2011) Olive oil in the primary prevention of cardiovascular disease. Maturitas 68:245–250. doi:10.1016/j.maturitas.2010.12.002

9.

Guttersen C (2015) Olive oil for weight loss. North Am Olive Oil Assoc, Blog

10.

Buckland G, Gonzalez CA (2015) The role of olive oil in disease prevention: a focus on the recent epidemiological evidence from cohort studies and dietary intervention trials. Br J Nutr 113:S94–S101. doi:10.1017/S0007114514003936

11.

Soriguer F, Rojo-Martínez G, de Fonseca FR et al (2007) Obesity and the metabolic syndrome in Mediterranean countries: a hypothesis related to olive oil. Mol Nutr Food Res 51:1260–1267. doi:10.1002/mnfr.200700021

12.

Romaguera D, Norat T, Vergnaud A-C et al (2010) Mediterranean dietary patterns and prospective weight change in participants of the EPIC-PANACEA project. Am J Clin Nutr 92:912–921. doi:10.3945/ajcn.2010.29482

13.

Razquin C, Martinez JA, Martinez-Gonzalez MA et al (2009) A 3 years follow-up of a Mediterranean diet rich in virgin olive oil is associated with high plasma antioxidant capacity and reduced body weight gain. Eur J Clin Nutr 63:1387–1393. doi:10.1038/ejcn.2009.106

14.

Serra-Majem L, Ngo de la Cruz J, Ribas L, Tur JA (2003) Olive oil and the Mediterranean diet: beyond the rhetoric. Eur J Clin Nutr 57:S2–S7. doi:10.1038/sj.ejcn.1601801

15.

Buckland G, Bach A, Serra-Majem L (2008) Obesity and the Mediterranean diet: a systematic review of observational and intervention studies. Obes Rev 9:582–593. doi:10.1111/j.1467-789X.2008.00503.x

16.

Shai I, Schwarzfuchs D, Henkin Y et al (2008) Weight loss with a low-carbohydrate, Mediterranean, or low-fat diet. N Engl J Med 359:229–241. doi:10.1056/NEJMoa0708681

17.

Esposito K, Marfella R, Ciotola M et al (2004) Effect of a Mediterranean-style diet on endothelial dysfunction and markers of vascular inflammation in the metabolic syndrome. JAMA 292:1440. doi:10.1001/jama.292.12.1440

18.

Estruch R, Martínez-González MA, Corella D et al (2006) Effects of a Mediterranean-style diet on cardiovascular risk factors: a randomized trial. Ann Intern Med 145:1–11

19.

Salas-Salvadó J, Fernández-Ballart J, Ros E et al (2008) Effect of a Mediterranean diet supplemented with nuts on metabolic syndrome status: one-year results of the PREDIMED randomized trial. Arch Intern Med 168:2449–2458. doi:10.1001/archinte.168.22.2449

20.

St-Onge M-P, Bourque C, Jones PJH et al (2003) Medium- versus long-chain triglycerides for 27 days increases fat oxidation and energy expenditure without resulting in changes in body composition in overweight women. Int J Obes Relat Metab Disord 27:95–102. doi:10.1038/sj.ijo.0802169

21.

McManus K, Antinoro L, Sacks F (2001) A randomized controlled trial of a moderate-fat, low-energy diet compared with a low fat, low-energy diet for weight loss in overweight adults. Int J Obes 25:1503–1511. doi:10.1038/sj.ijo.0801796

22.

Mera R, Thompson H, Prasad C (1998) How to calculate sample size for an experiment: a case-based description. Nutr Neurosci 1:87–91. doi:10.1080/1028415X.1998.11747217

23.

Swinburn B, Arroll B (2016) Rethinking primary care systems for obesity. Lancet 338:2452–2454. doi:10.1016/S0140-6736(16)31913-4

24.

Zelen M (1974) The randomization and stratification of patients to clinical trials. J Chronic Dis 27:365–375. doi:10.1016/0021-9681(74)90015-0

25.

Fung TT, Rexrode KM, Mantzoros CS et al (2009) Mediterranean diet and incidence of and mortality from coronary heart disease and stroke in women. Circulation 119:1093–1100. doi:10.1161/CIRCULATIONAHA.108.816736

26.

Institute of Medicine (2005) Dietary reference intakes for energy, carbohydrate, fiber, fat, fatty acids, cholesterol, protein, and amino acids. Washington, DC: The National Academies Press. doi:10.17226/10490

27.

Hartman L, Lago RC (1973) Rapid preparation of fatty acid methyl esters from lipids. Lab Pract 22:475–476 (passim)

28.

Rosa DD, Sales RL, Moraes LFS et al (2010) Flaxseed, olive and fish oil influence plasmatic lipids, lymphocyte migration and morphometry of the intestinal of Wistar rats. Acta Cir Bras 25:275–280. doi:10.1590/S0102-86502010000300010

29.

Hagströmer M, Oja P, Sjöström M (2006) The international physical activity questionnaire (IPAQ): a study of concurrent and construct validity. Public Health Nutr 9:755–762

30.

Núcleo de Estudos e pesquisas em Alimentação—NEPA (2011) Tabela Brasileira de Composicao de Alimentos—TACO, 4th edn. NEPA-UNICAMP, Campinas

31.

Philippi ST (2016) Tabela de Composição de Alimentos: suporte para decisão nutricional, 5th edn. Manole, São Paulo

32.

US Department of Agriculture, Agricultural Research Service, Nutrient Data Laboratory. USDA National Nutrient Database for Standard Reference. Avaiable at: http://www.ars.usda.gov/ba/bhnrc/ndl. Accessed 11 Oct 2016

33.

Vasques AC, Rosado L, Rosado G et al (2010) Indicadores antropométricos de resistência à insulina. Arq Bras Cardiol 95:e14–e23. doi:10.1590/S0066-782X2010001100025

34.

Taylor RW, Jones IE, Williams SM, Goulding A (2000) Evaluation of waist circumference, waist-to-hip ratio, and the conicity index as screening tools for high trunk fat mass, as measured by dual-energy X-ray absorptiometry, in children aged 3-19 y. Am J Clin Nutr 72:490–495

35.

Mancia G, De Backer G, Dominiczak A et al (2007) Guidelines for the management of arterial hypertension. Eur Heart J 28:1462–1536. doi:10.1093/eurheartj/ehm236

36.

Friedewald WT, Levy RI, Fredrickson DS (1972) Estimation of the concentration of low-density lipoprotein cholesterol in plasma, without use of the preparative ultracentrifuge. Clin Chem 18:499–502

37.

Matthews DR, Hosker JP, Rudenski AS et al (1985) Homeostasis model assessment: insulin resistance and beta-cell function from fasting plasma glucose and insulin concentrations in man. Diabetologia 28:412–419

38.

Dobiásová M (2006) AIP–atherogenic index of plasma as a significant predictor of cardiovascular risk: from research to practice. Vnitr Lek 52:64–71

39.

Hall KD (2008) What is the required energy deficit per unit weight loss? IntJ Obes (Lond) 32:573–576

40.

Pérez-Martínez P, García-Ríos A, Delgado-Lista J et al (2011) Mediterranean diet rich in olive oil and obesity, metabolic syndrome and diabetes mellitus. Curr Pharm Des 17:769–777

41.

Esposito K, Maiorino MI, Ceriello A, Giugliano D (2010) Prevention and control of type 2 diabetes by Mediterranean diet: a systematic review. Diabetes Res Clin Pract 89:97–102. doi:10.1016/j.diabres.2010.04.019

42.

Estruch R, Martínez-González MA, Corella D et al (2016) Effect of a high-fat Mediterranean diet on bodyweight and waist circumference: a prespecified secondary outcomes analysis of the PREDIMED randomised controlled trial. Lancet Diabetes Endocrinol 4:666–676. doi:10.1016/S2213-8587(16)30085-7

43.

Ntambi JM (1995) The regulation of stearoyl-CoA desaturase (SCD). Prog Lipid Res 34:139–150

44.

Cohen P, Miyazaki M, Socci ND et al (2002) Role for stearoyl-CoA desaturase-1 in leptin-mediated weight loss. Science 297:240–243. doi:10.1126/science.1071527

45.

Ntambi JM, Miyazaki M, Stoehr JP et al (2002) Loss of stearoyl-CoA desaturase-1 function protects mice against adiposity. Proc Natl Acad Sci 99:11482–11486. doi:10.1073/pnas.132384699

46.

Bondia-Pons I, Schröder H, Covas M-I et al (2007) Moderate consumption of olive oil by healthy European men reduces systolic blood pressure in non-Mediterranean participants. J Nutr 137:84–87

47.

Fitó M, Cladellas M, de la Torre R et al (2005) Antioxidant effect of virgin olive oil in patients with stable coronary heart disease: a randomized, crossover, controlled, clinical trial. Atherosclerosis 181:149–158. doi:10.1016/j.atherosclerosis.2004.12.036

48.

Storniolo CE, Casillas R, Bulló M et al (2015) A Mediterranean diet supplemented with extra virgin olive oil or nuts improves endothelial markers involved in blood pressure control in hypertensive women. Eur J Nutr. doi:10.1007/s00394-015-1060-5

49.

Terés S, Barceló-Coblijn G, Benet M et al (2008) Oleic acid content is responsible for the reduction in blood pressure induced by olive oil. Proc Natl Acad Sci USA 105:13811–13816. doi:10.1073/pnas.0807500105

50.

Covas M-I, Nyyssönen K, Poulsen HE et al (2006) The effect of polyphenols in olive oil on heart disease risk factors: a randomized trial. Ann Intern Med 145:333–341

51.

Ramirez-Tortosa MC, Urbano G, López-Jurado M et al (1999) Extra virgin olive oil increases the resistance of LDL to oxidation more than refined olive oil in free-living men with peripheral vascular disease. J Nutr 129:2177–2183

52.

Moschandreas J, Vissers MN, Wiseman S et al (2002) Extra virgin olive oil phenols and markers of oxidation in Greek smokers: a randomized cross-over study. Eur J Clin Nutr 56:1024–1029. doi:10.1038/sj.ejcn.1601444

53.

Visioli F, Caruso D, Grande S et al (2005) Virgin olive oil study (VOLOS): vasoprotective potential of extra virgin olive oil in mildly dyslipidemic patients. Eur J Nutr 44:121–127. doi:10.1007/s00394-004-0504-0

54.

Vissers MN, Zock PL, Wiseman SA et al (2001) Effect of phenol-rich extra virgin olive oil on markers of oxidation in healthy volunteers. Eur J Clin Nutr 55:334–341. doi:10.1038/sj.ejcn.1601161

55.

Hohmann CD, Cramer H, Michalsen A et al (2015) Effects of high phenolic olive oil on cardiovascular risk factors: a systematic review and meta-analysis. Phytomedicine 22:631–640. doi:10.1016/j.phymed.2015.03.019

56.

de Bruin TW, Brouwer CB, van Linde-Sibenius Trip M et al (1993) Different postprandial metabolism of olive oil and soybean oil: a possible mechanism of the high-density lipoprotein conserving effect of olive oil. Am J Clin Nutr 58:477–483

57.

Bobulescu IA (2010) Renal lipid metabolism and lipotoxicity. Curr Opin Nephrol Hypertens 19:393–402. doi:10.1097/MNH.0b013e32833aa4ac

58.

De La Cruz JP, Quintero L, Villalobos MA, Sánchez de la Cuesta F (2000) Lipid peroxidation and glutathione system in hyperlipemic rabbits: influence of olive oil administration. Biochim Biophys Acta 1485:36–44

59.

Poudyal H, Campbell F, Brown L (2010) Olive leaf extract attenuates cardiac, hepatic, and metabolic changes in high carbohydrate-, high fat-fed rats. J Nutr 140:946–953. doi:10.3945/jn.109.117812

60.

Chavali SR, Zhong WW, Forse RA (1998) Dietary alpha-linolenic acid increases TNF-alpha, and decreases IL-6, IL-10 in response to LPS: effects of sesamin on the delta-5 desaturation of omega6 and omega3 fatty acids in mice. Prostaglandins Leukot Essent Fatty Acids 58:185–191

61.

Kremer JM, Lawrence DA, Jubiz W et al (1990) Dietary fish oil and olive oil supplementation in patients with rheumatoid arthritis. Clinical immunologic effects. Arthritis Rheum 33:810–820

62.

Kang JX, Weylandt KH (2008) Modulation of inflammatory cytokines by omega-3 fatty acids. Lipids health disease. Springer, Dordrecht, pp 133–143
Acknowledgements
We thank Fundação de Amparo à Pesquisa do Estado de Minas Gerais—FAPEMIG (protocol number: APQ-01877-1). The Coordenação de Aperfeiçoamento de Pessoal de Nível Superior—CAPES and Conselho Nacional de Desenvolvimento Científico e Tecnológico—CNPq for providing research grants to the authors. We thank Bioclin® for providing biochemical assays kits. These companies had no role in design, analysis, or writing of this manuscript.
Ethics declarations
Conflict of interest
The authors declare that they have no conflict of interest.
Electronic supplementary material
About this article
Cite this article
Galvão Cândido, F., Xavier Valente, F., da Silva, L.E. et al. Consumption of extra virgin olive oil improves body composition and blood pressure in women with excess body fat: a randomized, double-blinded, placebo-controlled clinical trial. Eur J Nutr 57, 2445–2455 (2018). https://doi.org/10.1007/s00394-017-1517-9
Received:

Accepted:

Published:

Issue Date:
Keywords
Extra virgin olive oil

Soybean oil

Body fat

Blood pressure

Adiposity

Monounsaturated fatty acid