Abstract
Purpose
The consumption of Brazil nuts has been associated with benefits to lipid metabolism and reductions in total cholesterol and LDL concentrations. They are the richest natural source of selenium which has essential functions in human physiology. Genetic polymorphisms in Selenoprotein P could impair lipid and glucose metabolisms. The aim of this work was to verify the influence of polymorphisms in genes for selenoproteins on blood lipid levels after dietary supplementation with Brazil nuts in healthy adults.
Methods
The study included 130 healthy volunteers selected at the University of São Paulo, Brazil. They were supplemented with one nut a day for 8 weeks, followed by 8 weeks without intervention. The following analyses were performed: anthropometric measurements, serum fasting glucose, lipid profile, C-reactive protein and plasma MDA levels. The volunteers were genotyped for SNPs rs1050450, rs3811699, rs1800699, rs713041, rs3877899, rs7579, rs34713741, and rs5845 in genes for selenoproteins.
Results
The concentrations of total cholesterol and fasting glucose levels decreased after 8 weeks of supplementation (p < 0.05). Glucose levels were modulated by rs3877899 in SEPP1, with significantly lower levels observed for individuals with the GA + AA genotype (p = 0.025). In addition, rs7579 was associated with cholesterol concentrations, which were significantly lower for individuals with the GG genotype (p = 0.053).
Conclusions
Supplementation with one Brazil nut a day for 8 weeks reduced total cholesterol and glucose levels. Furthermore, our results suggest that rs3877899 might be associated with glucose concentrations and rs7579 with cholesterol concentrations. Therefore, the effect of genetic variations should be considered in future nutritional interventions evaluating the response to Brazil nut supplementation.
Access options
Buy single article
Instant access to the full article PDF.
USD 39.95
Price excludes VAT (USA)
Tax calculation will be finalised during checkout.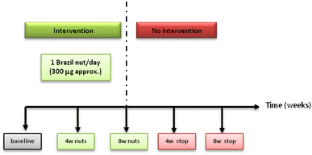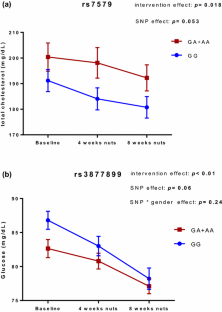 References
Sabaté J, Ang Y (2009) Nuts and health outcomes: new epidemiologic evidence. Am J Clin Nutr 89:1643S–1648S. doi:10.3945/ajcn.2009.26736Q.Am

Jiang R, Jacobs DR, Mayer-Davis E et al (2006) Nut and seed consumption and inflammatory markers in the Multi-Ethnic Study of Atherosclerosis. Am J Epidemiol 163:222–231. doi:10.1093/aje/kwj033

O'Neil CE, Fulgoni VL, Nicklas TA (2015) Tree nut consumption is associated with better adiposity measures and cardiovascular and metabolic syndrome health risk factors in US adults: NHANES 2005–2010. Nutr J 14:64–71. doi:10.1080/07315724.2011.10719996

Mukuddem-Petersen J, Oosthuizen W, Jerling JC (2005) A systematic review of the effects of nuts on blood lipid profiles in humans. J Nutr 135:2082–2089

Welna M, Klimpel M, Zyrnicki W (2008) Investigation of major and trace elements and their distributions between lipid and non-lipid fractions in Brazil nuts by inductively coupled plasma atomic optical spectrometry. Food Chem 111:1012–1015. doi:10.1016/j.foodchem.2008.04.067

Segura R, Javierre C, Lizarraga MA, Ros E (2006) Other relevant components of nuts: phytosterols, folate and minerals. Br J Nutr 96(Suppl 2):S36–S44. doi:10.1017/BJN20061862

Bao Y, Han J, Hu FB et al (2013) Association of nut consumption with total and cause-specific mortality. N Engl J Med 369:2001–2011. doi:10.1056/NEJMoa1307352

Cominetti C, de Bortoli MC, Garrido AB, Cozzolino SMF (2012) Brazilian nut consumption improves selenium status and glutathione peroxidase activity and reduces atherogenic risk in obese women. Nutr Res 32:403–407. doi:10.1016/j.nutres.2012.05.005

Colpo E, Vilanova CDDA, Brenner Reetz LG et al (2013) A single consumption of high amounts of the Brazil nuts improves lipid profile of healthy volunteers. J Nutr Metab. doi:10.1155/2013/653185

Maranhão PA, Kraemer-Aguiar LG, de Oliveira CL et al (2011) Brazil nuts intake improves lipid profile, oxidative stress and microvascular function in obese adolescents: a randomized controlled trial. Nutr Metab (Lond) 8:32. doi:10.1186/1743-7075-8-32

Strunz CC, Oliveira TV, Vinagre JCM et al (2008) Brazil nut ingestion increased plasma selenium but had minimal effects on lipids, apolipoproteins, and high-density lipoprotein function in human subjects. Nutr Res 28:151–155. doi:10.1016/j.nutres.2008.01.004

Thomson CD, Chisholm A, Mclachlan SK, Campbell JM (2008) Brazil nuts: an effective way to improve selenium status. Am J Clin Nutr 87:379–384

Rayman MP (2012) Selenium and human health. Lancet 379:1256–1268. doi:10.1016/S0140-6736(11)61452-9

Hatfield DL, Gladyshev VN (2002) How selenium has altered our understanding of the genetic code. Mol Cell Biol 22:3565–3576. doi:10.1128/MCB.22.11.3565

Burk RF, Hill KE (2005) Selenoprotein P: an extracellular protein with unique physical characteristics and a role in selenium homeostasis. Annu Rev Nutr 25:215–235. doi:10.1146/annurev.nutr.24.012003.132120

Yang SJ, Hwang SY, Choi HY et al (2011) Serum selenoprotein P levels in patients with type 2 diabetes and prediabetes: implications for insulin resistance, inflammation, and atherosclerosis. J Clin Endocrinol Metab 96:1325–1329. doi:10.1210/jc.2011-0620

Misu H, Takamura T, Takayama H et al (2010) A liver-derived secretory protein, selenoprotein P, causes insulin resistance. Cell Metab 12:483–495. doi:10.1016/j.cmet.2010.09.015

Steinbrenner H (2013) Interference of selenium and selenoproteins with the insulin-regulated carbohydrate and lipid metabolism. Free Radic Biol Med 65:1538–1547. doi:10.1016/j.freeradbiomed.2013.07.016

Kryukov GV, Castellano S, Novoselov SV et al (2003) Characterization of mammalian selenoproteomes. Science 300:1439–1443. doi:10.1126/science.1083516

Méplan C, Crosley LK, Nicol F et al (2007) Genetic polymorphisms in the human selenoprotein P gene determine the response of selenoprotein markers to selenium supplementation in a gender-specific manner (the SELGEN study). FASEB J 21:3063–3074. doi:10.1096/fj.07-8166com

AOAC Association of Official Analytical Chemists (1990) Official methods of analysis, 15th ed. Washington

Carvalho RF, Huguenin GVB, Luiz RR et al (2015) Intake of partially defatted Brazil nut flour reduces serum cholesterol in hypercholesterolemic patients- a randomized controlled trial. Nutr J 14:59. doi:10.1186/s12937-015-0036-x

Bleys J, Navas-Acien A, Guallar E (2008) Serum selenium levels and all-cause, cancer, and cardiovascular mortality among US adults. Arch Intern Med 168:404–410. doi:10.1001/archinternmed.2007.74

Hatfield DL, Gladyshev VN (2009) The Outcome of Selenium and Vitamin E Cancer Prevention Trial (SELECT) reveals the need for better understanding of selenium biology. Mol Interv 9:18–21. doi:10.1124/mi.9.1.6

Ryan E, Galvin K, O'Connor TP et al (2006) Fatty acid profile, tocopherol, squalene and phytosterol content of brazil, pecan, pine, pistachio and cashew nuts. Int J Food Sci Nutr 57:219–228. doi:10.1080/09637480600768077

Moosmann B, Behl C (2004) Selenoproteins, cholesterol-lowering drugs, and the consequences: revisiting of the mevalonate pathway. Trends Cardiovasc Med 14:273–281. doi:10.1016/j.tcm.2004.08.003

Rayman MP, Stranges S, Griffin BA et al (2011) Effect of supplementation with high-selenium yeast on plasma lipids. Ann Intern Med 154:656–665

Schomburg L, Schweizer U (2009) Hierarchical regulation of selenoprotein expression and sex-specific effects of selenium. Biochim Biophys Acta 1790:1453–1462. doi:10.1016/j.bbagen.2009.03.015

Vunta H, Davis F, Palempalli UD et al (2007) The anti-inflammatory effects of selenium are mediated through 15-deoxy-delta 12,14-prostaglandin J2 in macrophages. J Biol Chem 282:17964–17973. doi:10.1074/jbc.M703075200

Klopotek A, Hirche F, Eder K (2006) PPAR gamma ligand troglitazone lowers cholesterol synthesis in HepG2 and Caco-2 cells via a reduced concentration of nuclear SREBP-2. Exp Biol Med 231:1365–1372

Sengupta A, Carlson BA, Hoffman VJ et al (2008) Loss of housekeeping selenoprotein expression in mouse liver modulates lipoprotein metabolism. Biochem Biophys Res Commun 365:446–452. doi:10.1038/jid.2014.371

Viguiliouk E, Kendall CWC, Blanco Mejia S et al (2014) Effect of tree nuts on glycemic control in diabetes: a systematic review and meta-analysis of randomized controlled dietary trials. PLoS One 9:e103376. doi:10.1371/journal.pone.0103376

Mao J, Teng W (2013) The relationship between selenoprotein P and glucose metabolism in experimental studies. Nutrients 5:1937–1948. doi:10.3390/nu5061937

Burk RF, Hill KE (2009) Selenoprotein P-expression, functions, and roles in mammals. Biochim Biophys Acta Gen Subj 1790:1441–1447. doi:10.1016/j.bbagen.2009.03.026

Steinbrenner H, Hotze AL, Speckmann B et al (2013) Localization and regulation of pancreatic selenoprotein P. J Mol Endocrinol 50:31–42. doi:10.1530/JME-12-0105
Acknowledgements
The authors are grateful to the Sao Paulo Research Foundation (FAPESP process: 2011/17720-0) for the scholarship and the financial support provided for this study. The authors are also very grateful to all volunteers who took part in this study. J.L.S.D., M.M.R. and S.M.F.C. conceived and designed the study; J.L.S.D. was responsible for generation, collection, assembly, analysis and interpretation of data; J.L.S.D, C.D. and E.M.G.S. performed the statistical analysis. J.L.S.D. wrote the manuscript, and P.B., S.M.F.C and M.M.R. revised the manuscript. All the authors approved the final version of the manuscript before submission.
Ethics declarations
Conflict of interest
There are no actual or potential conflicts of interest that might influence judgment on the part of any author.
About this article
Cite this article
Donadio, J.L.S., Rogero, M.M., Guerra-Shinohara, E.M. et al. SEPP1 polymorphisms modulate serum glucose and lipid response to Brazil nut supplementation. Eur J Nutr 57, 1873–1882 (2018). https://doi.org/10.1007/s00394-017-1470-7
Received:

Accepted:

Published:

Issue Date:

DOI: https://doi.org/10.1007/s00394-017-1470-7
Keywords