Abstract
Purpose
Baccaurea angulata (common names: belimbing dayak or belimbing hutan) is a Malaysian underutilized fruit. The preliminary work on B. angulata fruit juice showed that it possesses antioxidant properties. Therefore, further work is needed to confirm the efficacy and proper dosage of B. angulata as a potential natural antioxidant. The present study was thus carried out to compare the effects of three different B. angulata whole fruit (WF) juice doses administered at nutritional doses of 0.50, 1.00 and 1.50 ml/kg/day on plasma, aorta and liver malondialdehyde (MDA) levels, antioxidant enzymes (superoxide dismutase, glutathione peroxidase and catalase) as well as total antioxidant capacity in rabbits fed high-cholesterol diet.
Methods
Thirty-five male rabbits of New Zealand strain were randomly assigned to seven groups. For 12 weeks, group CH was fed 1% cholesterol diet only; group C1 was fed 1% cholesterol diet and 0.50 ml/kg/day B. angulata WF juice; group C2 was fed 1% cholesterol diet and 1.00 ml/kg/day B. angulata WF juice; group C3 was fed 1% cholesterol diet and 1.50 ml/kg/day B. angulata WF juice; group N was fed standard pellet only; group N1 was fed standard pellet and 0.50 ml/kg/day B. angulata WF juice; and group N2 was fed standard pellet and 1.00 ml/kg/day B. angulata WF juice.
Results
The three doses reduced the formation of MDA and enhanced the expression of endogenous antioxidant enzymes. The highest dose used (1.50 ml/kg/day) was, however, seen as the most potent.
Conclusion
Higher doses of B. angulata juice exerted better antioxidant activity.
Access options
Buy single article
Instant access to the full article PDF.
US$ 39.95
Tax calculation will be finalised during checkout.
Subscribe to journal
Immediate online access to all issues from 2019. Subscription will auto renew annually.
US$ 159
Tax calculation will be finalised during checkout.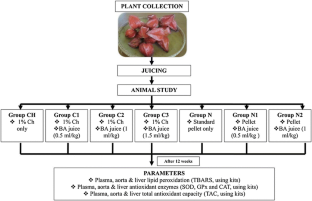 References
1.

Wen X et al (2013) Deconvoluting the role of reactive oxygen species and autophagy in human diseases. Free Rad Biol Med 65:402–410

2.

Azzi A (2007) Oxidative stress: a dead end or a laboratory hypothesis? Biochem Biophys Res Commun 362(2):230–232

3.

Heo BG et al (2014) Anticancer and antioxidant effects of extracts from different parts of indigo plant. Ind Crops Prod 56:9–16

4.

Nafiu MO, Salawu MO, Kazeem MI (2013) Antioxidant activity of African medicinal plants. In: Kuete V (ed) Medicinal plant research in Africa. Elsevier, Oxford, pp 787–803

5.

de Mello Andrade JM, Fasolo D (2014) Polyphenol antioxidants from natural sources and contribution to health promotion. In: Watson RR, Preedy VR, Zibadi S (eds) Polyphenols in human health and disease. Academic Press, San Diego, pp 253–265

6.

Rodrigo R, Gil-Becerra D (2014) Implications of polyphenols on endogenous antioxidant defense systems in human diseases. In: Watson RR, Preedy VR, Zibadi S (eds) Polyphenols in human health and disease. Academic Press, San Diego, pp 201–217

7.

Karppi J et al (2012) Low β-carotene concentrations increase the risk of cardiovascular disease mortality among Finnish men with risk factors. Nutr Metab Cardiovasc Dis 22(10):921–928

8.

Zhu Y et al (2011) Fruit consumption is associated with lower carotid intima-media thickness and C-reactive protein levels in patients with type 2 diabetes mellitus. J Am Diet Assoc 111(10):1536–1542

9.

Mikail MA et al (2015) Baccaurea angulata fruit inhibits lipid peroxidation and induces the increase in antioxidant enzyme activities. Eur J Nutr 55:1435–1444

10.

Ibrahim D et al (2013) Sub-chronic toxicological evaluation of the Baccaurea angulata (Belimbing Dayak) fruit juice in rats. Int J Appl Res Nat Prod 6(4):23–32

11.

Asif Saeed M, Wahid Sabir A (2003) Effects 554 of Fagonia cretica L. constituents on various haematological parameters in rabbits. J Ethnopharmacol 85(2–3):195–200

12.

El-Moghazy M et al (2014) The possible effect of diets containing fish oil (omega-3) on hematological, biochemical and histopathogical alterations of rabbit liver and kidney. Biomed Prev Nutr 4(3):371–377

13.

Hasan ST et al (2014) Curcumin modulation of high fat diet-induced atherosclerosis and steatohepatitis in LDL receptor deficient mice. Atherosclerosis 232(1):40–51

14.

Karbiner MS et al (2013) The role of oxidative stress in alterations of hematological parameters and inflammatory markers induced by early hypercholesterolemia. Life Sci 93(15):503–508

15.

Lai P et al (2011) Aqueous extract of Gleditsia sinensis Lam. fruits improves serum and liver lipid profiles and attenuates atherosclerosis in rabbits fed a high-fat diet. J Ethnopharmacol 137(3):1061–1066

16.

Zou B et al (2012) High molecular weight persimmon tannin is a potent hypolipidemic in high-cholesterol diet fed rats. Food Res Int 48(2):970–977

17.

Sayed AA (2012) Thymoquinone and proanthocyanidin attenuation of diabetic nephropathy in rats. Eur Rev Med Pharmacol Sci 16(6):808–815

18.

Sayed AA, El-Shaieb KM, Mourad AF (2012) Life span extension of Caenorhabditis elegans by novel pyridopyrimidine derivative. Arch Pharm Res 35(1):69–76

19.

Ahmed IA et al (2015) Antioxidant activity and phenolic profile of various morphological parts of underutilised Baccaurea angulata fruit. Food Chem 172:778–787

20.

Chen Y et al (2013) Probucol and cilostazol exert a combinatorial anti-atherogenic effect in cholesterol-fed rabbits. Thromb Res 132(5):565–571

21.

Bocanegra A et al (2006) Differential effects of konbu and nori seaweed dietary supplementation on liver glutathione status in normo- and hypercholesterolaemic growing rats. Br J Nutr 95(4):696–702

22.

Alimi H et al (2013) Ameliorative effect of Opuntia ficus indica juice on ethanol-induced oxidative stress in rat erythrocytes. Exp Toxicol Pathol 65(4):391–396

23.

Klewicka E et al (2012) Protective effect of lactofermented red beetroot juice against aberrant crypt foci formation, genotoxicity of fecal water and oxidative stress induced by 2-amino-1-methyl-6-phenylimidazo[4,5-b] pyridine in rats model. Environ Toxicol Pharmacol 34(3):895–904

24.

Vaithiyanathan V, Mirunalini S (2013) Chemo preventive potential of fruit juice of Phyllanthus emblica Linn. (amla) against mammary cancer by altering oxidant/antioxidant status, lipid profile levels and estrogen/progesterone receptor status in female Sprague–Dawley rats. Biomed Prev Nutr 3(4):357–366

25.

Yuan YV, Kitts DD (2002) Dietary fat source and cholesterol interactions alter plasma lipids and tissue susceptibility to oxidation in spontaneously hypertensive (SHR) and normotensive Wistar Kyoto (WKY) rats. Mol Cell Biochem 232(1–2):33–47

26.

Jenkins JE, Medeiros DM (1993) Diets containing corn oil, coconut oil and cholesterol alter ventricular hypertrophy, dilatation and function in hearts of rats fed copper-deficient diets. J Nutr 123(6):1150–1160

27.

Jung JH, Kim HS (2013) The inhibitory effect of black soybean on hepatic cholesterol accumulation in high cholesterol and high fat diet-induced non-alcoholic fatty liver disease. Food Chem Toxicol 60:404–412

28.

Wang X et al (2011) Effects of hesperidin on the progression of hypercholesterolemia and fatty liver induced by high-cholesterol diet in rats. J Pharmacol Sci 117(3):129–138

29.

Wang YM et al (2010) The mechanism of dietary cholesterol effects on lipids metabolism in rats. Lipids Health Dis 9:4

30.

Vázquez-Velasco M et al (2014) Liver oxidation and inflammation in Fa/Fa rats fed glucomannan/spirulina-surimi. Food Chem 159:215–221

31.

Ford LD (2012) 2014 hospital compliance manual. Orion Publishing Company, London

32.

Oboh G, Akinyemi AJ, Ademiluyi AO (2013) Inhibitory effect of phenolic extract from garlic on angiotensin-1 converting enzyme and cisplatin induced lipid peroxidation—in vitro. Int J Biomed Sci 9(2):98–106

33.

Oboh G, Ademosun AO (2011) Shaddock peels (Citrus maxima) phenolic extracts inhibit alpha-amylase, alpha-glucosidase and angiotensin I-converting enzyme activities: a nutraceutical approach to diabetes management. Diabetes Metab Syndr 5(3):148–152

34.

Ajila CM, Prasada Rao UJ (2008) Protection against hydrogen peroxide induced oxidative damage in rat erythrocytes by Mangifera indica L. peel extract. Food Chem Toxicol 46(1):303–309

35.

Ademosun AO, Oboh G (2012) Inhibition of acetylcholinesterase activity and Fe2+-induced lipid peroxidation in rat brain in vitro by some citrus fruit juices. J Med Food 15(5):428–434

36.

Hamzah RU et al (2013) Phytochemical and in vitro antioxidant properties of the methanolic extract of fruits of Blighia sapida, Vitellaria paradoxa and Vitex doniana. Oxid Antioxid Med Sci 2(3):217–223

37.

Prakash D et al (2012) Antioxidant and free radical scavenging activities of some promising wild edible fruits. Int Food Res J 19(3):1109–1116

38.

Ling L (2006) Hypoglycemic and antioxidative effects of Anacardium occidentale Linn. Diabetic rats. Universiti Putra Malaysia, Serdang

39.

Eshaghi M et al (2012) Cardioprotective effect of Cornus mas fruit extract against carbon tetrachloride induced-cardiotoxicity in albino rats. J Basic Appl Sci Res 2(11):11106–11114

40.

Adebayo AH et al (2011) Antioxidant activities of the leaves of Chrysophyllum albidum G. Pak J Pharm Sci 24(4):545–551

41.

Vega-López S et al (2005) Plasma antioxidant capacity in response to diets high in soy or animal protein with or without isoflavones. Am J Clin Nutr 81(1):43–49

42.

Kolodgie FD et al (1996) Hypercholesterolemia in the rabbit induced by feeding graded amounts of low-level cholesterol: methodological considerations regarding individual variability in response to dietary cholesterol and development of lesion type. Arterioscler Thromb Vasc Biol 16(12):1454–1464

43.

Sano T, Tanaka Y (1987) Effect of dried, powdered Chlorella vulgaris on experimental atherosclerosis and alimentary hypercholesterolemia in cholesterol-fed rabbits. Artery 14(2):76–84

44.

Prasad K (1999) Reduction of serum cholesterol and hypercholesterolemic atherosclerosis in rabbits by secoisolariciresinol diglucoside isolated from flaxseed. Circulation 99(10):1355–1362

45.

Olorunnisola OS, Bradley G, Afolayan AJ (2012) Protective effect of T. violacea rhizome extract against hypercholesterolemia-induced oxidative stress in Wistar rats. Molecules 17(5):6033–6045

46.

Yang X, Yang L, Zheng H (2010) Hypolipidemic and antioxidant effects of mulberry (Morus alba L.) fruit in hyperlipidaemia rats. Food Chem Toxicol 48(8–9):2374–2379

47.

Usharani P, Fatima N, Muralidhar N (2013) Effects of Phyllanthus emblica extract on endothelial dysfunction and biomarkers of oxidative stress in patients with type 2 diabetes mellitus: a randomized, double-blind, controlled study. Diabetes Metab Syndr Obes 6:275–284

48.

Oyewo EB, Akanji MA, Adekunle AS (2012) Immunomodulation capabilities of aqueous leaf extract of Phyllanthus amarus in male Wistar rats. Rep Opin 4(1):22–37

49.

Ajiboye TO et al (2013) Bridelia ferruginea promotes reactive oxygen species detoxification in N-nitrosodiethylamine-treated rats. J Diet Suppl 10(3):210–228

50.

Matsunami T et al (2010) Regulation of oxidative stress and inflammation by hepatic adiponectin receptor 2 in an animal model of nonalcoholic steatohepatitis. Int J Clin Exp Pathol 3(5):472–481

51.

Martinello F et al (2006) Hypolipemic and antioxidant activities from Tamarindus indica L. pulp fruit extract in hypercholesterolemic hamsters. Food Chem Toxicol 44(6):810–818

52.

Saggu S et al (2014) Ameliorating effect of chicory (Cichorium intybus L.) fruit extract against 4-tert-octylphenol induced liver injury and oxidative stress in male rats. Food Chem Toxicol 72:138–146

53.

Anilakumar KR et al (2009) Ameliorative effect of ajwain extract on hexachlorocyclohexane-induced lipid peroxidation in rat liver. Food Chem Toxicol 47(2):279–282
Acknowledgments
The authors are thankful to the Ministry of Science, Technology and Innovation (MOSTI) for funding this project (Project Nos: 06-01-08-SF0111 and 06-01-08-SF0112). The authors are also very grateful to Integrated Centre for Research Animal Care and Use (ICRACU) and Kulliyyah of Allied Health Science, IIUM for financial and technical assistances.
Ethics declarations
Conflict of interest
Authors have no conflict of interests.
About this article
Cite this article
Ibrahim, M., Mikail, M.A., Ahmed, I.A. et al. Comparison of the effects of three different Baccaurea angulata whole fruit juice doses on plasma, aorta and liver MDA levels, antioxidant enzymes and total antioxidant capacity. Eur J Nutr 57, 1817–1828 (2018). https://doi.org/10.1007/s00394-017-1466-3
Received:

Accepted:

Published:

Issue Date:
Keywords
Antioxidant enzymes

Baccaurea angulata

Doses

Malondialdehyde

Underutilized fruit