Abstract
Purpose
Virgin coconut oil (VCO) is a medium-chain fatty acid source with popularly attributed benefits on obesity management. However, its role on obesity requires elucidation due to its saturated nature. In the study herein, we investigated acute effects of VCO consumption on energy metabolism, cardiometabolic risk markers, and appetitive responses in women with excess body fat.
Methods
Fifteen adult women with excess body fat (37.43 ± 0.83%) participated in this randomized, crossover, controlled study. Two isocaloric mixed breakfasts containing 25 mL of VCO or control (extra-virgin olive oil-C) were evaluated. Resting energy expenditure (REE), fat oxidation rate (FOR), diet induced thermogenesis (DIT) and appetitive subjective responses were assessed at fasting and postprandial periods (up to 240 min). Cardiometabolic risk markers were assessed at fasting and up to 180 min postprandially.
Results
VCO did not affect REE, FOR, and DIT compared to C. In addition, VCO did not cause deleterious change in triglycerides, total cholesterol, HDL-c, LDL-c, triglycerides/HDL-c ratio, uric acid, glucose and Homeostasis Model Assessment of Insulin Resistance Index (HOMA-IR) (P time×treatment > 0.05). However, VCO suppressed less hunger (P time×treatment = 0.003), total satiety (P iAUC = 0.021) and total fullness (P iAUC = 0.035) responses than C.
Conclusions
VCO consumption did not acutely change energy metabolism and cardiometabolic risk markers when added to a mixed breakfast but promoted less appetitive responses.
This is a preview of subscription content, log in to check access.
Access options
Buy single article
Instant access to the full article PDF.
US$ 39.95
Price includes VAT for USA
Subscribe to journal
Immediate online access to all issues from 2019. Subscription will auto renew annually.
US$ 199
This is the net price. Taxes to be calculated in checkout.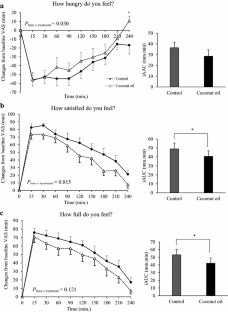 References
1.

Hruby A, Manson JE, Qi L et al (2016) Determinants and consequences of obesity. Am J Public Heal 106:1656–1662

2.

World Health Organization (2016) Obesity and overweight. WHO

3.

Babu AS, Veluswamy SK, Arena R et al (2014) Virgin coconut oil and its potential cardioprotective effects. Postgrad Med 126:76–83. doi:10.3810/pgm.2014.11.2835

4.

Lockyer S, Stanner S (2016) Coconut oil—a nutty idea? Nutr Bull 41:42–54. doi:10.1111/nbu.12188

5.

Marten B, Pfeuffer M, Schrezenmeir J (2006) Medium-chain triglycerides. Int Dairy J 16:1374–1382. doi:10.1016/j.idairyj.2006.06.015

6.

St-Onge M-P, Jones PJH (2002) Physiological effects of medium-chain triglycerides: potential agents in the prevention of obesity. J Nutr 132:329–332

7.

Eyres L, Eyres MF, Chisholm A, Brown RC (2016) Coconut oil consumption and cardiovascular risk factors in humans. Nutr Rev 74:267–280. doi:10.1093/nutrit/nuw002

8.

Poonnakasem N, Pujols KD, Chaiwanichsiri S et al (2016) Different oils and health benefit statements affect physicochemical properties, consumer liking, emotion, and purchase intent: a case of sponge cake. J Food Sci 81:S165–S173. doi:10.1111/1750-3841.13186

9.

Bendixen H, Flint A, Raben A et al (2002) Effect of 3 modified fats and a conventional fat on appetite, energy intake, energy expenditure, and substrate oxidation in healthy men. Am J Clin Nutr 75:47–56

10.

White MD, Papamandjaris AA, Jones PJ (1999) Enhanced postprandial energy expenditure with medium-chain fatty acid feeding is attenuated after 14 d in premenopausal women. Am J Clin Nutr 69:883–889

11.

Alexandrou E, Herzberg GR, White MD (2007) High-level medium-chain triglyceride feeding and energy expenditure in normal-weight women. Can J Physiol Pharmacol 85:507–513. doi:10.1139/y07-034

12.

Van Wymelbeke V, Himaya A, Louis-Sylvestre J, Fantino M (1998) Influence of medium-chain and long-chain triacylglycerols on the control of food intake in men. Am J Clin Nutr 68:226–234

13.

Van Wymelbeke V, Louis-Sylvestre J, Fantino M (2001) Substrate oxidation and control of food intake in men after a fat-substitute meal compared with meals supplemented with an isoenergetic load of carbohydrate, long-chain triacylglycerols, or medium-chain triacylglycerols. Am J Clin Nutr 74:620–630

14.

Assunção ML, Ferreira HS, dos Santos AF et al (2009) Effects of dietary coconut oil on the biochemical and anthropometric profiles of women presenting abdominal obesity. Lipids 44:593–601. doi:10.1007/s11745-009-3306-6

15.

Liau KM, Lee YY, Chen CK, Rasool AHG (2011) An open-label pilot study to assess the efficacy and safety of virgin coconut oil in reducing visceral adiposity. ISRN Pharmacol 2011:949686. doi:10.5402/2011/949686

16.

Nosaka N, Kasai M, Nakamura M et al (2002) Effects of dietary medium-chain triacylglycerols on serum lipoproteins and biochemical parameters in healthy men. Biosci Biotechnol Biochem 66:1713–1718

17.

Vijayakumar M, Vasudevan DM, Sundaram KR et al (2016) A randomized study of coconut oil versus sunflower oil on cardiovascular risk factors in patients with stable coronary heart disease. Indian Heart J 68:498–506. doi:10.1016/j.ihj.2015.10.384

18.

Tholstrup T, Ehnholm C, Jauhiainen M et al (2004) Effects of medium-chain fatty acids and oleic acid on blood lipids, lipoproteins, glucose, insulin, and lipid transfer protein activities. Am J Clin Nutr 79:564–569

19.

Roynette CE, Rudkowska I, Nakhasi DK, Jones PJH (2008) Structured medium and long chain triglycerides show short-term increases in fat oxidation, but no changes in adiposity in men. Nutr Metab Cardiovasc Dis 18:298–305. doi:10.1016/j.numecd.2006.11.004

20.

Poppitt SD, Strik CM, MacGibbon AKH et al (2010) Fatty acid chain length, postprandial satiety and food intake in lean men. Physiol Behav 101:161–167. doi:10.1016/j.physbeh.2010.04.036

21.

Kovacs EM, Westerterp-Plantenga MS, de Vries M, et al. (2001) Effects of 2-week ingestion of (-)-hydroxycitrate and (-)-hydroxycitrate combined with medium-chain triglycerides on satiety and food intake. Physiol Behav 74:543–549

22.

Rego Costa AC, Rosado EL, Soares-Mota M (2012) Influence of the dietary intake of medium chain triglycerides on body composition, energy expenditure and satiety: a systematic review. Nutr Hosp 27:103–8. doi: 10.1590/S0212-16112012000100011

23.

St-Onge M-P, Ross R, Parsons WD, Jones PJH (2003) Medium-chain triglycerides increase energy expenditure and decrease adiposity in overweight men. Obes Res 11:395–402. doi:10.1038/oby.2003.53

24.

Soares MJ, Cummings SJ, Mamo JCL et al (2004) The acute effects of olive oil v. cream on postprandial thermogenesis and substrate oxidation in postmenopausal women. Br J Nutr 91:245–252. doi:10.1079/BJN20031047

25.

Mera R, Thompson H, Prasad C (1998) How to calculate sample size for an experiment: a case-based description. Nutr Neurosci 1:87–91. doi:10.1080/1028415X.1998.11747217

26.

Soares MJ, Piers LS, Kraai L, Shetty PS (1989) Day-to-day variations in basal metabolic rates and energy intakes of human subjects. Eur J Clin Nutr 43:465–472

27.

Piers LS, Soares MJ, Makan T, Shetty PS (1992) Thermic effect of a meal: methodology and variation in normal young adults. Br J Nutr 67:165–175

28.

Núcleo de Estudosde e pesquisas em Alimentação – NEPA (2011) Tabela Brasileira de Composicao de Alimentos - TACO, 4th edn. NEPA- UNICAMP, Campinas

29.

Hartman L, Lago RC (1973) Rapid preparation of fatty acid methyl esters from lipids. Lab Pract 22:475–476 (passim)

30.

Cummings NK, James AP, Soares MJ (2006) The acute effects of different sources of dietary calcium on postprandial energy metabolism. Br J Nutr 96:138–144

31.

Ferrannini E (1988) The theoretical bases of indirect calorimetry: a review. Metabolism 37:287–301

32.

Friedewald WT, Levy RI, Fredrickson DS (1972) Estimation of the concentration of low-density lipoprotein cholesterol in plasma, without use of the preparative ultracentrifuge. Clin Chem 18:499–502

33.

Matthews DR, Hosker JP, Rudenski AS et al (1985) Homeostasis model assessment: insulin resistance and beta-cell function from fasting plasma glucose and insulin concentrations in man. Diabetologia 28:412–419

34.

Gaziano JM, Hennekens CH, O'Donnell CJ et al (1997) Fasting triglycerides, high-density lipoprotein, and risk of myocardial infarction. Circulation 96:2520–2525. doi:10.1161/01.cir.96.8.2520

35.

Food and Agriculture Organization of the United Nations., Joint FAO/WHO Expert Consultation on Carbohydrates in Human Nutrition (1997 : Rome I (1998) Carbohydrates in human nutrition : report of a joint FAO/WHO expert consultation, Rome, 14-18 April 1997. World Health Organization

36.

Alberti KGMM, Eckel RH, Grundy SM et al (2009) Harmonizing the metabolic syndrome: a joint interim statement of the International Diabetes Federation Task Force on Epidemiology and Prevention; National Heart, Lung, and Blood Institute; American Heart Association; World Heart Federation; International. Circulation 120:1640–1645

37.

Geloneze B, Vasques ACJ, Stabe CFC et al (2009) HOMA1-IR and HOMA2-IR indexes in identifying insulin resistance and metabolic syndrome: Brazilian Metabolic Syndrome Study (BRAMS). Arq Bras Endocrinol Metabol 53:281–287. doi:10.1590/S0004-27302009000200020

38.

Flint A, Raben A, Blundell JE, Astrup A (2000) Reproducibility, power and validity of visual analogue scales in assessment of appetite sensations in single test meal studies. Int J Obes Relat Metab Disord 24:38–48

39.

Nevin KG, Rajamohan T (2004) Beneficial effects of virgin coconut oil on lipid parameters and in vitro LDL oxidation. Clin Biochem 37:830–835. doi:10.1016/j.clinbiochem.2004.04.010

40.

Babayan VK (1987) Medium chain triglycerides and structured lipids. Lipids 22:417–420

41.

Brouns F, Bjorck I, Frayn KN et al (2005) Glycaemic index methodology. Nutr Res Rev 18:145. doi:10.1079/NRR2005100

42.

White MD, Papamandjaris AA, Jones PJ (1999) Enhanced postprandial energy expenditure with medium-chain fatty acid feeding is attenuated after 14 d in premenopausal women. Am J Clin Nutr 69:883–889

43.

St-Onge M-P, Bourque C, Jones PJH et al (2003) Medium- versus long-chain triglycerides for 27 days increases fat oxidation and energy expenditure without resulting in changes in body composition in overweight women. Int J Obes Relat Metab Disord 27:95–102. doi:10.1038/sj.ijo.0802169

44.

Hill JO, Peters JC, Yang D et al (1989) Thermogenesis in humans during overfeeding with medium-chain triglycerides. Metabolism 38:641–648

45.

Leyton J, Drury PJ, Crawford MA (1987) Differential oxidation of saturated and unsaturated fatty acids in vivo in the rat. Br J Nutr 57:383–393

46.

DeLany JP, Windhauser MM, Champagne CM, Bray GA (2000) Differential oxidation of individual dietary fatty acids in humans. Am J Clin Nutr 72:905–911

47.

Jones PJ, Pencharz PB, Clandinin MT (1985) Whole body oxidation of dietary fatty acids: implications for energy utilization. Am J Clin Nutr 42:769–777

48.

Papamandjaris AA, MacDougall DE, Jones PJ (1998) Medium chain fatty acid metabolism and energy expenditure: obesity treatment implications. Life Sci 62:1203–1215

49.

Sáyago-Ayerdi SG, Vaquero MP, Schultz-Moreira A et al (2008) Utilidad y controversias del consumo de ácidos grasos de cadena media sobre el metabolismo lipoproteico y obesidad. Nutr, Hosp, p 23

50.

Liu Y, Wang J, Zhang R et al (2009) A good response to oil with medium- and long-chain fatty acids in body fat and blood lipid profiles of male hypertriglyceridemic subjects. Asia Pac J Clin Nutr 18:351–358

51.

Labayen I, Forga L, Martínez JA (1999) Nutrient oxidation and metabolic rate as affected by meals containing different proportions of carbohydrate and fat, in healthy young women. Eur J Nutr 38:158–166

52.

Ng TK, Hayes KC, DeWitt GF et al (1992) Dietary palmitic and oleic acids exert similar effects on serum cholesterol and lipoprotein profiles in normocholesterolemic men and women. J Am Coll Nutr 11:383–390

53.

Beveridge JMR, Connell WF, Haust HL, Mayer GA (1959) Dietary cholesterol and plasma cholesterol levels in man. Can J Biochem Physiol 37:575–82

54.

Roels OA, Hashim SA (1962) Influence of fatty acids on serum cholesterol. Fed Proc 21(4)Pt 2:71–76

55.

Cater NB, Heller HJ, Denke MA (1997) Comparison of the effects of medium-chain triacylglycerols, palm oil, and high oleic acid sunflower oil on plasma triacylglycerol fatty acids and lipid and lipoprotein concentrations in humans. Am J Clin Nutr 65:41–45

56.

O'Keefe JH, Bell DSH (2007) Postprandial hyperglycemia/hyperlipidemia (postprandial dysmetabolism) is a cardiovascular risk factor. Am J Cardiol 100:899–904. doi:10.1016/j.amjcard.2007.03.107

57.

Clegg ME, Pratt M, Markey O et al (2012) Addition of different fats to a carbohydrate food: impact on gastric emptying, glycaemic and satiety responses and comparison with in vitro digestion. Food Res Int 48:91–97. doi:10.1016/j.foodres.2012.02.019

58.

Joannic JL, Auboiron S, Raison J et al (1997) How the degree of unsaturation of dietary fatty acids influences the glucose and insulin responses to different carbohydrates in mixed meals. Am J Clin Nutr 65:1427–1433

59.

Thomsen C, Rasmussen O, Lousen T et al (1999) Differential effects of saturated and monounsaturated fatty acids on postprandial lipemia and incretin responses in healthy subjects. Am J Clin Nutr 69:1135–1143

60.

Gatti E, Noè D, Pazzucconi F et al (1992) Differential effect of unsaturated oils and butter on blood glucose and insulin response to carbohydrate in normal volunteers. Eur J Clin Nutr 46:161–166

61.

Fernandes J, van de Kamer JH, Weijers HA (1962) Differences in absorption of the various fatty acids studied in children with steatorrhea. J Clin Invest 41:488–494. doi:10.1172/JCI104502

62.

de Jong AJ, Hopman WP, Jansen JB, Lamers CB (1985) Effect of medium-chain triglycerides and long-chain triglycerides on plasma pancreatic polypeptide secretion in man. Regul Pept 11:77–81

63.

Barbera R, Peracchi M, Brighenti F et al (2000) Sensations induced by medium and long chain triglycerides: role of gastric tone and hormones. Gut 46:32–36

64.

Feinle C, Rades T, Otto B, Fried M (2001) Fat digestion modulates gastrointestinal sensations induced by gastric distention and duodenal lipid in humans. Gastroenterology 120:1100–1107. doi:10.1053/gast.2001.23232
Acknowledgements
We thank Dr. Orgânico, company affiliated to the FidBō group, for kindly donate virgin coconut oil for this research. We also thank Bioclin® for providing biochemical assays kits and Fundação de Amparo à Pesquisa do Estado de Minas Gerais—FAPEMIG, Coordenação de Aperfeiçoamento de Pessoal de Nível Superior—CAPES, and Conselho Nacional de Desenvolvimento Científico e Tecnológico—CNPq for financial support. These companies had no role in manuscript design, analysis, or writing.
Ethics declarations
Ethical standards
The study protocol was approved by the Ethics Committee of Universidade Federal de Viçosa (protocol number: 541,836/2014), conducted in accordance with 1964 Declaration of Helsinki and its later amendments and registered at http://www.ensaiosclinicos.gov.br/(RBR-8NGPQ9). All participants gave written consent after receiving verbal and written information.
Conflict of interest
The authors declare that they have no conflict of interest.
About this article
Cite this article
Valente, F.X., Cândido, F.G., Lopes, L.L. et al. Effects of coconut oil consumption on energy metabolism, cardiometabolic risk markers, and appetitive responses in women with excess body fat. Eur J Nutr 57, 1627–1637 (2018). https://doi.org/10.1007/s00394-017-1448-5
Received:

Accepted:

Published:

Issue Date:
Keywords
Coconut oil

Energy metabolism

Fat oxidation

Cardiometabolic risk markers

Appetite