Abstract
Purpose
Coffee is known to contain phytochemicals with antioxidant potential. The aim of this study was to investigate possible antioxidant effects of coffee in healthy human volunteers.
Methods
A placebo-controlled intervention trial was carried out on 160 healthy human subjects, randomised into three groups, receiving 3 or 5 cups of study coffee or water per day, for 8 weeks. Blood samples were taken before, during, and after the intervention. Serum was used for analysis of blood lipids and standard clinical chemistry analytes. Peripheral blood mononuclear cells were isolated, and DNA damage (strand breaks and oxidised bases) was measured with the comet assay. The lipid oxidation product isoprostane 8-iso-PGF2α was assayed in urine samples by LC–MS/MS.
Results
There was no significant effect of coffee consumption on the markers of oxidation of DNA and lipids. Creatinine (in serum) increased by a few per cent in all groups, and the liver enzyme γ-glutamyl transaminase was significantly elevated in serum in the 5 cups/day group. Other clinical markers (including glucose and insulin), cholesterol, triacylglycerides, and inflammatory markers were unchanged. There was no effect of coffee on blood pressure.
Conclusion
In a carefully controlled clinical trial with healthy subjects, up to 5 cups of coffee per day had no detectable effect, either beneficial or harmful, on human health.
This is a preview of subscription content, log in to check access.
Access options
Buy single article
Instant access to the full article PDF.
US$ 39.95
Price includes VAT for USA
Subscribe to journal
Immediate online access to all issues from 2019. Subscription will auto renew annually.
US$ 199
This is the net price. Taxes to be calculated in checkout.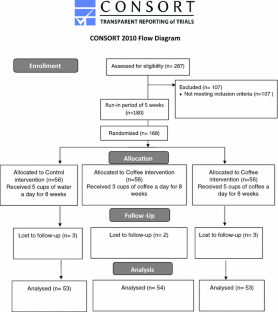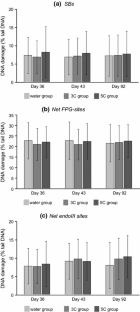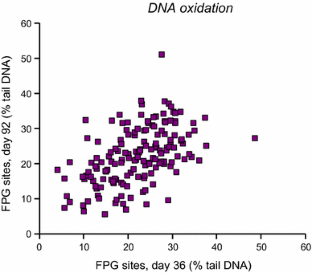 References
1.

Matusheshki NV, Bidel S, Tuomilehto J (2012) Coffee and type 2 diabetes risk. In: Chu Y-F (ed) Coffee. Emerging health effects and disease prevention. Wiley-Blackwell, Oxford, pp 141–179

2.

Lim J-W, Tan E-K (2012) Coffee and Parkinson's disease. In: Chu Y-F (ed) Coffee. Emerging health effects and disease prevention. Wiley-Blackwell, Oxford, pp 111–122

3.

Lindsay J, Carmichael P-H, Kröger E, Laurin D (2012) Coffee and Alzheimer's disease—epidemiologic evidence. In: Chu Y-F (ed) Coffee. Emerging health effects and disease prevention. Wiley-Blackwell, Oxford, pp 97–110

4.

Muriel P, Arauz J (2012) Coffee and liver health. In: Chu Y-F (ed) Coffee. Emerging health effects and disease prevention. Wiley-Blackwell, Oxford, pp 123–139

5.

Faustmann G, Cavin C, Nersesyan A, Knasmüller S (2009) Chemopreventive properties of coffee and its constituents. In: Knasmüller S, DeMarini DM, Johnson I, Gerhäuser C (eds) Chemoprevention of cancer and DNA damage by dietary factors. Wiley-VCH, Weinheim, pp 579–594

6.

Huber WW, Parzefall W (2005) Modification of N-acetyltransferases and glutathione S-transferases by coffee components: possible relevance for cancer risk. In: Sies Helmut, Packer Lester (eds) Methods in enzymology, vol 401, Gluthione transferases and gamma-glutamyl transpeptidasesAcademic Press, Massachusetts, pp 307–341

7.

Huber WW, Rossmanith W, Grusch M, Haslinger E, Prustomersky S, Peter-Vörösmarty B, Parzefall W, Scharf G, Schulte-Hermann R (2008) Effects of coffee and its chemopreventive components kahweol and cafestol on cytochrome P450 and sulfotransferase in rat liver. Food Chem Toxicol 46:1230–1238

8.

Cavin C, Marin-Kuan M, Langouët S, Bezençon C, Guignard G, Verguet C, Piguet D, Holzhäuser D, Cornaz R, Schilter B (2008) Induction of Nrf2-mediated cellular defenses and alteration of phase I activities as mechanisms of chemoprotective effects of coffee in the liver. Food Chem Toxicol 46:1239–1248

9.

Higgins LG, Cavin C, Itoh K, Yamamoto M, Hayes JD (2008) Induction of cancer chemopreventive enzymes by coffee is mediated by transcription factor Nrf2. Evidence that the coffee-specific diterpenes cafestol and kahweol confer protection against acrolein. Toxicol Appl Pharmacol 226:328–337

10.

Griffiths HR, Möller L, Bartosz G, Bast A, Bertoni-Freddari C, Collins A, Cooke M, Coolen S, Haenen G, Hoberg A-M, Loft S, Lunec J, Olinski R, Parry J, Pompella A, Poulsen H, Verhagen H, Astley S (2002) Biomarkers. Mole Asp Med 23:101–208

11.

Collins AR (2004) The comet assay for DNA damage and repair. Mol Biotechnol 26:249–261

12.

Shaposhnikov S, Azqueta A, Henriksson S, Meier S, Gaivão I, Huskisson NH, Smart A, Brunborg G, Nilsson M, Collins AR (2010) Twelve-gel slide format optimised for comet assay and fluorescent in situ hybridisation. Toxicol Lett 195:31–34

13.

Dusinska M, Vallová B, Ursínyová M, Hladíková V, Smolková B, Wsólová L, Raslová K, Collins AR (2002) DNA damage and antioxidants: fluctuation through the year in a central European population group. Food Chem Toxicol 40:1119–1123

14.

Møller P, Knudsen LE, Frentz G, Dybdahl M, Wallin H, Nexø BA (1998) Seasonal variation of DNA damage and repair in patients with non-melanoma skin cancer and referents with and without psoriasis. Mutat Res 407:25–34

15.

Noordzij M, Uitervaal CSPM, Arends L, Kok F, Grobbee D, Geleijnse JM (2005) Blood pressure response to chronic intake of coffee and caffeine: a meta-analysis of randomized controlled trials. J Hypertens 23:921–92814

16.

Mursu J, Voutilainen S, Nurmi T, Alfthan G, Virtanen JK, Rissanen TH, Happonen P, Nyyssönen K, Kaikkonen J, Salonen R, Salonen JT (2005) The effects of coffee consumption on lipid peroxidation and plasma total homocysteine concentrations: a clinical trial. Free Radic Biol Med 38:527–534

17.

Steinkellner H, Hoelzl C, Uhl M, Cavin C, Haidinger G, Gsur A, Schmid R, Kundi M, Bichler J, Knasmüller S (2005) Coffee consumption induces GSTP in plasma and protects lymphocytes against (±)-anti-benzo[a]pyrene-7,8-dihydrodiol-9,10-epoxide induced DNA-damage: results of controlled human intervention trials. Mutat Res Fundam Mole Mech Mutagen 591:264–275

18.

Bichler J, Cavin C, Simic T, Chakraborty A, Ferk F, Hoelzl C, Schulte-Hermann R, Kundi M, Haidinger G, Angelis K, Knasmüller S (2007) Coffee consumption protects human lymphocytes against oxidative and 3-amino-1-methyl-5H-pyrido[4,3-b]indole acetate (Trp-P-2) induced DNA-damage: results of an experimental study with human volunteers. Food Chem Toxicol 45:1428–1436

19.

Misik M, Hoelzl C, Wagner KH, Cavin C, Moser B, Kundi M, Simic T, Elbling L, Kager N, Ferk F, Ehrlich V, Nersesyan A, Dusinska M, Schilter B, Knasmüller S (2010) Impact of paper filtered coffee on oxidative DNA-damage: results of a clinical trial. Mutat Res Fundam Mole Mech Mutagen 692:42–48

20.

Hoelzl C, Knasmüller S, Wagner KH, Elbling L, Huber W, Kager N, Ferk F, Ehrlich V, Nersesyan A, Neubauer O, Desmarchelier A, Marin-Kuan M, Delatour T, Verguet C, Bezençon C, Besson A, Grathwohl D, Simic T, Kundi M, Schilter B, Cavin C (2010) Instant coffee with high chlorogenic acid levels protects humans against oxidative damage of macromolecules. Mol Nutr Food Res 54:1722–1733

21.

Møller P, Loft S (2006) Dietary antioxidants and beneficial effect on oxidatively damaged DNA. Free Radic Biol Med 41:388–415

22.

Schulz I, Mahler HC, Boiteux S, Epe B (2000) Oxidative DNA base damage induced by singlet oxygen and photosensitization: recognition by repair endonucleases and mutagenicity. Mutat Res DNA Repair 461:145–156
Acknowledgments
We thank Dr L. Wsolova (Slovak Medical University) for carrying out statistical analyses. We are grateful to Hoffmann La Roche for supplying Ro 19-8022. This work was funded by Kraft Foods R & D Inc. and University of Oslo.
Ethics declarations
Conflict of interests
On behalf of all authors, the corresponding author states that there is no conflict of interest. Thomas Hatzold and Philip Marc Stavro at the time when the study was conducted were employees of Kraft Foods R&D Inc., Zweigniederlassung Muenchen, Muenchen, Germany.
About this article
Cite this article
Shaposhnikov, S., Hatzold, T., Yamani, N.E. et al. Coffee and oxidative stress: a human intervention study. Eur J Nutr 57, 533–544 (2018). https://doi.org/10.1007/s00394-016-1336-4
Received:

Accepted:

Published:

Issue Date:
Keywords
Human intervention trial

Coffee

DNA oxidation

Lipid oxidation