Abstract
Purpose
High fasting blood glucose (FBG) can lead to chronic diseases such as diabetes mellitus, cardiovascular and kidney diseases. Consuming probiotics or synbiotics may improve FBG. A systematic review and meta-analysis of controlled trials was conducted to clarify the effect of probiotic and synbiotic consumption on FBG levels.
Methods
PubMed, Scopus, Cochrane Library, and Cumulative Index to Nursing and Allied Health Literature databases were searched for relevant studies based on eligibility criteria. Randomized or non-randomized controlled trials which investigated the efficacy of probiotics or synbiotics on the FBG of adults were included. Studies were excluded if they were review articles and study protocols, or if the supplement dosage was not clearly mentioned.
Results
A total of fourteen studies (eighteen trials) were included in the analysis. Random-effects meta-analyses were conducted for the mean difference in FBG. Overall reduction in FBG observed from consumption of probiotics and synbiotics was borderline statistically significant (−0.18 mmol/L 95 % CI −0.37, 0.00; p = 0.05). Neither probiotic nor synbiotic subgroup analysis revealed a significant reduction in FBG. The result of subgroup analysis for baseline FBG level ≥7 mmol/L showed a reduction in FBG of 0.68 mmol/L (−1.07, −0.29; ρ < 0.01), while trials with multiple species of probiotics showed a more pronounced reduction of 0.31 mmol/L (−0.58, −0.03; ρ = 0.03) compared to single species trials.
Conclusion
This meta-analysis suggests that probiotic and synbiotic supplementation may be beneficial in lowering FBG in adults with high baseline FBG (≥7 mmol/L) and that multispecies probiotics may have more impact on FBG than single species.
This is a preview of subscription content, log in to check access.
Access options
Buy single article
Instant access to the full article PDF.
US$ 39.95
Price includes VAT for USA
Subscribe to journal
Immediate online access to all issues from 2019. Subscription will auto renew annually.
US$ 199
This is the net price. Taxes to be calculated in checkout.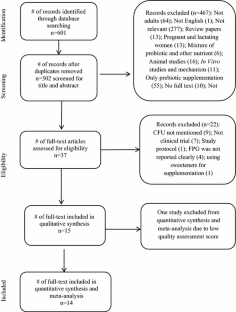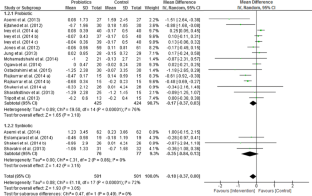 References
1.

American Diabetes Association (2012) Diagnosis and classification of diabetes mellitus. Diabetes Care 35(Suppl 1):S64–S71. doi:10.2337/dc12-s064

2.

Al-Salami H (2008) Probiotic treatment reduces blood glucose and increases systemic absorption of gliclazide in diabetic rats. In: 2nd Asian Pacific ISSX Meeting

3.

Asemi Z, Zare Z, Shakeri H, Sabihi SS, Esmaillzadeh A (2013) Effect of multispecies probiotic supplements on metabolic profiles, hs-CRP, and oxidative stress in patients with type 2 diabetes. Ann Nutr Metab 63:1–9

4.

Association AD (2001) Postprandial Blood Glucose. Diabetes Care 24:775–778

5.

Aureli P, Capurso L, Castellazzi AM, Clerici M, Giovannini M, Morelli L, Poli A, Pregliasco F, Salvini F, Zuccotti GV (2011) Probiotics and health: an evidence-based review. Pharmacol Res 63:366–376

6.

Barreto FM, Colado Simão AN, Morimoto HK, Batisti Lozovoy MA, Dichi I, da Silva Helena, Miglioranza L (2014) Beneficial effects of Lactobacillus plantarum on glycemia and homocysteine levels in postmenopausal women with metabolic syndrome. Nutrition 30:939–942

7.

Bastard J-P, Maachi M, Lagathu C, Kim MJ, Caron M, Vidal H, Capeau J, Feve B (2006) Recent advances in the relationship between obesity, inflammation, and insulin resistance. Eur Cytokine Netw 17:4–12

8.

Bengmark S, Martindale R (2005) Prebiotics and synbiotics in clinical medicine. Nutr in Clin Pract 20:244–261

9.

Broekaert WF, Courtin CM, Verbeke K, Van de Wiele T, Verstraete W, Delcour JA (2011) Prebiotic and other health-related effects of cereal-derived arabinoxylans, arabinoxylan-oligosaccharides, and xylooligosaccharides. Crit Rev Food Sci Nutr 51:178–194

10.

Bruce SP, Acheampong F, Kretchy I (2015) Adherence to oral anti-diabetic drugs among patients attending a Ghanaian teaching hospital. Pharm Pract (Granada) 13:533

11.

Cani PD, Bibiloni R, Knauf C, Waget A, Neyrinck AM, Delzenne NM, Burcelin R (2008) Changes in gut microbiota control metabolic endotoxemia-induced inflammation in high-fat diet–induced obesity and diabetes in mice. Diabetes 57:1470–1481

12.

Cani PD, Joly E, Horsmans Y, Delzenne NM (2006) Oligofructose promotes satiety in healthy human: a pilot study. Eur J Clin Nutr 60:567–572

13.

Cani PD, Lecourt E, Dewulf EM, Sohet FM, Pachikian BD, Naslain D, De Backer F, Neyrinck AM, Delzenne NM (2009) Gut microbiota fermentation of prebiotics increases satietogenic and incretin gut peptide production with consequences for appetite sensation and glucose response after a meal. Am J Clin Nutr 90:1236–1243

14.

Cani PD, Neyrinck AM, Fava F, Knauf C, Burcelin RG, Tuohy KM, Gibson G, Delzenne NM (2007) Selective increases of bifidobacteria in gut microflora improve high-fat-diet-induced diabetes in mice through a mechanism associated with endotoxaemia. Diabetologia 50:2374–2383

15.

Cefalu WT (2006) Animal models of type 2 diabetes: clinical presentation and pathophysiological relevance to the human condition. ILAR J 47:186–198

16.

Ceriello A (2005) Postprandial hyperglycemia and diabetes complications is it time to treat? Diabetes 54:1–7

17.

Chapman C, Gibson GR, Rowland I (2011) Health benefits of probiotics: are mixtures more effective than single strains? Eur J Nutr 50:1–17

18.

DerSimonian R, Laird N (1986) Meta-analysis in clinical trials. Control Clin Trials 7:177–188

19.

Ejtahed HS, Mohtadi-Nia J, Homayouni-Rad A, Niafar M, Asghari-Jafarabadi M, Mofid V (2012) Probiotic yogurt improves antioxidant status in type 2 diabetic patients. Nutrition 28:539–543

20.

Eslamparast T, Zamani F, Hekmatdoost A, Sharafkhah M, Eghtesad S, Malekzadeh R, Poustchi H (2014) Effects of synbiotic supplementation on insulin resistance in subjects with the metabolic syndrome: a randomised, double-blind, placebo-controlled pilot study. Br J Nutr 112:438–445

21.

Fujimura KE, Slusher NA, Cabana MD, Lynch SV (2010) Role of the gut microbiota in defining human health. Expert Rev Anti Infect Ther 8(4):435–454. doi:10.1586/eri.10.14

22.

Gannon MC, Nuttall FQ (2006) Control of blood glucose in type 2 diabetes without weight loss by modification of diet composition. Nutr Metab 3:1

23.

Gmeiner M, Kneifel W, Kulbe K, Wouters R, De Boever P, Nollet L, Verstraete W (2000) Influence of a synbiotic mixture consisting of Lactobacillus acidophilus 74-2 and a fructooligosaccharide preparation on the microbial ecology sustained in a simulation of the human intestinal microbial ecosystem (SHIME reactor). Appl Microbiol and Biotechnol 53:219–223

24.

Griffiths EA, Duffy LC, Schanbacher FL, Qiao H, Dryja D, Leavens A, Rossman J, Rich G, Dirienzo D, Ogra PL (2004) In vivo effects of bifidobacteria and lactoferrin on gut endotoxin concentration and mucosal immunity in Balb/c mice. Dig Dis and Sci 49:579–589

25.

Harisa G, Taha E, Khalil A, Salem M (2009) Oral administration of Lactobacillus acidophilus restores nitric oxide level in diabetic rats. Aust J Basic Appl Sci 3:2963–2969

26.

Higgins J, Deeks JJ, Altman DG (2008) Special topics in statistics. Cochrane handbook for systematic reviews of interventions: Cochrane book series:481-529

27.

Iannitti T, Palmieri B (2010) Therapeutical use of probiotic formulations in clinical practice. Clin Nutr 29:701–725

28.

Ivey KL, Hodgson JM, Kerr DA, Lewis JR, Thompson PL, Prince RL (2014) The effects of probiotic bacteria on glycaemic control in overweight men and women: a randomised controlled trial. Eur J Clin Nutr 68:447–452

29.

Jadad AR, Moore RA, Carroll D, Jenkinson C, Reynolds DJM, Gavaghan DJ, McQuay HJ (1996) Assessing the quality of reports of randomized clinical trials: is blinding necessary? Controlled Clin Trials 17:1–12

30.

Jones ML, Martoni CJ, Tamber S, Parent M, Prakash S (2012) Evaluation of safety and tolerance of microencapsulated Lactobacillus reuteri NCIMB 30242 in a yogurt formulation: a randomized, placebo-controlled, double-blind study. Food Chem Toxicol 50:2216–2223. doi:10.1016/j.fct.2012.03.010

31.

Jung SP, Lee KM, Kang JH, Yun SI, Park HO, Moon Y, Kim JY (2013) Effect of Lactobacillus gasseri BNR17 on overweight and obese adults: a randomized, double-blind clinical trial. Korean J Family Med 34:80–89

32.

Khalesi S, Sun J, Buys N, Jayasinghe R (2014) Effect of probiotics on blood pressure a systematic review and meta-analysis of randomized, controlled trials. Hypertension 64:897–903

33.

Klein S, Sheard NF, Pi-Sunyer X, Daly A, Wylie-Rosett J, Kulkarni K, Clark NG (2004) Weight management through lifestyle modification for the prevention and management of type 2 diabetes: rationale and strategies a statement of the american diabetes association, the north american association for the study of obesity, and the american society for clinical nutrition. Diabetes Care 27:2067–2073

34.

Kootte R, Vrieze A, Holleman F, Dallinga-Thie GM, Zoetendal EG, de Vos WM, Groen A, Hoekstra JB, Stroes ES, Nieuwdorp M (2012) The therapeutic potential of manipulating gut microbiota in obesity and type 2 diabetes mellitus. Diabetes Obes Metab 14:112–120

35.

Kopp-Hoolihan L (2001) Prophylactic and Therapeutic Uses of Probiotics: a review. J Am Diet Assoc 101:229–241. doi:10.1016/S0002-8223(01)00060-8

36.

Lenoir-Wijnkoop I, Sanders ME, Cabana MD, Caglar E, Corthier G, Rayes N, Sherman PM, Timmerman HM, Vaneechoutte M, Van Loo J (2007) Probiotic and prebiotic influence beyond the intestinal tract. Nutr Rev 65:469–489

37.

Meyer D, Stasse-Wolthuis M (2009) The bifidogenic effect of inulin and oligofructose and its consequences for gut health. Eur J Clin Nutr 63:1277–1289

38.

Mohamadshahi M, Veissi M, Haidari F, Shahbazian H, Kaydani GA, Mohammadi F (2014) Effects of probiotic yogurt consumption on inflammatory biomarkers in patients with type 2 diabetes. BioImpacts 4:83–88

39.

Moher D, Liberati A, Tetzlaff J, Altman DG (2009) Preferred reporting items for systematic reviews and meta-analyses: the PRISMA statement. Ann Intern Med 151:264–269

40.

Musso G, Gambino R, Cassader M (2010) Obesity, diabetes, and gut microbiota: the hygiene hypothesis expanded? Diabetes Care 33:2277–2284. doi:10.2337/dc10-0556

41.

Naito E, Yoshida Y, Makino K, Kounoshi Y, Kunihiro S, Takahashi R, Matsuzaki T, Miyazaki K, Ishikawa F (2011) Beneficial effect of oral administration of lactobacillus casei strain shirota on insulin resistance in diet-induced obesity mice. J Appl Microbiol 110:650–657

42.

Nishida C, Uauy R, Kumanyika S, Shetty P (2004) The joint WHO/FAO expert consultation on diet, nutrition and the prevention of chronic diseases: process, product and policy implications. Publ Health Nutr 7:245–250

43.

Ogawa A, Kadooka Y, Kato K, Shirouchi B, Sato M (2014) Lactobacillus gasseri SBT2055 reduces postprandial and fasting serum non-esterified fatty acid levels in Japanese hypertriacylglycerolemic subjects. Lipids Health Dis 13:36. doi:10.1186/1476-511x-13-36

44.

Ostadrahimi A, Taghizadeh A, Mobasseri M, Farrin N, Payahoo L, Gheshlaghi ZB, Vahedjabbari M (2015) Effect of probiotic fermented milk (kefir) on glycemic control and lipid profile in type 2 diabetic patients: a randomized double-blind placebo-controlled clinical trial. Iranian J Publ Health 44:228

45.

Pais I, Hallschmid M, Jauch-Chara K, Schmid SM, Oltmanns KM, Peters A, Born J, Schultes B (2007) Mood and cognitive functions during acute euglycaemia and mild hyperglycaemia in type 2 diabetic patients. Exp Clin Endocrinol Diabetes 115:42–46. doi:10.1055/s-2007-957348

46.

Panwar H, Rashmi HM, Batish VK, Grover S (2013) Probiotics as potential biotherapeutics in the management of type 2 diabetes–prospects and perspectives. Diabetes/metabolism Res and Rev 29:103–112

47.

Parnell JA, Reimer RA (2009) Weight loss during oligofructose supplementation is associated with decreased ghrelin and increased peptide YY in overweight and obese adults. Am J Clin Nutr 89:1751–1759

48.

Pimentel D, Pimentel MH (2007) Food, energy, and society. CRC Press, Boca Raton

49.

Qin J, Li R, Raes J, Arumugam M, Burgdorf KS, Manichanh C, Nielsen T, Pons N, Levenez F, Yamada T (2010) A human gut microbial gene catalogue established by metagenomic sequencing. Nature 464:59–65

50.

Rajkumar H, Mahmood N, Kumar M, Varikuti SR, Challa HR, Myakala SP (2014) Effect of probiotic (VSL# 3) and omega-3 on lipid profile, insulin sensitivity, inflammatory markers, and gut colonization in overweight adults: a randomized, controlled trial. Mediators Inflamm 2014

51.

Rijkers GT, De Vos WM, Brummer R-J, Morelli L, Corthier G, Marteau P (2011) Health benefits and health claims of probiotics: bridging science and marketing. Br J Nutr 106:1291–1296

52.

Shakeri H, Hadaegh H, Abedi F, Tajabadi-Ebrahimi M, Mazroii N, Ghandi Y, Asemi Z (2014) Consumption of synbiotic bread decreases triacylglycerol and VLDL levels while increasing HDL levels in serum from patients with type-2 diabetes. Lipids 49:695–701

53.

Sharafedtinov KK, Plotnikova OA, Alexeeva RI, Sentsova TB, Songisepp E, Stsepetova J, Smidt I, Mikelsaar M (2013) Hypocaloric diet supplemented with probiotic cheese improves body mass index and blood pressure indices of obese hypertensive patients–A randomized double-blind placebo-controlled pilot study. Nutrition Journal 12

54.

Shavakhi A, Minakari M, Firouzian H, Assali R, Hekmatdoost A, Ferns G (2013) Effect of a probiotic and metformin on liver aminotransferases in non-alcoholic steatohepatitis: a double blind randomized clinical trial. Int J Prev Med 4:531–537

55.

Silk D, Davis A, Vulevic J, Tzortzis G, Gibson G (2009) Clinical trial: the effects of a trans-galactooligosaccharide prebiotic on faecal microbiota and symptoms in irritable bowel syndrome. Aliment Pharmacol Ther 29:508–518

56.

Sonnenburg JL, Chen CT, Gordon JI (2006) Genomic and metabolic studies of the impact of probiotics on a model gut symbiont and host. PLoS Biol 4:e413

57.

Stratton IM, Adler AI, Neil HA, Matthews DR, Manley SE, Cull CA, Hadden D, Turner RC, Holman RR (2000) Association of glycaemia with macrovascular and microvascular complications of type 2 diabetes (UKPDS 35): prospective observational study. BMJ 321:405–412

58.

Tabuchi M, Ozaki M, Tamura A, Yamada N, Ishida T, Hosoda M, Hosono A (2003) Antidiabetic effect of Lactobacillus GG in streptozotocin-induced diabetic rats. Biosci Biotechnol Biochem 67:1421–1424

59.

Thomas CM, Versalovic J (2010) Probiotics-host communication: modulation of signaling pathways in the intestine. Gut Microbes 1:148–163

60.

Tripolt NJ, Leber B, Blattl D, Eder M, Wonisch W, Scharnagl H, Stojakovic T, Obermayer-Pietsch B, Wascher TC, Pieber TR, Stadlbauer V, Sourij H (2013) Short communication: effect of supplementation with Lactobacillus casei Shirota on insulin sensitivity, β-cell function, and markers of endothelial function and inflammation in subjects with metabolic syndrome-A pilot study. J Dairy Sci 96:89–95

61.

Tuohy K, Rouzaud G, Bruck W, Gibson G (2005) Modulation of the human gut microflora towards improved health using prebiotics-assessment of efficacy. Curr Pharm Des 11:75–90

62.

Tuomilehto J, Lindström J, Eriksson JG, Valle TT, Hämäläinen H, Ilanne-Parikka P, Keinänen-Kiukaanniemi S, Laakso M, Louheranta A, Rastas M (2001) Prevention of type 2 diabetes mellitus by changes in lifestyle among subjects with impaired glucose tolerance. N.Engl J Med 344:1343–1350

63.

van Baarlen P, Troost F, van der Meer C, Hooiveld G, Boekschoten M, Brummer RJ, Kleerebezem M (2011) Human mucosal in vivo transcriptome responses to three lactobacilli indicate how probiotics may modulate human cellular pathways. Proc of the Natl Academy of Sci USA 108(Suppl 1):4562–4569. doi:10.1073/pnas.100007910

64.

van Rosendal SP, Osborne MA, Fassett RG, Coombes JS (2010) Guidelines for glycerol use in hyperhydration and rehydration associated with exercise. Sports Med 40:113–139

65.

WHO J, Consultation FE (1990) Diet, nutrition and the prevention of chronic diseases. World Health Organization Geneva

66.

Williams R, Van Gaal L, Lucioni C (2002) Assessing the impact of complications on the costs of Type II diabetes. Diabetologia 45:S13–S17

67.

Wos-Oxley M, Bleich A, Oxley AP, Kahl S, Janus LM, Smoczek A, Nahrstedt H, Pils MC, Taudien S, Platzer M, Hedrich HJ, Medina E, Pieper DH (2012) Comparative evaluation of establishing a human gut microbial community within rodent models. Gut Microbes 3:234–249. doi:10.4161/gmic.19934

68.

Yadav H, Jain S, Sinha P (2007) Antidiabetic effect of probiotic dahi containing Lactobacillus acidophilus and Lactobacillus casei in high fructose fed rats. Nutrition 23:62–68

69.

Yadav H, Jain S, Sinha P (2008) The effect of probiotic dahi containing Lactobacillus acidophilus and Lactobacillus casei on gastropathic consequences in diabetic rats. J Med Food 11:62–68

70.

Yamano T, Tanida M, Niijima A, Maeda K, Okumura N, Fukushima Y, Nagai K (2006) Effects of the probiotic strain Lactobacillus johnsonii strain La1 on autonomic nerves and blood glucose in rats. Life Sci 79:1963–1967
Ethics declarations
Conflict of interest
The authors declare that there is no conflict of interest.
Electronic supplementary material
Below is the link to the electronic supplementary material.
About this article
Cite this article
Nikbakht, E., Khalesi, S., Singh, I. et al. Effect of probiotics and synbiotics on blood glucose: a systematic review and meta-analysis of controlled trials. Eur J Nutr 57, 95–106 (2018). https://doi.org/10.1007/s00394-016-1300-3
Received:

Accepted:

Published:

Issue Date:
Keywords
Probiotics

Synbiotics

Fasting blood glucose

Hyperglycemia