Abstract
Purpose
Poor diet quality may impair academic achievement in children, but such evidence is limited. Therefore, we investigated the associations of healthy diet in Grade 1 assessed by Mediterranean Diet Score (MDS), Baltic Sea Diet Score (BSDS), and Finnish Children Healthy Eating Index (FCHEI) with academic achievement in Grades 1–3 in children.
Methods
The participants were 161 Finnish children who were 6–8 years old in Grade 1 and attended in a large ongoing physical activity and dietary intervention study. Dietary factors were assessed using 4-day food records, and MDS, BSDS, and FCHEI were calculated. Academic achievement was assessed by reading fluency, reading comprehension, and arithmetic skill tests. The data were analyzed using linear regression analysis and analysis of covariance adjusted for age, sex, parental education, household income, body fat percentage, physical activity, the PANIC Study group, and total energy intake.
Results
MDS was positively associated with reading comprehension in Grade 3 (standardized regression coefficient β = 0.167, P = 0.032). BSDS was positively associated with reading fluency in Grades 2–3 and reading comprehension in Grades 1–3 (β = 0.161–0.274, P < 0.05). FCHEI was positively related to reading fluency in Grades 1–2 and reading comprehension in Grades 1–3 (β = 0.190–0.344, P < 0.05). Children in the highest third of BSDS and FCHEI had better reading fluency and reading comprehension in Grades 1–3 than children in the lowest third (P < 0.05). None of the diet scores was associated with arithmetic skills.
Conclusions
Healthier diet assessed by BSDS or FCHEI in Grade 1 was associated with better reading skills, but not with arithmetic skills, among children in Grades 1–3. Long-term intervention studies are needed to investigate the effects of improvements in diet quality on academic achievement among children.
Clinical trial registration
ClinicalTrials.gov Identifier: NCT01803776.
Access options
Buy single article
Instant access to the full article PDF.
USD 39.95
Price excludes VAT (USA)
Tax calculation will be finalised during checkout.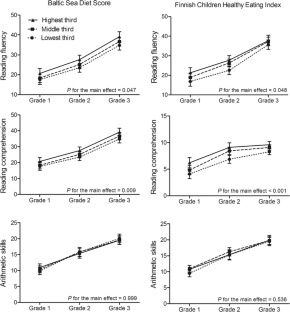 References
Nyaradi A, Li J, Hickling S, Foster J, Oddy WH (2013) The role of nutrition in children's neurocognitive development, from pregnancy through childhood. Front Hum Neurosci 7:97

Sijtsma FP, Meyer KA, Steffen LM, Shikany JM, Van Horn L, Harnack L, Kromhout D, Jacobs DR Jr (2012) Longitudinal trends in diet and effects of sex, race, and education on dietary quality score change: the Coronary Artery Risk Development in Young Adults study. Am J Clin Nutr 95:580–586

Cheng G, Libuda L, Karaolis-Danckert N, Alexy U, Bolzenius K, Remer T, Buyken AE (2010) Trends in dietary carbohydrate quality during puberty from 1988 to 2007: a cause for concern? Br J Nutr 104:1375–1383

Bauer KW, Larson NI, Nelson MC, Story M, Neumark-Sztainer D (2009) Fast food intake among adolescents: secular and longitudinal trends from 1999 to 2004. Prev Med 48:284–287

Eloranta A-M, Lindi V, Schwab U, Kiiskinen S, Kalinkin M, Lakka HM, Lakka TA (2011) Dietary factors and their associations with socioeconomic background in Finnish girls and boys 6–8 years of age: the PANIC Study. Eur J Clin Nutr 65:1211–1218

Larson NI, Neumark-Sztainer D, Hannan PJ, Story M (2007) Trends in adolescent fruit and vegetable consumption, 1999–2004: project EAT. Am J Prev Med 32:147–150

Alatupa S, Pulkki-Råback L, Hintsanen M, Ravaja N, Raitakari OT, Telama R, Viikari JS, Keltinkangas-Järvinen L (2010) School performance as a predictor of adulthood obesity: a 21 year follow-up study. Eur J Epidemiol 25:267–274

Kokko K, Pulkkinen L (2000) Aggression in childhood and long-term unemployment in adulthood: a cycle of maladaptation and some protective factors. Dev Psychol 36:463–472

Alatupa S, Pulkki-Råback L, Hintsanen M, Elovainio M, Mullola S, Keltinkangas-Järvinen L (2013) Disruptive behavior in childhood and socioeconomic position in adulthood: a prospective study over 27 years. Int J Public Health 58:247–256

Falkingham M, Abdelhamid A, Curtis P, Fairweather-Tait S, Dye L, Hooper L (2010) The effects of oral iron supplementation on cognition in older children and adults: a systematic review and meta-analysis. Nutr J 9:4

Jiao J, Li Q, Chu J, Zeng W, Yang M, Zhu S (2014) Effect of n-3 PUFA supplementation on cognitive function throughout the life span from infancy to old age: a systematic review and meta-analysis of randomized controlled trials. Am J Clin Nutr J Clin Nutr 100:1422–1436

Baym CL, Khan NA, Monti JM, Raine LB, Drollette ES, Moore RD, Scudder MR, Kramer AF, Hillman CH, Cohen NJ (2014) Dietary lipids are differentially associated with hippocampal-dependent relational memory in prepubescent children. Am J Clin Nutr 99:1026–1032

Zhang J, Hebert J, Muldoon M (2005) Dietary fat intake is associated with psychosocial and cognitive functioning of school-aged children in the United States. J Nutr 135:1967–1973

Tangney CC, Scarmeas N (2012) The good, bad, and ugly? How blood nutrient concentrations may reflect cognitive performance. Neurology 78:230–231

Allès B, Samieri C, Féart C, Jutand MA, Laurin D, Barberger-Gateau P (2012) Dietary patterns: a novel approach to examine the link between nutrition and cognitive function in older individuals. Nutr Res Rev 25:207–222

Vassiloudis I, Yiannakouris N, Panaqiotakos DB, Apostolopoulos K, Costarelli V (2014) Academic performance in relation to adherence to the Mediterranean diet and energy balance behaviors in Greek primary schoolchildren. J Nutr Educ Behav 46:164–170

Esteban-Cornejo I, Izquierdo-Gomez R, Gómez-Martínez S, Padilla-Moledo C, Castro-Pinero J, Marcos A, Veiga OL (2016) Adherence to the Mediterranean diet and academic performance in youth: the UP&DOWN study. Eur J Nutr 55:1133–1140

Florence M, Asbridge M, Veugelers P (2008) Diet quality and academic performance. J Sch Health 78:239–241

Feinstein L, Sabates R, Sorhaindo A, Rogers I, Herrick D, Northstone K, Emmett P (2008) Dietary patterns related to attainment in school: the importance of early eating patterns. J Epidemiol Community Health 62:734–739

Kanerva N, Kaartinen NE, Schwab U, Lahti-Koski M, Männistö S (2014) The Baltic Sea Diet Score: a tool for assessing healthy eating in Nordic countries. Public Health Nutr 17:1697–1705

Kyttälä P, Erkkola M, Lehtinen-Jacks S, Ovaskainen M, Uusitalo L, Veijola R, Simell O, Knip M, Virtanen SM (2014) Finnish Children Healthy Eating Index (FCHEI) and its associations with family and child characteristics in pre-school children. Public Health Nutr 17:2519–2527

Haapala EA, Eloranta A-M, Venäläinen T, Schwab U, Lindi V, Lakka TA (2015) Associations of diet quality with cognition in children—The Physical Activity and Nutrition in Children Study. Br J Nutr 114:1080–1087

Trichopoulou A, Costacou T, Bamia C, Trichopoulos D (2003) Adherence to a Mediterranean diet and survival in a Greek population. N Engl J Med 348:2599–2608

Eloranta A-M, Lindi V, Schwab U, Tompuri T, Kiiskinen S, Lakka HM, Laitinen T, Lakka TA (2012) Dietary factors associated with overweight and body adiposity in Finnish children aged 6–8 years: the PANIC Study. Int J Obes 36:950–955

Nurmi J-E, Kiuru N, Lerkkanen M-K, Niemi P, Poikkeus A-M, Ahonen T, Leskinen E, Lyyra A-L (2013) Teachers adapt their instruction in reading according to individual children's literacy skills. Learn Individ Differ 23:72–79

Tanner J (1962) Growth at adolescence. Blackwell, Oxford

Cole T, Bellizzi M, Flegal K, Dietz W (2000) Establishing a standard definition for child overweight and obesity worldwide: international survey. Br Med J 320:1240–1243

Picture book of food portion sizes. The National Public Health Institute, Helsinki Finland

Rastas M, Seppänen R, Knuts L, Hakala P, Karttila V (1997) Nutrient composition of foods. The Social Insurance Institution, Helsinki

Lindeman J (1998) ALLU-ala-asteen lukutesti (standardized reading test for comprehensive school). Center for Learning Research, University of Turku, Turku

Räsänen P, Aunola K (2007) Test of arithmetics. Test material developed in the First Steps follow-up. University of Jyväskylä, Jyväskylä

Haapala EA (2013) Cardiorespiratory fitness and motor skills in relation to cognition and academic performance in children—a review. J Hum Kinet 36:55–68

Reinert KRS, Po'e EK, Barkin SL (2013) The relationship between executive function and obesity in children and adolescents: a systematic literature review. J Obes 2013:820956

Sirin SR (2005) Socioeconomic status and academic achievement: a meta-analytic review of research. Rev Educ Res 75:417–453

Lintu N, Tompuri T, Viitasalo A, Soininen S, Laitinen T, Savonen K, Lindi V, Lakka TA (2014) Cardiovascular fitness and haemodynamic responses to maximal cycle ergometer exercise test in children 6–8 years of age. J Sports Sci 32:652–659

Council European (1988) EUROFIT: handbook for the EUROFIT tests of physical fitness. Council of Europe, Rome

Tompuri TT, Lakka TA, Hakulinen M, Lindi V, Laaksonen DE, Kilpeläinen TO, Jääskeläinen J, Lakka HM, Laitinen T (2015) Assessment of body composition by dual-energy X-ray absorptiometry, bioimpedance analysis and anthropometrics in children: the Physical Activity and Nutrition in Children study. Clin Physiol Funct Imaging 35:21–33

Väistö J, Eloranta A-M, Viitasalo A, Tompuri T, Lintu N, Karjalainen P, Lapminen EK, Ågren J, Laaksonen DE, Lakka HM, Lindi V, Lakka TA (2014) Physical activity and sedentary behaviour in relation to cardiometabolic risk in children: cross-sectional findings from the Physical Activity and Nutrition in Children (PANIC) Study. Int J Behav Nutr Phys Act 11:55

Haapala EA, Poikkeus A-M, Kukkonen-Harjula K, Tompuri T, Lintu N, Väistö J, Leppänen PH, Laaksonen DE, Lindi V, Lakka TA (2014) Associations of physical activity and sedentary behavior with academic skills—a follow-up study among primary school children. PLoS One 10:e107031

Kiuru N, Aunola K, Torppa M, Lerkkanen MK, Poikkeus AM, Niemi P, Viljaranta J, Lyyra AL, Leskinen E, Tolvanen A, Nurmi JE (2012) The role of parenting styles and teacher interactional styles in children's reading and spelling development. J Sch Psychol 50:799–823

Sigfúsdóttir ID, Kristjánsson AL, Allegrante JP (2007) Health behaviour and academic achievement in Icelandic school children. Health Educ Res 22:70–80

Nyaradi A, Foster JK, Hickling S, Li J, Ambrosini GL, Jacques A, Oddy WH (2014) Prospective associations between dietary patterns and cognitive performance during adolescence. J Child Psychol Psychiatry 55:1017–1024

Sørensen LB, Dyssegaard CB, Damsgaard CT, Petersen RA, Dalskov SM, Hjorth MF, Andersen R, Tetens I, Ritz C, Astrup A, Lauritzen L, Michaelsen KF, Egelund N (2015) The effects of Nordic school meals on concentration and school performance in 8-to 11 year-old children in the OPUS School Meal Study: a cluster-randomised, controlled, cross-over trial. Br J Nutr 113:1280–1291

Soininen S, Eloranta AM, Lindi V, Venäläinen T, Zaproudina N, Mahonen A, Lakka TA (2016) Determinants of serum 25-hydroxyvitamin D concentration in Finnish children: the Physical Activity and Nutrition in Children (PANIC) study. Br J Nutr 115:1080–1091

Bazinet RP, Layé S (2014) Polyunsaturated fatty acids and their metabolites in brain function and disease. Nat Rev Neurosci 15:771–785

Eyles DW, Burne THJ, McGrath JJ (2013) Vitamin D, effects on brain development, adult brain function and the links between low levels of vitamin D and neuropsychiatric disease. Front Neuroendocrinol 34:47–64

Frisardi V, Panza F, Seripa D, Imbimbo BP, Vendemiale G, Pilotto A, Solfrizzi V (2010) Nutraceutical properties of Mediterranean diet and cognitive decline: possible underlying mechanisms. J Alzheimer's Dis 22:715–740

Wu A, Ying Z, Gomez-Pinilla F (2004) The interplay between oxidative stress and brain-derived neurotrophic factor modulates the outcome of a saturated fat diet on synaptic plasticity and cognition. Eur J Neurosci 19:1699–1707

Khan NA, Raine LB, Drollette ES, Scudder MR, Kramer AF, Hillman CH (2015) Dietary fiber is positively associated with cognitive control among prepubertal children. J Nutr 145:143–149

Adolphus K, Lawton CL, Dye L (2013) The effects of breakfast on behavior and academic performance in children and adolescents. Front Hum Neurosci 7:425

Young H, Benton D (2014) The effect of using isomaltulose (Palatinose™) to modulate the glycaemic properties of breakfast on the cognitive performance of children. Eur J Nutr 54:1013–1020

National Institute of Health and Welfare (2016) Finnish dietary recommendations for families with children. National Nutrition Council, Juvenes Print–Suomen yliopistopaino, Tampere
Acknowledgments
Ministry of Social Affairs and Health of Finland, Ministry of Education and Culture of Finland, University of Eastern Finland, Finnish Innovation Fund Sitra, Social Insurance Institution of Finland, Finnish Cultural Foundation, Juho Vainio Foundation, Foundation for Pediatric Research, Paavo Nurmi Foundation, Paulo Foundation, Diabetes Research Foundation, Research Committee of the Kuopio University Hospital Catchment Area (State Research Funding) and Kuopio University Hospital (EVO Funding Number 5031343), Päivikki and Sakari Sohlberg Foundation, City of Kuopio, Jenny & Antti Wihuri Foundation.
Author's contribution
EAH, AME, AMP, VL, and TAL designed the research; AME, TV, VL, AMP, TA, and TAL conducted the research; EAH analyzed the data; EAH, AME, TV, AMP, TA, HJ, VL, and TAL wrote the manuscript; and EAH, AME, and TAL had primary responsibility for the final content of the manuscript. All authors read and approved the final version of the manuscript.
Ethics declarations
Conflict of interest
On behalf of all authors, the corresponding author states that there is no conflict of interest.
About this article
Cite this article
Haapala, E.A., Eloranta, AM., Venäläinen, T. et al. Diet quality and academic achievement: a prospective study among primary school children. Eur J Nutr 56, 2299–2308 (2017). https://doi.org/10.1007/s00394-016-1270-5
Received:

Accepted:

Published:

Issue Date:

DOI: https://doi.org/10.1007/s00394-016-1270-5
Keywords
Diet quality

Diet

Children

Brain

Learning

Academic achievement