Abstract
Purpose
Hypohydration has been suggested as a predisposing factor for several pathologies including cardiovascular diseases (CVD). While CVD are the leading cause of death worldwide, no study has investigated whether acute hypohydration affects endothelial function and cardiovascular function.
Methods
Ten young, healthy males participated in this crossover study (age: 24.3 ± 2.3 year; weight: 80.8 ± 5.3 kg; BMI: 24.3 ± 0.4 kg m−2). Each subject completed two measurements of endothelial function by flow-mediated dilation (FMD) in euhydrated and hypohydrated state separated by 24 h. Following baseline assessment of hydration status and FMD, the subjects completed 100 min of low-intensity intermittent walking exercise to achieve hypohydration of −2 % of individual body mass. For the rest of the day, a standardized, low water content diet was provided. The following morning, hydration markers and endothelial function were recorded.
Results
Hypohydration by −1.9 ± 0.1 % of body mass resulted in decreased plasma volume by −3.5 ± 1.8 % and increased plasma osmolality by 9 ± 2 mmol kg−1 (P < 0.001). FMD as a response to hypohydration decreased by −26.8 ± 3.9 % (P < 0.05).
Conclusion
The data suggested that a small degree of hypohydration induced by moderate exercise and fluid restriction significantly impaired endothelial function.
Access options
Buy single article
Instant access to the full article PDF.
US$ 39.95
Tax calculation will be finalised during checkout.
Subscribe to journal
Immediate online access to all issues from 2019. Subscription will auto renew annually.
US$ 159
Tax calculation will be finalised during checkout.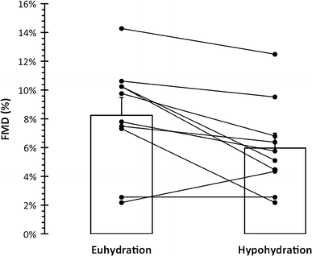 References
1.

Chan J, Knutsen SF, Blix GG, Lee JW, Fraser GE (2002) Water, other fluids, and fatal coronary heart disease: the adventist health study. Am J Epidemiol 155:827–833

2.

Roussel R, Fezeu L, Bouby N, Balkau B, Lantieri O, Alhenc-Gelas F, Marre M, Bankir L, Group DESIRS (2011) Low water intake and risk for new-onset hyperglycemia. Diabetes Care 34:2551–2554

3.

Thornton SN (2009) Angiotensin, the hypovolaemia hormone, aggravates hypertension, obesity, diabetes and cancer. J Intern Med 265:616–617

4.

Lang F, Ritz E, Voelkl J, Alesutan I (2013) Vascular calcification-is aldosterone a culprit? Nephrol Dial Transplant 28:1080–1084

5.

Dmitrieva NI, Burg MB (2015) Elevated sodium and dehydration stimulate inflammatory signaling in endothelial cells and promote atherosclerosis. PLoS ONE 10:e0128870

6.

Strippoli GF, Craig JC, Rochtchina E, Flood VM, Wang JJ, Mitchell P (2011) Fluid and nutrient intake and risk of chronic kidney disease. Nephrology (Carlton) 16:326–334

7.

Sarnak MJ, Levey AS, Schoolwerth AC, Coresh J, Culleton B, Hamm LL, McCullough PA, Kasiske BL, Kelepouris E, Klag MJ, Parfrey P, Pfeffer M, Raij L, Spinosa DJ, Wilson PW (2003) Kidney disease as a risk factor for development of cardiovascular disease: a statement from the American heart association councils on kidney in cardiovascular disease, high blood pressure research, clinical cardiology, and epidemiology and prevention. Circulation 108:2154–2169

8.

Verma S, Anderson TJ (2002) Fundamentals of endothelial function for the clinical cardiologist. Circulation 105:546–549

9.

Ross R (1999) Atherosclerosis is an inflammatory disease. Am Heart J 138:S419–S420

10.

Yeboah J, Folsom AR, Burke GL, Johnson C, Polak JF, Post W, Lima JA, Crouse JR, Herrington DM (2009) Predictive value of brachial flow-mediated dilation for incident cardiovascular events in a population-based study: the multi-ethnic study of atherosclerosis. Circulation 120:502–509

11.

Becker RC (1993) The role of blood viscosity in the development and progression of coronary artery disease. Cleve Clin J Med 60:353–358

12.

Lee AJ, Mowbray PI, Lowe GD, Rumley A, Fowkes FG, Allan PL (1998) Blood viscosity and elevated carotid intima-media thickness in men and women: the Edinburgh artery study. Circulation 97:1467–1473

13.

Tonstad S, Klemsdal TO, Landaas S, Hoieggen A (2006) No effect of increased water intake on blood viscosity and cardiovascular risk factors. Br J Nutr 96:993–996

14.

Cohen RA (1995) The role of nitric oxide and other endothelium-derived vasoactive substances in vascular disease. Prog Cardiovasc Dis 38:105–128

15.

Kavouras SA, Armstrong LE, Maresh CM, Casa DJ, Herrera-Soto JA, Scheett TP, Stoppani J, Mack GW, Kraemer WJ (2006) Rehydration with glycerol: endocrine, cardiovascular, and thermoregulatory responses during exercise in the heat. J Appl Physiol 100:442–450

16.

Sawka MN, Burke LM, Eichner ER, Maughan RJ, Montain SJ, Stachenfeld NS (2007) American college of sports medicine position stand. Exercise and fluid replacement. Med Sci Sports Exerc 39:377–390

17.

Castellani JW, Maresh CM, Armstrong LE, Kenefick RW, Riebe D, Echegaray M, Casa D, Castracane VD (1997) Intravenous vs. oral rehydration: effects on subsequent exercise-heat stress. J Appl Physiol 82:799–806

18.

Kenefick RW, Maresh CM, Armstrong LE, Castellani JW, Riebe D, Echegaray ME, Kavorous SA (2000) Plasma vasopressin and aldosterone responses to oral and intravenous saline rehydration. J Appl Physiol 89:2117–2122

19.

Kollias GE, Stamatelopoulos KS, Papaioannou TG, Zakopoulos NA, Alevizaki M, Alexopoulos GP, Kontoyannis DA, Karga H, Koroboki E, Lekakis JP, Papamichael CM (2009) Diurnal variation of endothelial function and arterial stiffness in hypertension. J Hum Hypertens 23:597–604

20.

Mitchell GF, Parise H, Vita JA, Larson MG, Warner E, Keaney JF Jr, Keyes MJ, Levy D, Vasan RS, Benjamin EJ (2004) Local shear stress and brachial artery flow-mediated dilation: the Framingham Heart Study. Hypertension 44:134–139

21.

Boon JC, Westbroek DL, Stelter WJ, Messmer K (1978) Sodium nitroprusside-induced hypotension in dogs. Drug sensitivity and resistance experimentally provoked by circulating blood volume alterations. Eur Surg Res 10:382–388

22.

Dill DB, Costill DL (1974) Calculation of percentage changes in volumes of blood, plasma, and red cells in dehydration. J Appl Physiol 37:247–248

23.

Green DJ, Maiorana A, O'Driscoll G, Taylor R (2004) Effect of exercise training on endothelium-derived nitric oxide function in humans. J Physiol 561:1–25

24.

Greenleaf JE (1992) Problem: thirst, drinking behavior, and involuntary dehydration. Med Sci Sports Exerc 24:645–656

25.

Robertson GL (1984) Abnormalities of thirst regulation. Kidney Int 25:460–469

26.

Karatzi K, Papamichael C, Karatzis E, Papaioannou TG, Voidonikola PT, Lekakis J, Zampelas A (2007) Acute smoking induces endothelial dysfunction in healthy smokers. Is this reversible by red wine's antioxidant constituents? J Am Coll Nutr 26:10–15

27.

Fels J, Oberleithner H, Kusche-Vihrog K (2010) Ménage à trois: aldosterone, sodium and nitric oxide in vascular endothelium. Biochim Biophys Acta 1802:1193–1202

28.

Thornton SN (2011) Angiotensin inhibition and longevity: a question of hydration. Pflugers Arch 461:317–324

29.

Druppel V, Kusche-Vihrog K, Grossmann C, Gekle M, Kasprzak B, Brand E, Pavenstadt H, Oberleithner H, Kliche K (2013) Long-term application of the aldosterone antagonist spironolactone prevents stiff endothelial cell syndrome. FASEB J 27:3652–3659

30.

Higashi Y, Noma K, Yoshizumi M, Kihara Y (2009) Endothelial function and oxidative stress in cardiovascular diseases. Circ J 73:411–418

31.

King MA, Clanton TL, Laitano O (2016) Hyperthermia, dehydration, and osmotic stress: unconventional sources of exercise-induced reactive oxygen species. AJP 310:R105–R114

32.

Boegehold MA, Drenjancevic I, Lombard JH (2015) Salt, angiotensin II, superoxide, and endothelial function. Compr Physiol 6:215–254

33.

Gonzalez-Alonso J, Mora-Rodriguez R, Below PR, Coyle EF (1997) Dehydration markedly impairs cardiovascular function in hyperthermic endurance athletes during exercise. J Appl Physiol 82:1229–1236

34.

Ma TK, Kam KK, Yan BP, Lam YY (2010) Renin-angiotensin-aldosterone system blockade for cardiovascular diseases: current status. Br J Pharmacol 160:1273–1292

35.

Thornton SN, Hess K (2009) Exercise generates lactate and fluid intake: effects on mitochondrial function in heart and vascular smooth muscle. Hypertension 54:e14; author reply e15–e16

36.

Koenig W, Sund M, Filipiak B, Doring A, Lowel H, Ernst E (1998) Plasma viscosity and the risk of coronary heart disease: results from the MONICA-Augsburg Cohort Study, 1984 to 1992. Arterioscler Thromb Vasc Biol 18:768–772

37.

Lowe GD, Lee AJ, Rumley A, Price JF, Fowkes FG (1997) Blood viscosity and risk of cardiovascular events: the Edinburgh artery study. Br J Haematol 96:168–173

38.

Ritz P, Berrut G (2005) The importance of good hydration for day-to-day health. Nutr Rev 63:S6–S13

39.

Manz F, Wentz A (2005) The importance of good hydration for the prevention of chronic diseases. Nutr Rev 63:S2–S5

40.

Haveman-Nies A, de Groot LC, Van Staveren WA (1997) Fluid intake of elderly Europeans. J Nutr Health Aging 1:151–155

41.

Stachenfeld NS, DiPietro L, Nadel ER, Mack GW (1997) Mechanism of attenuated thirst in aging: role of central volume receptors. Am J Physiol 272:R148–R157

42.

Stookey JD (2005) High prevalence of plasma hypertonicity among community-dwelling older adults: results from NHANES III. J Am Diet Assoc 105:1231–1239

43.

Padilla J, Johnson BD, Newcomer SC, Wilhite DP, Mickleborough TD, Fly AD, Mather KJ, Wallace JP (2008) Normalization of flow-mediated dilation to shear stress area under the curve eliminates the impact of variable hyperemic stimulus. Cardiovasc Ultrasound 6:44

44.

Brockow T, Conradi E, Ebenbichler G, Michalsen A, Resch KL (2011) The role of mild systemic heat and physical activity on endothelial function in patients with increased cardiovascular risk: results from a systematic review. Forschende Komplementarmedizin 18:24–30

45.

Rognmo O, Bjornstad TH, Kahrs C, Tjonna AE, Bye A, Haram PM, Stolen T, Slordahl SA, Wisloff U (2008) Endothelial function in highly endurance-trained men: effects of acute exercise. J Strength Cond Res 22:535–542
Acknowledgments
The authors would like to thank the laboratory staff at Alexandra Hospital for their assistance. We gratefully also thank Dr. Evan C. Johnson & Lisa T. Jansen for their contribution to the manuscript.
Ethics declarations
Conflict of interest
SAK has active grants with Danone Research.
About this article
Cite this article
Arnaoutis, G., Kavouras, S.A., Stratakis, N. et al. The effect of hypohydration on endothelial function in young healthy adults. Eur J Nutr 56, 1211–1217 (2017). https://doi.org/10.1007/s00394-016-1170-8
Received:

Accepted:

Published:

Issue Date:
Keywords
Dehydration

Endothelial

Flow-mediated dilation

Fluid balance

Cardiovascular disease