Abstract
Purpose
Evaluating early iron supplementation in non-anemic mothers with postpartum depression (PPD).
Methods
This randomized, double-blind, placebo-controlled trial evaluated 70 mothers with PPD. One week after delivery, the mothers were randomly allocated in the iron-treated (50 mg elemental iron/daily) and placebo-treated groups. After 6 weeks, the improvement of PPD symptoms was compared between the groups.
Results
Ferritin significantly increased in the iron-treated group (p < 0.001), but not in the placebo group (p = 0.09). After intervention, ferritin was higher in the iron-treated group (medians: 78.2 vs. 37 mg/dl, p = 0.01). The rate of iron deficiency significantly decreased in the iron-treated group (p = 0.009), but not in the placebo group (p = 0.4). After intervention, the rate of iron deficiency was higher in the placebo group (31.4 vs. 8.5 %, p = 0.01). The Edinburgh Postnatal Depression Scale (EPDS) score significantly decreased in the iron-treated group (p < 0.001), but not in the placebo group (p = 0.13). After intervention, the EPDS score was lower in the iron-treated group (medians 9 vs. 12, p = 0.01). The improvement rate for PPD was significantly higher in the iron-treated group (42.8 vs. 20 %, p = 0.03). After intervention, mothers with continued PPD had lower ferritin than the improved mothers (41.8 vs. 67 mg/dl, p = 0.03). Mothers with continued depression had higher rate of iron deficiency compared to the improved mothers (27.1 vs. 4.5 %, p = 0.02).
Conclusions
Early iron supplementation in mothers with PPD significantly improves the iron stores and causes a significant improvement in PPD with a 42.8 % improvement rate during 6 weeks. Continued PPD might be related to the lower postpartum ferritin levels in untreated mothers.
This is a preview of subscription content, log in to check access.
Access options
Buy single article
Instant access to the full article PDF.
US$ 39.95
Price includes VAT for USA
Subscribe to journal
Immediate online access to all issues from 2019. Subscription will auto renew annually.
US$ 199
This is the net price. Taxes to be calculated in checkout.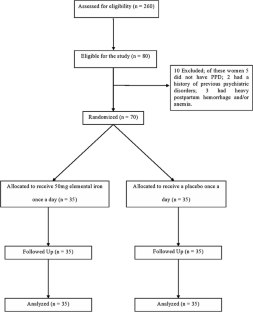 References
1.

Lanes A, Kuk JL, Tamim H (2011) Prevalence and characteristics of postpartum depression symptomatology among Canadian women: a cross-sectional study. BMC Public Health 11:302. doi:10.1186/1471-2458-11-302

2.

Andrews-Fike C (1999) A review of postpartum depression. Prim Care Companion J Clin Psychiatry 1:9–14

3.

Halbreich U, Karkun S (2006) Cross-cultural and social diversity of prevalence of postpartum depression and depressive symptoms. J Affect Disord 91:97–111. doi:10.1016/j.jad.2005.12.051

4.

Tahirkheli NN, Cherry AS, Tackett AP, McCaffree MA, Gillaspy SR (2014) Postpartum depression on the neonatal intensive care unit: current perspectives. Int J Women's Health 6:975–987. doi:10.2147/IJWH.S54666

5.

Sinclair D, Murray L (1998) Effects of postnatal depression on children's adjustment to school. Teacher's reports. Br J Psychiatry J Ment Sci 172:58–63

6.

Skalkidou A, Hellgren C, Comasco E, Sylvén E, Poromaa IS (2012) Biological aspects of postpartum depression. Women's Health 8:659–671. doi:10.2217/whe.12.55

7.

Etebary S, Nikseresht S, Sadeghipour HR, Zarrindast MR (2010) Postpartum depression and role of serum trace elements. Iran J Psychiatry 5:40–46

8.

Albacar G, Sans T, Martin-Santos R et al (2011) An association between plasma ferritin concentrations measured 48 h after delivery and postpartum depression. J Affect Disord 131:136–142. doi:10.1016/j.jad.2010.11.006

9.

Beard JL, Hendricks MK, Perez EM et al (2005) Maternal iron deficiency anemia affects postpartum emotions and cognition. J Nutr 135:267–272

10.

Milman N (2011) Postpartum anemia I: definition, prevalence, causes, and consequences. Ann Hematol 90:1247–1253. doi:10.1007/s00277-011-1279-z

11.

Alharbi AA, Abdulghani HM (2014) Risk factors associated with postpartum depression in the Saudi population. Neuropsychiatr Dis Treat 10:311–316. doi:10.2147/NDT.S57556

12.

Aubuchon-Endsley NL, Thomas DG, Kennedy TS, Grant SL, Valtr T (2012) Interactive relations among maternal depressive symptomatology, nutrition, and parenting. Women Health 52:197–213. doi:10.1080/03630242.2012.662933

13.

Bodnar LM, Wisner KL (2005) Nutrition and depression: implications for improving mental health among childbearing-aged women. Biol Psychiatry 58:679–685

14.

Milman N (2012) Oral iron prophylaxis in pregnancy: not too little and not too much! J Pregnancy 2012:514345. doi:10.1155/2012/514345

15.

Miller BJ, Murray L, Beckmann MM, Kent T, Macfarlane B (2013) Dietary supplements for preventing postnatal depression. Cochrane Database Syst Rev 10:CD009104. doi:10.1002/14651858.CD009104.pub2

16.

Paoletti AM, Orru MM, Marotto MF et al (2013) Observational study on the efficacy of the supplementation with a preparation with several minerals and vitamins in improving mood and behaviour of healthy puerperal women. Gynecol Endocrinol 29:779–783. doi:10.3109/09513590.2013.801447

17.

Longo Dan L, Fauci Anthony S, Kasper Dennis L, Hauser Stephen L, Larry Jameson J, Loscalzo Joseph (2012) Harrison's principles of internal medicine, vol 1, 18th edn. McGraw-Hill, New York

18.

Erdman JW, Macdonald IA, Zeisel SH (2012) Present knowledge in nutrition, 10th edn. Wiley-Blackwell, Hoboken

19.

Tt Brownlie, Utermohlen V, Hinton PS, Giordano C, Haas JD (2005) Marginal iron deficiency without anemia impairs aerobic adaptation among previously untrained women. Am J Clin Nutr 75:734–742

20.

Cox JL, Holden JM, Sagovsky R (1987) Detection of postnatal depression. Development of the 10-item Edinburgh Postnatal Depression Scale. Br J Psychiatry J Ment Sci 150:782–786

21.

Garcia-Esteve L, Ascaso C, Ojuel J, Navarro P (2003) Validation of the Edinburgh Postnatal Depression Scale (EPDS) in Spanish mothers. J Affect Disord 75:71–76. doi:10.1016/S0165-0327(02)00020-4

22.

Pavord S, Myers B, Robinson S, Allard S, Strong J, Oppenheimer C (2012) UK guidelines on the management of iron deficiency in pregnancy. Br J Haematol 156:588–600. doi:10.1111/j.1365-2141.2011.09012.x

23.

Breymann C, Bian XM, Blanco-Capito LR, Chong C, Mahmud G, Rehman R (2011) Expert recommendations for the diagnosis and treatment of iron-deficiency anemia during pregnancy and the postpartum period in the Asia-Pacific region. J Perinat Med 39:113–121. doi:10.1515/JPM.2010.132

24.

Ashton Acton (2013) Anemia: New insights for the healthcare professional, 2013th edn. ScholarlyEditions, Atlanta

25.

Heath AL, Skeaff CM, O'Brien SM, Williams SM, Gibson RS (2001) Can dietary treatment of non-anemic iron deficiency improve iron status? J Am Coll Nutr 20:477–484

26.

Vahdat Shariatpanaahi M, Vahdat Shariatpanaahi Z, Moshtaaghi M, Shahbaazi SH, Abadi A (2007) The relationship between depression and serum ferritin level. Eur J Clin Nutr 61:532–535. doi:10.1038/sj.ejcn.1602542

27.

Corwin EJ, Murray-Kolb LE, Beard JL (2003) Low hemoglobin level is a risk factor for postpartum depression. J Nutr 133:4139–4142

28.

Beard JL, Connor JR (2003) Iron status and neural functioning. Annu Rev Nutr 23:41–58. doi:10.1146/annurev.nutr.23.020102.075739

29.

Mu J, Xie P, Yang ZS et al (2007) Neurogenesis and major depression: implications from proteomic analyses of hippocampal proteins in a rat depression model. Neurosci Lett 416:252–256. doi:10.1016/j.neulet.2007.01.067

30.

Siddappa AJ, Rao RB, Wobken JD, Leibold EA, Connor JR, Georgieff MK (2002) Developmental changes in the expression of iron regulatory proteins and iron transport proteins in the perinatal rat brain. J Neurosci Res 68:761–775

31.

Nelson C, Erikson K, Pinero DJ, Beard JL (1997) In vivo dopamine metabolism is altered in iron-deficient anemic rats. J Nutr 127:2282–2288

32.

Erikson KM, Jones BC, Hess EJ, Zhang Q, Beard JL (2001) Iron deficiency decreases dopamine D1 and D2 receptors in rat brain. Pharmacol Biochem Behav 69:409–418

33.

Erikson KM, Jones BC, Beard JL (2000) Iron deficiency alters dopamine transporter functioning in rat striatum. J Nutr 130:2831–2837

34.

Morse A, Beard JL, Jones B (1999) Sex and genetics are important cofactors in assessing the impact of iron deficiency on the developing mouse brain. Nutr Neurosci 2:323–335

35.

Kalueff AV, Nutt DJ (2007) Role of GABA in anxiety and depression. Depress Anxiety 24:495–517. doi:10.1002/da.20262

36.

Erikson KM, Shihabi ZK, Aschner JL, Aschner M (2002) Manganese accumulates in iron-deficient rat brain regions in a heterogeneous fashion and is associated with neurochemical alterations. Biol Trace Elem Res 87:143–156
Acknowledgments
This research was funded by the Research Deputy of the Tehran University of Medical Sciences.
Ethics declarations
Conflict of interest
The authors declare that they have no conflict of interest.
About this article
Cite this article
Sheikh, M., Hantoushzadeh, S., Shariat, M. et al. The efficacy of early iron supplementation on postpartum depression, a randomized double-blind placebo-controlled trial. Eur J Nutr 56, 901–908 (2017). https://doi.org/10.1007/s00394-015-1140-6
Received:

Accepted:

Published:

Issue Date:
Keywords
Anemia

Deficiency

Depressed

Ferritin

Postnatal