Abstract
Purpose
Vitamin D may reduce telomere shortening through anti-inflammatory and anti-cell proliferation mechanisms. In women, higher plasma 25-hydroxyvitamin D (25(OH)D) has been shown to be associated with longer telomere length, but the relationship has not been assessed in men.
Methods
We conducted a cross-sectional analysis of 25(OH)D, 1,25-dihydroxyvitamin D (1,25(OH)2D) and relative leukocyte telomere length (LTL) among 2483 men [1832 men for 1,25(OH)2D] who were selected as cases and controls in three studies of telomeres and cancer nested within the Health Professionals Follow-up Study. We also genotyped 95 SNPs representing common genetic variation in vitamin D pathway genes. LTL was measured by quantitative PCR, and z-scores within each study were calculated. Associations were assessed by linear as well as logistic regression adjusting for age and other potential confounders.
Results
Age (P-trend < 0.0001), pack-years of smoking (P-trend = 0.04) and body mass index (P-trend = 0.05) were inversely associated with LTL. Neither 25(OH)D nor 1,25(OH)2D was associated with LTL (multivariable-adjusted P-trend 0.69 and 0.41, respectively, for the linear regression model). One SNP in the retinoid X receptor alpha gene was associated with long LTL (P = 0.0003).
Conclusions
In this cross-sectional study of men, 25(OH)D and 1,25(OH)2D were not associated with relative LTL.
Access options
Buy single article
Instant access to the full article PDF.
US$ 39.95
Tax calculation will be finalised during checkout.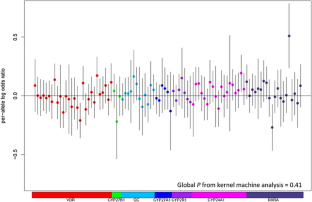 Abbreviations
25(OH)D:

25-Hydroxyvitamin D

1,25(OH)2D:

1,25-dihydroxyvitamin D

CV:

Coefficients of variation

FFQ:

Food frequency questionnaire

HPFS:

Health Professionals Follow-up Study

LTL:

Leukocyte telomere length

MET:

Metabolic equivalent per week

qPCR:

Quantitative PCR

SNP:

Single nucleotide polymorphism

VDR:

Vitamin D receptor
References
1.

Deeb KK, Trump DL, Johnson CS (2007) Vitamin D signalling pathways in cancer: potential for anticancer therapeutics. Nat Rev Cancer 7(9):684–700. doi:10.1038/nrc2196

2.

Nagpal S, Na S, Rathnachalam R (2005) Noncalcemic actions of vitamin D receptor ligands. Endocr Rev 26(5):662–687. doi:10.1210/er.2004-0002

3.

Holick MF (2007) Vitamin D deficiency. New Engl J Med 357(3):266–281. doi:10.1056/NEJMra070553

4.

Artandi SE, DePinho RA (2010) Telomeres and telomerase in cancer. Carcinogenesis 31(1):9–18. doi:10.1093/carcin/bgp268

5.

Houben JM, Moonen HJ, van Schooten FJ, Hageman GJ (2008) Telomere length assessment: biomarker of chronic oxidative stress? Free Radic Biol Med 44(3):235–246. doi:10.1016/j.freeradbiomed.2007.10.001

6.

von Zglinicki T (2000) Role of oxidative stress in telomere length regulation and replicative senescence. Ann N Y Acad Sci 908:99–110

7.

Prescott J, McGrath M, Lee IM, Buring JE, De Vivo I (2010) Telomere length and genetic analyses in population-based studies of endometrial cancer risk. Cancer 116(18):4275–4282. doi:10.1002/cncr.25328

8.

Butt HZ, Atturu G, London NJ, Sayers RD, Bown MJ (2010) Telomere length dynamics in vascular disease: a review. Eur J Vasc Endovasc Surg 40(1):17–26. doi:10.1016/j.ejvs.2010.04.012

9.

Provvedini DM, Tsoukas CD, Deftos LJ, Manolagas SC (1983) 1,25-dihydroxyvitamin D3 receptors in human leukocytes. Science (New York, NY) 221(4616):1181–1183

10.

Liu JJ, Prescott J, Giovannucci E, Hankinson SE, Rosner B, Han J, De Vivo I (2013) Plasma vitamin D biomarkers and leukocyte telomere length. Am J Epidemiol 177(12):1411–1417. doi:10.1093/aje/kws435

11.

Richards JB, Valdes AM, Gardner JP, Paximadas D, Kimura M, Nessa A, Lu X, Surdulescu GL, Swaminathan R, Spector TD, Aviv A (2007) Higher serum vitamin D concentrations are associated with longer leukocyte telomere length in women. Am J Clin Nutr 86(5):1420–1425

12.

Gardner M, Bann D, Wiley L, Cooper R, Hardy R, Nitsch D, Martin-Ruiz C, Shiels P, Sayer AA, Barbieri M, Bekaert S, Bischoff C, Brooks-Wilson A, Chen W, Cooper C, Christensen K, De Meyer T, Deary I, Der G, Diez Roux A, Fitzpatrick A, Hajat A, Halaschek-Wiener J, Harris S, Hunt SC, Jagger C, Jeon HS, Kaplan R, Kimura M, Lansdorp P, Li C, Maeda T, Mangino M, Nawrot TS, Nilsson P, Nordfjall K, Paolisso G, Ren F, Riabowol K, Robertson T, Roos G, Staessen JA, Spector T, Tang N, Unryn B, van der Harst P, Woo J, Xing C, Yadegarfar ME, Park JY, Young N, Kuh D, von Zglinicki T, Ben-Shlomo Y (2014) Gender and telomere length: systematic review and meta-analysis. Exp Gerontol 51:15–27. doi:10.1016/j.exger.2013.12.004

13.

Rimm EB, Stampfer MJ, Colditz GA, Giovannucci E, Willett WC (1990) Effectiveness of various mailing strategies among nonrespondents in a prospective cohort study. Am J Epidemiol 131(6):1068–1071

14.

Wei EK, Giovannucci E, Fuchs CS, Willett WC, Mantzoros CS (2005) Low plasma adiponectin levels and risk of colorectal cancer in men: a prospective study. J Natl Cancer Inst 97(22):1688–1694. doi:10.1093/jnci/dji376

15.

Hollis BW (1997) Quantitation of 25-hydroxyvitamin D and 1,25-dihydroxyvitamin D by radioimmunoassay using radioiodinated tracers. Methods Enzymol 282:174–186

16.

Platz EA, Leitzmann MF, Hollis BW, Willett WC, Giovannucci E (2004) Plasma 1,25-dihydroxy- and 25-hydroxyvitamin D and subsequent risk of prostate cancer. CCC 15(3):255–265. doi:10.1023/B:CACO.0000024245.24880.8a

17.

Rosner B, Cook N, Portman R, Daniels S, Falkner B (2008) Determination of blood pressure percentiles in normal-weight children: some methodological issues. Am J Epidemiol 167(6):653–666. doi:10.1093/aje/kwm348

18.

Shui IM, Mucci LA, Kraft P, Tamimi RM, Lindstrom S, Penney KL, Nimptsch K, Hollis BW, Dupre N, Platz EA, Stampfer MJ, Giovannucci E (2012) Vitamin D-related genetic variation, plasma vitamin D, and risk of lethal prostate cancer: a prospective nested case-control study. J Natl Cancer Inst 104(9):690–699. doi:10.1093/jnci/djs189

19.

Li M, Byth K, Eastman CJ (2007) Childhood overweight and obesity by socio-economic indexes for areas. Med J Aust 187(3):195

20.

Cawthon RM (2002) Telomere measurement by quantitative PCR. Nucleic Acids Res 30(10):e47

21.

Rosner B (1983) Percentage point for a generalized ESD many-outlier procedure. Technometrics 25:165–172

22.

Aviv A, Chen W, Gardner JP, Kimura M, Brimacombe M, Cao X, Srinivasan SR, Berenson GS (2009) Leukocyte telomere dynamics: longitudinal findings among young adults in the Bogalusa Heart Study. Am J Epidemiol 169(3):323–329. doi:10.1093/aje/kwn338

23.

McGrath M, Wong JY, Michaud D, Hunter DJ, De Vivo I (2007) Telomere length, cigarette smoking, and bladder cancer risk in men and women. Cancer Epidemiol Biomark Prevent 16(4):815–819. doi:10.1158/1055-9965.epi-06-0961

24.

Nawrot TS, Staessen JA, Gardner JP, Aviv A (2004) Telomere length and possible link to X chromosome. Lancet 363(9408):507–510. doi:10.1016/s0140-6736(04)15535-9

25.

Sun Q, Shi L, Prescott J, Chiuve SE, Hu FB, De VI, Stampfer MJ, Franks PW, Manson JE, Rexrode KM (2012) Healthy lifestyle and leukocyte telomere length in U.S. women. PLoS ONE 7(5):e38374. doi:10.1371/journal.pone.0038374

26.

Valdes AM, Andrew T, Gardner JP, Kimura M, Oelsner E, Cherkas LF, Aviv A, Spector TD (2005) Obesity, cigarette smoking, and telomere length in women. Lancet 366(9486):662–664. doi:10.1016/s0140-6736(05)66630-5

27.

Zannolli R, Mohn A, Buoni S, Pietrobelli A, Messina M, Chiarelli F, Miracco C (2008) Telomere length and obesity. Acta paediatrica (Oslo, Norway : 1992) 97(7):952–954. doi:10.1111/j.1651-2227.2008.00783.x

28.

Henle ES, Han Z, Tang N, Rai P, Luo Y, Linn S (1999) Sequence-specific DNA cleavage by Fe2 + -mediated fenton reactions has possible biological implications. J Biol Chem 274(2):962–971

29.

Aviv A (2009) Leukocyte telomere length: the telomere tale continues. Am J Clin Nutr 89(6):1721–1722. doi:10.3945/ajcn.2009.27807

30.

von Zglinicki T (2002) Oxidative stress shortens telomeres. Trends Biochem Sci 27(7):339–344

31.

Aviv A (2002) Telomeres, sex, reactive oxygen species, and human cardiovascular aging. J Mol Med (Berlin, Germany) 80(11):689–695. doi:10.1007/s00109-002-0377-8

32.

Barrett EL, Richardson DS (2011) Sex differences in telomeres and lifespan. Aging Cell 10(6):913–921. doi:10.1111/j.1474-9726.2011.00741.x

33.

Giovannucci E (2005) The epidemiology of vitamin D and cancer incidence and mortality: a review (United States). CCC 16(2):83–95. doi:10.1007/s10552-004-1661-4

34.

Dawson MI, Xia Z (2012) The retinoid X receptors and their ligands. Biochim Biophys Acta 1:21–56. doi:10.1016/j.bbalip.2011.09.014
Acknowledgments
The authors would like to thank the participants and staff of the Health Professionals Follow-up Study for their valuable contributions as well as the following state cancer registries for their help: AL, AZ, AR, CA, CO, CT, DE, FL, GA, ID, IL, IN, IA, KY, LA, ME, MD, MA, MI, NE, NH, NJ, NY, NC, ND, OH, OK, OR, PA, RI, SC, TN, TX, VA, WA, WY. The authors would also like to thank Channing Division of Network Medicine, Department of Medicine, Brigham, and Women's Hospital and Harvard Medical School and in addition Pati Soule, Esther Orr and Hardeep Ranu for their laboratory assistance. The Health Professionals Follow-up Study is supported by an infrastructure grant from the National Institutes of Health/National Cancer Institute (UM1 CA167552). BJ is also supported by a grant from the Swedish Research Council for Health, Working Life and Welfare; IMS is supported by a Department of Defense Prostate Cancer Research Program fellowship; IDV is supported by Grant R01 CA082838 and ELG is supported by Grant R01 CA133891 from the National Cancer Institute.
Ethics declarations
Ethical standards
This study was approved by the Human Subjects Committee of the Harvard T. H. Chan School of Public Health (NIH/NCI R01 CA133891), and written informed consent was obtained from all participants.
Conflict of interest
The authors declare that they have no conflict of interest.
Electronic supplementary material
Below is the link to the electronic supplementary material.
About this article
Cite this article
Julin, B., Shui, I.M., Prescott, J. et al. Plasma vitamin D biomarkers and leukocyte telomere length in men. Eur J Nutr 56, 501–508 (2017). https://doi.org/10.1007/s00394-015-1095-7
Received:

Accepted:

Published:

Issue Date:
Keywords
Cross-sectional

Men

Telomeres

Vitamin D

Vitamin D pathway SNPs