Abstract
Purpose
To investigate the plasma kinetics of quercetin derived from hard capsules filled with onion skin extract powder or quercetin dihydrate in humans.
Methods
In a randomized, single-blind, diet-controlled crossover study, 12 healthy subjects (six men and six women) aged 21–33 years were administered a single oral supra-nutritional dose of approximately 163 mg quercetin derived from onion skin extract powder (containing 95.3 % of total flavonoids as quercetin aglycone) or quercetin dihydrate (134 mg quercetin aglycone equivalent). Blood samples were collected before and during a 24-h period after quercetin administration. The concentrations of quercetin and its two monomethylated derivatives, isorhamnetin (3′-O-methyl quercetin), and tamarixetin (4′-O-methyl quercetin), were measured using HPLC with fluorescence detection after plasma enzymatic treatment.
Results
The systemic availability, determined by comparing the plasma concentration–time curves of quercetin, was 4.8 times higher, and the maximum plasma concentration (C max) was 5.4 times higher after ingestion of the onion skin extract than after ingestion of pure quercetin dihydrate. By contrast, t max did not differ significantly between the two formulations. The C max values for isorhamnetin and tamarixetin were 3.8 and 4.4 times higher, respectively, after administration of onion skin extract than after pure quercetin dihydrate. The plasma kinetics of quercetin were not significantly different in men and women.
Conclusion
Quercetin aglycone derived from onion skin extract powder is significantly more bioavailable than that from quercetin dihydrate powder filled hard capsules.
Access options
Buy single article
Instant access to the full article PDF.
USD 39.95
Price excludes VAT (USA)
Tax calculation will be finalised during checkout.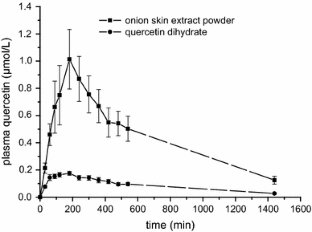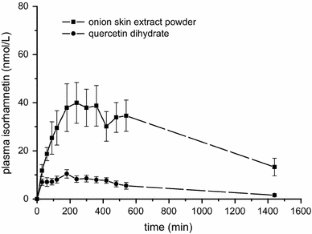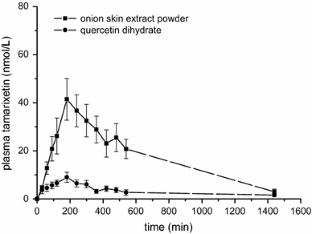 Abbreviations
AUC:

Area under the plasma concentration–time curve

C max :

Maximum plasma concentration

k :

Elimination rate constant

t max :

Time at maximum quercetin plasma concentration C max

t 1/2 :

Elimination half-life
References
Crozier A, Jaganath IB, Clifford MN (2009) Dietary phenolics: chemistry, bioavailability and effects on health. Nat Prod Rep 26:1001–1043

U.S. Department of Agriculture (2013) USDA database for the flavonoid content of selected foods, release 3.1. http://www.ars.usda.gov/Services/docshtm?docid=6231

Erdman JW Jr, Balentine D, Arab L, Beecher G, Dwyer JT, Folts J, Harnly J, Hollman P, Keen CL, Mazza G, Messina M, Scalbert A, Vita J, Williamson G, Burrowes J (2007) Flavonoids and heart health: proceedings of the ILSI North America Flavonoids Workshop, May 31–June 1, 2005, Washington, DC. J Nutr 137:718S–737S

Scalbert A, Williamson G (2000) Dietary intake and bioavailability of polyphenols. J Nutr 130:2073S–2085S

Harwood M, Danielewska-Nikiel B, Borzelleca JF, Flamm GW, Williams GM, Lines TC (2007) A critical review of the data related to the safety of quercetin and lack of evidence of in vivo toxicity, including lack of genotoxic/carcinogenic properties. Food Chem Toxicol 45:2179–2205

Mullen W, Edwards CA, Crozier A (2006) Absorption, excretion and metabolite profiling of methyl-, glucuronyl-, glucosyl- and sulpho-conjugates of quercetin in human plasma and urine after ingestion of onions. Br J Nutr 96:107–116

Graf BA, Milbury PE, Blumberg JB (2005) Flavonols, flavones, flavanones, and human health: epidemiological evidence. J Med Food 8:281–290

Boots AW, Haenen GR, Bast A (2008) Health effects of quercetin: from antioxidant to nutraceutical. Eur J Pharmacol 585:325–337

Wang X, Ouyang YY, Liu J, Zhao G (2014) Flavonoid intake and risk of CVD: a systematic review and meta-analysis of prospective cohort studies. Br J Nutr 111:1–11

Egert S, Rimbach G (2011) Which sources of flavonoids: complex diets or dietary supplements? Adv Nutr 2:8–14

Egert S, Bosy-Westphal A, Seiberl J, Kurbitz C, Settler U, Plachta-Danielzik S, Wagner AE, Frank J, Schrezenmeir J, Rimbach G, Wolffram S, Müller MJ (2009) Quercetin reduces systolic blood pressure and plasma oxidised low-density lipoprotein concentrations in overweight subjects with a high-cardiovascular disease risk phenotype: a double-blinded, placebo-controlled cross-over study. Br J Nutr 102:1065–1074

Egert S, Boesch-Saadatmandi C, Wolffram S, Rimbach G, Müller MJ (2010) Serum lipid and blood pressure responses to quercetin vary in overweight patients by apolipoprotein E genotype. J Nutr 140:278–284

Brüll V, Burak C, Stoffel-Wagner B, Wolffram S, Nickenig G, Muller C, Langguth P, Alteheld B, Fimmers R, Naaf S, Zimmermann BF, Stehle P, Egert S (2015) Effects of a quercetin-rich onion skin extract on 24 h ambulatory blood pressure and endothelial function in overweight-to-obese patients with (pre-)hypertension: a randomised double-blinded placebo-controlled cross-over trial. Br J Nutr 114:1263–1277

Boomgaarden I, Egert S, Rimbach G, Wolffram S, Muller MJ, Doring F (2010) Quercetin supplementation and its effect on human monocyte gene expression profiles in vivo. Br J Nutr 104:336–345

Egert S, Wolffram S, Bosy-Westphal A, Boesch-Saadatmandi C, Wagner AE, Frank J, Rimbach G, Müller MJ (2008) Daily quercetin supplementation dose-dependently increases plasma quercetin concentrations in healthy humans. J Nutr 138:1615–1621

Boesch-Saadatmandi C, Egert S, Schrader C, Coumol X, Barouki R, Muller MJ, Wolffram S, Rimbach G (2010) Effect of quercetin on paraoxonase 1 activity-studies in cultured cells, mice and humans. J Physiol Pharmacol 61:99–105

Egert S, Rimbach G, Müller MJ (2011) No evidence for a thermic effect of the dietary flavonol quercetin: a pilot study in healthy normal-weight women. Eur J Appl Physiol 111:869–873

Olthof MR, Hollman PC, Vree TB, Katan MB (2000) Bioavailabilities of quercetin-3-glucoside and quercetin-4′-glucoside do not differ in humans. J Nutr 130:1200–1203

Hollman PC, de Vries JH, van Leeuwen SD, Mengelers MJ, Katan MB (1995) Absorption of dietary quercetin glycosides and quercetin in healthy ileostomy volunteers. Am J Clin Nutr 62:1276–1282

Wiczkowski W, Romaszko J, Bucinski A, Szawara-Nowak D, Honke J, Zielinski H, Piskula MK (2008) Quercetin from shallots (Allium cepa L. var. aggregatum) is more bioavailable than its glucosides. J Nutr 138:885–888

Egert S, Wolffram S, Schulze B, Langguth P, Hubbermann EM, Schwarz K, Adolphi B, Bosy-Westphal A, Rimbach G, Müller MJ (2012) Enriched cereal bars are more effective in increasing plasma quercetin compared with quercetin from powder-filled hard capsules. Br J Nutr 107:539–546

Feuereisen MM, Hoppe J, Zimmermann BF, Weber F, Schulze-Kaysers N, Schieber A (2014) Characterization of phenolic compounds in Brazilian pepper (Schinus terebinthifolius Raddi) exocarp. J Agric Food Chem 62:6219–6226

Bieger J, Cermak R, Blank R, de Boer VC, Hollman PC, Kamphues J, Wolffram S (2008) Tissue distribution of quercetin in pigs after long-term dietary supplementation. J Nutr 138:1417–1420

Sun SS, Chumlea WC, Heymsfield SB, Lukaski HC, Schoeller D, Friedl K, Kuczmarski RJ, Flegal KM, Johnson CL, Hubbard VS (2003) Development of bioelectrical impedance analysis prediction equations for body composition with the use of a multicomponent model for use in epidemiologic surveys. Am J Clin Nutr 77:331–340

Bruno RS, Leonard SW, Park SI, Zhao Y, Traber MG (2006) Human vitamin E requirements assessed with the use of apples fortified with deuterium-labeled alpha-tocopheryl acetate. Am J Clin Nutr 83:299–304

Linseisen J, Radtke J, Wolfram G (1997) Flavonoid intake of adults in a Bavarian subgroup of the national food consumption survey. Z Ernahrungswiss 36:403–412

Zamora-Ros R, Forouhi NG, Sharp SJ, Gonzalez CA, Buijsse B, Guevara M, van der Schouw YT, Amiano P, Boeing H, Bredsdorff L, Fagherazzi G, Feskens EJ, Franks PW, Grioni S, Katzke V, Key TJ, Khaw KT, Kuhn T, Masala G, Mattiello A, Molina-Montes E, Nilsson PM, Overvad K, Perquier F, Redondo ML, Ricceri F, Rolandsson O, Romieu I, Roswall N, Scalbert A, Schulze M, Slimani N, Spijkerman AM, Tjonneland A, Tormo MJ, Touillaud M, Tumino R, van der AD, van Woudenbergh GJ, Langenberg C, Riboli E, Wareham NJ (2014) Dietary intakes of individual flavanols and flavonols are inversely associated with incident type 2 diabetes in European populations. J Nutr 144:335–343

Moon YJ, Wang L, Dicenzo R, Morris ME (2008) Quercetin pharmacokinetics in humans. Biopharm Drug Dispos 29:205–217

Guo Y, Bruno RS (2015) Endogenous and exogenous mediators of quercetin bioavailability. J Nutr Biochem 26:201–210

Manach C, Williamson G, Morand C, Scalbert A, Remesy C (2005) Bioavailability and bioefficacy of polyphenols in humans. I. Review of 97 bioavailability studies. Am J Clin Nutr 81:230S–242S

Williamson G, Manach C (2005) Bioavailability and bioefficacy of polyphenols in humans. II. Review of 93 intervention studies. Am J Clin Nutr 81:243S–255S

Manach C, Scalbert A, Morand C, Remesy C, Jimenez L (2004) Polyphenols: food sources and bioavailability. Am J Clin Nutr 79:727–747

Erlund I, Kosonen T, Alfthan G, Maenpaa J, Perttunen K, Kenraali J, Parantainen J, Aro A (2000) Pharmacokinetics of quercetin from quercetin aglycone and rutin in healthy volunteers. Eur J Clin Pharmacol 56:545–553

Lee J, Mitchell AE (2012) Pharmacokinetics of quercetin absorption from apples and onions in healthy humans. J Agric Food Chem 60:3874–3881

Krishnaiah YSR (2010) Pharmaceutical technologies for enhancing oral bioavailability of poorly soluble drugs. J Bioequiv Availab 2:28–36

Guo Y, Mah E, Davis CG, Jalili T, Ferruzzi MG, Chun OK, Bruno RS (2013) Dietary fat increases quercetin bioavailability in overweight adults. Mol Nutr Food Res 57:896–905

de Boer VC, Dihal AA, van der WH, Arts IC, Wolffram S, Alink GM, Rietjens IM, Keijer J, Hollman PC (2005) Tissue distribution of quercetin in rats and pigs. J Nutr 135:1718–1725

Zhu BT, Ezell EL, Liehr JG (1994) Catechol-O-methyltransferase-catalyzed rapid O-methylation of mutagenic flavonoids. Metabolic inactivation as a possible reason for their lack of carcinogenicity in vivo. J Biol Chem 269:292–299

Saha S, Hollands W, Needs PW, Ostertag LM, de Roos B, Duthie GG, Kroon PA (2012) Human O-sulfated metabolites of (−)-epicatechin and methyl-(−)-epicatechin are poor substrates for commercial aryl-sulfatases: implications for studies concerned with quantifying epicatechin bioavailability. Pharmacol Res 65:592–602
Acknowledgments
We are indebted to Anke Ernst, Ute Hartung, Petra Schulz, and Martina Quambusch for excellent technical assistance, Frithjof Egert for helpful comments on data analyses, and Rudolf Wild GmbH & Company KG (Matthias Saß) for the onion skin extract. This study was supported by Grant No. EG292/3-1 of the German Research Foundation (to SE).
Ethics declarations
Conflict of interest
The authors declare that they have no conflict of interest.
Ethical standards
The study was conducted according to the guidelines laid down in the 1964 Declaration of Helsinki, and its later amendments and all procedures involving human participants were approved by the ethical committee of the Medical Faculty of the Rheinische Friedrich-Wilhelms-Universität Bonn, Germany. Written informed consent was obtained from all participants.
About this article
Cite this article
Burak, C., Brüll, V., Langguth, P. et al. Higher plasma quercetin levels following oral administration of an onion skin extract compared with pure quercetin dihydrate in humans. Eur J Nutr 56, 343–353 (2017). https://doi.org/10.1007/s00394-015-1084-x
Received:

Accepted:

Published:

Issue Date:

DOI: https://doi.org/10.1007/s00394-015-1084-x
Keywords