Abstract
Purpose
Dietary flavonoids, including anthocyanins, may positively influence cognition and may be beneficial for the prevention and treatment of dementia. We aimed to assess whether daily consumption of anthocyanin-rich cherry juice changed cognitive function in older adults with dementia. Blood pressure and anti-inflammatory effects were examined as secondary outcomes.
Methods
A 12-week randomised controlled trial assessed cognitive outcomes in older adults (+70 year) with mild-to-moderate dementia (n = 49) after consumption of 200 ml/day of either a cherry juice or a control juice with negligible anthocyanin content. Blood pressure and inflammatory markers (CRP and IL-6) were measured at 6 and 12 weeks. ANCOVA controlling for baseline and RMANOVA assessed change in cognition and blood pressure.
Results
Improvements in verbal fluency (p = 0.014), short-term memory (p = 0.014) and long-term memory (p ≤ 0.001) were found in the cherry juice group. A significant reduction in systolic (p = 0.038) blood pressure and a trend for diastolic (p = 0.160) blood pressure reduction was evident in the intervention group. Markers of inflammation (CRP and IL-6) were not altered.
Conclusion
Inclusion of an anthocyanin-rich beverage may be a practical and feasible way to improve total anthocyanin consumption in older adults with mild-to-moderate dementia, with potential to improve specific cognitive outcomes.
Access options
Buy single article
Instant access to the full article PDF.
USD 39.95
Price excludes VAT (USA)
Tax calculation will be finalised during checkout.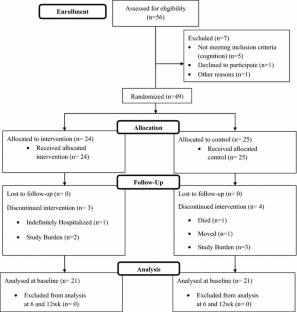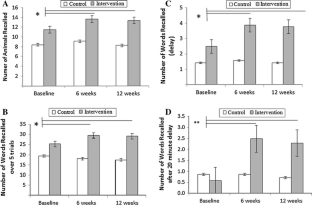 References
Leather S (1995) Fruit and vegetables: consumption patterns and health consequences. Food J Hyg Rev 97:10

Engelhart MJ, Geerlings MI, Ruitenberg A, van Swieten JC, Hofman A, Witteman JC, Breteler MM (2002) Dietary intake of antioxidants and risk of Alzheimer disease. JAMA 287(24):3223–3229

Spencer JPE (2008) Flavonoids: modulators of brain function? Br J Nutr 99(E-S1):ES60–ES77. doi:10.1017/s0007114508965776

Somerset SM, Johannot L (2008) Dietary flavonoid sources in Australian adults. Nutr Cancer 60(4):442–449. doi:10.1080/01635580802143836

Macdonald R, Lovegrove JA, Chong MFF (2010) Fruit polyphenols and CVD risk: a review of human intervention studies. Br J Nutr 104(S3):S28–S39

Notas G, Nifli AP, Castanas E, Kampa M (2007) Polyphenols and cancer cell growth, vol 159. Springer, Berlin, Heidelberg, pp 79–113

Vauzour D, Rendeiro C, Spencer JPE (2009) Flavonoids and cognition: the molecular mechanisms underlying their behavioural effects. Arch Biochem Biophys 492(1–2):1–9

Spencer JPE (2010) The impact of fruit flavonoids on memory and cognition. Br J Nutr 104(S3):S40–S47. doi:10.1017/s0007114510003934

Vauzour D, Rodriguez-Mateos A, Corona G, Oruna-Concha MJ, Spencer JPE (2010) Polyphenols and human health: prevention of disease and mechanisms of action. Nutrients 2(11):1106–1131. doi:10.3390/nu2111106

Vauzour D, Vafeiadou K, Rodriguez-Mateos A, Rendeiro C, Spencer JPE (2008) The neuroprotective potential of flavonoids: a multiplicity of effects. Genes Nutr 3(3):115–126. doi:10.1007/s12263-008-0091-4

Krikorian R, Shidler MD, Nash TA, Kalt W, Vinqvist-Tymchuk MR, Shukitt-Hale B, Joseph JA (2010) Blueberry supplementation improves memory in older adults. J Agric Food Chem 58(7):3996–4000. doi:10.1021/jf9029332

Krikorian R, Nash TA, Shidler MD, Shukitt-Hale B, Joseph JA (2010) Concord grape juice supplementation improves memory function in older adults with mild cognitive impairment. Br J Nutr 103(5):730–734. doi:10.1017/s0007114509992364

Krikorian R, Boespflug EL, Fleck DE, Stein AL, Wightman JD, Shidler MD, Sadat-Hossieny S (2012) Concord grape juice supplementation and neurocognitive function in human aging. J Agric Food Chem 60(23):5736–5742. doi:10.1021/jf300277g

USDA (2013) United States Department of Agriculture Database for the flavonoid content of selected foods. Release 3:1

Lang GA, Mulabagal V, DeWitt DL, Nair MG, Dalavoy SS (2009) Anthocyanin content, lipid peroxidation and cyclooxygenase enzyme inhibitory activities of sweet and sour cherries. J Agric Food Chem 57(4):1239–1246

Bondonno CP, Swinny E, Mubarak A, Hodgson JM, Downey LA, Croft KD, Scholey A, Stough C, Yang X, Considine MJ, Ward NC, Puddey IB (2014) The acute effect of flavonoid-rich apples and nitrate-rich spinach on cognitive performance and mood in healthy men and women. Food Funct 5(5):849–858. doi:10.1039/c3fo60590f

Williams RJ, Spencer JPE (2012) Flavonoids, cognition, and dementia: actions, mechanisms, and potential therapeutic utility for Alzheimer disease. Free Radic Bio Med 52(1):35–45. doi:10.1016/j.freeradbiomed.2011.09.010

Jorm AF, Dear KBG, Burgess NM (2005) Projections of future numbers of dementia cases in Australia with and without prevention. Aust N Z J Psychiatry 39(11–12):959. doi:10.1111/j.1440-1614.2005.01713.x

Caldwell K, Charlton KE, Roodenrys S, Jenner A (2015) Anthocyanin-rich cherry juice does not improve acute cognitive performance on RAVLT. Nutr Neurosci. doi:10.1179/1476830515Y.0000000005

Iland PG, Cynkar W, Francis IL, Williams PJ, Coombe BG (1996) Optimisation of methods for the determination of total and red free glycosyl-glucose in black grape berries of Vitus vinifera. Aust J Grape Wine Res 2:171–178

Cereda E (2012) Mini nutritional assessment. Curr Opin Clin Nutr Metab Care 15(1):29–41. doi:10.1097/MCO.0b013e32834d7647

Graf C (2008) The Lawton instrumental activities of daily living scale. Am J Nurs 108(4):52–62. doi:10.1097/01.naj.0000314810.46029.74

Mary CT, Alvaro N, Snow WG, Rory HF, Maria LZ, David WR (1994) Use of the Rey Auditory Verbal Learning Test in differentiating normal aging from Alzheimer's and Parkinson's Dementia. Psychol Assess 6(2):129. doi:10.1037/1040-3590.6.2.129

Schoenberg MR, Dawson KA, Duff K, Patton D, Scott JG, Adams RL (2006) Test performance and classification statistics for the Rey Auditory Verbal Learning Test in selected clinical samples. Arch Clin Neuropsychol 21(7):693–703. doi:10.1016/j.acn.2006.06.010

Ross TP, Hanouskova E, Giarla K, Calhoun E, Tucker M (2007) The reliability and validity of the self-ordered pointing task. Arch Clin Neuropsychol 22(4):449–458. doi:10.1016/j.acn.2007.01.023

Calero MD, Arnedo ML, Elena N, Monica R-P, Cristobal C (2002) Usefulness of a 15-item version of the Boston Naming Test in neuropsychological assessment of low-educational elders with dementia. J Gerontol 57B(2):P187

Rasmusson DX, Zonderman AB, Kawas C, Resnick SM (1998) Effects of age and dementia on the trail making test. Clin Neuropsychol 12(2):169–178. doi:10.1076/clin.12.2.169.2005

Gliko BT, Espe-Pfeifer P, Selden J, Escalona A, Golden CJ (2000) Validity of Digit Span as a test for memory in dementia. Arch Clin Neuropsychol 15(8):737. doi:10.1016/s0887-6177(00)80162-6

Pasquier F, Lebert F, Grymonprez L, Petit H (1995) Verbal fluency in dementia of frontal lobe type and dementia of Alzheimer type. J Neurol Neurosurg Psychiatry 58(1):81–84. doi:10.1136/jnnp.58.1.81

Paradela EMP, Lourenço RA, Veras RP (2005) Validation of geriatric depression scale in a general outpatient clinic. Rev Saude Publica 39(6):918–923

Cohen J (1988) Statistical power analysis for the behavioral sciences. Erlbaum Associates, Hillsdale

Shukitt-Hale B, Carey A, Simon L, Mark DA, Joseph JA (2006) Effects of concord grape juice on cognitive and motor deficits in aging. Nutrition 22(3):295–302. doi:10.1016/j.nut.2005.07.016

Shukitt-Hale B, Cheng V, Joseph JA (2009) Effects of blackberries on motor and cognitive function in aged rats. Nutr Neurosci 12(3):135–140. doi:10.1179/147683009X423292

Galli RL, Shukitt-Hale B, Youdim KA, Joseph JA (2002) Fruit polyphenolics and brain aging: nutritional interventions targeting age-related neuronal and behavioral deficits. Ann N Y Acad Sci 959(1):128–132. doi:10.1111/j.1749-6632.2002.tb02089.x

Johannot L, Somerset SM (2006) Age-related variations in flavonoid intake and sources in the Australian population. Public Health Nutr 9(8):1045–1054

Williamson G, Holst B (2008) Dietary reference intake (DRI) value for dietary polyphenols: are we heading in the right direction? Br J Nutr 99(Suppl 3):S55–S58. doi:10.1017/S0007114508006867

Devore EE, Grodstein F, van Rooij FJ, Hofman A, Stampfer MJ, Witteman JC, Breteler MM (2010) Dietary antioxidants and long-term risk of dementia. Arch Neurol-Chicago 67(7):819–825. doi:10.1001/archneurol.2010.144

Egert S, Rimbach G (2011) Which sources of flavonoids: complex diets or dietary supplements? Adv Nutr 2(1):8–14

Willis LM, Shukitt-Hale B, Joseph JA (2009) Recent advances in berry supplementation and age-related cognitive decline. Curr Opin Clin Nutr Metab Care 12(1):91–94. doi:10.1097/MCO.0b013e32831b9c6e
Acknowledgments
Agritechnology Pty Ltd for producing and supplying in kind the juice utilised in this research.
Funding
This work was supported by the Illawarra Health and Medical Research Institute (IHMRI).
About this article
Cite this article
Kent, K., Charlton, K., Roodenrys, S. et al. Consumption of anthocyanin-rich cherry juice for 12 weeks improves memory and cognition in older adults with mild-to-moderate dementia. Eur J Nutr 56, 333–341 (2017). https://doi.org/10.1007/s00394-015-1083-y
Received:

Accepted:

Published:

Issue Date:

DOI: https://doi.org/10.1007/s00394-015-1083-y
Keywords
Cherry

Cognition

Anthocyanin

Dementia