Abstract
Purpose
The present randomized, double-blind, placebo-controlled study aimed to evaluate the effect of Zingiber officinale (ginger) consumption on some metabolic and clinical features of obesity.
Methods
Eighty eligible obese women (aged 18–45 years) were randomly assigned to either ginger or placebo groups (receiving 2 g/day of ginger powder or corn starch as two 1 g tablets) for 12 weeks. Body mass index (BMI) and body composition were assessed every 4 weeks, and serum levels of leptin, adiponectin, resistin, insulin and glucose were determined before and after intervention. The homeostasis model assessment of insulin resistance (HOMA-IR) and quantitative insulin sensitivity check index (QUICKI) were also calculated.
Results
Ginger consumption significantly decreased BMI, serum insulin and HOMA-IR index, along with increasing QUICKIs as compared to the placebo. Moreover, significant reductions in serum leptin, resistin and glucose were observed in both groups, especially in ginger group with nonsignificant differences between groups. The body composition and serum levels of adiponectin were not significantly changed in study groups.
Conclusion
In conclusion, our findings demonstrate a minor beneficial effect of 2 g ginger powder supplementation for 12 weeks on weight loss and some metabolic features of obesity. However, given the lack of data in this area, ongoing clinical trials are needed to further explore ginger's effectiveness.
Access options
Buy single article
Instant access to the full article PDF.
USD 39.95
Price includes VAT (USA)
Tax calculation will be finalised during checkout.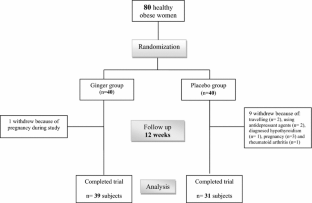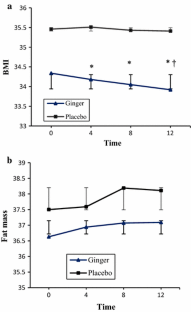 References
1.

Jung UJ, Choi MS (2014) Obesity and its metabolic complications: the role of adipokines and the relationship between obesity, inflammation, insulin resistance, dyslipidemia and nonalcoholic fatty liver disease. Int J Mol Sci 15(4):6184–6223

2.

Yoo HJ, Choi KM (2014) Adipokines as a novel link between obesity and atherosclerosis. World J Diabetes 5(3):357–363

3.

Lafontan M (2014) Adipose tissue and adipocyte dysregulation. Diabetes Metab 40(1):16–28

4.

Tilg H, Moschen AR (2008) Role of adiponectin and PBEF/visfatin as regulators of inflammation: involvement in obesity-associated diseases. Clin Sci 114(4):275–288

5.

Koleva DI, Orbetzova MM, Atanassova PK (2013) Adipose tissue hormones and appetite and body weight regulators in insulin resistance. Folia Med 55(1):25–32

6.

Al-Suhaimi EA, Shehzad A (2013) Leptin, resistin and visfatin: the missing link between endocrine metabolic disorders and immunity. Eur J Med Res 18:12

7.

Derdemezis CS, Kiortsis DN, Tsimihodimos V, Petraki MP, Vezyraki P, Elisaf MS, Tselepis AD (2011) Effect of plant polyphenols on adipokine secretion from human SGBS adipocytes. Biochem Res Int 2011:285618

8.

Grzanna R, Lindmark L, Frondoza CG (2005) Ginger-an herbal medicinal product with broad anti-inflammatory actions. J Med Food 8(2):125–132

9.

Mashhadi NS, Ghiasvand R, Askari G, Hariri M, Darvishi L, Mofid MR (2013) Anti-oxidative and anti-inflammatory effects of ginger in health and physical activity: review of current evidence. Int J Prev Med 4(S1):36–42

10.

Li Y, Tran VH, Duke CC, Roufogalis BD (2012) Preventive and protective properties of Zingiber officinale (Ginger) in diabetes mellitus, diabetic complications, and associated lipid and other metabolic disorders: a brief review. Evid Based Complement Alternat Med 2012:516870

11.

Mahluji S, Attari VE, Mobasseri M, Payahoo L, Ostadrahimi A, Golzari S (2013) Effects of ginger (Zingiber officinale) on plasma glucose level, HbA1c and insulin sensitivity in type 2 diabetic patients. Int J Food Sci Nutr 64(6):682–686

12.

Palatty PL, Haniadka R, Valder B, Arora R, Baliga MS (2013) Ginger in the prevention of nausea and vomiting: a review. Crit Rev Food Sci Nutr 53(7):659–669

13.

Pereira MM, Haniadka R, Chacko PP, Palatty PL, Baliga MS (2011) Zingiber officinale Roscoe (ginger) as an adjuvant in cancer treatment: a review. J BUON 16(3):414–424

14.

Goyal RK, Kadnur SV (2006) Beneficial effects of Zingiber officinale on goldthioglucose induced obesity. Fitoterapia 77:160–163

15.

Malik ZA, Sharmaa PL (2011) Attenuation of high-fat diet induced body weight gain, adiposity and biochemical anomalies after chronic administration of Ginger (Zingiber officinale) in Wistar Rats. Int J Pharmacol 7:801–812

16.

Mahmoud RH, Elnour WA (2013) Comparative evaluation of the efficacy of ginger and orlistat on obesity management, pancreatic lipase and liver peroxisomal catalase enzyme in male albino rats. Eur Rev Med Pharmacol Sci 17(1):75–83

17.

Li Y, Tran VH, Kota BP, Nammi S, Duke CC, Roufogalis BD (2014) Preventative effect of Zingiber officinale on insulin resistance in a high-fat high-carbohydrate diet-fed rat model and its mechanism of action. Basic Clin Pharmacol Toxicol 115(2):209–215

18.

Pulbutr P, Thunchomnang K, Lawa K, Mangkhalathon A, Saenubol P (2011) Lipolytic effects of Zingerone in adipocytes isolated from normal diet fed rats and high fat diet fed rats. Int J Pharmacol 7:629–634

19.

Saravanan G, Ponmurugan P, Deepa MA, Senthilkumar B (2014) Anti-obesity action of gingerol: effect on lipid profile, insulin, leptin, amylase and lipase in male obese rats induced by a high-fat diet. J Sci Food Agric 94(14):2972–2977

20.

Ahn EK, Oh JS (2012) Inhibitory effect of Galanolactone isolated from Zingiber officinale Roscoe extract on adipogenesis in 3T3-L1 Cells. J Korean Soc Appl Biol Chem 55:63–68

21.

Isa Y, Miyakawa Y, Yanagisawa M, Goto T, Kang MS, Kawada T, Morimitsu Y, Kubota K, Tsuda T (2008) 6-Shogaol and 6-gingerol, the pungent of ginger, inhibit TNF-alpha mediated down regulation of adiponectin expression via different mechanisms in 3T3-L1 adipocytes. Biochem Biophys Res Commun 373(3):429–434

22.

Okamoto M, Irii H, Tahara Y, Ishii H, Hirao A, Udagawa H, Hiramoto M, Yasuda K, Takanishi A, Shibata S, Shimizu I (2011) Synthesis of a new [6]-gingerol analogue and its protective effect with respect to the development of metabolic syndrome in mice fed a high-fat diet. J Med Chem 54(18):6295–6304

23.

Shalaby MA, Saifan HY (2014) Some pharmacological effects of cinnamon and ginger herbs in obese diabetic rats. J Intercult Ethnopharmacol 3(4):144–149

24.

Mansour MS, Ni YM, Roberts AL, Kelleman M, Roychoudhury A, St-Onge MP (2012) Ginger consumption enhances the thermic effect of food and promotes feelings of satiety without affecting metabolic and hormonal parameters in overweight men: a pilot study. Metabolism 61(10):1347–1352

25.

Atashak S, Peeri M, Azarbayjani MA, Stannard SR, Mosalman Haghighi M (2011) Obesity-related cardiovascular risk factors after long- term resistance training and ginger supplementation. J Sports Sci Med 10:685–691

26.

Henríquez S, Jara N, Bunout D, Hirsch S, de la Maza MP, Leiva L, Barrera G (2013) Variability of formulas to assess insulin sensitivity and their association with the Matsuda index. Nutr Hosp 28(5):1594–1598

27.

Wadikar DD, Premavalli KS (2011) Appetizer administration stimulates food consumption, weight gain and leptin levels in male Wistar rats. Appetite 57(1):131–133

28.

Fujisawa F, Nadamoto T, Fushiki T (2005) Effect of intake of ginger on peripheral body temperature. J Jpn Soc Nutr Food Sci 58(1):3–9

29.

Iwasaki Y, Morita A, Iwasawa T, Kobata K, Sekiwa Y, Morimitsu Y, Kubota K, Watanabe T (2006) A nonpungent component of steamed ginger—[10]-shogaol—increases adrenaline secretion via the activation of TRPV1. Nutr Neurosci 9(3–4):169–178

30.

Beattie JH, Nicol F, Gordon MJ, Reid MD, Cantlay L, Horgan GW, Kwun IS, Ahn JY, Ha TY (2011) Ginger phytochemicals mitigate the obesogenic effects of a high-fat diet in mice: a proteomic and biomarker network analysis. Mol Nutr Food Res 55(Suppl 2):S203–S213

31.

Mozaffari-Khosravi H, Talaei B, Jalali BA, Najarzadeh A, Mozayan MR (2014) The effect of ginger powder supplementation on insulin resistance and glycemic indices in patients with type 2 diabetes: a randomized, double-blind, placebo-controlled trial. Complement Ther Med 22(1):9–16

32.

Roufogalis BD (2014) Zingiber officinale (Ginger): a future outlook on its potential in prevention and treatment of diabetes and prediabetic states. New J Sci 2014:674684

33.

Faria SL, Faria OP, Cardeal MD, Ito MK (2014) Validation study of multi-frequency bioelectrical impedance with dual-energy X-ray absorptiometry among obese patients. Obes Surg 24(9):1476–1480
Acknowledgments
We wish to express our appreciation to the subjects who participated in the study. We also would like to thank Dr. Samira Pormoradian for technical assistance on biochemical analyses. This study was supported by a Grant from the Research Vice Chancellor and Nutrition Research Center, Tabriz University of Medical Sciences (Tabriz, Iran), with Grant Number (5/71/1353). The results of this article are derived from Ph.D. thesis of Vahideh Ebrahimzadeh Attary (NO, D/32).
Ethics declarations
Conflict of interest
The authors have declared that there is no conflict of interest.
About this article
Cite this article
Ebrahimzadeh Attari, V., Ostadrahimi, A., Asghari Jafarabadi, M. et al. Changes of serum adipocytokines and body weight following Zingiber officinale supplementation in obese women: a RCT. Eur J Nutr 55, 2129–2136 (2016). https://doi.org/10.1007/s00394-015-1027-6
Received:

Accepted:

Published:

Issue Date:
Keywords
Zingiber officinale Roscoe

Obesity

Adipocytokines