Abstract
Purpose
This randomised controlled trial assessed the acute and long-term effects of daily supplementation of kanuka honey, formulated with cinnamon, chromium and magnesium on glucose metabolism, weight and lipid parameters in individuals with type 2 diabetes.
Methods
Twelve individuals with type 2 diabetes received 53.5 g of a formulated honey and a control (non-formulated) kanuka honey in a random order for 40 days, using cross-over design. Fasting glucose, insulin, HbA1c, lipids and anthropometric measures were measured at baseline and end of treatment. A meal tolerance test was performed at baseline to assess acute metabolic response.
Results
There was no statistically significant difference in acute glucose metabolism between treatment groups, as measured by the Matsuda index and AUC for glucose and insulin. After the 40-day intervention with honey, fasting glucose did not differ significantly between the two treatments (95 % CI −2.6 to 0.07). There was no statistically significant change in HbA1c or fasting insulin. There was a statistically significant reduction in total cholesterol by −0.29 mmol/L (95 % CI −0.57 to −0.23), LDL cholesterol by −0.29 mmol/L (95 % CI −0.57 to −0.23) and weight by −2.2 kg (95 % CI −4.2 to −0.1). There was a trend towards increased HDL and reduced systolic blood pressure in the intervention treatment.
Conclusion
The addition of cinnamon, chromium and magnesium supplementation to kanuka honey was not associated with a significant improvement in glucose metabolism or glycaemic control in individuals with type 2 diabetes. Use of the formulated honey was associated with a reduction in weight and improvements in lipid parameters, and should be investigated further.
Access options
Buy single article
Instant access to the full article PDF.
US$ 39.95
Tax calculation will be finalised during checkout.
Subscribe to journal
Immediate online access to all issues from 2019. Subscription will auto renew annually.
US$ 159
Tax calculation will be finalised during checkout.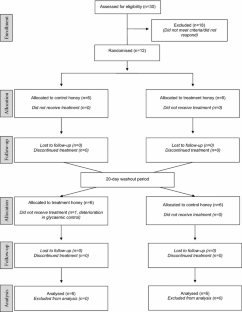 References
1.

The Holy Qur'an. Surat An-Nahl [16:69]. http://quran.com/16/69. Accessed 15 Oct 2014

2.

Agrawal OP, Pachauri A, Yadav H et al (2007) Subjects with impaired glucose tolerance exhibit a high degree of tolerance to honey. J Med Food 10:473–478

3.

Al-Waili NS (2004) Natural honey lowers plasma glucose, C-reactive protein, homocysteine and blood lipids in healthy, diabetic and hyperlipidemic subjects: Comparison with dextrose and sucrose. J Med Food 7:100–107

4.

Erejuwa OO, Sulaiman SA, Ab Wahab MS (2012) Honey: a novel antidiabetic agent. Int J Biol Sci 8:913–934

5.

Erejuwa OO, Sulaiman SA, Ab Wahab MS et al (2001) Glibenclamide or metformin combined with honey improves glycemic control in streptozotocin-induced diabetic rats. Int J Biol Sci 7:244–252

6.

Samanta A, Burden AC, Jones AR (1985) Plasma glucose responses to glucose, sucrose and honey in patients with diabetes mellitus: an analysis of glycaemic and peak incremental indices. Diabet Med 2:371–373

7.

Erejuwa OO, Sulaiman SA, Ab Wahab MS (2012) Oligosaccharides might contribute to the antidiabetic effect of honey: a review of the literature. Molecules 17:248–266

8.

Akilen R, Tsiami A, Devendra D, Robinson N (2012) Cinnamon in glycaemic control: systematic review and meta-analysis. Clin Nutr 31:609–615

9.

Allen R, Schwartzman E, Baker W et al (2013) Cinnamon use in Type 2 diabetes: an updated systematic review and meta-analysis. Ann Fam Med 11:452–459

10.

Balk EM, Tatsioni A, Lichtenstein A et al (2007) Effect of chromium supplementation on glucose metabolism and lipids: a systematic review of randomized controlled trials. Diabetes Care 30:2154–2163

11.

Song Y, He K, Levitan B et al (2006) Effects of oral magnesium supplementation on glycaemic control in Type 2 diabetes: a meta-analysis of randomized double-blind controlled trials. Diabet Med 23:1050–1056

12.

Matsuda M, DeFronzo RA (1999) Insulin sensitivity indices obtained from oral glucose tolerance testing: comparison with the euglycemic insulin clamp. Diabetes Care 22:1462–1470

13.

Khan A, Safdar M, Khan MMA et al (2003) Cinnamon improves glucose and lipids of people with Type 2 diabetes. Diabetes Care 26:3215–3218

14.

Anderson RA, Cheng N, Bryden NA et al (1997) Elevated intakes of supplemental chromium improve glucose and insulin variables in individuals with Type 2 diabetes. Diabetes 46:1786–1791

15.

Grant AP, McMullen JK (1982) The effect of brewer's yeast containing glucose tolerance factor on the response to treatment in type 2 diabetics: a short controlled study. Ulster Med J 51:110–114

16.

Bahijiri SM, Mira SA, Mufti AM, Ajabnoor MA (2000) The effects of inorganic chromium and brewer's yeast supplementation on glucose tolerance, serum lipids and drug dosage in individuals with Type 2 diabetes. Saudi Med J 21:831–837

17.

Rabinowitz MB, Gonick HC, Levin SR, Davidson MB (1983) Effects of chromium and yeast supplements on carbohydrate and lipid metabolism in diabetic men. Diabetes Care 6:319–327

18.

Offenbacher EG, Pi-Sunyer FX (1980) Beneficial effects of chromium-rich yeast on glucose tolerance and blood lipids in elderly subjects. Diabetes 29:919–925

19.

Uusitupa MI, Kumpulainen JT, Voutilainen E et al (1983) Effect of inorganic chromium supplementation on glucose tolerance, insulin response and serum lipids in noninsulin-dependent diabetics. Am J Clin Nutr 38:404–410

20.

Sherman L, Glennon JA, Brech WJ et al (1968) Failure of trivalent chromium to improve hyperglycaemia in diabetes mellitus. Metabolism 17:439–442

21.

Magistrelli A, Chezem JC (2012) Effect of ground cinnamon on postprandial blood glucose concentration in normal-weight and obese adults. J Acad Nutr Diet 112:1806–1809

22.

Erejuwa OO, Gurtu S, Sulaiman SA et al (2010) Hypoglycemic and antioxidant effects of honey supplementation in streptozotocin-induced diabetic rats. Int J Vitam Nutr Res 80:74–82

23.

Chepulis L, Starkey N (2008) The long-term effects of feeding honey compared with sucrose and a sugar-free diet on weight gain, lipid profiles, and DEXA measurements in rats. J Food Sci 73:H1–H7

24.

Nemoseck T, Carmody EG, Furchner-Evanson A et al (2011) Honey promotes lower weight gain, adiposity, and triglycerides than sucrose in rats. Nutr Res 31:55–60

25.

Bahrami M, Ataie-Jafari A, Hosseini S et al (2009) Effects of natural honey consumption in diabetic patients: an 8 week randomized clinical trial. Int J Food Sci Nutr 60:618–626

26.

Abdulrhman M, El-Hefnawy MH, Aly RH et al (2013) Metabolic effects of honey in Type 1 diabetes mellitus: a randomized crossover pilot study. J Med Food 16:66–72

27.

Yaghoobi N, Al-Waili N, Ghayour-Mobarhan M et al (2008) Natural honey and cardiovascular risk factors; effects on blood glucose, cholesterol, triacylglycerole, CRP, and body weight compared with sucrose. Sci World J 8:463–469

28.

Deibert P, König D, Kloock B et al (2010) Glycaemic and insulinaemic properties of some German honey varieties. Eur J Clin Nutr 64:762–764

29.

Cao H, Urban JF, Anderson RA (2007) Cinnamon extract and polyphenols affect the expression of tristetraprolin, insulin receptor, and glucose transporter 4 in mouse 3T3-L1 adipocytes. Arch Biochem Biophys 459:214–222

30.

Jeejeebhoy KN, Chu RC, Marliss EB et al (1977) Chromium deficiency, glucose intolerance and neuropathy reversed by chromium supplementation, in a patient receiving long-term total parenteral nutrition. Am J Clin Nutr 30:531–538

31.

Sundaram B, Singhal K, Sandhir R (2012) Ameliorating effect of chromium administration on hepatic glucose metabolism in streptozotocin-induced experimental diabetes. BioFactors 38:59–68

32.

Abdollahi M, Farshchi A, Nikfar S, Seyedifar M (2013) Effect of chromium on glucose and lipid profiles in patients with Type 2 diabetes; A meta-analysis review of randomized trials. J Pharm Pharm Sci 16:99–114

33.

Suárez A, Pulido N, Casla A et al (1995) Impaired tyrosine–kinase activity of muscle insulin receptors from hypomagnesaemic rats. Diabetologia 38:1262–1270

34.

Rodríguez-Morán M, Guerrero-Romero F (2011) Insulin secretion is decreased in non-diabetic individuals with hypomagnesaemia. Diabetes Metab Res 27:590–596

35.

Baker W, Gutierrez-Williams G, White CM et al (2008) Effect of cinnamon on glucose control and lipid parameters. Diabetes Care 31:41–43

36.

Letinsky D, Kelsberg G (2011) Is cinnamon safe and effective for treating lipid disorders? J Fam Pract 60:43–44

37.

Ranasinghe P, Jayawardana R, Galappaththy P et al (2012) Efficacy and safety of 'true' cinnamon (Cinnamomum zeylanicum) as a pharmaceutical agent in diabetes: a systematic review and meta-analysis. Diabet Med 29:1480–1492

38.

Akilen R, Tsiami A, Devendra D, Robinson N (2010) Glycated haemoglobin and blood pressure-lowering effect of cinnamon in multi-ethnic Type 2 diabetic patients in the UK: a randomized placebo-controlled, double-blind clinical trial. Diabet Med 27:1159–1167

39.

Ziegenfuss TN, Hofheins JE, Mendel RW et al (2006) Effects of a water-soluble cinnamon extract on body composition and features of the metabolic syndrome in pre-diabetic men and women. J Int Soc Sports Nutr 3:45–53

40.

Anton SD, Morrison CD, Cefalu WT et al (2008) Effects of chromium picolinate on food intake and satiety. Diabetes Technol Ther 10:405–412

41.

Hlebowicz J, Darwiche G, Björgell O, Almér L-O (2007) Effect of cinnamon on postprandial blood glucose, gastric emptying, and satiety in healthy subjects. Am J Clin Nutr 85:1552–1556

42.

Akilen R, Pimlott Z, Tsiami A, Robinson N (2013) Effect of short-term administration of cinnamon on blood pressure in patients with prediabetes and Type 2 diabetes. Nutrition 29:1192–1196
Conflict of interest
The honey products and study funding were provided by Honeylab Ltd. The authors have no financial interest in this company, and the company had no influence on the reporting of results. The authors declare that they have no conflict of interest.
Ethical standard
This study was approved by the Ministry of Health Central Regional Ethics Committee (13/CEN/91) and was registered with the Australian New Zealand Clinical Trials Registry (ACTRN12613000624785). The study was performed in accordance with the ethical standards laid down in the 1964 Declaration of Helsinki and its later amendments. All participants gave written informed consent prior to their inclusion in the study.
About this article
Cite this article
Whitfield, P., Parry-Strong, A., Walsh, E. et al. The effect of a cinnamon-, chromium- and magnesium-formulated honey on glycaemic control, weight loss and lipid parameters in type 2 diabetes: an open-label cross-over randomised controlled trial. Eur J Nutr 55, 1123–1131 (2016). https://doi.org/10.1007/s00394-015-0926-x
Received:

Accepted:

Published:

Issue Date:
Keywords
Diabetes

Honey

Cinnamon

Chromium

Magnesium

Lipids