Abstract
Background
Diets rich in inorganic nitrate are associated with lower blood pressure, an effect that may be mediated by an improvement of endothelial function (EF). Therefore, a systematic review and meta-analysis of randomised controlled trials (RCTs) were conducted to examine the effects of inorganic nitrate and beetroot supplementation on measures of EF.
Methods
MEDLINE, EMBASE and Scopus databases were searched from inception until November 2014. Specific inclusion criteria were as follows: (1) RCTs; (2) trials comparing inorganic nitrate or beetroot supplementation with placebo control groups; and (3) trials reporting effects of these interventions on outcomes of vascular function. Random-effect models were used to assess the pooled effect sizes showed as standardised mean differences (SMD).
Results
Nine crossover trials and three parallel trials met our inclusion criteria. The trials were conducted between 2008 and 2014 and included a total of 246 participants with 10–64 participants per study. The duration of each intervention ranged from 1.5 h to 28 days. Inorganic nitrate and beetroot consumption was associated with an improvement in vascular function (SMD 0.36; 95 % CI 0.16, 0.56; P < 0.001). The effect on EF was significantly associated with the dose of inorganic nitrate (β = 0.04, SE = 0.01, P < 0.001), age (β = −0.01, SE = 0.004, P = 0.02), baseline BMI (β = −0.04, SE = 0.02, P = 0.05) and systolic BP (β = −0.01, SE = 0.005, P = 0.02).
Conclusions
Inorganic nitrate and beetroot supplementation was associated with beneficial effects on EF. These effects appear to be reduced in older subjects and in subjects with greater cardiometabolic risk.
Access options
Buy single article
Instant access to the full article PDF.
US$ 39.95
Tax calculation will be finalised during checkout.
Subscribe to journal
Immediate online access to all issues from 2019. Subscription will auto renew annually.
US$ 159
Tax calculation will be finalised during checkout.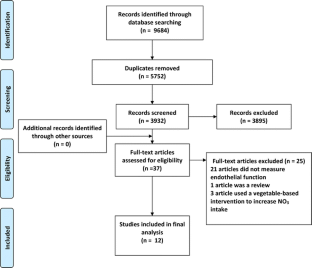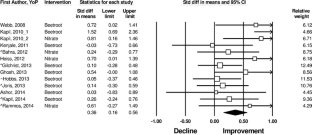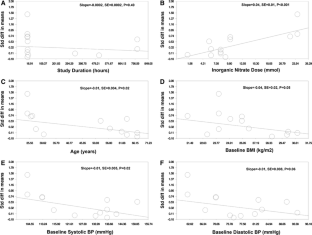 References
1.

Vallance P, Webb DJ (2000) Vascular endothelium in human physiology and pathophysiology. Routledge, London

2.

Moncada S, Higgs EA (2006) Nitric oxide and the vascular endothelium. Handb Exp Pharmacol 176:213–254

3.

Haynes WG, Webb DJ (1998) Endothelin as a regulator of cardiovascular function in health and disease. J Hypertens 16:1081–1098

4.

Ferrara N (2004) Vascular endothelial growth factor: basic science and clinical progress. Endocr Rev 25:581–611. doi:10.1210/er.2003-0027

5.

Davignon J, Ganz P (2004) Role of endothelial dysfunction in atherosclerosis. Circulation. doi:10.1161/01.CIR.0000131515.03336.f8

6.

Landmesser U, Hornig B, Drexler H (2004) Endothelial function: A critical determinant in atherosclerosis? Circulation. doi:10.1161/01.CIR.0000129501.88485.1f

7.

Versari D, Daghini E, Virdis A, Ghiadoni L, Taddei S (2009) Endothelial dysfunction as a target for prevention of cardiovascular disease. Diabetes Care 32:S314–S321. doi:10.2337/dc09-S330

8.

Moncada S, Higgs A (1993) The l-arginine-nitric oxide pathway. N Engl J Med 329:2002–2012. doi:10.1056/NEJM199312303292706

9.

Hall WL (2009) Dietary saturated and unsaturated fats as determinants of blood pressure and vascular function. Nutr Res Rev 22:18–38. doi:10.1017/S095442240925846X

10.

Lovegrove JA, Griffin BA (2013) The acute and long-term effects of dietary fatty acids on vascular function in health and disease. Curr Opin Clin Nutr Metab Care 16(162–167):1. doi:10.1097/MCO.1090b1013e32835c32835f32829

11.

Hord N (2011) Dietary Nitrates, Nitrites, and Cardiovascular Disease. Curr Atheroscler Rep 13:484–492. doi:10.1007/s11883-011-0209-9

12.

Bai Y, Sun L, Yang T, Sun K, Chen J, Hui R (2009) Increase in fasting vascular endothelial function after short-term oral l-arginine is effective when baseline flow-mediated dilation is low: a meta-analysis of randomized controlled trials. Am J Clin Nutr 89:77–84. doi:10.3945/ajcn.2008.26544

13.

Luiking YC, Ten Have GAM, Wolfe RR, Deutz NEP (2012) Arginine de novo and nitric oxide production in disease states. Am J Physiol Endocrinol Metab 303:E1177–E1189. doi:10.1152/ajpendo.00284.2012

14.

Alp NJ, Channon KM (2004) Regulation of endothelial nitric oxide synthase by tetrahydrobiopterin in vascular disease. Arterioscler Thromb Vasc Biol 24:413–420. doi:10.1161/01.ATV.0000110785.96039.f6

15.

Bendall JK, Douglas G, McNeill E, Channon KM, Crabtree MJ (2013) Tetrahydrobiopterin in cardiovascular health and disease. Antioxid Redox Signal 20:3040–3077. doi:10.1089/ars.2013.5566

16.

Cunnington C, Van Assche T, Shirodaria C, Kylintireas I, Lindsay AC, Lee JM, Antoniades C, Margaritis M, Lee R, Cerrato R, Crabtree MJ, Francis JM, Sayeed R, Ratnatunga C, Pillai R, Choudhury RP, Neubauer S, Channon KM (2012) Systemic and vascular oxidation limits the efficacy of oral tetrahydrobiopterin treatment in patients with coronary artery disease. Circulation 125:1356–1366. doi:10.1161/circulationaha.111.038919

17.

Benjamin N, O'Driscoll F, Dougall H, Duncan C, Smith L, Golden M, McKenzie H (1994) Stomach NO synthesis. Nature 368:502

18.

Lundberg JO, Weitzberg E, Lundberg JM, Alving K (1994) Intragastric nitric oxide production in humans: measurements in expelled air. Gut 35:1543–1546

19.

Larsen F, Ekblom B, Sahlin K, Lundberg JO, Weitzberg E (2006) Effects of dietary nitrate on blood pressure in healthy volunteers. N Engl J Med 28:2792–2793

20.

Webb AJ, Patel N, Loukogeorgakis S, Okorie M, Aboud Z, Misra S, Rashid R, Miall P, Deanfield J, Benjamin N, MacAllister R, Hobbs AJ, Ahluwalia A (2008) Acute blood pressure lowering, vasoprotective, and antiplatelet properties of dietary nitrate via bioconversion to nitrite. Hypertension 51:784–790. doi:10.1161/HYPERTENSIONAHA.107.103523

21.

Gladwin MT, Schechter AN, Kim-Shapiro DB, Patel RP, Hogg N, Shiva S, Cannon RO, Kelm M, Wink DA, Espey MG, Oldfield EH, Pluta RM, Freeman BA, Lancaster JR, Feelisch M, Lundberg JO (2005) The emerging biology of the nitrite anion. Nat Chem Biol 1:308–314

22.

Lundberg JO, Gladwin MT, Ahluwalia A, Benjamin N, Bryan NS, Butler A, Cabrales P, Fago A, Feelisch M, Ford PC, Freeman BA, Frenneaux M, Friedman J, Kelm M, Kevil CG, Kim-Shapiro DB, Kozlov AV, Lancaster JR Jr, Lefer DJ, McColl K, McCurry K, Patel RP, Petersson J, Rassaf T, Reutov VP, Richter-Addo GB, Schechter A, Shiva S, Tsuchiya K, Van Faassen EE, Webb AJ, Zuckerbraun BS, Zweier JL, Weitzberg E (2009) Nitrate and nitrite in biology, nutrition and therapeutics. Nat Chem Biol 5:865–869

23.

Moher D, Liberati A, Tetzlaff J, Altman DG, The PG (2009) Preferred Reporting Items for systematic reviews and meta-analyses: the PRISMA statement. PLoS Med 6:e1000097

24.

Higgins JPT, Altman DG, Gøtzsche PC, Jüni P, Moher D, Oxman AD, Savović J, Schulz KF, Weeks L, Sterne JAC (2011) The cochrane collaboration's tool for assessing risk of bias in randomised trials. BMJ. doi:10.1136/bmj.d5928

25.

Higgins J, Green S (2011) Cochrane handbook for systematic reviews of interventions version 5.1.0 [updated March 2011]. In: Interventions CHfSRo (ed)the cochrane collaboration. www.cochrane-handbook.org.

26.

DerSimonian R, Laird N (1986) Meta-analysis in clinical trials. Control Clin Trials 7:177–188

27.

Higgins JPT, Thompson SG, Deeks JJ, Altman DG (2003) Measuring inconsistency in meta-analyses. BMJ 327:557–560. doi:10.1136/bmj.327.7414.557

28.

Gilchrist M, Winyard PG, Aizawa K, Anning C, Shore A, Benjamin N (2013) Effect of dietary nitrate on blood pressure, endothelial function, and insulin sensitivity in type 2 diabetes. Free Radic Biol Med. doi:10.1016/j.freeradbiomed.2013.01.024

29.

Kapil V, Milsom AB, Okorie M, Maleki-Toyserkani S, Akram F, Rehman F, Arghandawi S, Pearl V, Benjamin N, Loukogeorgakis S, Macallister R, Hobbs AJ, Webb AJ, Ahluwalia A (2010) Inorganic nitrate supplementation lowers blood pressure in humans: role for nitrite-derived NO. Hypertension 56:274–281. doi:10.1161/HYPERTENSIONAHA.110.153536

30.

Bahra M, Kapil V, Pearl V, Ghosh S, Ahluwalia A (2012) Inorganic nitrate ingestion improves vascular compliance but does not alter flow-mediated dilatation in healthy volunteers. Nitric Oxide 26:197–202. doi:10.1016/j.niox.2012.01.004

31.

Heiss C, Meyer C, Totzeck M, Hendgen-Cotta UB, Heinen Y, Luedike P, Keymel S, Ayoub N, Lundberg JO, Weitzberg E, Kelm M, Rassaf T (2012) Dietary inorganic nitrate mobilizes circulating angiogenic cells. Free Radic Biol Med 52:1767–1772. doi:10.1016/j.freeradbiomed.2012.02.051

32.

Ghosh SM, Kapil V, Fuentes-Calvo I, Bubb KJ, Pearl V, Milsom AB, Khambata R, Maleki-Toyserkani S, Yousuf M, Benjamin N, Webb AJ, Caulfield MJ, Hobbs AJ, Ahluwalia A (2013) Enhanced vasodilator activity of nitrite in hypertension: critical role for erythrocytic xanthine oxidoreductase and translational potential. Hypertension 61:1091–1102. doi:10.1161/HYPERTENSIONAHA.111.00933

33.

Hobbs DA, Goulding MG, Nguyen A, Malaver T, Walker CF, George TW, Methven L, Lovegrove JA (2013) Acute ingestion of beetroot bread increases endothelium-independent vasodilation and lowers diastolic blood pressure in healthy men: a randomized controlled trial. J Nutr 143:1399–1405. doi:10.3945/jn.113.175778

34.

Joris PJ, Mensink RP (2013) Beetroot juice improves in overweight and slightly obese men postprandial endothelial function after consumption of a mixed meal. Atherosclerosis 231:78–83. doi:10.1016/j.atherosclerosis.2013.09.001

35.

Ashor AW, Jajja A, Sutyarjoko A, Brandt K, Qadir O, Lara J, Siervo M (2014) Effects of beetroot juice supplementation on microvascular blood flow in older overweight and obese subjects: a pilot randomised controlled study. J Hum Hypertens. doi:10.1038/jhh.2014.114

36.

Kapil V, Khambata RS, Robertson A, Caulfield MJ, Ahluwalia A (2014) Dietary nitrate provides sustained blood pressure lowering in hypertensive patients: a randomized, phase 2, double-blind, placebo-controlled study. Hypertension. doi:10.1161/HYPERTENSIONAHA.114.04675

37.

Rammos C, Hendgen-Cotta UB, Sobierajski J, Bernard A, Kelm M, Rassaf T (2014) Dietary nitrate reverses vascular dysfunction in older adults with moderately increased cardiovascular risk. J Am Coll Cardiol 63:1584–1585. doi:10.1016/j.jacc.2013.08.691

38.

Kenjale AA, Ham KL, Stabler T, Robbins JL, Johnson JL, Vanbruggen M, Privette G, Yim E, Kraus WE, Allen JD (1985) Dietary nitrate supplementation enhances exercise performance in peripheral arterial disease. J Appl Physiol 110:1582–1591. doi:10.1152/japplphysiol.00071.2011

39.

Percival RS, Challacombe SJ, Marsh PD (1991) Age-related microbiological changes in the salivary and plaque microflora of healthy adults. J Med Microbiol 35:5–11

40.

Britton E, McLaughlin JT (2013) Ageing and the gut. Proc Nutr Soc 72:173–177. doi:10.1017/S0029665112002807

41.

Zweier JL, Samouilov A, Kuppusamy P (1999) Non-enzymatic nitric oxide synthesis in biological systems. Biochim Biophys Acta 1411:250–262

42.

Lyons D, Roy S, Patel M, Benjamin N, Swift CG (1997) Impaired nitric oxide-mediated vasodilatation and total body nitric oxide production in healthy old age. Clin Sci (Lond) 93:519–525

43.

Siervo M, Lara J, Ogbonmwan I, Mathers JC (2013) Inorganic nitrate and beetroot juice supplementation reduces blood pressure in adults: a systematic review and meta-analysis. The Journal of nutrition 143:818–826. doi:10.3945/jn.112.170233
Conflict of interest
There are no competing financial interests.
Electronic supplementary material
Below is the link to the electronic supplementary material.
About this article
Cite this article
Lara, J., Ashor, A.W., Oggioni, C. et al. Effects of inorganic nitrate and beetroot supplementation on endothelial function: a systematic review and meta-analysis. Eur J Nutr 55, 451–459 (2016). https://doi.org/10.1007/s00394-015-0872-7
Received:

Accepted:

Published:

Issue Date:
Keywords
Endothelial function

Flow-mediated dilation

Beetroot

Inorganic nitrate

Meta-analysis

Cardiovascular risk