Abstract
Purpose
Controversy exists regarding whether increasing dairy intake without energy restriction would lead to weight loss. We aimed to compare the potential weight-reducing effects of kefir drink (a probiotic dairy product) and milk in a dairy-rich non-energy-restricted diet in overweight or obese premenopausal women.
Methods
One hundred and forty-four subjects were assessed for eligibility in this single-center, multi-arm, parallel-group, randomized controlled trial. Of these, seventy-five eligible women aged 25–45 years were randomly assigned to three groups, labeled as control, milk, and kefir, to receive an outpatient dietary regimen for 8 weeks. Subjects in the control group received a diet providing a maintenance level of energy intake, containing 2 servings/day of low-fat dairy products, while those in the milk and kefir groups received a weight maintenance diet, containing 2 additional servings/day (a total of 4 servings/day) of dairy products from low-fat milk or commercial kefir drink, respectively. Anthropometric outcomes including weight, body mass index (BMI), and waist circumference (WC) were measured every 2 weeks.
Results
Fifty-eight subjects completed the study. Using analysis of covariance models in the intention-to-treat population (n = 75), we found that at 8 weeks, subjects in the kefir and milk groups had significantly greater reductions in weight, BMI, and WC compared to those in the control group (all p < 0.01). However, no such significant differences were found between the kefir and milk groups.
Conclusions
Kefir drink leads to a similar weight loss, compared with milk, in a dairy-rich non-energy-restricted diet in overweight or obese premenopausal women. However, further studies are warranted.
This is a preview of subscription content, log in to check access.
Access options
Buy single article
Instant access to the full article PDF.
US$ 39.95
Price includes VAT for USA
Subscribe to journal
Immediate online access to all issues from 2019. Subscription will auto renew annually.
US$ 199
This is the net price. Taxes to be calculated in checkout.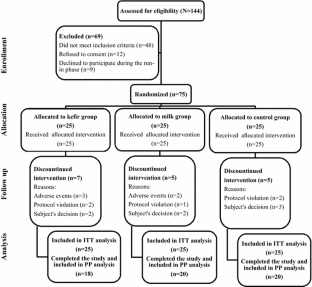 References
1.

Kopelman PG (2000) Obesity as a medical problem. Nature 404:635–643

2.

Gallus S, Lugo A, Murisic B, Bosetti C, Boffetta P, La Vecchia C (2014) Overweight and obesity in 16 European countries. Eur J Nutr. doi:10.1007/s00394-014-0746-4

3.

Hossain P, Kawar B, El Nahas M (2007) Obesity and diabetes in the developing world: a growing challenge. N Engl J Med 356:213–215

4.

Azizi F, Azadbakht L, Mirmiran P (2005) Trends in overweight, obesity and central fat accumulation among Tehranian adults between 1998–1999 and 2001–2002: Tehran lipid and glucose study. Ann Nutr Metab 49:3–8

5.

Must A, Spadano J, Coakley EH, Field AE, Colditz G, Dietz WH (1999) The disease burden associated with overweight and obesity. JAMA 282:1523–1529

6.

Bjorntorp P (1988) The associations between obesity, adipose tissue distribution and disease. Acta Med Scand Suppl 723:121–134

7.

Bello N, Mosca L (2004) Epidemiology of coronary heart disease in women. Prog Cardiovasc Dis 46:287–295

8.

Zemel MB (2004) Role of calcium and dairy products in energy partitioning and weight management. Am J Clin Nutr 79:907S–912S

9.

DiBaise JK, Frank DN, Mathur R (2012) Impact of the gut microbiota on the development of obesity: current concepts. Am J Gastroenterol Suppl 1:22–27

10.

Zemel MB, Shi H, Greer B, Dirienzo D, Zemel PC (2000) Regulation of adiposity by dietary calcium. FASEB J 14:1132–1138

11.

Baran D, Sorensen A, Grimes J, Lew R, Karellas A, Johnson B, Roche J (1990) Dietary modification with dairy products for preventing vertebral bone loss in premenopausal women: a three-year prospective study. J Clin Endocrinol Metab 70:264–270

12.

Chee WS, Suriah AR, Chan SP, Zaitun Y, Chan YM (2003) The effect of milk supplementation on bone mineral density in postmenopausal Chinese women in Malaysia. Osteoporos Int 14:828–834

13.

Ghadirian P, Shatenstein B, Verdy M, Hamet P (1995) The influence of dairy products on plasma uric acid in women. Eur J Epidemiol 11:275–281

14.

Gunther CW, Legowski PA, Lyle RM, McCabe GP, Eagan MS, Peacock M, Teegarden D (2005) Dairy products do not lead to alterations in body weight or fat mass in young women in a 1-y intervention. Am J Clin Nutr 81:751–756

15.

Gunther CW, Lyle RM, Legowski PA, James JM, McCabe LD, McCabe GP, Peacock M, Teegarden D (2005) Fat oxidation and its relation to serum parathyroid hormone in young women enrolled in a 1-y dairy calcium intervention. Am J Clin Nutr 82:1228–1234

16.

Kukuljan S, Nowson CA, Bass SL, Sanders K, Nicholson GC, Seibel MJ, Salmon J, Daly RM (2009) Effects of a multi-component exercise program and calcium-vitamin-D3-fortified milk on bone mineral density in older men: a randomised controlled trial. Osteoporos Int 20:1241–1251

17.

Lau EM, Woo J, Lam V, Hong A (2001) Milk supplementation of the diet of postmenopausal Chinese women on a low calcium intake retards bone loss. J Bone Miner Res 16:1704–1709

18.

Manios Y, Moschonis G, Koutsikas K, Papoutsou S, Petraki I, Bellou E, Naoumi A, Kostea S, Tanagra S (2009) Changes in body composition following a dietary and lifestyle intervention trial: the postmenopausal health study. Maturitas 62:58–65

19.

Palacios C, Bertran JJ, Rios RE, Soltero S (2011) No effects of low and high consumption of dairy products and calcium supplements on body composition and serum lipids in Puerto Rican obese adults. Nutrition 27:520–525

20.

Stancliffe RA, Thorpe T, Zemel MB (2011) Dairy attenuates oxidative and inflammatory stress in metabolic syndrome. Am J Clin Nutr 94:422–430

21.

van Meijl LE, Mensink RP (2010) Effects of low-fat dairy consumption on markers of low-grade systemic inflammation and endothelial function in overweight and obese subjects: an intervention study. Br J Nutr 104:1523–1527

22.

Wennersberg MH, Smedman A, Turpeinen AM, Retterstol K, Tengblad S, Lipre E, Aro A, Mutanen P, Seljeflot I, Basu S, Pedersen JI, Mutanen M, Vessby B (2009) Dairy products and metabolic effects in overweight men and women: results from a 6-mo intervention study. Am J Clin Nutr 90:960–968

23.

Barr SI, McCarron DA, Heaney RP, Dawson-Hughes B, Berga SL, Stern JS, Oparil S (2000) Effects of increased consumption of fluid milk on energy and nutrient intake, body weight, and cardiovascular risk factors in healthy older adults. J Am Diet Assoc 100:810–817

24.

Zemel MB, Richards J, Milstead A, Campbell P (2005) Effects of calcium and dairy on body composition and weight loss in African-American adults. Obes Res 13:1218–1225

25.

Zemel B, Nocton AM, Richards J, Milstead A, Gebhardt L, Campbell PJ (2002) Increasing dairy calcium intake reduces adiposity in obese African American adults (abstract). Circulation 106(suppl 2):610

26.

Chen M, Pan A, Malik VS, Hu FB (2012) Effects of dairy intake on body weight and fat: a meta-analysis of randomized controlled trials. Am J Clin Nutr 96:735–747

27.

Arora T, Sharma R (2011) Fermentation potential of the gut microbiome: implications for energy homeostasis and weight management. Nutr Rev 69:99–106

28.

Arora T, Singh S, Sharma RK (2013) Probiotics: interaction with gut microbiome and antiobesity potential. Nutrition 29:591–596

29.

Chang BJ, Park SU, Jang YS, Ko SH, Joo NM, Kim SI, Kim CH, Chang DK (2011) Effect of functional yogurt NY-YP901 in improving the trait of metabolic syndrome. Eur J Clin Nutr 65:1250–1255

30.

Agerholm-Larsen L, Raben A, Haulrik N, Hansen AS, Manders M, Astrup A (2000) Effect of 8 week intake of probiotic milk products on risk factors for cardiovascular diseases. Eur J Clin Nutr 54:288–297

31.

Kadooka Y, Sato M, Imaizumi K, Ogawa A, Ikuyama K, Akai Y, Okano M, Kagoshima M, Tsuchida T (2010) Regulation of abdominal adiposity by probiotics (Lactobacillus gasseri SBT2055) in adults with obese tendencies in a randomized controlled trial. Eur J Clin Nutr 64:636–643

32.

Kadooka Y, Sato M, Ogawa A, Miyoshi M, Uenishi H, Ogawa H, Ikuyama K, Kagoshima M, Tsuchida T (2013) Effect of Lactobacillus gasseri SBT2055 in fermented milk on abdominal adiposity in adults in a randomised controlled trial. Br J Nutr 110:1696–1703

33.

Lopitz-Otsoa F, Rementeria A, Elguezabal N, Garaizar J (2006) Kefir: a symbiotic yeasts-bacteria community with alleged healthy capabilities. Rev Iberoam Micol 23:67–74

34.

Ahmed Z, Wang Y, Ahmad A, Khan ST, Nisa M, Ahmad H, Afreen A (2013) Kefir and health: a contemporary perspective. Crit Rev Food Sci Nutr 53:422–434

35.

Saif M (2000) World Medical Association Declaration of Helsinki: ethical principles for medical research involving human subjects. JAMA 284:3043–3045

36.

Beller EM, Gebski V, Keech AC (2002) Randomisation in clinical trials. Med J Aust 177:565–567

37.

Physical Activity Policy, Health Improvement Directorate (2009) The general practice physical activity questionnaire (GPPAQ): a screening tool to assess adult physical activity levels, within primary care. Department of Health, London

38.

Mahan LK, Escott-Stump S, Raymond JL (2012) Krause's food and the nutrition care process. Elsevier Saunders, St. Louis

39.

Kratz M, Baars T, Guyenet S (2013) The relationship between high-fat dairy consumption and obesity, cardiovascular, and metabolic disease. Eur J Nutr 52:1–24

40.

Louie JC, Flood VM, Hector DJ, Rangan AM, Gill TP (2011) Dairy consumption and overweight and obesity: a systematic review of prospective cohort studies. Obes Rev 12:e582–e592

41.

Wang H, Troy LM, Rogers GT, Fox CS, McKeown NM, Meigs JB, Jacques PF (2014) Longitudinal association between dairy consumption and changes of body weight and waist circumference: the Framingham Heart Study. Int J Obes (Lond) 38:299–305

42.

Christensen R, Lorenzen JK, Svith CR, Bartels EM, Melanson EL, Saris WH, Tremblay A, Astrup A (2009) Effect of calcium from dairy and dietary supplements on faecal fat excretion: a meta-analysis of randomized controlled trials. Obes Rev 10:475–486

43.

Zemel MB, Miller SL (2004) Dietary calcium and dairy modulation of adiposity and obesity risk. Nutr Rev 62:125–131

44.

Zemel MB (2003) Role of dietary calcium and dairy products in modulating adiposity. Lipids 38:139–146

45.

Kennedy A, Martinez K, Schmidt S, Mandrup S, LaPoint K, McIntosh M (2010) Antiobesity mechanisms of action of conjugated linoleic acid. J Nutr Biochem 21:171–179

46.

Ha E, Zemel MB (2003) Functional properties of whey, whey components, and essential amino acids: mechanisms underlying health benefits for active people (review). J Nutr Biochem 14:251–258

47.

Chen Q, Reimer RA (2009) Dairy protein and leucine alter GLP-1 release and mRNA of genes involved in intestinal lipid metabolism in vitro. Nutrition 25:340–349

48.

Westerterp-Plantenga MS (2003) The significance of protein in food intake and body weight regulation. Curr Opin Clin Nutr Metab Care 6:635–638

49.

Halton TL, Hu FB (2004) The effects of high protein diets on thermogenesis, satiety and weight loss: a critical review. J Am Coll Nutr 23:373–385

50.

Otles S, Oe Cagindi (2003) Kefir: a probiotic dairy-composition, nutritional and therapeutic aspects. Pak J Nutr 2:54–59

51.

Merenstein DJ, Foster J, D'Amico F (2009) A randomized clinical trial measuring the influence of kefir on antibiotic-associated diarrhea: the measuring the influence of Kefir (MILK) Study. Arch Pediatr Adolesc Med 163:750–754

52.

Livingstone MB (1995) Assessment of food intakes: are we measuring what people eat? Br J Biomed Sci 52:58–67
Acknowledgments
The present article was extracted from the M.Sc. thesis written by Yasamin Fathi and was financially supported by Shiraz University of Medical Sciences, Shiraz, Iran. Authors would like to thank the participants for their kind and enthusiastic cooperation. We are grateful to the staff of Cardiovascular Research Center in Shiraz, Iran, for their support and collaboration.
Conflict of interest
M.J.Z. is the president of Cardiovascular Research Center in Shiraz, Iran. Y.F., S.F., and S.H.R.T. declare that they have no conflict of interest.
About this article
Cite this article
Fathi, Y., Faghih, S., Zibaeenezhad, M.J. et al. Kefir drink leads to a similar weight loss, compared with milk, in a dairy-rich non-energy-restricted diet in overweight or obese premenopausal women: a randomized controlled trial. Eur J Nutr 55, 295–304 (2016). https://doi.org/10.1007/s00394-015-0846-9
Received:

Accepted:

Published:

Issue Date:
Keywords
Dairy products

Diet

Weight loss

Women

Randomized controlled trial