Abstract
Purpose
Fish oil (FO) elicits diverse beneficial effects. Reduction in or prevention of body mass (BM) gain in animal models may be associated with modulation of brown adipose tissue (BAT). We aimed to evaluate the effects of different high-fat diets with FO on BAT metabolism and thermogenic markers.
Methods
C57BL/6 male mice (3-month-old) were fed different diets during 8 weeks: standard-chow diet (SC 10 % fat), high-fat lard diet (HF-L 50 % fat), high-fat lard plus FO diet (HF-L+FO 50 % fat), and high-fat FO diet (HF-FO 50 % fat). We evaluated BM and performed an oral glucose tolerance test. At euthanasia, plasma was collected for leptin, and triacylglycerol measurement and interscapular BAT was dissected and stored for molecular analyses.
Results
HF-L group showed elevated BM; glucose intolerance associated with diminished TC10 and GLUT4 expressions; hypertriglyceridemia associated with increased CD36 and diminished CPT1 expression; elevated expression of pro-inflammatory cytokines; and reduced PPAR expression. Furthermore, these animals showed hyperleptinemia with increased expression of thermogenic markers (beta3-AR, PGC1alpha, and UCP1). Conversely, HF-L+FO and HF-FO groups showed reduced BM gain with regularization of glucose tolerance and triglyceridemia, GLUT4, TC10, CD36, CPT1, and cytokines expressions. Both groups exhibited elevated PPAR and thermogenic markers expression in a dose-dependent way.
Conclusions
FO improves metabolic profile and upregulates thermogenic markers, suggesting an elevated thermogenesis that leads to reduced BM gain.
Access options
Buy single article
Instant access to the full article PDF.
USD 39.95
Price includes VAT (USA)
Tax calculation will be finalised during checkout.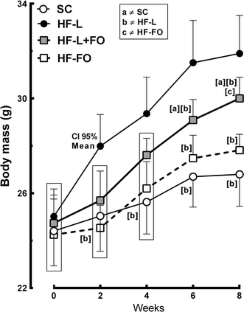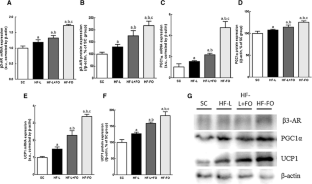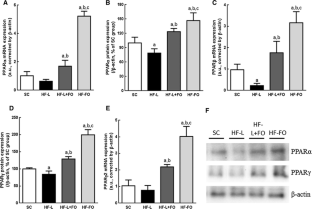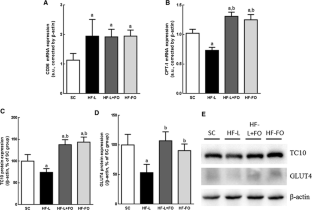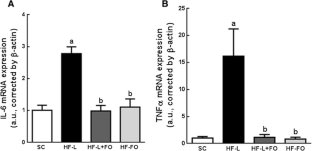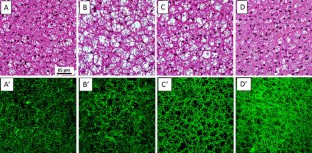 References
1.

Calder PC (2012) Mechanisms of action of (n-3) fatty acids. J Nutr 142(3):592S–599S. doi:10.3945/jn.111.155259

2.

Lionetti L, Mollica MP, Sica R, Donizzetti I, Gifuni G, Pignalosa A, Cavaliere G, Putti R (2014) Differential effects of high-fish oil and high-lard diets on cells and cytokines involved in the inflammatory process in rat insulin-sensitive tissues. Int J Mol Sci 15(2):3040–3063. doi:10.3390/ijms15023040

3.

Liu X, Xue Y, Liu C, Lou Q, Wang J, Yanagita T, Xue C, Wang Y (2013) Eicosapentaenoic acid-enriched phospholipid ameliorates insulin resistance and lipid metabolism in diet-induced-obese mice. Lipids Health Dis 12:109. doi:10.1186/1476-511X-12-109

4.

Liu HQ, Qiu Y, Mu Y, Zhang XJ, Liu L, Hou XH, Zhang L, Xu XN, Ji AL, Cao R, Yang RH, Wang F (2013) A high ratio of dietary n-3/n-6 polyunsaturated fatty acids improves obesity-linked inflammation and insulin resistance through suppressing activation of TLR4 in SD rats. Nutr Res 33(10):849–858. doi:10.1016/j.nutres.2013.07.004

5.

Sadurskis A, Dicker A, Cannon B, Nedergaard J (1995) Polyunsaturated fatty acids recruit brown adipose tissue: increased UCP content and NST capacity. Am J Physiol 269(2 Pt 1):E351–E360

6.

Takahashi Y, Ide T (2000) Dietary n-3 fatty acids affect mRNA level of brown adipose tissue uncoupling protein 1, and white adipose tissue leptin and glucose transporter 4 in the rat. Br J Nutr 84(2):175–184

7.

Richard D, Carpentier AC, Dore G, Ouellet V, Picard F (2010) Determinants of brown adipocyte development and thermogenesis. Int J Obes (Lond) 34(Suppl 2):S59–S66. doi:10.1038/ijo.2010.241

8.

Kajimura S, Saito M (2014) A new era in brown adipose tissue biology: molecular control of brown fat development and energy homeostasis. Annu Rev Physiol 76:225–249. doi:10.1146/annurev-physiol-021113-170252

9.

Morrison SF, Madden CJ, Tupone D (2014) Central neural regulation of brown adipose tissue thermogenesis and energy expenditure. Cell Metab 19(5):741–756. doi:10.1016/j.cmet.2014.02.007

10.

Cypess AM, Lehman S, Williams G, Tal I, Rodman D, Goldfine AB, Kuo FC, Palmer EL, Tseng YH, Doria A, Kolodny GM, Kahn CR (2009) Identification and importance of brown adipose tissue in adult humans. N Engl J Med 360(15):1509–1517. doi:10.1056/NEJMoa0810780

11.

Reeves PG, Nielsen FH, Fahey GC Jr (1993) AIN-93 purified diets for laboratory rodents: final report of the American Institute of Nutrition ad hoc writing committee on the reformulation of the AIN-76A rodent diet. J Nutr 123(11):1939–1951

12.

Livesey G, Elia M (1988) Estimation of energy expenditure, net carbohydrate utilization, and net fat oxidation and synthesis by indirect calorimetry: evaluation of errors with special reference to the detailed composition of fuels. Am J Clin Nutr 47(4):608–628

13.

Catta-Preta M, Martins MA, Cunha Brunini TM, Mendes-Ribeiro AC, Mandarim-de-Lacerda CA, Aguila MB (2012) Modulation of cytokines, resistin, and distribution of adipose tissue in C57BL/6 mice by different high-fat diets. Nutrition 28(2):212–219. doi:10.1016/j.nut.2011.05.011

14.

Flachs P, Horakova O, Brauner P, Rossmeisl M, Pecina P, Franssen-van Hal N, Ruzickova J, Sponarova J, Drahota Z, Vlcek C, Keijer J, Houstek J, Kopecky J (2005) Polyunsaturated fatty acids of marine origin upregulate mitochondrial biogenesis and induce beta-oxidation in white fat. Diabetologia 48(11):2365–2375. doi:10.1007/s00125-005-1944-7

15.

Longo KA, Charoenthongtrakul S, Giuliana DJ, Govek EK, McDonagh T, Distefano PS, Geddes BJ (2010) The 24-hour respiratory quotient predicts energy intake and changes in body mass. Am J Physiol Regul Integr Comp Physiol 298(3):R747–R754. doi:10.1152/ajpregu.00476.2009

16.

Foucault AS, Even P, Lafont R, Dioh W, Veillet S, Tome D, Huneau JF, Hermier D, Quignard-Boulange A (2014) Quinoa extract enriched in 20-hydroxyecdysone affects energy homeostasis and intestinal fat absorption in mice fed a high-fat diet. Physiol Behav 128:226–231. doi:10.1016/j.physbeh.2014.02.002

17.

Lowell BB, Spiegelman BM (2000) Towards a molecular understanding of adaptive thermogenesis. Nature 404(6778):652–660. doi:10.1038/35007527

18.

Enriori PJ, Sinnayah P, Simonds SE, Garcia Rudaz C, Cowley MA (2011) Leptin action in the dorsomedial hypothalamus increases sympathetic tone to brown adipose tissue in spite of systemic leptin resistance. J Neurosci 31(34):12189–12197. doi:10.1523/JNEUROSCI.2336-11.2011

19.

Sugimoto S, Nakajima H, Kodo K, Mori J, Matsuo K, Kosaka K, Aoi W, Yoshimoto K, Ikegaya H, Hosoi H (2014) Miglitol increases energy expenditure by upregulating uncoupling protein 1 of brown adipose tissue and reduces obesity in dietary-induced obese mice. Nutr Metab (Lond) 11(1):14. doi:10.1186/1743-7075-11-14

20.

Shi H, Akunuru S, Bierman JC, Hodge KM, Mitchell MC, Foster MT, Seeley RJ, Reizes O (2009) Diet-induced obese mice are leptin insufficient after weight reduction. Obesity (Silver Spring) 17(9):1702–1709. doi:10.1038/oby.2009.106

21.

Margareto J, Marti A, Martinez JA (2001) Changes in UCP mRNA expression levels in brown adipose tissue and skeletal muscle after feeding a high-energy diet and relationships with leptin, glucose and PPARgamma. J Nutr Biochem 12(3):130–137

22.

Cannon B, Nedergaard J (2004) Brown adipose tissue: function and physiological significance. Physiol Rev 84(1):277–359. doi:10.1152/physrev.00015.2003

23.

Takeuchi H, Matsuo T, Tokuyama K, Shimomura Y, Suzuki M (1995) Diet-induced thermogenesis is lower in rats fed a lard diet than in those fed a high oleic acid safflower oil diet, a safflower oil diet or a linseed oil diet. J Nutr 125(4):920–925

24.

Mercer SW, Trayhurn P (1987) Effect of high fat diets on energy balance and thermogenesis in brown adipose tissue of lean and genetically obese ob/ob mice. J Nutr 117(12):2147–2153

25.

Hondares E, Rosell M, Diaz-Delfin J, Olmos Y, Monsalve M, Iglesias R, Villarroya F, Giralt M (2011) Peroxisome proliferator-activated receptor alpha (PPARalpha) induces PPARgamma coactivator 1alpha (PGC-1alpha) gene expression and contributes to thermogenic activation of brown fat: involvement of PRDM16. J Biol Chem 286(50):43112–43122. doi:10.1074/jbc.M111.252775

26.

Iizuka K, Wu W, Horikawa Y, Saito M, Takeda J (2013) Feedback looping between ChREBP and PPARalpha in the regulation of lipid metabolism in brown adipose tissues. Endocr J 60(10):1145–1153

27.

Festuccia WT, Blanchard PG, Richard D, Deshaies Y (2010) Basal adrenergic tone is required for maximal stimulation of rat brown adipose tissue UCP1 expression by chronic PPAR-gamma activation. Am J Physiol Regul Integr Comp Physiol 299(1):R159–R167. doi:10.1152/ajpregu.00821.2009

28.

Wang YX, Lee CH, Tiep S, Yu RT, Ham J, Kang H, Evans RM (2003) Peroxisome-proliferator-activated receptor delta activates fat metabolism to prevent obesity. Cell 113(2):159–170

29.

Mottillo EP, Bloch AE, Leff T, Granneman JG (2012) Lipolytic products activate peroxisome proliferator-activated receptor (PPAR) alpha and delta in brown adipocytes to match fatty acid oxidation with supply. J Biol Chem 287(30):25038–25048. doi:10.1074/jbc.M112.374041

30.

Nedergaard J, Cannon B (1831) UCP1 mRNA does not produce heat. Biochim Biophys Acta 5:943–949. doi:10.1016/j.bbalip.2013.01.009

31.

Komatsu M, Tong Y, Li Y, Nakajima T, Li G, Hu R, Sugiyama E, Kamijo Y, Tanaka N, Hara A, Aoyama T (2010) Multiple roles of PPARalpha in brown adipose tissue under constitutive and cold conditions. Genes Cells 15(2):91–100. doi:10.1111/j.1365-2443.2009.01368.x

32.

Bartelt A, Bruns OT, Reimer R, Hohenberg H, Ittrich H, Peldschus K, Kaul MG, Tromsdorf UI, Weller H, Waurisch C, Eychmuller A, Gordts PL, Rinninger F, Bruegelmann K, Freund B, Nielsen P, Merkel M, Heeren J (2011) Brown adipose tissue activity controls triglyceride clearance. Nat Med 17(2):200–205. doi:10.1038/nm.2297

33.

Bargut TC, Frantz ED, Mandarim-de-Lacerda CA, Aguila MB (2014) Effects of a diet rich in n-3 polyunsaturated fatty acids on hepatic lipogenesis and beta-oxidation in mice. Lipids 49(5):431–444. doi:10.1007/s11745-014-3892-9

34.

Yamazaki T, Nakamori A, Sasaki E, Wada S, Ezaki O (2007) Fish oil prevents sucrose-induced fatty liver but exacerbates high-safflower oil-induced fatty liver in ddy mice. Hepatology 46(6):1779–1790. doi:10.1002/hep.21934

35.

Shimizu Y, Nikami H, Tsukazaki K, Machado UF, Yano H, Seino Y, Saito M (1993) Increased expression of glucose transporter GLUT-4 in brown adipose tissue of fasted rats after cold exposure. Am J Physiol 264(6 Pt 1):E890–E895

36.

Chiang SH, Baumann CA, Kanzaki M, Thurmond DC, Watson RT, Neudauer CL, Macara IG, Pessin JE, Saltiel AR (2001) Insulin-stimulated GLUT4 translocation requires the CAP-dependent activation of TC10. Nature 410(6831):944–948. doi:10.1038/35073608

37.

Yu YH, Wu SC, Cheng WT, Mersmann HJ, Shen TL, Ding ST (2011) The function of porcine PPARgamma and dietary fish oil effect on the expression of lipid and glucose metabolism related genes. J Nutr Biochem 22(2):179–186. doi:10.1016/j.jnutbio.2010.01.006

38.

Nadal-Casellas A, Bauza-Thorbrugge M, Proenza AM, Gianotti M, Llado I (2013) Sex-dependent differences in rat brown adipose tissue mitochondrial biogenesis and insulin signaling parameters in response to an obesogenic diet. Mol Cell Biochem 373(1–2):125–135. doi:10.1007/s11010-012-1481-x

39.

Han L, Tang MX, Ti Y, Wang ZH, Wang J, Ding WY, Wang H, Zhang Y, Zhang W, Zhong M (2013) Overexpressing STAMP2 improves insulin resistance in diabetic ApoE(-)/(-)/LDLR(-)/(-) mice via macrophage polarization shift in adipose tissues. PLoS One 8(11):e78903. doi:10.1371/journal.pone.0078903

40.

Oliver E, McGillicuddy FC, Harford KA, Reynolds CM, Phillips CM, Ferguson JF, Roche HM (2012) Docosahexaenoic acid attenuates macrophage-induced inflammation and improves insulin sensitivity in adipocytes-specific differential effects between LC n-3 PUFA. J Nutr Biochem 23(9):1192–1200. doi:10.1016/j.jnutbio.2011.06.014

41.

Valverde AM, Teruel T, Navarro P, Benito M, Lorenzo M (1998) Tumor necrosis factor-alpha causes insulin receptor substrate-2-mediated insulin resistance and inhibits insulin-induced adipogenesis in fetal brown adipocytes. Endocrinology 139(3):1229–1238. doi:10.1210/endo.139.3.5854
Acknowledgments
The authors would like to thank Mrs. Thatiany Marinho, Mrs. Aline Penna, Mrs. Gezileia Lau, and Mrs. Michele Soares for their technical assistance. This study was supported by Conselho Nacional de Desenvolvimento Científico e Tecnológico (CNPq), Fundação de Amparo a Pesquisa do Estado do Rio de Janeiro (FAPERJ), and Coordenação de Aperfeiçoamento de Pessoal de Nível Superior (CAPES), Brazil.
Conflict of interest
The authors declare that they have no conflict of interest.
Electronic supplementary material
Below is the link to the electronic supplementary material.
About this article
Cite this article
Bargut, T.C.L., Silva-e-Silva, A.C.A.G., Souza-Mello, V. et al. Mice fed fish oil diet and upregulation of brown adipose tissue thermogenic markers . Eur J Nutr 55, 159–169 (2016). https://doi.org/10.1007/s00394-015-0834-0
Received:

Accepted:

Published:

Issue Date:
Keywords
Omega-3 fatty acids

Fish oil

Thermogenesis

Brown adipose tissue

Uncoupling protein 1