Abstract
Purpose
Evidence suggests that soy foods have chemoprotective properties that may reduce the risk of certain cancers such as breast and prostate cancer. However, data involving gastrointestinal (GI) have been limited, and the evidence remains controversial. This study aims to determine the potential relationship between dietary soy intake and GI cancer risk with an evaluation of the effects of isoflavone as an active soy constituent.
Methods
Relevant studies were identified after literature search via electronic databases through May 2014. Subgroup analysis for isoflavone intake (studies n = 10) was performed. Covariants including gender types, anatomical subsites and preparation methods were also evaluated. Pooled adjusted odds ratios (ORs) comparing highest and lowest categories of dietary pattern scores were calculated using a random effects model.
Results
Twenty-two case–control and 18 cohort studies were included for meta-analysis, which contained a total of 633,476 participants and 13,639 GI cancer cases. The combined OR was calculated as 0.93 (95 % CI 0.87–0.99; p value heterogeneity = 0.01), showing only a slight decrease in risk, the association was stronger for colon cancer (OR 0.92; 95 % CI 0.96–0.99; p value heterogeneity = 0.163) and colorectal cancer (CRC) (OR 0.92; 95 % CI 0.87–0.97; p value heterogeneity = 0.3). Subgroup analysis for isoflavone intake showed a statistically significant risk reduction with a risk estimate of 0.73 (95 % CI 0.59–0.92; p value heterogeneity = 0), and particularly for CRC (OR 0.76; 95 % CI 0.59–0.98; p value heterogeneity = 0).
Conclusion
This study provides evidence that soy intake as a food group is only associated with a small reduction in GI cancer risk. Separate analysis for dietary isoflavone intakes suggests a stronger inverse association.
This is a preview of subscription content, log in to check access.
Access options
Buy single article
Instant access to the full article PDF.
US$ 39.95
Price includes VAT for USA
Subscribe to journal
Immediate online access to all issues from 2019. Subscription will auto renew annually.
US$ 199
This is the net price. Taxes to be calculated in checkout.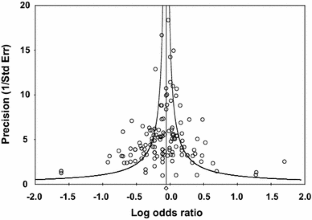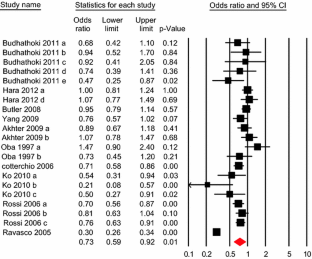 References
1.

Messina M, Bennink M (1998) Soyfoods, isoflavones and risk of colonic cancer: a review of the in vitro and in vivo data. Baillieres Clin Endocrinol Metab 12:707–728

2.

Wang H, Murphy PA (1994) Isoflavone content in commercial soybean foods. J Afric Food Chem 42:1666–1673

3.

Fotsis T, Pepper M, Adlercreutz H, Hase T, Montesano R, Schweigerer L (1995) Genistein, a dietary ingested isoflavonoid, inhibits cell proliferation and in vitro angiogenesis. J Nutr 125:790S–797S

4.

Markovits J, Linassier C, Fosse P, Couprie J, Pierre J, Jacquemin-Sablon A, Saucier JM, Le Pecq JB, Larsen AK (1989) Inhibitory effects of the tyrosine kinase inhibitor genistein on mammalian DNA topoisomerase II. Cancer Res 49:5111–5117

5.

Akiyama T, Ishida J, Nakagawa S, Ogawara H, Watanabe S, Itoh N, Shiyba M, Fukami Y (1987) Genistein, a specific inhibitor of tyrosine-specific kinase. J Biol Chem 25:5592–5595

6.

Booth C, Hargreaves DF, Hadfield JA, McGown AT, Potten CS (1999) Isoflavones inhibit intestinal epithelial cell proliferation and induce apoptosis in vitro. Br J Cancer 80:1550–1557

7.

Yan L, Spitznagel EL, Bosland MC (2010) Soy consumption and colorectal cancer risk in humans: a meta-analysis. Cancer Epidemiol Biomarkers Prev 19:148–158

8.

Wu AH, Yang D, Pike MC (2000) A meta-analysis of soyfoods and risk of stomach cancer: the problem of potential confounders. Cancer Epidemiol Biomarkers Prev 9:1051–1058

9.

Lechner D, Kallay E, Cross HS (2005) Phytoestrogens and colorectal cancer prevention. Vitam Horm 70:169–198

10.

Clinton S, Destree R, Anderson D (1979) 1,2-Dimethylhydrazube induced intestinal cancer in rats fed beef or soy protein. Nutr Rep Int 20:335–342

11.

Reddy B, Narisawa T, Weisburger J (1976) Effect of a diet with high levels of protein and fat on colon carcinogenesis in F344 rats treated with 1,2-Dimethylhydrazine. J Nat Cancer Inst 57:1559–1566

12.

Monsma D, Eghtedary K, Klurfeld D (1997) Colon cancer and aberrant crpy formation in ras fed different types of meat. FASEB J 11:A576

13.

Stroup DF, Berlin JA, Morton SC, Olkin I, Williamson GD, Rennie D, Moher D, Becker BJ, Sipe TA, Thacker SB (2000) Meta-analysis of observational studies in epidemiology: a proposal for reporting. Meta-analysis of observational studies in epidemiology (MOOSE) group. JAMA 283:2008–2012

14.

DerSimonian R, Laird N (1986) Meta-analysis in clinical trials. Control Clin Trials 7:177–188

15.

Higgins JP, Thompson SG, Deeks JJ, Altman DG (2003) Measuring inconsistency in meta-analyses. BMJ 327:557–560

16.

Egger M, Davey Smith G, Schneider M, Minder C (1997) Bias in meta-analysis detected by a simple, graphical test. BMJ 315:629–634

17.

Zhou Y, Lee AS (1998) Mechanism for the suppression of the mammalian stress response by genistein, an anticancer phytoestrogen from soy. J Nat Cancer Inst 90:381–388

18.

Rossouw JE, Anderson GL, Prentice RL, LaCroix AZ, Kooperberg C, Stefanick ML, Jackson RD, Beresford SA, Howard BV, Johnson KC, Kotchen JM, Ockene J, Writing Group for the Women's Health Initiative I (2002) Risks and benefits of estrogen plus progestin in healthy postmenopausal women: principal results from the women's health initiative randomized controlled trial. JAMA 288:321–333

19.

Issa JP, Ottaviano YL, Celano P, Hamilton SR, Davidson NE, Baylin SB (1994) Methylation of the oestrogen receptor CpG island links ageing and neoplasia in human colon. Nat Genet 7:536–540

20.

Bennink MR (2001) Dietary soy reduces colon carcinogenesis in human and rats. Soy and colon cancer. Adv Exp Med Biol 492:11–17

21.

Masaoka Y, Watanabe H, Katoh O, Ito A, Dohi K (1998) Effects of miso and NaCl on the development of colonic aberrant crypt foci induced by azoxymethane in F344 rats. Nutr Cancer 32:25–28

22.

Govers MJ, Lapre JA, De Vries HT, Van der Meer R (1993) Dietary soybean protein compared with casein damages colonic epithelium and stimulates colonic epithelial proliferation in rats. J Nutr 123:1709–1713

23.

Hu JF, Zhang SF, Jia EM, Wang QQ, Liu SD, Liu YY, Wu YP, Cheng YT (1988) Diet and cancer of the stomach: a case–control study in China. Int J Cancer 41:331–335

24.

Kono S, Ikeda M, Tokudome S, Kuratsune M (1988) A case–control study of gastric cancer and diet in northern Kyushu, Japan. Jpn J Cancer Res 79:1067–1074

25.

You WC, Blot WJ, Chang YS, Ershow AG, Yang ZT, An Q, Henderson B, Xu GW, Fraumeni JF Jr, Wang TG (1988) Diet and high risk of stomach cancer in Shandong, China. Cancer Res 48:3518–3523

26.

Kato I, Tominaga S, Ito Y, Kobayashi S, Yoshii Y, Matsuura A, Kameya A, Kano T (1990) A comparative case–control analysis of stomach cancer and atrophic gastritis. Cancer Res 50:6559–6564

27.

Hoshiyama Y, Sasaba T (1992) A case–control study of stomach cancer and its relation to diet, cigarettes, and alcohol consumption in Saltama Prefecture, Japan. Cancer Causes Control 3:441–448

28.

Hoshiyama Y, Sekine T, Sasaba T (1993) A case–control study of colorectal cancer and its relation to diet, cigarettes, and alcohol consumption in Saitama Prefecture, Japan. Tohoku J Exp Med 171:153–165

29.

Inoue M, Tajima K, Hirose K, Kuroishi T, Gao CM, Kitoh T (1994) Life-style and subsite of gastric cancer–joint effect of smoking and drinking habits. Int J Cancer 56:494–499

30.

Inoue M, Tajima K, Hirose K, Hamajima N, Takezaki T, Hirai T, Kato T, Ohno Y (1995) Subsite-specific risk factors for colorectal cancer: a hospital-based case–control study in Japan. Cancer Causes Control 6:14–22

31.

Lee JK, Park BJ, Yoo KY, Ahn YO (1995) Dietary factors and stomach cancer: a case–control study in Korea. Int J Epidemiol 24:33–41

32.

Le Marchand L, Hankin JH, Wilkens LR, Kolonel LN, Englyst HN, Lyu LC (1997) Dietary fiber and colorectal cancer risk. Epidemiology 8:658–665

33.

Nishi M, Yoshida K, Hirata K, Miyake H (1997) Eating habits and colorectal cancer. Oncol Rep 4:995–998

34.

Ji BT, Chow WH, Yang G, McLaughlin JK, Zheng W, Shu XO, Jin F, Gao RN, Gao YT, Fraumeni JF Jr (1998) Dietary habits and stomach cancer in Shanghai, China. Int J Cancer 76:659–664

35.

Gao CM, Takezaki T, Ding JH, Li MS, Tajima K (1999) Protective effect of allium vegetables against both esophageal and stomach cancer: a simultaneous case-referent study of a high-epidemic area in Jiangsu Province, China. Jpn J Cancer Res 90:614–621

36.

Huang XE, Hirose K, Wakai K, Matsuo K, Ito H, Xiang J, Takezaki T, Tajima K (2004) Comparison of lifestyle risk factors by family history for gastric, breast, lung and colorectal cancer. APJCP 5:419–427

37.

Ravasco P, Monteiro-Grillo I, Marques Vidal P, Camilo M (2005) Nutritional risks and colorectal cancer in a Portuguese population. Nutr Hosp 20:165–172

38.

Cotterchio M, Boucher BA, Manno M, Gallinger S, Okey A, Harper P (2006) Dietary phytoestrogen intake is associated with reduced colorectal cancer risk. J Nutr 136:3046–3053

39.

Ho SY, Schooling M, Hui LL, McGhee SM, Mak KH, Lam TH (2006) Soy consumption and mortality in Hong Kong: proxy-reported case–control study of all older adult deaths in 1998. Prev Med 43:20–26

40.

Rossi M, Negri E, Talamini R, Bosetti C, Parpinel M, Gnagnarella P, Franceschi S, Dal Maso L, Montella M, Giacosa A, La Vecchia C (2006) Flavonoids and colorectal cancer in Italy. Cancer Epidemiol Biomarkers Prev 15:1555–1558

41.

Williams CD, Satia JA, Adair LS, Stevens J, Galanko J, Keku TO, Sandler RS (2009) Dietary patterns, food groups, and rectal cancer risk in Whites and African–Americans. Cancer Epidemiol Biomarkers Prev 18:1552–1561

42.

Zhang YW, Eom SY, Kim YD, Song YJ, Yun HY, Park JS, Youn SJ, Kim BS, Kim H, Hein DW (2009) Effects of dietary factors and the NAT2 acetylator status on gastric cancer in Koreans. Int J Cancer 125:139–145

43.

Ko KP, Park SK, Park B, Yang JJ, Cho LY, Kang C, Kim CS, Gwack J, Shin A, Kim Y, Kim J, Yang HK, Kang D, Chang SH, Shin HR, Yoo KY (2010) Isoflavones from phytoestrogens and gastric cancer risk: a nested case–control study within the Korean Multicenter Cancer Cohort. Cancer Epidemiol Biomarkers Prev 19:1292–1300

44.

Budhathoki S, Joshi AM, Ohnaka K, Yin G, Toyomura K, Kono S, Mibu R, Tanaka M, Kakeji Y, Maehara Y, Okamura T, Ikejiri K, Futami K, Maekawa T, Yasunami Y, Takenaka K, Ichimiya H, Terasaka R (2011) Soy food and isoflavone intake and colorectal cancer risk: the Fukuoka colorectal cancer study. Scand J Gastroenterol 46:165–172

45.

Nomura A, Grove JS, Stemmermann GN, Severson RK (1990) A prospective study of stomach cancer and its relation to diet, cigarettes, and alcohol consumption. Cancer Res 50:627–631

46.

Kato I, Tominaga S, Matsumoto K (1992) A prospective study of stomach cancer among a rural Japanese population: a 6-year survey. Jpn J Cancer Res 83:568–575

47.

Inoue M, Tajima K, Kobayashi S, Suzuki T, Matsuura A, Nakamura T, Shirai M, Nakamura S, Inuzuka K, Tominaga S (1996) Protective factor against progression from atrophic gastritis to gastric cancer–data from a cohort study in Japan. Int J Cancer 66:309–314

48.

Galanis DJ, Kolonel LN, Lee J, Nomura A (1998) Intakes of selected foods and beverages and the incidence of gastric cancer among the Japanese residents of Hawaii: a prospective study. Int J Epidemiol 27:173–180

49.

Nagata C, Takatsuka N, Kawakami N, Shimizu H (2002) A prospective cohort study of soy product intake and stomach cancer death. Br J Cancer 87:31–36

50.

Ngoan LT, Mizoue T, Fujino Y, Tokui N, Yoshimura T (2002) Dietary factors and stomach cancer mortality. Br J Cancer 87:37–42

51.

Ito LS, Inoue M, Tajima K, Yamamura Y, Kodera Y, Hirose K, Takezaki T, Hamajima N, Kuroishi T, Tominaga S (2003) Dietary factors and the risk of gastric cancer among Japanese women: a comparison between the differentiated and non-differentiated subtypes. Ann Epidemiol 13:24–31

52.

Khan MM, Goto R, Kobayashi K, Suzumura S, Nagata Y, Sonoda T, Sakauchi F, Washio M, Mori M (2004) Dietary habits and cancer mortality among middle aged and older Japanese living in hokkaido, Japan by cancer site and sex. APJCP 5:58–65

53.

Iso H, Kubota Y, Japan Collaborative Cohort Study for Evaluation of C (2007) Nutrition and disease in the Japan collaborative cohort study for evaluation of cancer (JACC). APJCP 8(Suppl):35–80

54.

Sauvaget C, Lagarde F, Nagano J, Soda M, Koyama K, Kodama K (2005) Lifestyle factors, radiation and gastric cancer in atomic-bomb survivors (Japan). Cancer Causes Control 16:773–780

55.

Tokui N, Yoshimura T, Fujino Y, Mizoue T, Hoshiyama Y, Yatsuya H, Sakata K, Kondo T, Kikuchi S, Toyoshima H, Hayakawa N, Kubo T, Tamakoshi A, Group JS (2005) Dietary habits and stomach cancer risk in the JACC Study. J Epidemiol 15(Suppl 2):S98–S108

56.

Oba S, Nagata C, Shimizu N, Shimizu H, Kametani M, Takeyama N, Ohnuma T, Matsushita S (2007) Soy product consumption and the risk of colon cancer: a prospective study in Takayama, Japan. Nutr Cancer 57:151–157

57.

Akhter M, Inoue M, Kurahashi N, Iwasaki M, Sasazuki S, Tsugane S, Japan Public Health Center-Based Prospective Study G (2008) Dietary soy and isoflavone intake and risk of colorectal cancer in the Japan public health center-based prospective study. Cancer Epidemiol Biomarkers Prev 17:2128–2135

58.

Butler LM, Wang R, Koh WP, Yu MC (2008) Prospective study of dietary patterns and colorectal cancer among Singapore Chinese. Br J Cancer 99:1511–1516

59.

Yang G, Shu XO, Li H, Chow WH, Cai H, Zhang X, Gao YT, Zheng W (2009) Prospective cohort study of soy food intake and colorectal cancer risk in women. Am J Clin Nutr 89:577–583

60.

Hara A, Sasazuki S, Inoue M, Iwasaki M, Shimazu T, Sawada N, Yamaji T, Tsugane S, Japan Public Health Center-Based Prospective Study G (2012) Isoflavone intake and risk of gastric cancer: a population-based prospective cohort study in Japan. Am J Clin Nutr 95:147–154

61.

Ko KP, Park SK, Yang JJ, Ma SH, Gwack J, Shin A, Kim Y, Kang D, Chang SH, Shin HR, Yoo KY (2013) Intake of soy products and other foods and gastric cancer risk: a prospective study. J Epidemiol 23:337–343

62.

Kweon SS, Shu XO, Xiang Y, Cai H, Yang G, Ji BT, Li H, Gao YT, Zheng W, Epplein M (2013) Intake of specific nonfermented soy foods may be inversely associated with risk of distal gastric cancer in a Chinese population. J Nutr 143:1736–1742

63.

Willet WC, Howe GR, Kushi LH (1997) Adjustment for total energy intake in epidemiologic studies. Am J Clin Nutr 65:1220S–1228S
About this article
Cite this article
Tse, G., Eslick, G.D. Soy and isoflavone consumption and risk of gastrointestinal cancer: a systematic review and meta-analysis. Eur J Nutr 55, 63–73 (2016). https://doi.org/10.1007/s00394-014-0824-7
Received:

Accepted:

Published:

Issue Date:
Keywords
Soy

Isoflavone

Gastrointestinal neoplasms

Colon cancer

Meta-analysis