Abstract
Purpose
Glutathione (GSH), the most abundant endogenous antioxidant, is a critical regulator of oxidative stress and immune function. While oral GSH has been shown to be bioavailable in laboratory animal models, its efficacy in humans has not been established. Our objective was to determine the long-term effectiveness of oral GSH supplementation on body stores of GSH in healthy adults.
Methods
A 6-month randomized, double-blinded, placebo-controlled trial of oral GSH (250 or 1,000 mg/day) on GSH levels in blood, erythrocytes, plasma, lymphocytes and exfoliated buccal mucosal cells was conducted in 54 non-smoking adults. Secondary outcomes on a subset of subjects included a battery of immune markers.
Results
GSH levels in blood increased after 1, 3 and 6 months versus baseline at both doses. At 6 months, mean GSH levels increased 30–35 % in erythrocytes, plasma and lymphocytes and 260 % in buccal cells in the high-dose group (P < 0.05). GSH levels increased 17 and 29 % in blood and erythrocytes, respectively, in the low-dose group (P < 0.05). In most cases, the increases were dose and time dependent, and levels returned to baseline after a 1-month washout period. A reduction in oxidative stress in both GSH dose groups was indicated by decreases in the oxidized to reduced glutathione ratio in whole blood after 6 months. Natural killer cytotoxicity increased >twofold in the high-dose group versus placebo (P < 0.05) at 3 months.
Conclusions
These findings show, for the first time, that daily consumption of GSH supplements was effective at increasing body compartment stores of GSH.
Access options
Buy single article
Instant access to the full article PDF.
USD 39.95
Price excludes VAT (USA)
Tax calculation will be finalised during checkout.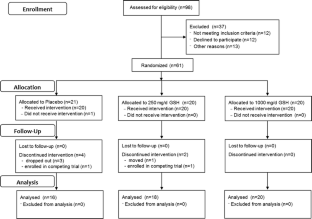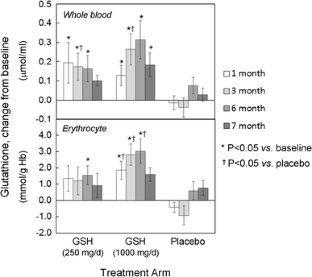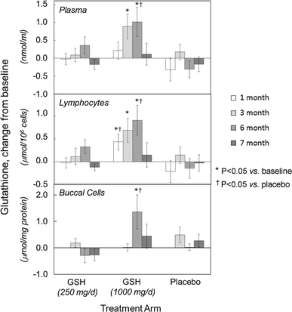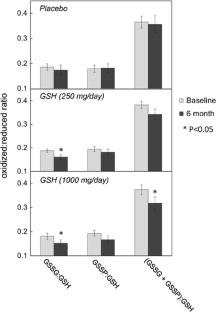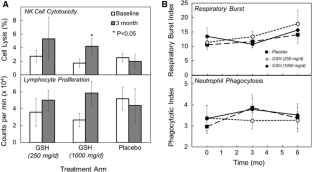 References
Lu SC (1999) Regulation of hepatic glutathione synthesis: current concepts and controversies. Faseb J 13:1169–1183

Meister A, Anderson ME (1983) Glutathione. Annu Rev Biochem 52:711–760

Vina J (1990) Glutathione: metabolism and physiological functions. CRC Press, Boca Raton

Giustarini D, Rossi R, Milzani A, Colombo R, Dalle-Donne I (2004) S-glutathionylation: from redox regulation of protein functions to human diseases. J Cell Mol Med 8:201–212

Forman HJ, Zhang H, Rinna A (2009) Glutathione: overview of its protective roles, measurement, and biosynthesis. Mol Aspects Med 30:1–12. doi:10.1016/j.mam.2008.08.006

Griffith OW (1999) Biologic and pharmacologic regulation of mammalian glutathione synthesis. Free Radic Biol Med 27:922–935

Zhang H, Forman HJ (2012) Glutathione synthesis and its role in redox signaling. Semin Cell Dev Biol 23:722–728. doi:10.1016/j.semcdb.2012.03.017

Budihardjo I, Oliver H, Lutter M, Luo X, Wang X (1999) Biochemical pathways of caspase activation during apoptosis. Annu Rev Cell Dev Biol 15:269–290

Jollow DJ (1980) Glutathione thresholds in reactive metabolite toxicity. Arch Toxicol Suppl 3:95–110

Ellouk-Achard S, Levresse V, Martin C, Pham-Huy C, Dutertre-Catella H, Thevenin M, Warnet JM, Claude JR (1995) Ex vivo and in vitro models in acetaminophen hepatotoxicity studies. Relationship between glutathione depletion, oxidative stress and disturbances in calcium homeostasis and energy metabolism. Arch Toxicol Suppl 17:209–214

Townsend DM, Tew KD, Tapiero H (2003) The importance of glutathione in human disease. Biomed Pharmacother 57:145–155

Nuttall SL, Martin U, Sinclair AJ, Kendall MJ (1998) Glutathione: in sickness and in health. Lancet 351:645–646

Julius M, Lang CA, Gleiberman L, Harburg E, DiFranceisco W, Schork A (1994) Glutathione and morbidity in a community-based sample of elderly. J Clin Epidemiol 47:1021–1026

Vogt BL, Richie JP Jr (1993) Fasting-induced depletion of glutathione in the aging mouse. Biochem Pharmacol 46:257–263

Jaeschke H, Wendel A (1985) Diurnal fluctuation and pharmacological alteration of mouse organ glutathione content. Biochem Pharmacol 34:1029–1033

Flagg EW, Coates RJ, Eley JW, Jones DP, Gunter EW, Byers TE, Block GS, Greenberg RS (1994) Dietary glutathione intake in humans and the relationship between intake and plasma total glutathione level. Nutr Cancer 21:33–46

Flagg EW, Coates RJ, Jones DP, Byers TE, Greenberg RS, Gridley G, McLaughlin JK, Blot WJ, Haber M, Preston-Martin S et al (1994) Dietary glutathione intake and the risk of oral and pharyngeal cancer. Am J Epidemiol 139:453–465

Favilli F, Marraccini P, Iantomasi T, Vincenzini MT (1997) Effect of orally administered glutathione on glutathione levels in some organs of rats: role of specific transporters. Br J Nutr 78:293–300

Kariya C, Leitner H, Min E, van Heeckeren C, van Heeckeren A, Day BJ (2007) A role for CFTR in the elevation of glutathione levels in the lung by oral glutathione administration. Am J Physiol Lung Cell Mol Physiol 292:L1590–L1597. doi:10.1152/ajplung.00365.2006

Aw TY, Wierzbicka G, Jones DP (1991) Oral glutathione increases tissue glutathione in vivo. Chem Biol Interact 80:89–97

Hagen TM, Wierzbicka GT, Sillau AH, Bowman BB, Jones DP (1990) Bioavailability of dietary glutathione: effect on plasma concentration. Am J Physiol 259:G524–G529

Vina J, Perez C, Furukawa T, Palacin M, Vina JR (1989) Effect of oral glutathione on hepatic glutathione levels in rats and mice. Br J Nutr 62:683–691

Hunjan MK, Evered DF (1985) Absorption of glutathione from the gastro-intestinal tract. Biochim Biophys Acta 815:184–188

Furukawa T, Meydani SN, Blumberg JB (1987) Reversal of age-associated decline in immune responsiveness by dietary glutathione supplementation in mice. Mech Ageing Dev 38:107–117

Cai J, Chen Y, Seth S, Furukawa S, Compans RW, Jones DP (2003) Inhibition of influenza infection by glutathione. Free Radic Biol Med 34:928–936

Novi AM (1981) Regression of aflatoxin B1-induced hepatocellular carcinomas by reduced glutathione. Science 212:541–542

Trickler D, Shklar G, Schwartz J (1993) Inhibition of oral carcinogenesis by glutathione. Nutr Cancer 20:139–144

Schwartz JL, Shklar G (1996) Glutathione inhibits experimental oral carcinogenesis, p53 expression, and angiogenesis. Nutr Cancer 26:229–236

Shklar G, Schwartz J, Trickler D, Cheverie SR (1993) The effectiveness of a mixture of beta-carotene, alpha-tocopherol, glutathione, and ascorbic acid for cancer prevention. Nutr Cancer 20:145–151

Iantomasi T, Favilli F, Marraccini P, Magaldi T, Bruni P, Vincenzini MT (1997) Glutathione transport system in human small intestine epithelial cells. Biochim Biophys Acta 1330:274–283

Witschi A, Reddy S, Stofer B, Lauterburg BH (1992) The systemic availability of oral glutathione. Eur J Clin Pharmacol 43:667–669

Muscat JE, Kleinman W, Colosimo S, Muir A, Lazarus P, Park J, Richie JP Jr (2004) Enhanced protein glutathiolation and oxidative stress in cigarette smokers. Free Radic Biol Med 36:464–470

Droge W, Breitkreutz R (2000) Glutathione and immune function. Proc Nutr Soc 59:595–600

Hamilos DL, Zelarney P, Mascali JJ (1989) Lymphocyte proliferation in glutathione-depleted lymphocytes: direct relationship between glutathione availability and the proliferative response. Immunopharmacology 18:223–235

Hamilos DL, Wedner HJ (1985) The role of glutathione in lymphocyte activation. I. Comparison of inhibitory effects of buthionine sulfoximine and 2-cyclohexene-1-one by nuclear size transformation. J Immunol 135:2740–2747

Gmunder H, Droge W (1991) Differential effects of glutathione depletion on T cell subsets. Cell Immunol 138:229–237

Morris D, Khurasany M, Nguyen T, Kim J, Guilford F, Mehta R, Gray D, Saviola B, Venketaraman V (2013) Glutathione and infection. Biochim Biophys Acta 1830:3329–3349. doi:10.1016/j.bbagen.2012.10.012

Richie JP Jr, Skowronski L, Abraham P, Leutzinger Y (1996) Blood glutathione concentrations in a large-scale human study. Clin Chem 42:64–70

Tietze F (1969) Enzymic method for quantitative determination of nanogram amounts of total and oxidized glutathione: applications to mammalian blood and other tissues. Anal Biochem 27:502–522

Kleinman WA, Richie JP Jr (2000) Status of glutathione and other thiols and disulfides in human plasma. Biochem Pharmacol 60:19–29

Drabkin DL (1949) The standardization of hemoglobin measurements. Am J Med Sci 217:711–714

Nichenametla SN, Ellison I, Calcagnotto A, Lazarus P, Muscat JE, Richie JP Jr (2008) Functional significance of the GAG trinucleotide-repeat polymorphism in the gene for the catalytic subunit of gamma-glutamylcysteine ligase. Free Radic Biol Med 45:645–650. doi:10.1016/j.freeradbiomed.2008.05.012

Gaitonde MK (1967) A spectrophotometric method for the direct determination of cysteine in the presence of other naturally occurring amino acids. Biochem J 104:627–633

Richardson MP, Ayliffe MJ, Helbert M, Davies EG (1998) A simple flow cytometry assay using dihydrorhodamine for the measurement of the neutrophil respiratory burst in whole blood: comparison with the quantitative nitrobluetetrazolium test. J Immunol Methods 219:187–193

Lozzio CB, Lozzio BB (1975) Human chronic myelogenous leukemia cell-line with positive Philadelphia chromosome. Blood 45:321–334

Schell TD, Mylin LM, Georgoff I, Teresky AK, Levine AJ, Tevethia SS (1999) Cytotoxic T-lymphocyte epitope immunodominance in the control of choroid plexus tumors in simian virus 40 large T antigen transgenic mice. J Virol 73:5981–5993

Anderson ME, Bridges RJ, Meister A (1980) Direct evidence for inter-organ transport of glutathione and that the non-filtration renal mechanism for glutathione utilization involves gamma-glutamyl transpeptidase. Biochem Biophys Res Commun 96:848–853

Wendel A, Cikryt P (1980) The level and half-life of glutathione in human plasma. FEBS Lett 120:209–211

Allen J, Bradley RD (2011) Effects of oral glutathione supplementation on systemic oxidative stress biomarkers in human volunteers. J Altern Complement Med 17:827–833. doi:10.1089/acm.2010.0716

Mills BJ, Richie JP Jr, Lang CA (1994) Glutathione disulfide variability in normal human blood. Anal Biochem 222:95–101

Richie JP Jr, Kleinman W, Marina P, Abraham P, Wynder EL, Muscat JE (2008) Blood iron, glutathione, and micronutrient levels and the risk of oral cancer. Nutr Cancer 60:474–482. doi:10.1080/01635580801956477

Nichenametla SN, Lazarus P, Richie JP Jr (2011) A GAG trinucleotide-repeat polymorphism in the gene for glutathione biosynthetic enzyme, GCLC, affects gene expression through translation. Faseb J 25:2180–2187. doi:10.1096/fj.10-174011

Nichenametla SN, Muscat JE, Liao JG, Lazarus P, Richie JP Jr (2012) A functional trinucleotide repeat polymorphism in the 5′-untranslated region of the glutathione biosynthetic gene GCLC is associated with increased risk for lung and aerodigestive tract cancers. Mol Carcinog. doi:10.1002/mc.21923

Pastore A, Piemonte F (2012) S-Glutathionylation signaling in cell biology: progress and prospects. Eur J Pharm Sci Off J Eur Fed Pharm Sci 46:279–292. doi:10.1016/j.ejps.2012.03.010

Galter D, Mihm S, Droge W (1994) Distinct effects of glutathione disulphide on the nuclear transcription factor kappa B and the activator protein-1. Eur J Biochem 221:639–648

Suthanthiran M, Anderson ME, Sharma VK, Meister A (1990) Glutathione regulates activation-dependent DNA synthesis in highly purified normal human T lymphocytes stimulated via the CD2 and CD3 antigens. Proc Natl Acad Sci USA 87:3343–3347

Hargrove ME, Wang J, Ting CC (1993) Regulation by glutathione of the activation and differentiation of IL-4-dependent activated killer cells. Cell Immunol 149:433–443. doi:10.1006/cimm.1993.1168

Liang CM, Lee N, Cattell D, Liang SM (1989) Glutathione regulates interleukin-2 activity on cytotoxic T-cells. J Biol Chem 264:13519–13523

Vojdani A, Mumper E, Granpeesheh D, Mielke L, Traver D, Bock K, Hirani K, Neubrander J, Woeller KN, O'Hara N, Usman A, Schneider C, Hebroni F, Berookhim J, McCandless J (2008) Low natural killer cell cytotoxic activity in autism: the role of glutathione, IL-2 and IL-15. J Neuroimmunol 205:148–154. doi:10.1016/j.jneuroim.2008.09.005

Ilhan N, Kamanli A, Ozmerdivenli R (2004) Variable effects of exercise intensity on reduced glutathione, thiobarbituric acid reactive substance levels, and glucose concentration. Arch Med Res 35:294–300. doi:10.1016/j.arcmed.2004.03.006

Gherghel D, Griffiths HR, Hilton EJ, Cunliffe IA, Hosking SL (2005) Systemic reduction in glutathione levels occurs in patients with primary open-angle glaucoma. Invest Ophthalmol Vis Sci 46:877–883. doi:10.1167/iovs.04-0777

Erden-Inal M, Sunal E, Kanbak G (2002) Age-related changes in the glutathione redox system. Cell Biochem Funct 20:61–66. doi:10.1002/cbf.937

Michelet F, Gueguen R, Leroy P, Wellman M, Nicolas A, Siest G (1995) Blood and plasma glutathione measured in healthy subjects by HPLC: relation to sex, aging, biological variables, and life habits. Clin Chem 41:1509–1517

Morris D, Guerra C, Donohue C, Oh H, Khurasany M, Venketaraman V (2012) Unveiling the mechanisms for decreased glutathione in individuals with HIV infection. Clin Dev Immunol 2012:734125. doi:10.1155/2012/734125

Nguyen D, Hsu JW, Jahoor F, Sekhar RV (2014) Effect of increasing glutathione with cysteine and glycine supplementation on mitochondrial fuel oxidation, insulin sensitivity, and body composition in older HIV-infected patients. J Clin Endocrinol Metab 99:169–177. doi:10.1210/jc.2013-2376

Borges-Santos MD, Moreto F, Pereira PC, Ming-Yu Y, Burini RC (2012) Plasma glutathione of HIV(+) patients responded positively and differently to dietary supplementation with cysteine or glutamine. Nutrition 28:753–756. doi:10.1016/j.nut.2011.10.014

Hummelen R, Hemsworth J, Reid G (2010) Micronutrients, N-acetyl cysteine, probiotics and prebiotics, a review of effectiveness in reducing HIV progression. Nutrients 2:626–651. doi:10.3390/nu2060626

Morris D, Guerra C, Khurasany M, Guilford F, Saviola B, Huang Y, Venketaraman V (2013) Glutathione supplementation improves macrophage functions in HIV. J Interf Cytokine Res Off J Int Soc Interf Cytokine Res 33:270–279. doi:10.1089/jir.2012.0103
Acknowledgments
We thank Ashley Knipe for her technical assistance with sample processing and Nate Sheaffer in the Penn State Hershey Flow Cytometry Core Facility. We thank Mr. Yoichiro Sugimura (deceased) and Ms. Erika Hashizume for their support in the design and implementation of this trial. This work was supported by Kyowa Hakko Bio Co., Ltd (JR). Glutathione (Setria®) supplements and placebo were provided by Kyowa Hakko Bio Co., Ltd. Kyowa Hakko Bio Co., Ltd had no role in the conduct, collection, management, analysis and interpretation of the data, or writing of the manuscript. Immunological analyses were supported in part by the Penn State Hershey Cancer Institute through the Clinical Correlative Immunology Laboratory (TS and JH).
Conflict of interest
JPR received research support for this study and travel funds to present previous research findings from Kyowa Hakko Bio Co., Ltd. Kyowa Hakko Bio Co., Ltd is a biotechnology and fermentation company that provides glutathione (Setria®). None of the other authors have any conflicts of interest to disclose.
Electronic supplementary material
Below is the link to the electronic supplementary material.
About this article
Cite this article
Richie, J.P., Nichenametla, S., Neidig, W. et al. Randomized controlled trial of oral glutathione supplementation on body stores of glutathione. Eur J Nutr 54, 251–263 (2015). https://doi.org/10.1007/s00394-014-0706-z
Received:

Accepted:

Published:

Issue Date:

DOI: https://doi.org/10.1007/s00394-014-0706-z
Keywords
Glutathione

Supplementation

Antioxidant

Immune function