Abstract
Purpose
Coffee consumption has been reported to decrease oxidative damage in peripheral white blood cells (WBC). However, effects on the level of spontaneous DNA strand breaks, a well established marker of health risk, have not been specifically reported yet. We analyzed the impact of consuming a dark roast coffee blend on the level of spontaneous DNA strand breaks.
Methods
Healthy men (n = 84) were randomized to consume daily for 4 weeks either 750 ml of fresh coffee brew or 750 ml of water, subsequent to a run in washout phase of 4 weeks. The study coffee was a blend providing high amounts of both caffeoylquinic acids (10.18 ± 0.33 mg/g) and the roast product N-methylpyridinium (1.10 ± 0.05 mg/g). Before and after the coffee/water consumption phase, spontaneous strand breaks were determined by comet assay.
Results
At baseline, both groups exhibited a similar level of spontaneous DNA strand breaks. In the intervention phase, spontaneous DNA strand breaks slightly increased in the control (water only) group whereas they significantly decreased in the coffee group, leading to a 27 % difference within both arms (p = 0.0002). Food frequency questionnaires indicated no differences in the overall diet between groups, and mean body weight during the intervention phases remained stable. The consumption of the study coffee substantially lowered the level of spontaneous DNA strand breaks in WBC.
Conclusion
We conclude that regular coffee consumption contributes to DNA integrity.
Access options
Buy single article
Instant access to the full article PDF.
USD 39.95
Price excludes VAT (USA)
Tax calculation will be finalised during checkout.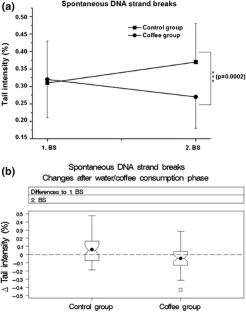 Abbreviations
BMI:

Body mass index

TI:

Tail intensity

BS:

Blood sampling

NMP:

N-Methylpyridinium

NQO1:

NAD(P)H:quinine oxidoreductase 1

γ-GCL:

γ-Glutamylcysteine ligase

Nrf2:

NF-E2 p45 subunit-related factor 2
References
Natella F, Scaccini C (2012) Role of coffee in modulation of diabetes risk. Nutr Rev 70(4):207–217. doi:10.1111/j.1753-4887.2012.00470.x

Halliwell B, Gutteridge JMC (1999) Free radicals in biology and medicine. Oxford University Press, Oxford

Bakuradze T, Lang R, Hofmann T, Stiebitz H, Bytof G, Lantz I, Baum M, Eisenbrand G, Janzowski C (2010) Antioxidant effectiveness of coffee extracts and selected constituents in cell-free systems and human colon cell lines. Mol Nutr Food Res 54(12):1734–1743. doi:10.1002/mnfr.201000147

Boettler U, Sommerfeld K, Volz N, Pahlke G, Teller N, Somoza V, Lang R, Hofmann T, Marko D (2011) Coffee constituents as modulators of Nrf2 nuclear translocation and ARE (EpRE)-dependent gene expression. J Nutr Biochem 22(5):426–440. doi:10.1016/j.jnutbio.2010.03.011

Bakuradze T, Boehm N, Janzowski C, Lang R, Hofmann T, Stockis JP, Albert FW, Stiebitz H, Bytof G, Lantz I, Baum M, Eisenbrand G (2011) Antioxidant-rich coffee reduces DNA damage, elevates glutathione status and contributes to weight control: results from an intervention study. Mol Nutr Food Res 55(5):793–797. doi:10.1002/mnfr.201100093

Hoelzl C, Knasmuller S, Wagner KH, Elbling L, Huber W, Kager N, Ferk F, Ehrlich V, Nersesyan A, Neubauer O, Desmarchelier A, Marin-Kuan M, Delatour T, Verguet C, Bezencon C, Besson A, Grathwohl D, Simic T, Kundi M, Schilter B, Cavin C (2010) Instant coffee with high chlorogenic acid levels protects humans against oxidative damage of macromolecules. Mol Nutr Food Res 54(12):1722–1733. doi:10.1002/mnfr.201000048

Steinkellner H, Hoelzl C, Uhl M, Cavin C, Haidinger G, Gsur A, Schmid R, Kundi M, Bichler J, Knasmuller S (2005) Coffee consumption induces GSTP in plasma and protects lymphocytes against (±)-anti-benzo[a]pyrene-7,8-dihydrodiol-9,10-epoxide induced DNA-damage: results of controlled human intervention trials. Mutat Res 591(1–2):264–275

Bichler J, Cavin C, Simic T, Chakraborty A, Ferk F, Hoelzl C, Schulte-Hermann R, Kundi M, Haidinger G, Angelis K, Knasmuller S (2007) Coffee consumption protects human lymphocytes against oxidative and 3-amino-1-methyl-5H-pyrido[4,3-b]indole acetate (Trp-P-2) induced DNA-damage: results of an experimental study with human volunteers. Food Chem Toxicol 45(8):1428–1436

Misik M, Hoelzl C, Wagner KH, Cavin C, Moser B, Kundi M, Simic T, Elbling L, Kager N, Ferk F, Ehrlich V, Nersesyan A, Dusinska M, Schilter B, Knasmuller S (2010) Impact of paper filtered coffee on oxidative DNA-damage: results of a clinical trial. Mutat Res 692(1–2):42–48. doi:10.1016/j.mrfmmm.2010.08.003

Weiss C, Rubach M, Lang R, Seebach E, Blumberg S, Frank O, Hofmann T, Somoza V (2010) Measurement of the intracellular pH in human stomach cells: a novel approach to evaluate the gastric acid secretory potential of coffee beverages. J Agric Food Chem 58(3):1976–1985. doi:10.1021/jf903614d

Lang R, Wahl A, Stark T, Hofmann T (2012) Identification of urinary and salivary biomarkers for coffee consumption. In: Recent advances in the analysis of foods and flavors. ACS symposium series edited by Toth S et al

Collins AR, Dusinska M, Gedik CM, Stetina R (1996) Oxidative damage to DNA: do we have a reliable biomarker? Environ Health Perspect 104(Suppl 3):465–469

Collins AR (2013) Measuring oxidative damage to DNA and its repair with the comet assay. Biochim Biophys Acta. doi:10.1016/j.bbagen.2013.04.022

Azqueta A, Gutzkow KB, Priestley CC, Meier S, Walker JS, Brunborg G, Collins AR (2013) A comparative performance test of standard, medium- and high-throughput comet assays. Toxicol In Vitro 27(2):768–773. doi:10.1016/j.tiv.2012.12.006

Azqueta A, Collins AR (2013) The essential comet assay: a comprehensive guide to measuring DNA damage and repair. Arch Toxicol 87(6):949–968. doi:10.1007/s00204-013-1070-0

Lang R, Wahl A, Stark T, Hofmann T (2011) Urinary N-methylpyridinium and trigonelline as candidate dietary biomarkers of coffee consumption. Mol Nutr Food Res 55(11):1613–1623. doi:10.1002/mnfr.201000656

Fujioka K, Shibamoto T (2008) Chlorogenic acid and caffeine contents in various commercial brewed coffees. Food Chem 106(1):217–221

Stadler RH, Varga N, Milo C, Schilter B, Vera FA, Welti DH (2002) Alkylpyridiniums. 2. Isolation and quantification in roasted and ground coffees. J Agric Food Chem 50(5):1200–1206

Lang R, Yagar EF, Wahl A, Beusch A, Dunkel A, Dieminger N, Eggers R, Bytof G, Stiebitz H, Lantz I, Hofmann T (2013) Quantitative studies on roast kinetics for bioactives in coffee. J Agric Food Chem 61(49):12123–12128. doi:10.1021/jf403846g

Kotyczka C, Boettler U, Lang R, Stiebitz H, Bytof G, Lantz I, Hofmann T, Marko D, Somoza V (2011) Dark roast coffee is more effective than light roast coffee in reducing body weight, and in restoring red blood cell vitamin E and glutathione concentrations in healthy volunteers. Mol Nutr Food Res 55(10):1582–1586. doi:10.1002/mnfr.201100248

Bakuradze T, Baum M, Richling E (2011) Sample preparation modulating the results of the comet assay; abstracts of UKEMS/Dutch EMS-sponsored workshop on biomarkers of exposure and oxidative DNA damage and 7th GUM 32P-Postlabelling workshop. Münster, Germany. March 28–29, 2011. Mutagenesis 26(5):718. doi:10.1093/mutage/ger026

Hoelzl C, Knasmuller S, Misik M, Collins A, Dusinska M, Nersesyan A (2009) Use of single cell gel electrophoresis assays for the detection of DNA-protective effects of dietary factors in humans: recent results and trends. Mutat Res 681(1):68–79. doi:10.1016/j.mrrev.2008.07.004

Moller P, Loft S (2006) Dietary antioxidants and beneficial effect on oxidatively damaged DNA. Free Radic Biol Med 41(3):388–415. doi:10.1016/j.freeradbiomed.2006.04.001

Volz N, Boettler U, Winkler S, Teller N, Schwarz C, Bakuradze T, Eisenbrand G, Haupt L, Griffiths LR, Stiebitz H, Bytof G, Lantz I, Lang R, Hofmann T, Somoza V, Marko D (2012) Effect of coffee combining green coffee bean constituents with typical roasting products on the Nrf2/ARE pathway in vitro and in vivo. J Agric Food Chem 60(38):9631–9641. doi:10.1021/jf302258u
Acknowledgments
We are grateful for the contribution of the participants in the study. We thank Dirk Galan and Axel Stachon for their support during the study. The authors thank Sylvia Schmidt for performing the comet measurements and Anja Beusch for technical assistance.
Conflict of interest
This study has been supported by Tchibo GmbH, Hamburg. G. Eisenbrand is scientific advisor within the BMBF cluster projects, grants no 0313843 and 0315692, with Tchibo GmbH and with the Institute for Scientific Information on Coffee, La Tour de Peilz, Switzerland (ISIC).
About this article
Cite this article
Bakuradze, T., Lang, R., Hofmann, T. et al. Consumption of a dark roast coffee decreases the level of spontaneous DNA strand breaks: a randomized controlled trial. Eur J Nutr 54, 149–156 (2015). https://doi.org/10.1007/s00394-014-0696-x
Received:

Accepted:

Published:

Issue Date:

DOI: https://doi.org/10.1007/s00394-014-0696-x
Keywords
Antioxidants

Coffee

Comet assay

Intervention study

DNA strand breaks