Abstract
Purpose
To investigate whether breast-milk composition and microbiota differ in healthy mothers and mothers with celiac disease (CD) to ultimately contribute to identify additional factors determining CD risk.
Methods
Breast-milk samples from healthy mothers (n = 12) and mothers with CD (n = 12) were collected. Cytokines and secretory immunoglobulin A (sIgA) were analyzed by bead-arrays and flow cytometry and human milk oligosaccharides (HMOs) were assessed by capillary electrophoresis with laser-induced fluorescence (CE-LIF) detection. Breast-milk microbiota composition was analyzed by conventional and quantitative real-time PCR.
Result
Breast milk from CD mothers showed significantly lower levels of interleukin (IL) 12p70 (P < 0.042), transforming growth factor (TGF)-β1 (P < 0.018) and sIgA (P < 0.003) and almost significantly lower levels of interferon (IFN)-γ (P < 0.058). Six mothers in each group belonged to the secretor Le(a−b+) type, one to the secretor Le(a−b−) type and five to the non-secretor Le(a+b−) type. CD mothers of non-secretor Le(a+b−) type showed increased Lacto-N-tetraose content (P < 0.042) compared with healthy mothers. CD mothers' milk showed reduced gene copy numbers of Bifidobacterium spp. (P < 0.026) and B. fragilis group (P < 0.044).
Conclusion
CD mothers' breast milk is characterized by a reduced abundance of immunoprotective compounds (TGF-β1 and sIgA) and bifidobacteria. The reduction in these components could theoretically diminish the protective effects of breast-feeding on the child's future risk of developing CD.
Access options
Buy single article
Instant access to the full article PDF.
US$ 39.95
Tax calculation will be finalised during checkout.
Subscribe to journal
Immediate online access to all issues from 2019. Subscription will auto renew annually.
US$ 159
Tax calculation will be finalised during checkout.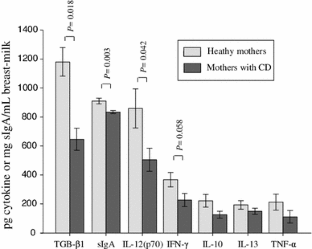 Abbreviations
ACN:

Acetonitrile

APTS:

9-Aminopyrene-1,4,6-trisulfonate

CD:

Celiac disease

Ct:

Cycle threshold

DGGE:

Denaturing gradient gel electrophoresis

DFL:

Difucosyllactose

DF LNH:

Difucosyllacto-N-hexaose

CE-LIF:

Electrophoresis-laser-induced fluorescence

ESPGHAN:

European Society of Pedriatric Gastroenterology Hepatology and Nutrition

Fuc:

Fucose

F LNH:

Fucosyllacto-N-hexaose

FL:

Fucosyllactose

FUT:

Fucosyltransferase

Gal:

Galactose

Glu:

Glucose

GFD:

Gluten free diet

TGF:

Transforming growth factor

HLA:

Human leukocyte antigen

HMO:

Human milk oligosaccharide

IFN:

Interferon

IL:

Interleukin

N-Acetyl:

N-Acetylglucosamine

LNT:

Lacto-N-tetraose

LIF:

Laser-induced fluorescence

LNFP:

Lacto-N-fucopentose

LNDFH:

Lacto-N-difucosylhexaose

Le:

Lewis

Se:

Secretor

sIgA:

Secretory immunoglobulin A

Neu5Ac:

Sialic acid

SL:

Sialyllactose

TNF:

Tumor necrosis factor

TFA:

Trifluoroacetic acid
References
1.

Pozo-Rubio T, Olivares M, Nova E et al (2012) Immune development and intestinal microbiota in coeliac disease. Clin Dev Immunol 2012:654143

2.

Akobeng AK, Ramanan AV, Buchan I et al (2006) Effect of breast feeding on risk of coeliac disease: a systematic review and meta-analysis of observational studies. Arch Dis Child 91:39–43

3.

Ivarsson A, Myléus A, Norström F et al (2013) Prevalence of childhood coeliac disease and changes in infant feeding. Pediatrics 131:e687–e694

4.

Norris JM, Barriga K, Hoffenberg EJ et al (2005) Risk of coeliac disease autoimmunity and timing of gluten introduction in the diet of infants at increased risk of disease. JAMA 293:2343–2351

5.

Welander A, Tjernberg AR, Montgomery SM et al (2010) Infectious disease and risk of later coeliac disease in childhood. Pediatrics 125:e530–e536

6.

Garrido D, Barile D, Mills DA (2012) A molecular Basis for Bifidobacterial Enrichment in the Infant Gastrointestinal. Tract Adv Nutr 3:415S–421S

7.

El Aidy S, Hooiveld G, Tremaroli V et al (2013) The gut microbiota and mucosal homeostasis: colonized at birth or at adulthood, does it matter? Gut Microbes 4:118–124

8.

Madan JC, Salari RC, Saxena D et al (2012) Gut microbial colonization in premature neonates predicts neonatal sepsis. Arch Dis Child Fetal Neonatal Ed 97:F456–F462

9.

Rinne M, Kalliomaki M, Arvilommi H et al (2005) Effect of probiotics and breastfeeding on the bifidobacterium and lactobacillus/enterococcus microbiota and humoral immune responses. J Pediatr 147:186–191

10.

Martín R, Jiménez E, Heilig H et al (2009) Isolation of bifodobacteria from breast milk and assessment of the bifidobacterial population by PCR-denaturing gradient gel electrophoresis and quantitative real-time PCR. Appl Environ Microbiol 75:965–969

11.

Grönlund MM, Gueimonde M, Laitinen K et al (2007) Maternal breast-milk and intestinal bifidobacteria guide the compositional development of the Bifidobacterium microbiota in infants al risk of allergic disease. Clin Exp Allergy 37:1764–1772

12.

Martín R, Langa S, Reviriego C et al (2003) Human milk is a source of lactic acid bacteria for the infant gut. J Pediatr 143:754–758

13.

Rescigno M, Rotta G, Valzasina B et al (2001) Dendritic cells shuttle microbes across gut epithelial monolayers. Immunobiology 204:572–581

14.

Garofalo R (2010) Cytokines in human milk. J Pediatr 156:S36–S40

15.

Peroni DG, Pescollderungg L, Piacentini GL et al (2010) Immune regulatory cytokines in the milk of lactating women from farming and urban environments. Pediar Allergy Immunol 21:977–982

16.

Tomicić S, Jonansson G, Voor T et al (2010) Breast milk cytokine and IgA composition differ in Estonian and Swedish mothers-relationship to microbial pressure and infant allergy. Pediatr Res 68:330–334

17.

Hoppu U, Isolauri E, Laakso P et al (2011) Probiotics and dietary counselling targeting maternal dietary fat intake modifies breast milk fatty acids and cytokines. Eur J Nutr 51:211–219

18.

Walker-Smith JA, Guandalini S, Schmitz J et al (1990) Revised criteria for diagnosis of coeliac disease. Arch Dis Child 65:909–911

19.

Matsuki T, Watanabe K, Fujimoto J et al (2002) Development of 16S rRNA-gene-targeted group-specific primers for the detection and identification of predominant bacteria in human feces. Appl Environ Microbiol 68:5445–5451

20.

Malinen E, Kassinen A, Rinttila T et al (2003) Comparison of real-time PCR with SYBR Green I or 5′-nuclease assays and dot-blot hybridization with rDNA-targeted oligonucleotide probes in quantification of selected faecal bacteria. Microbiology 149:269–277

21.

Matsuki T, Watanabe K, Tanaka R et al (1999) Distribution of bifidobacterial species in human intestinal microflora examined with 16S rRNA-gene-targeted species-specific primers. Appl Environ Microbiol 65:4506–4512

22.

Stahl B, Thurl S, Zeng J et al (1994) Oligosaccharides from human milk as revealed by matrix-assisted laser desorption/ionization mass spectrometry. Anal Biochem 223:218–226

23.

Ninonuevo MR, Park Y, Yin H et al (2006) A strategy for annotating the human milk glycome. J Agric Food Chem 54:7471–7480

24.

Albrecht S, Schols HA, van den Heuvel EG et al (2010) CE-LIF-MS in profiling of oligosaccharides in human milk and feces of breast-fed babies. Electrophoresis 31:1264–1273

25.

Albrecht S, van Muiswinkel GC, Schols HA et al (2009) Introducing capillary electrophoresis with laser-induced fluorescence detection (CE-LIF) for the characterization of konjac glucomannan oligosaccharides and their in vitro fermentation behavior. J Agric Food Chem 57:3867–3876

26.

Oriol R, Mollicone R, Cailleau A et al (1999) Divergent evolution of fucosyltransferase genes from vertebrates, invertebrates, and bacteria. Glycobiology 9:323–334

27.

Oddy WH, McMahon RJ (2011) Milk-derived or recombinant transforming growth factor-beta has effects on immunological outcomes: a review of evidence from animal experimental studies. Clin Exp Allergy 41:783–793

28.

Benahmed M, Meresse B, Arnulf B et al (2007) Inhibition of TGF-beta signaling by IL-15: a new role for IL-15 in the loss of immune homeostasis in coeliac disease. Gastroenterology 132:994–1008

29.

Rigotti E, Piacentini GL, Ress M et al (2006) Transforming grown factor-beta and interleukin-10 in breast milk and development in infants. Clin Exp Allergy 36:614–618

30.

Böttcher DL, Jenmalm MC, Garofalo RP et al (2000) Cytokines in breast milk from allergic and nonallergic mothers. Pediatr Res 47:157–162

31.

Snijder BEP, Damoiseaux JGMC, Penders J et al (2006) Cytokines and soluble CD14 in breast milk in relation with atopic manifestation in mother and infant (KOALA Study). Clin Exp Allergy 36:1609–1615

32.

Laiho K, Lampi AM, Hamalainen M et al (2003) Breast milk fatty acids, eicosanoids, and cytokines in mothers with and without allergic disease. Pediatr Res 53:642–647

33.

Berg DJ, Davidson N, Nühn R et al (1996) Enterocolitis and colon cancer in interleukin-10-deficient mice are associated with aberrant cytokine production and CDa+ TH1-like responses. J Clin Invest 98:1010–1020

34.

Verhasselt V, Milcent V, Cazareth J et al (2008) Breast milk-mediated transfer of an antigen induces tolerance and protection from allergic asthma. Nat Med 14:170–175

35.

Prentice A, Ewing G, Roberts SB et al (1987) The nutritional role of breast-milk IgA and lactoferrin. Acta Paediatr Scand 76:592–598

36.

Rautava S, Kalliomäki M, Isolauri E (2002) Probiotics during pregnancy and breast-feeding might confer immunomodulatory protection against atopic disease in the infant. J Allergy Clin Immunol 109:119–121

37.

Villena J, Chiba E, Tomosada Y et al (2012) Orally administered Lactobacillus rhamnosus modulates the respiratory immune response triggered by the viral pathogen-associated molecular pattern poly(I:c). BMC Immunol 13:53

38.

Palkowetz KH, Royer CL, Garofalo R et al (1994) Production of interleukin-6 and 17 interleukin-8 by human mammary gland epithelial cells. J Reprod Immunol 26:57–64

39.

Skansén-Saphir U, Lindfors A, Andersson U (1993) Cytokine production in 20 mononuclear cells of human milk studied at the single-cell level. Pediatr Res 34:213–216

40.

Wacklin P, Mäkivuokko H, Alakulppi N et al (2011) Secretor genotype (FUT2 gene) is strongly associated with the composition of Bifidobacteria in the human intestine. PLoS ONE 6:e20113

41.

Parmar AS, Alakulppi N, Paavola-Sakki P et al (2012) Association study of FUT2 (rs601338) with coeliac disease and inflammatory bowel disease in the Finnish population. Tissue Antigens 80:488–493

42.

Jiang X, Huang P, Zhong W et al (2004) Human milk contains elements that block binding of noroviruses to human histo-blood group antigens in saliva. J Infect Dis 190:1850–1859

43.

Stene LC, Honeyman MC, Hoffenberg EJ et al (2006) Rotavirus infection frequency and risk of coeliac disease autoimmunity in early childhood: a longitudinal study. Am J Gastroenterol 101:2333–2340

44.

LoCascio RG, Ninonuevo MR, Freeman SL et al (2007) Glycoprofiling of bifidobacterial consumption of human milk oligosaccharides demonstrates strain specific, preferential consumption of small chain glycans secreted in early human lactation. J Agric Food Chem 55:8914–8919

45.

Thurl S, Henker J, Siegel M et al (1997) Detection of four human milk groups with respect to Lewis blood group dependent oligosaccharides. Glycoconjugate J 14:795–799

46.

Coppa GV, Gabrielli O, Zampini L et al (2011) Oligosaccharides in 4 different milk groups, Bifidobacteria, and Ruminococcus obeum. J Pediatr Gastroenterol Nutr 53:80–87

47.

Gdalevich M, Mimouni D, Mimouni M (2001) Breast-feeding and the risk of bronchial asthma in childhood: a systematic review with meta-analysis of prospective studies. J Pediatr 139:261–266

48.

Mimouni Bloch A, Mimouni D, Mimouni M et al (2002) Does breastfeeding protect against allergic rhinitis during childhood? A meta-analysis of prospective studies. Acta Paediatr 91:275–279

49.

Gdalevich M, Mimouni D, David M et al (2001) Breast-feeding and the onset of atopic dermatitis in childhood: a systematic review and meta-analysis of prospective studies. J Am Acad Dermatol 45:520–527

50.

Miranda J, Lasa A, Bustamante MA, Churruca I, Simón E (2014) Nutricional difference between a gluten-free diet and a diet containing equivalent products with gluten. Plant Foods Hum Nutr. doi:10.1007/s11130-014-0410-4
Acknowledgments
This work was supported by Grants AGL2011-25169 and Consolider Fun-C-Food CSD2007-00063 from the Spanish Ministry of Economy and Competitiveness (MINECO). The scholarship to M. Olivares from Consejo Superior de Investigaciones Científicas (CSIC) is fully acknowledged.
Conflict of interest
The authors declare that they do not have conflict of interest.
Ethical standards
This study was conducted according to the guidelines laid down in the Declaration of Helsinki and all procedures involving human subjects/patients were approved by the Committee on Ethical Practice at the Hospital Universitari Sant Joan (Tarragona, Spain). All the mothers participating in the study gave written informed consent.
About this article
Cite this article
Olivares, M., Albrecht, S., De Palma, G. et al. Human milk composition differs in healthy mothers and mothers with celiac disease. Eur J Nutr 54, 119–128 (2015). https://doi.org/10.1007/s00394-014-0692-1
Received:

Accepted:

Published:

Issue Date:
Keywords
Celiac disease

Human milk

Immunity

Microbiota