Abstract
Purpose
White rice is the main staple for the majority in the world. The effects of protein, fat and vegetables on the glycaemic and insulinaemic responses to a white rice-based meal have not been reported. The aim of this study was to determine the effect of co-ingesting a high-protein food (breast chicken), a fat (ground nut oil), a leafy vegetable or all three on the glycaemic and insulinaemic responses of white rice in healthy adults.
Methods
This was a randomized crossover trial conducted at the Clinical Nutrition Research Centre in Singapore. Twelve healthy volunteers were given five test meals (white rice alone, white rice with chicken, white rice with oil, white rice with vegetable and white rice with chicken, oil and vegetable) once and the reference food (glucose solution) three times in a random order at 1-week intervals. Capillary blood samples were then drawn serially for 3 h, and glucose and insulin were analysed.
Results
The glycaemic response (GR) to white rice with chicken breast, ground nut oil and vegetable was significantly lower than to white rice alone. The glycaemic index (GI) of pure white rice was 96, whereas combined with chicken breast, ground nut oil and vegetable, it was 50. The addition of oil delayed the peak glucose response and reduced the iAUC, resulting in a GI value of 67. The addition of chicken and vegetable resulted in a GI value of 73 and 82, respectively. The insulinaemic index (II) of the white rice-based meals varied between 54 and 89. Chicken breast in the meal increased the insulinaemic response and decreased the GR. White rice II was lower than the glucose control, which indicated that the former was not as insulinogenic as the latter. White rice with vegetable had the lowest II.
Conclusions
Co-ingesting chicken, oil or vegetable with white rice considerably influences its glycaemic and insulinaemic responses. Co-ingesting white rice with all three components attenuates the GR to a greater degree than when it is eaten with any single one of them, and that this is not at the cost of an increased demand for insulin.
Access options
Buy single article
Instant access to the full article PDF.
US$ 39.95
Tax calculation will be finalised during checkout.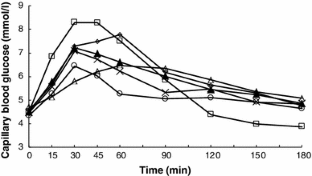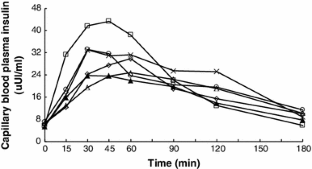 References
1.

Hu EA, Pan A, Malik V, Sun Q (2012) White rice consumption and risk of type 2 diabetes: meta-analysis and systematic review. BMJ 344:e1454

2.

Radhika G, Van Dam RM, Sudha V, Ganesan A, Mohan V (2009) Refined grain consumption and the metabolic syndrome in urban Asian Indians (Chennai Urban Rural Epidemiology Study 57). Metabol 58:675–681. doi:10.1016/j.metabol.2009.01.008

3.

Mohan V, Radhika G, Vijayalakshmi P, Sudha V (2010) Can the diabetes/cardiovascular disease epidemic in India be explained, at least in part, by excess refined grain (rice) intake? Indian J Med Res 131:369–372

4.

Jenkins DJ, Wolever TM, Taylor RH, Barker H, Fielden H, Baldwin JM, Bowling AC, Newman HC, Jenkins AL, Goff DV (1981) Glycemic index of foods: a physiological basis for carbohydrate exchange. Am J Clin Nutr 34:362–366

5.

Chan JC, Malik V, Jia W, Kadowaki T, Yajnik CS, Yoon KH, Hu FB (2009) Diabetes in Asia: epidemiology, risk factors, and pathophysiology. JAMA 301:2129–2140. doi:10.1001/jama.2009.726

6.

Kelley DE (2003) Sugars and starch in the nutritional management of diabetes mellitus. Am J Clin Nutr 78:858S–864S

7.

Bornet FR, Costagliola D, Rizkalla SW, Blayo A, Fontvieille AM, Haardt MJ, Letanoux M, Tchobroutsky G, Slama G (1987) Insulinemic and glycemic indexes of six starch-rich foods taken alone and in a mixed meal by type 2 diabetics. Am J Clin Nutr 45:588–595

8.

Shobana S, Kokila A, Lakshmipriya N, Subhashini S, Ramya Bai M, Mohan V, Malleshi NG, Anjana RM, Henry CJ, Sudha V (2012) Glycaemic index of three Indian rice varieties. Int J Food Sci Nutr 63:178–183. doi:10.3109/09637486.2011.615300

9.

Collier G, O'Dea K (1983) The effect of coingestion of fat on the glucose, insulin, and gastric inhibitory polypeptide responses to carbohydrate and protein. Am J Clin Nutr 37:941–944

10.

Gannon MC, Nuttall FQ, Saeed A, Jordan K, Hoover H (2003) An increase in dietary protein improves the blood glucose response in persons with type 2 diabetes. Am J Clin Nutr 78:734–741

11.

Karamanlis A, Chaikomin R, Doran S, Bellon M, Bartholomeusz FD, Wishart JM, Jones KL, Horowitz M, Rayner CK (2007) Effects of protein on glycemic and incretin responses and gastric emptying after oral glucose in healthy subjects. Am J Clin Nutr 86:1364–1368. doi:86/5/1364

12.

Jenkins DJ, Popovich DG, Kendall CW, Rao AV, Wolever TM, Tariq N, Thompson LU, Cunnane SC (1997) Metabolic effects of non-absorbable carbohydrates. Scand J Gastroenterol Supplement 222:10-3

13.

Gatenby SJ, Ellis PR, Morgan LM, Judd PA (1996) Effect of partially depolymerized guar gum on acute metabolic variables in patients with non-insulin-dependent diabetes. Diabet Med 13:358–364. doi:10.1002/(SICI)1096-9136(199604)13:4<358::AID-DIA24>3.0.CO;2-#

14.

Baecke JA, Burema J, Frijters JE (1982) A short questionnaire for the measurement of habitual physical activity in epidemiological studies. Am J Clin Nutr 36:936–942

15.

Brouns F, Bjorck I, Frayn KN, Gibbs AL, Lang V, Slama G, Wolever TM (2005) Glycaemic index methodology. Nutr Res Rev 18:145–171. doi:10.1079/NRR2005100

16.

(1998) Carbohydrates in human nutrition. Report of a joint FAO/WHO expert consultation. FAO Food Nutr Pap 66: 1–140

17.

Stork AD, Kemperman H, Erkelens DW, Veneman TF (2005) Comparison of the accuracy of the HemoCue glucose analyzer with the Yellow Springs Instrument glucose oxidase analyzer, particularly in hypoglycemia. Eur J Endocrinol 153:275–281. doi:10.1530/eje.1.01952

18.

Allison DB, Paultre F, Maggio C, Mezzitis N, Pi-Sunyer FX (1995) The use of areas under curves in diabetes research. Diabetes Care 18:245–250

19.

Hatonen KA, Virtamo J, Eriksson JG, Sinkko HK, Sundvall JE, Valsta LM (2011) Protein and fat modify the glycaemic and insulinaemic responses to a mashed potato-based meal. Br J Nutr 106:248–253. doi:10.1017/S0007114511000080

20.

Wolever TM (2013) Is glycaemic index (GI) a valid measure of carbohydrate quality? Eur J Clin Nutr 67:522–531. doi:10.1038/ejcn.2013.27

21.

(1991) Dietary reference values for food energy and nutrients for the United Kingdom. Report of the panel on dietary reference values of the committee on medical aspects of food policy. Reports on health and social subjects 41: 1–210

22.

Atkinson FS, Foster-Powell K, Brand-Miller JC (2008) International tables of glycemic index and glycemic load values: 2008. Diabetes Care 31:2281–2283. doi:10.2337/dc08-1239

23.

Kataoka M, Venn BJ, Williams SM, Te Morenga LA, Heemels IM, Mann JI (2012) Glycaemic responses to glucose and rice in people of Chinese and European ethnicity. Diabet Med 30:e101–e107. doi:10.1111/dme.12080

24.

Villegas R, Liu S, Gao YT, Yang G, Li H, Zheng W, Shu XO (2007) Prospective study of dietary carbohydrates, glycemic index, glycemic load, and incidence of type 2 diabetes mellitus in middle-aged Chinese women. Arch Intern Med 167:2310–2316. doi:10.1001/archinte.167.21.2310

25.

Ranawana V, Clegg ME, Shafat A, Henry CJ (2011) Postmastication digestion factors influence glycemic variability in humans. Nutr Res 31:452–459. doi:10.1016/j.nutres.2011.05.006

26.

Ercan N, Gannon MC, Nuttall FQ (1994) Effect of added fat on the plasma glucose and insulin response to ingested potato given in various combinations as two meals in normal individuals. Diabetes Care 17:1453–1459

27.

Gannon MC, Nuttall FQ, Westphal SA, Seaquist ER (1993) The effect of fat and carbohydrate on plasma glucose, insulin, C-peptide, and triglycerides in normal male subjects. J Am Coll Nutr 12:36–41

28.

Gannon MC, Ercan N, Westphal SA, Nuttall FQ (1993) Effect of added fat on plasma glucose and insulin response to ingested potato in individuals with NIDDM. Diabetes Care 16:874–880

29.

Henry CJ, Lightowler HJ, Kendall FL, Storey M (2006) The impact of the addition of toppings/fillings on the glycaemic response to commonly consumed carbohydrate foods. Eur J Clin Nutr 60:763–769. doi:10.1038/sj.ejcn.1602380

30.

MacIntosh CG, Holt SH, Brand-Miller JC (2003) The degree of fat saturation does not alter glycemic, insulinemic or satiety responses to a starchy staple in healthy men. J Nutr 133:2577–2580

31.

Gulliford MC, Bicknell EJ, Scarpello JH (1989) Differential effect of protein and fat ingestion on blood glucose responses to high- and low-glycemic-index carbohydrates in noninsulin-dependent diabetic subjects. Am J Clin Nutr 50:773–777

32.

Lee BM, Wolever TM (1998) Effect of glucose, sucrose and fructose on plasma glucose and insulin responses in normal humans: comparison with white bread. Eur J Clin Nutr 52:924–928

33.

Flint A, Moller BK, Raben A, Pedersen D, Tetens I, Holst JJ, Astrup A (2004) The use of glycaemic index tables to predict glycaemic index of composite breakfast meals. Br J Nutr 91:979–989. doi:10.1038/sj.ejcn.1600666

34.

Wolever TM, Yang M, Zeng XY, Atkinson F, Brand-Miller JC (2006) Food glycemic index, as given in glycemic index tables, is a significant determinant of glycemic responses elicited by composite breakfast meals. Am J Clin Nutr 83:1306–1312

35.

Akhavan T, Luhovyy BL, Panahi S, Kubant R, Brown PH, Anderson GH (2014) Mechanism of action of pre-meal consumption of whey protein on glycemic control in young adults. J Nutr Biochem 25:36–43. doi:10.1016/j.jnutbio.2013.08.012
Acknowledgments
We warmly thank the volunteers for taking the time to participate in the postprandial study. We are sincerely grateful to Goh Hui Jen for her help with the study application. The study was supported by the Singapore Institute for Clinical Sciences.
Conflict of interest
The authors declare no conflict of interest.
About this article
Cite this article
Sun, L., Ranawana, D.V., Leow, M.KS. et al. Effect of chicken, fat and vegetable on glycaemia and insulinaemia to a white rice-based meal in healthy adults. Eur J Nutr 53, 1719–1726 (2014). https://doi.org/10.1007/s00394-014-0678-z
Received:

Accepted:

Published:

Issue Date:
Keywords
White rice

Glycaemic index

Insulinaemic index

Chicken protein