Abstract
Purpose
Previous studies regarding the association between carrot intake and prostate cancer risk have reported inconsistent results. We conducted a meta-analysis to summarize evidence on this association and to quantify the potential dose–response relationship.
Method
A systematic literature search of papers published in August 2013 was conducted using PubMed, EMBASE, Scopus, Web of Science, the Cochrane register, and the Chinese National Knowledge Infrastructure databases, and the references of the retrieved articles were screened. The summary risk estimates with 95 % confidence intervals (CIs) for the highest versus the lowest intake of carrots were calculated. A dose–response meta-analysis was also conducted for the studies reporting categorical risk estimates for a series of exposure levels.
Results
We found a significantly decreased risk of prostate cancer associated with the intake of carrots (odds ratio 0.82, 95 % CI 0.70–0.97). In addition, the dose–response meta-analysis indicated that for each serving per week, or 10 g per day increment of carrot intake, the risk estimate of prostate cancer was 0.95 (0.90–0.99) or 0.96 (0.94–0.99). There was no evidence of significant publication bias based on Begg's funnel plot (P = 1.000) or Egger's test (P = 0.804).
Conclusion
Carrot intake might be inversely associated with prostate cancer risk. Because of the limited number of cohort studies and substantial heterogeneity observed between studies in this meta-analysis, further well-designed prospective studies are warranted to confirm the findings from our study.
Access options
Buy single article
Instant access to the full article PDF.
US$ 39.95
Tax calculation will be finalised during checkout.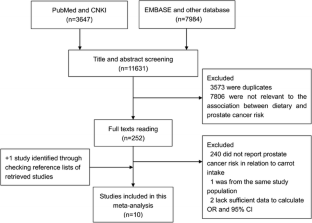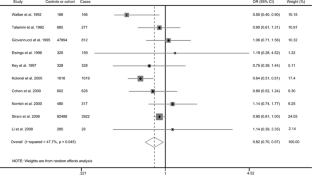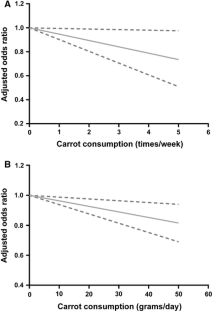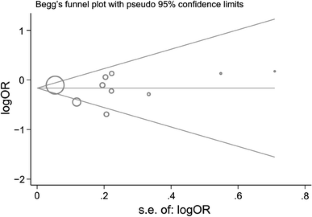 References
1.

Ferlay J, Shin HR, Bray F, Forman D, Mathers C, Parkin DM (2010) Estimates of worldwide burden of cancer in 2008: GLOBOCAN 2008. Int J Cancer 127:2893–2917

2.

Jemal A, Siegel R, Ward E, Hao Y, Xu J, Thun MJ (2009) Cancer statistics, 2009. CA Cancer J Clin 59:225–249

3.

Li C, Ford ES, Zhao G, Balluz LS, Giles WH, Liu S (2011) Serum alpha-carotene concentrations and risk of death among US adults: the Third National Health and Nutrition Examination Survey Follow-up Study. Arch Intern Med 171:507–515

4.

Pelucchi C, Tramacere I, Bertuccio P, Tavani A, Negri E, La Vecchia C (2009) Dietary intake of selected micronutrients and gastric cancer risk: an Italian case–control study. Ann Oncol 20:160–165

5.

Pelucchi C, Dal Maso L, Montella M, Parpinel M, Negri E, Talamini R, Giudice A, Franceschi S, La Vecchia C (2008) Dietary intake of carotenoids and retinol and endometrial cancer risk in an Italian case–control study. Cancer Causes Control 19:1209–1215

6.

Li XM, Li J, Tsuji I, Nakaya N, Nishino Y, Zhao XJ (2008) Mass screening-based case–control study of diet and prostate cancer in Changchun, China. Asian J Androl 10:551–560

7.

Stram DO, Hankin JH, Wilkens LR, Park S, Henderson BE, Nomura AM, Pike MC, Kolonel LN (2006) Prostate cancer incidence and intake of fruits, vegetables and related micronutrients: the multiethnic cohort study* (United States). Cancer Causes Control 17:1193–1207

8.

Cohen JH, Kristal AR, Stanford JL (2000) Fruit and vegetable intakes and prostate cancer risk. J Nat Cancer Inst 92:61–68

9.

Norrish AE, Jackson RT, Sharpe SJ, Skeaff CM (2000) Prostate cancer and dietary carotenoids. Am J Epidemiol 151:119–123

10.

Kolonel LN, Hankin JH, Whittemore AS, Wu AH, Gallagher RP, Wilkens LR, John EM, Howe GR, Dreon DM, West DW, Paffenbarger RS Jr (2000) Vegetables, fruits, legumes and prostate cancer: a multiethnic case–control study. Cancer Epidemiol Biomarkers Prev 9:795–804

11.

Key TJ, Silcocks PB, Davey GK, Appleby PN, Bishop DT (1997) A case–control study of diet and prostate cancer. Br J Cancer 76:678–687

12.

Ewings P, Bowie C (1996) A case–control study of cancer of the prostate in Somerset and east Devon. Br J Cancer 74:661–666

13.

Giovannucci E, Ascherio A, Rimm EB, Stampfer MJ, Colditz GA, Willett WC (1995) Intake of carotenoids and retinol in relation to risk of prostate cancer. J Natl Cancer Inst 87:1767–1776

14.

Talamini R, Franceschi S, La Vecchia C, Serraino D, Barra S, Negri E (1992) Diet and prostatic cancer: a case–control study in northern Italy. Nutr Cancer 18:277–286

15.

Walker AR, Walker BF, Tsotetsi NG, Sebitso C, Siwedi D, Walker AJ (1992) Case–control study of prostate cancer in black patients in Soweto, South Africa. Br J Cancer 65:438–441

16.

Ma Y, Zhang P, Wang F, Yang J, Liu Z, Qin H (2011) Association between vitamin D and risk of colorectal cancer: a systematic review of prospective studies. J Clin Oncol 29:3775–3782

17.

McShane LM, Altman DG, Sauerbrei W, Taube SE, Gion M, Clark GM (2005) REporting recommendations for tumour MARKer prognostic studies (REMARK). Br J Cancer 93:387–391

18.

Moher D, Liberati A, Tetzlaff J, Altman DG (2009) Preferred reporting items for systematic reviews and meta-analyses: the PRISMA statement. PLoS Med 6:e1000097

19.

DerSimonian R, Laird N (1986) Meta-analysis in clinical trials. Control Clin Trials 7:177–188

20.

Mantel N, Haenszel W (1959) Statistical aspects of the analysis of data from retrospective studies of disease. J Natl Cancer Inst 22:719–748

21.

Higgins JP, Thompson SG (2002) Quantifying heterogeneity in a meta-analysis. Stat Med 21:1539–1558

22.

Bax L, Ikeda N, Fukui N, Yaju Y, Tsuruta H, Moons KG (2009) More than numbers: the power of graphs in meta-analysis. Am J Epidemiol 169:249–255

23.

Greenland S, Longnecker MP (1992) Methods for trend estimation from summarized dose–response data, with applications to meta-analysis. Am J Epidemiol 135:1301–1309

24.

Orsini N, Li R, Wolk A, Khudyakov P, Spiegelman D (2012) Meta-analysis for linear and nonlinear dose–response relations: examples, an evaluation of approximations, and software. Am J Epidemiol 175:66–73

25.

Harrell FE Jr, Lee KL, Pollock BG (1988) Regression models in clinical studies: determining relationships between predictors and response. J Natl Cancer Inst 80:1198–1202

26.

Begg CB, Mazumdar M (1994) Operating characteristics of a rank correlation test for publication bias. Biometrics 50:1088–1101

27.

Egger M, Davey Smith G, Schneider M, Minder C (1997) Bias in meta-analysis detected by a simple, graphical test. BMJ 315:629–634

28.

Duval S, Tweedie R (2000) Trim and fill: a simple funnel-plot-based method of testing and adjusting for publication bias in meta-analysis. Biometrics 56:455–463

29.

Haggstrom C, Stocks T, Ulmert D, Bjorge T, Ulmer H, Hallmans G, Manjer J, Engeland A, Nagel G, Almqvist M, Selmer R, Concin H, Tretli S, Jonsson H, Stattin P (2012) Prospective study on metabolic factors and risk of prostate cancer. Cancer 118:6199–6206

30.

Fowke JH, Motley SS, Concepcion RS, Penson DF, Barocas DA (2012) Obesity, body composition, and prostate cancer. BMC Cancer 12:23

31.

Discacciati A, Orsini N, Wolk A (2012) Body mass index and incidence of localized and advanced prostate cancer—a dose–response meta-analysis of prospective studies. Ann Oncol 23:1665–1671

32.

Poudel B, Mittal A, Shrestha R, Nepal AK, Shukla PS (2012) Prostate biomarkers with reference to body mass index and duration of prostate cancer. Asian Pac J Cancer Prev 13:2149–2152

33.

Frei B (1994) Reactive oxygen species and antioxidant vitamins: mechanisms of action. Am J Med 97:5S–13S (discussion 22S–28S)

34.

Sun SY, Lotan R (2002) Retinoids and their receptors in cancer development and chemoprevention. Crit Rev Oncol Hematol 41:41–55

35.

Ge XX, Xing MY, Yu LF, Shen P (2013) Carotenoid intake and esophageal cancer risk: a meta-analysis. Asian Pac J Cancer Prev 14:1911–1918

36.

Palozza P, Sestito R, Picci N, Lanza P, Monego G, Ranelletti FO (2008) The sensitivity to beta-carotene growth-inhibitory and proapoptotic effects is regulated by caveolin-1 expression in human colon and prostate cancer cells. Carcinogenesis 29:2153–2161

37.

Yang CM, Yen YT, Huang CS, Hu ML (2011) Growth inhibitory efficacy of lycopene and beta-carotene against androgen-independent prostate tumor cells xenografted in nude mice. Mol Nutr Food Res 55:606–612

38.

Zeegers MP, Goldbohm RA, van den Brandt PA (2001) Consumption of vegetables and fruits and urothelial cancer incidence: a prospective study. Cancer Epidemiol Biomarkers Prev 10:1121–1128

39.

Wakai K, Hirose K, Takezaki T, Hamajima N, Ogura Y, Nakamura S, Hayashi N, Tajima K (2004) Foods and beverages in relation to urothelial cancer: case–control study in Japan. Int J Urol 11:11–19

40.

Radosavljevic V, Jankovic S, Marinkovic J, Dokic M (2005) Diet and bladder cancer: a case–control study. Int Urol Nephrol 37:283–289

41.

Brennan P, Fortes C, Butler J, Agudo A, Benhamou S, Darby S, Gerken M, Jokel KH, Kreuzer M, Mallone S, Nyberg F, Pohlabeln H, Ferro G, Boffetta P (2000) A multicenter case–control study of diet and lung cancer among non-smokers. Cancer Causes Control 11:49–58

42.

Speizer FE, Colditz GA, Hunter DJ, Rosner B, Hennekens C (1999) Prospective study of smoking, antioxidant intake, and lung cancer in middle-aged women (USA). Cancer Causes Control 10:475–482

43.

Galeone C, Negri E, Pelucchi C, La Vecchia C, Bosetti C, Hu J (2007) Dietary intake of fruit and vegetable and lung cancer risk: a case–control study in Harbin, northeast China. Ann Oncol 18:388–392

44.

Franceschi S, Parpinel M, La Vecchia C, Favero A, Talamini R, Negri E (1998) Role of different types of vegetables and fruit in the prevention of cancer of the colon, rectum, and breast. Epidemiology 9:338–341

45.

Boggs DA, Palmer JR, Wise LA, Spiegelman D, Stampfer MJ, Adams-Campbell LL, Rosenberg L (2010) Fruit and vegetable intake in relation to risk of breast cancer in the Black Women's Health Study. Am J Epidemiol 172:1268–1279

46.

Zhang CX, Ho SC, Chen YM, Fu JH, Cheng SZ, Lin FY (2009) Greater vegetable and fruit intake is associated with a lower risk of breast cancer among Chinese women. Int J Cancer 125:181–188

47.

Larsson SC, Orsini N, Wolk A (2010) Vitamin B6 and risk of colorectal cancer: a meta-analysis of prospective studies. JAMA 303:1077–1083
Acknowledgments
This study was supported by grants from the National Key Clinical Specialty Construction Project of China, key medical disciplines of Zhejiang Province, combination of traditional Chinese and Western medicine key disciplines of Zhejiang Province (2012-XK-A23), health sector scientific research special project (201002010), National Natural Science Foundation of China (Grant No. 81101717), and Zhejiang Provincial Natural Science Foundation of China (Grant No. Y2110120).
Conflict of interest
The authors declare no conflict of interest.
Additional information
Xin Xu and Yunjiu Cheng are equal contributors and co-first authors to this paper.
Electronic supplementary material
Below is the link to the electronic supplementary material.
About this article
Cite this article
Xu, X., Cheng, Y., Li, S. et al. Dietary carrot consumption and the risk of prostate cancer. Eur J Nutr 53, 1615–1623 (2014). https://doi.org/10.1007/s00394-014-0667-2
Received:

Accepted:

Published:

Issue Date:
Keywords
Carrot

Prostatic neoplasms

Meta-analysis

Epidemiology