Abstract
Purpose
Diet, a modifiable lifestyle factor, may influence the development of depression. We performed a systematic review of observational studies examining the relationship between dietary patterns and depression in healthy adults.
Methods
A literature research was conducted searching various electronic databases up to May 2013. Study selection was based on predefined inclusion and exclusion criteria. Included studies were reviewed, and relevant data were extracted by two independent researchers. Due to a high level of heterogeneity, no meta-analysis was conducted. Therefore, main results are presented in a descriptive way.
Results
In total, 16 studies met the inclusion criteria and are part of this review. Dietary patterns most commonly found were traditional/healthy patterns, Western/unhealthy patterns and Mediterranean patterns. The available literature suggests a protective effect of healthy and Mediterranean patterns, as well as a potential positive association of Western patterns and depression. However, comparison of the included studies was difficult, due to differences in relevant study characteristics and methodological limitations.
Conclusions
There are indications that dietary patterns may have influence on the onset of depression, but no firm conclusion can be drawn at this point. Further research is needed to clarify the diet–depression relationship, preferably in the form of methodological strong prospective studies using more homogeneous methods.
This is a preview of subscription content, log in to check access.
Access options
Buy single article
Instant access to the full article PDF.
US$ 39.95
Price includes VAT for USA
Subscribe to journal
Immediate online access to all issues from 2019. Subscription will auto renew annually.
US$ 199
This is the net price. Taxes to be calculated in checkout.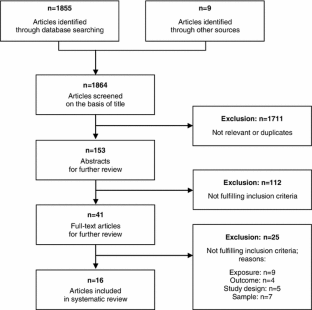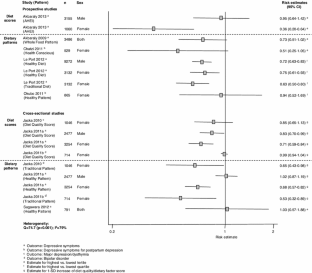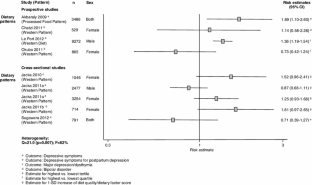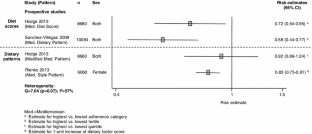 References
1.

World Health Organization (2008) The global burden of disease: 2004 update. http://www.who.int/healthinfo/global_burden_disease/GBD_report_2004update_full.pdf. 27 Feb 2013

2.

Lepine J, Briley M (2011) The increasing burden of depression. Neuropsychiatr Dis Treat 7(Suppl 1):3–7. doi:10.2147/NDT.S19617

3.

Popa T, Ladea M (2012) Nutrition and depression at the forefront of progress. J Med Life 5(4):414–419 (Epub ahead of print)

4.

Jacka FN, Pasco JA, Mykletun A, Williams LJ, Hodge AM, O'Reilly SL, Nicholson GC, Kotowicz MA, Berk M (2010) Association of Western and traditional diets with depression and anxiety in women. Am J Psychiatry 167(3):305–311. doi:10.1176/appi.ajp.2009.09060881

5.

Sanchez-Villegas A, Martinez-Gonzalez MA (2013) Diet, a new target to prevent depression? BMC Med 11(1):3. doi:10.1186/1741-7015-11-3

6.

Murakami K, Sasaki S (2010) Dietary intake and depressive symptoms: a systematic review of observational studies. Mol Nutr Food Res 54(4):471–488. doi:10.1002/mnfr.200900157

7.

Sanhueza C, Ryan L, Foxcroft DR (2012) Diet and the risk of unipolar depression in adults: systematic review of cohort studies. J Hum Nutr Diet 26(1):56–70. doi:10.1111/j.1365-277X.2012.01283.x

8.

Hu FB (2002) Dietary pattern analysis: a new direction in nutritional epidemiology. Curr Opin Lipidol 13(1):3–9

9.

Akbaraly TN, Sabia S, Shipley MJ, Batty GD, Kivimaki M (2013) Adherence to healthy dietary guidelines and future depressive symptoms: evidence for sex differentials in the Whitehall II study. Am J Clin Nutr 97(2):419–427. doi:10.3945/ajcn.112.041582

10.

Wirfält E, Drake I, Wallström P (2013) What do review papers conclude about food and dietary patterns? Food Nutr Res 571541S. doi:10.3402/fnr.v57i0.20523

11.

Kant AK (2004) Dietary patterns and health outcomes. J Am Diet Assoc 104(4):615–635. doi:10.1016/j.jada.2004.01.010

12.

Ocké MC (2013) Evaluation of methodologies for assessing the overall diet: dietary quality scores and dietary pattern analysis. Proc Nutr Soc 72(2):191–199. doi:10.1017/S0029665113000013

13.

Moher D, Liberati A, Tetzlaff J, Altman DG (2009) Preferred reporting items for systematic reviews and meta-analyses: the PRISMA statement. BMJ 339b2535. doi:10.1136/bmj.b2535

14.

Margetts BM, Vorster HH, Venter CS (2002) Evidence-based nutrition—review of nutritional epidemiological studies. SAJCN 15(3):68–73

15.

Sanderson S, Tatt ID, Higgins JPT (2007) Tools for assessing quality and susceptibility to bias in observational studies in epidemiology: a systematic review and annotated bibliography. Int J Epidemiol 36(3):666–676. doi:10.1093/ije/dym018

16.

Shamliyan T, Kane RL, Dickinson S (2010) A systematic review of tools used to assess the quality of observational studies that examine incidence or prevalence and risk factors for diseases. J Clin Epidemiol 63(10):1061–1070. doi:10.1016/j.jclinepi.2010.04.014

17.

Higgins JPT, Thompson SG, Deeks JJ, Altman DG (2003) Measuring inconsistency in meta-analyses. BMJ 327(7414):557–560. doi:10.1136/bmj.327.7414.557

18.

Chatzi L, Melaki V, Sarri K, Apostolaki I, Roumeliotaki T, Georgiou V, Vassilaki M, Koutis A, Bitsios P, Kogevinas M (2011) Dietary patterns during pregnancy and the risk of postpartum depression: the mother-child 'Rhea' cohort in Crete, Greece. Public Health Nutr 14(9):1663–1670. doi:10.1017/S1368980010003629

19.

Okubo H, Miyake Y, Sasaki S, Tanaka K, Murakami K, Hirota Y (2011) Dietary patterns during pregnancy and the risk of postpartum depression in Japan: the Osaka Maternal and Child Health Study. Br J Nutr 105(8):1251–1257. doi:10.1017/S0007114510004782

20.

Jacka FN, Mykletun A, Berk M, Bjelland I, Tell GS (2011) The association between habitual diet quality and the common mental disorders in community-dwelling adults: the Hordaland Health study. Psychosom Med 73(6):483–490. doi:10.1097/PSY.0b013e318222831a

21.

Jacka FN, Pasco JA, Mykletun A, Williams LJ, Nicholson GC, Kotowicz MA, Berk M (2011) Diet quality in bipolar disorder in a population-based sample of women. J Affect Disord 129(1–3):332–337. doi:10.1016/j.jad.2010.09.004

22.

Le Port A, Gueguen A, Kesse-Guyot E, Melchior M, Lemogne C, Nabi H, Goldberg M, Zins M, Czernichow S (2012) Association between dietary patterns and depressive symptoms over time: a 10-year follow-up study of the GAZEL cohort. PLoS One 7(12):e51593. doi:10.1371/journal.pone.0051593

23.

Sugawara N, Yasui-Furukori N, Tsuchimine S, Kaneda A, Tsuruga K, Iwane K, Okubo N, Takahashi I, Kaneko S (2012) No association between dietary patterns and depressive symptoms among a community-dwelling population in Japan. Ann Gen Psychiatry 11(1):24. doi:10.1186/1744-859X-11-24

24.

Hodge A, Almeida OP, English DR, Giles GG, Flicker L (2013) Patterns of dietary intake and psychological distress in older Australians: benefits not just from a Mediterranean diet. Int Psychogeriatr 25(3):456–466. doi:10.1017/S1041610212001986

25.

Rienks J, Dobson AJ, Mishra GD (2013) Mediterranean dietary pattern and prevalence and incidence of depressive symptoms in mid-aged women: results from a large community-based prospective study. Eur J Clin Nutr 67(1):75–82. doi:10.1038/ejcn.2012.193

26.

Skarupski KA, Tangney CC, Li H, Evans DA, Morris MC (2013) Mediterranean diet and depressive symptoms among older adults over time. J Nutr Health Aging 17(5):441–445. doi:10.1007/s12603-012-0437-x

27.

Samieri C, Jutand M, Feart C, Capuron L, Letenneur L, Barberger-Gateau P (2008) Dietary patterns derived by hybrid clustering method in older people: association with cognition, mood, and self-rated health. J Am Diet Assoc 108(9):1461–1471. doi:10.1016/j.jada.2008.06.437

28.

Sanchez-Villegas A, Delgado-Rodriguez M, Alonso A, Schlatter J, Lahortiga F, Serra Majem L, Martinez-Gonzalez MA (2009) Association of the Mediterranean dietary pattern with the incidence of depression: the Seguimiento Universidad de Navarra/University of Navarra follow-up (SUN) cohort. Arch Gen Psychiatry 66(10):1090–1098. doi:10.1001/archgenpsychiatry.2009.129

29.

Akbaraly TN, Brunner EJ, Ferrie JE, Marmot MG, Kivimaki M, Singh-Manoux A (2009) Dietary pattern and depressive symptoms in middle age. Br J Psychiatry 195(5):408–413. doi:10.1192/bjp.bp.108.058925

30.

Kuczmarski MF, Cremer Sees A, Hotchkiss L, Cotugna N, Evans MK, Zonderman AB (2010) Higher Healthy Eating Index-2005 scores associated with reduced symptoms of depression in an urban population: findings from the Healthy Aging in Neighborhoods of Diversity Across the Life Span (HANDLS) Study. J Am Diet Assoc 110(3):383–389. doi:10.1016/j.jada.2009.11.025

31.

Nanri A, Kimura Y, Matsushita Y, Ohta M, Sato M, Mishima N, Sasaki S, Mizoue T (2010) Dietary patterns and depressive symptoms among Japanese men and women. Eur J Clin Nutr 64(8):832–839. doi:10.1038/ejcn.2010.86

32.

Sanchez-Villegas A, Henriquez P, Bes-Rastrollo M, Doreste J (2006) Mediterranean diet and depression. Public Health Nutr 9(8A):1104–1109. doi:10.1017/S1368980007668578

33.

Sofi F, Abbate R, Gensini GF, Casini A (2010) Accruing evidence on benefits of adherence to the Mediterranean diet on health: an updated systematic review and meta-analysis. Am J Clin Nutr 92(5):1189–1196. doi:10.3945/ajcn.2010.29673

34.

Quirk SE, Williams LJ, O'Neil A, Pasco JA, Jacka FN, Housden S, Berk M, Brennan SL (2013) The association between diet quality, dietary patterns and depression in adults: a systematic review. BMC Psychiatry 13(1):175. doi:10.1186/1471-244X-13-175

35.

Psaltopoulou T, Sergentanis TN, Panagiotakos DB, Sergentanis IN, Kosti R, Scarmeas N (2013) Mediterranean diet and stroke, cognitive impairment, depression: a meta-analysis. Ann Neurol. doi:10.1002/ana.23944

36.

Parker G, Gibson NA, Brotchie H, Heruc G, Rees A, Hadzi-Pavlovic D (2006) Omega-3 fatty acids and mood disorders. Am J Psychiatry 163(6):969–978. doi:10.1176/appi.ajp.163.6.969

37.

McMartin SE, Jacka FN, Colman I (2013) The association between fruit and vegetable consumption and mental health disorders: evidence from five waves of a national survey of Canadians. Prev Med 56(3–4):225–230. doi:10.1016/j.ypmed.2012.12.016

38.

Scapagnini G, Davinelli S, Drago F, de Lorenzo A, Oriani G (2012) Antioxidants as antidepressants: fact or fiction? CNS Drugs 26(6):477–490. doi:10.2165/11633190-000000000-00000

39.

Mattson MP, Shea TB (2003) Folate and homocysteine metabolism in neural plasticity and neurodegenerative disorders. Trends Neurosci 26(3):137–146. doi:10.1016/S0166-2236(03)00032-8

40.

Hausteiner C, Bornschein S, Zilker T, Förstl H, Graßmann J (2007) The influence of diet on mental health. Nervenarzt 78(6):696–705. doi:10.1007/s00115-007-2265-5

41.

Golden SH, Lazo M, Carnethon M, Bertoni AG, Schreiner PJ, Diez Roux AV, Lee HB, Lyketsos C (2008) Examining a bidirectional association between depressive symptoms and diabetes. JAMA 299(23):2751–2759. doi:10.1001/jama.299.23.2751

42.

Joiner TE, Walker RL, Pettit JW, Perez M, Cukrowicz KC (2005) Evidence-based assessment of depression in adults. Psychol Assess 17(3):267–277. doi:10.1037/1040-3590.17.3.267

43.

Baune BT, Stuart M, Gilmour A, Wersching H, Heindel W, Arolt V, Berger K (2012) The relationship between subtypes of depression and cardiovascular disease: a systematic review of biological models. Transl Psychiatry 2(3):e92. doi:10.1038/tp.2012.18

44.

Penninx BW, Milaneschi Y, Lamers F, Vogelzangs N (2013) Understanding the somatic consequences of depression: biological mechanisms and the role of depression symptom profile. BMC Med 11(1):129. doi:10.1186/1741-7015-11-129

45.

Lamers F, Vogelzangs N, Merikangas KR, de Jonge P, Beekman ATF, Penninx BWJH (2013) Evidence for a differential role of HPA-axis function, inflammation and metabolic syndrome in melancholic versus atypical depression. Mol Psychiatry 18(6):692–699. doi:10.1038/mp.2012.144

46.

Gold PW, Chrousos GP (2013) Melancholic and atypical subtypes of depression represent distinct pathophysiological entities: CRH, neural circuits, and the diathesis for anxiety and depression. Mol Psychiatry 18(6):632–634. doi:10.1038/mp.2013.5
Acknowledgments
The authors would like to acknowledge the following funding: This review is part of a research project linked to the BiDirect Study, funded by the German Federal Ministry of Education and Research (BMBF, 01ER0816).
Conflict of interest
The authors declare that they have no conflict of interest.
About this article
Cite this article
Rahe, C., Unrath, M. & Berger, K. Dietary patterns and the risk of depression in adults: a systematic review of observational studies. Eur J Nutr 53, 997–1013 (2014). https://doi.org/10.1007/s00394-014-0652-9
Received:

Accepted:

Published:

Issue Date:
Keywords
Diet

Dietary patterns

Depression

Depressive symptoms

Systematic review

Observational studies