Abstract
Purpose
There is considerable variation in incremental circulating 25-hydroxyvitamin D (25OHD) levels on vitamin D supplements, even when similar age groups and identical vitamin D doses are compared. We therefore aimed to investigate the importance of body weight for the dose–response relation in circulating 25OHD.
Methods
We performed a systematic review of randomized placebo-controlled vitamin D supplementation trials in all age groups ≥10 years to clarify the influence of body weight and other parameters on incremental circulating 25OHD levels (difference between baseline and in-study values) in vitamin D-deficient and non-deficient individuals.
Results
We included 144 cohorts from 94 independent studies, published from 1990 to November 2012, in our systematic review. There was a logarithmic association between vitamin D dose per kg body weight per day and increment in circulating 25OHD. In multivariable regression analysis, vitamin D dose per kg body weight per day could explain 34.5 % of variation in circulating 25OHD. Additional significant predictors were type of supplement (vitamin D2 or vitamin D3), age, concomitant intake of calcium supplements and baseline 25OHD, explaining 9.8, 3.7, 2.4 and 1.9 %, respectively, of the variation in circulating 25OHD.
Conclusions
This systematic review demonstrates that body weight is an important predictor of variation in circulating 25OHD in cohorts on vitamin D supplements. Our model provides an estimate of the daily vitamin D dose that is necessary for achieving adequate circulating 25OHD levels in vitamin D-insufficient or vitamin D-deficient individuals/cohorts with different body weights and ages.
Access options
Buy single article
Instant access to the full article PDF.
USD 39.95
Price excludes VAT (USA)
Tax calculation will be finalised during checkout.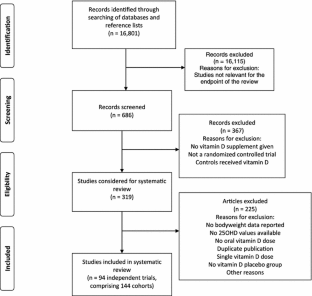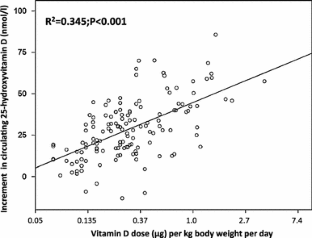 References
Zittermann A, Gummert JF (2010) Nonclassical vitamin D actions. Nutrients 2:408–425

Looker AC, Johnson CL, Lacher DA, Pfeiffer CM, Schleicher RL, Sempos CT (2011) Vitamin D status: United States, 2001–2006. NCHS Data Brief 59:1–8

Hintzpeter B, Scheidt-Nave C, Müller MJ, Schenk L, Mensink GB (2008) Higher prevalence of vitamin D deficiency is associated with immigrant background among children and adolescents in Germany. J Nutr 138:1482–1490

Hintzpeter B, Mensink GB, Thierfelder W, Müller MJ, Scheidt-Nave C (2008) Vitamin D status and health correlates among German adults. Eur J Clin Nutr 62:1079–1089

Mithal A, Wahl DA, Bonjour JP, Burckhardt P, Dawson-Hughes B, Eisman JA, Fuleihan GEH, Josse RG, Lips P, Morales-Torres J, IOF Committee of Scientific Advisors (CSA) Nutrition Working Group (2009) Global vitamin D status and determinants of hypovitaminosis D. Osteoporos Int 20:1807–1820

Ross AC, Manson JE, Abrams SA, Aloia JF, Brannon PM, Clinton SK, Durazo-Arvizu RA, Gallagher JC, Gallo RL, Jones G, Kovacs CS, Mayne ST, Rosen CJ, Shapses SA (2011) The 2011 report on dietary reference intakes for calcium and vitamin D from the Institute of Medicine: what clinicians need to know. J Clin Endocrinol Metab 96:53–58

DGE (German Nutrition Society), Österreichische Gesellschaft für Ernährung, Schweizerische Gesellschaft für Ernährungsforschung, Schweizerische Vereinigung für Ernährung (2012) D-A-CH-Referenzwerte für die Nährstoffzufuhr, 1. Auflage, 4., korrigierter Nachdruck 2012, Neuer Umschau Buchverlag, Neustadt an der Weinstraße

Bischoff-Ferrari HA, Willett WC, Orav EJ, Lips P, Meunier PJ, Lyons RA, Flicker L, Wark J, Jackson RD, Cauley JA, Meyer HE, Pfeifer M, Sanders KM, Stähelin HB, Theiler R, Dawson-Hughes B (2012) A pooled analysis of vitamin D dose requirements for fracture prevention. N Engl J Med 367:40–49

Rizzoli R, Boonen S, Brandi ML, Bruyère O, Cooper C, Kanis JA, Kaufman JM, Ringe JD, Weryha G, Reginster JY (2013) Vitamin D supplementation in elderly or postmenopausal women: a 2013 update of the 2008 recommendations from the European Society for Clinical and Economic Aspects of Osteoporosis and Osteoarthritis (ESCEO). Curr Med Res Opin 29:305–313

Holick MF (2007) Vitamin D deficiency. N Engl J Med 357:266–281

Bjelakovic G, Gluud LL, Nikolova D, Whitfield K, Wetterslev J, Simonetti RG, Bjelakovic M, Gluud C (2011) Vitamin D supplementation for prevention of mortality in adults. Cochrane Database Syst Rev 7:CD007470

http://www.vitamindcouncil.org/about-vitamin-d/how-do-i-get-the-vitamin-d-my-body-needs. Accessed 4 June 2013

Mastaglia SR, Mautalen CA, Parisi MS, Oliveri B (2006) Vitamin D2 dose required to rapidly increase 25OHD levels in osteoporotic women. Eur J Clin Nutr 60:681–687

Gallagher JC, Sai A, Templin T, Smith L (2012) Dose response to Vitamin D supplementation in postmenopausal women: a randomized trial. Ann Intern Med 156:425–437

Michaëlsson K, Baron JA, Snellman G, Gedeborg R, Byberg L, Sundström J, Berglund L, Arnlöv J, Hellman P, Blomhoff R, Wolk A, Garmo H, Holmberg L, Melhus H (2010) Plasma vitamin D and mortality in older men: a community-based prospective cohort study. Am J Clin Nutr 92:841–848

Durup D, Jørgensen HL, Christensen J, Schwarz P, Heegaard AM, Lind B (2012) A reverse J-shaped association of all-cause mortality with serum 25-hydroxyvitamin D in general practice: the CopD study. J Clin Endocrinol Metab 97:2644–2652

Zittermann A, Kuhn J, Dreier J, Knabbe C, Gummert JF, Börgermann J (2013) Vitamin D status and the risk of major adverse cardiac and cerebrovascular events in cardiac surgery. Eur Heart J 34:1358–1364

Sanders KM, Stuart AL, Williamson EJ, Simpson JA, Kotowicz MA, Young D, Nicholson GC (2010) Annual high-dose oral vitamin D and falls and fractures in older women: a randomized controlled trial. JAMA 303:1815–1822

Rossini M, Adami S, Viapiana O, Fracassi E, Idolazzi L, Povino MR, Gatti D (2012) Dose-dependent short-term effects of single high doses of oral vitamin D(3) on bone turnover markers. Calcif Tissue Int 91:365–369

Souberbielle JC, Body JJ, Lappe J, Plebani M, Shoenfeld Y, Wang TJ, Bianchi ML, Bischoff-Ferrari H, Cavalier E, Ebeling P, Fardellone P, Gandini S, Gruson D, Guerin A, Heickendorff L, Hollis B, Ish-Shalom S, Jean G, von Landenberg P, Largura A, Olsson T, Pierrot-Deseilligny C, Pilz S, Tincani A, Valcour A, Zittermann A (2010) Vitamin D and musculoskeletal health, cardiovascular disease, autoimmunity and cancer: recommendations for clinical practise. Autoimmun Rev 9:709–715

Holick MF, Binkley NC, Bischoff-Ferrari HA, Gordon CM, Hanley DA, Heaney RP, Murad MH, Weaver CM (2011) Endocrine Society. Evaluation, treatment, and prevention of vitamin D deficiency: an Endocrine Society clinical practice guideline. J Clin Endocrinol Metab 96:1911–1930

Autier P, Gandini S, Mullie P (2012) A systematic review: influence of vitamin D supplementation on serum 25-hydroxyvitamin D concentration. J Clin Endocrinol Metab 97:2606–2613

Heaney RP, Davies KM, Chen TC, Holick MF, Barger-Lux MJ (2003) Human serum 25-hydroxycholecalciferol response to extended oral dosing with cholecalciferol. Am J Clin Nutr 77:204–210

van Groningen L, Opdenoordt S, van Sorge A, Telting D, Giesen A, de Boer H (2010) Cholecalciferol loading dose guideline for vitamin D-deficient adults. Eur J Endocrinol 162:805–811

Moher D, Cook DJ, Eastwood S, Olkin I, Rennie D, Stroup DF, For the 8 QUOROM group (1999) Improving the quality of reporting of meta-analysis of randomized controlled trials: the QUOROM statement. Lancet 354:1896–1900

Hozo SP, Djulbegovic B, Hozo I (2005) Estimating the mean and variance from the median, range, and the size of a sample. BMC Med Res Methodol 5:13

Broe KE, Chen TC, Weinberg J, Bischoff-Ferrari HA, Holick MF, Kiel DP (2007) A higher dose of vitamin d reduces the risk of falls in nursing home residents: a randomized, multiple-dose study. J Am Geriatr Soc 55:234–239

Stephensen CB, Zerofsky M, Burnett DJ, Lin Y, Hammock BD, Hall LM, McHugh T (2012) Ergocalciferol from mushrooms or supplements consumed with a standard meal increases 25-hydroxyergocalciferol but decreases 25-hydroxycholecalciferol in the serum of healthy adults. J Nutr 142:1246–1252

Zwart SR, Mehta SK, Ploutz-Snyder R, Bourbeau Y, Locke JP, Pierson DL, Smith SM (2011) Response to vitamin D supplementation during Antarctic winter is related to BMI, and supplementation can mitigate Epstein–Barr Virus Reactivation. J Nutr 141:692–697

Gallagher JC, Yalamanchili V, Smith LM (2013) The effect of vitamin D supplementation on serum 25OHD in thin and obese women. J Steroid Biochem Mol Biol 136:195–200

Mazess RB, Peppler WW, Gibbons M (1984) Total body composition by dual-photon (153Gd) absorptiometry. Am J Clin Nutr 40:834–839

Ducher G, Bass SL, Naughton GA, Eser P, Telford RD, Daly RM (2009) Overweight children have a greater proportion of fat mass relative to muscle mass in the upper limbs than in the lower limbs: implications for bone strength at the distal forearm. Am J Clin Nutr 90:1104–1111

Lund B, Clausen N, Lund B, Andersen E, Sørensen OH (1980) Age-dependent variations in serum 1,25-dihydroxyvitamin D in childhood. Acta Endocrinol (Copenh) 94:426–429

Chesney RW, Rosen JF, Hamstra AJ, Smith C, Mahaffey K, DeLuca HF (1981) Absence of seasonal variation in serum concentrations of 1,25-dihydroxyvitamin D despite a rise in 25-hydroxyvitamin D in summer. J Clin Endocrinol Metab 53:139–142

Börgermann J, Lazouski K, Kuhn J, Dreier J, Schmidt M, Gilis-Januszewski T, Knabbe C, Gummert JF, Zittermann A (2012) 1,25-Dihydroxyvitamin D fluctuations in cardiac surgery are related to age and clinical outcome. Crit Care Med 40:2073–2081

Vieth R, Fraser D, Kooh SW (1987) Low dietary calcium reduces 25-hydroxycholecalciferol in plasma of rats. J Nutr 117:914–918
Conflict of interest
AZ has received speaker honoraria from DiaSorin, Germany, and Abbott, Germany, two companies that provide test kits for 25-hydroxyvitamin D measurement. None of the other authors has a conflict of interest to declare.
Electronic supplementary material
Below is the link to the electronic supplementary material.
About this article
Cite this article
Zittermann, A., Ernst, J.B., Gummert, J.F. et al. Vitamin D supplementation, body weight and human serum 25-hydroxyvitamin D response: a systematic review. Eur J Nutr 53, 367–374 (2014). https://doi.org/10.1007/s00394-013-0634-3
Received:

Accepted:

Published:

Issue Date:

DOI: https://doi.org/10.1007/s00394-013-0634-3
Keywords
Vitamin D

Body weight

25-Hydroxyvitamin D

Supplementation

Age

Calcium supplements