Abstract
Purpose
Recently, nutritional and pharmaceutical benefits of pomegranate (PG) have raised a growing scientific interest. Since PG is endowed with anti-inflammatory and antioxidant activities, we hypothesized that it may have beneficial effects on osteoporosis.
Methods
We used ovariectomized (OVX) mice as a well-described model of postmenopausal osteoporosis to study the influence of PG consumption on bone health. Mice were divided into five groups as following: two control groups sham-operated and ovariectomized (OVX CT) mice fed a standard diet, versus three treated groups OVX mice given a modified diet from the AIN-93G diet, containing 5.7 % of PG lyophilized mashed totum (OVX PGt), or 9.6 % of PG fresh juice (OVX PGj) or 2.9 % of PG lyophilized mashed peel (OVX PGp).
Results
As expected, ovariectomy was associated with a decreased femoral bone mineral density (BMD) and impaired bone micro-architecture parameters. Consumption of PGj, PGp, or PGt induced bone-sparing effects in those OVX mice, both on femoral BMD and bone micro-architecture parameters. In addition, PG (whatever the part) up-regulated osteoblast activity and decreased the expression of osteoclast markers, when compared to what was observed in OVX CT animals. Consistent with the data related to bone parameters, PG consumption elicited a lower expression of pro-inflammatory makers and of enzymes involved in ROS generation, whereas the expression of anti-inflammatory markers and anti-oxidant actors was enhanced.
Conclusion
These results indicate that all PG parts are effective in preventing the development of bone loss induced by ovariectomy in mice. Such an effect could be partially explained by an improved inflammatory and oxidative status.
This is a preview of subscription content, log in to check access.
Access options
Buy single article
Instant access to the full article PDF.
US$ 39.95
Price includes VAT for USA
Subscribe to journal
Immediate online access to all issues from 2019. Subscription will auto renew annually.
US$ 199
This is the net price. Taxes to be calculated in checkout.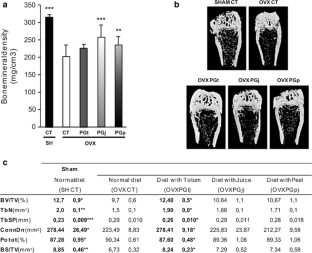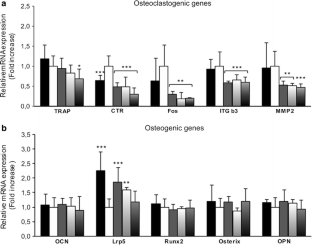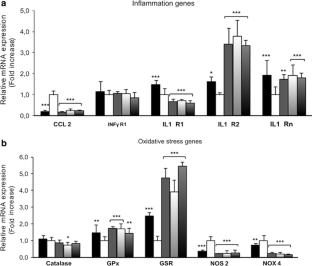 References
1.

Kim ND, Mehta R, Yu W, Neeman I, Livney T, Amichay A, Poirier D, Nicholls P, Kirby A, Jiang W, Mansel R, Ramachandran C, Rabi T, Kaplan B, Lansky E (2002) Chemopreventive and adjuvant therapeutic potential of pomegranate (Punica granatum) for human breast cancer. Breast Cancer Res Treat 71(3):203–217

2.

Murthy KN, Reddy VK, Veigas JM, Murthy UD (2004) Study on wound healing activity of Punica granatum peel. J Med Food 7(2):256–259. doi:10.1089/1096620041224111

3.

Johanningsmeier SD, Harris GK (2011) Pomegranate as a functional food and nutraceutical source. Annu Rev Food Sci Technol 2:181–201. doi:10.1146/annurev-food-030810-153709

4.

Lansky EP, Newman RA (2007) Punica granatum (pomegranate) and its potential for prevention and treatment of inflammation and cancer. J Ethnopharmacol 109(2):177–206. doi:10.1016/j.jep.2006.09.006

5.

Gil MI, Tomas-Barberan FA, Hess-Pierce B, Holcroft DM, Kader AA (2000) Antioxidant activity of pomegranate juice and its relationship with phenolic composition and processing. J Agric Food Chem 48(10):4581–4589

6.

Faria A, Calhau C (2011) The bioactivity of pomegranate: impact on health and disease. Crit Rev Food Sci Nutr 51(7):626–634. doi:10.1080/10408391003748100

7.

Stowe CB (2011) The effects of pomegranate juice consumption on blood pressure and cardiovascular health. Complement Ther Clin Pract 17(2):113–115. doi:10.1016/j.ctcp.2010.09.004

8.

Shukla M, Gupta K, Rasheed Z, Khan KA, Haqqi TM (2008) Consumption of hydrolyzable tannins-rich pomegranate extract suppresses inflammation and joint damage in rheumatoid arthritis. Nutrition 24(7–8):733–743. doi:10.1016/j.nut.2008.03.013

9.

Hadipour-Jahromy M, Mozaffari-Kermani R (2010) Chondroprotective effects of pomegranate juice on monoiodoacetate-induced osteoarthritis of the knee joint of mice. Phytother Res 24(2):182–185. doi:10.1002/ptr.2880

10.

Balbir-Gurman A, Fuhrman B, Braun-Moscovici Y, Markovits D, Aviram M (2011) Consumption of pomegranate decreases serum oxidative stress and reduces disease activity in patients with active rheumatoid arthritis: a pilot study. Isr Med Assoc J 13(8):474–479

11.

Cooper C (2010) Osteoporosis: disease severity and consequent fracture management. Osteoporos Int 21(Suppl 2):S425–S429. doi:10.1007/s00198-010-1251-0

12.

Mundy GR (2001) Osteoporosis: pathophysiology and non-pharmacological management. Best Prac Res Clin Rheumatol 15(5):727–745. doi:10.1053/berh.2001.0190

13.

Schulman RC, Weiss AJ, Mechanick JI (2011) Nutrition, bone, and aging: an integrative physiology approach. Current osteoporosis reports 9 (4):184–195. doi:10.1007/s11914-011-0079-7

14.

Lacativa PG, Farias ML (2010) Osteoporosis and inflammation. Arq Bras Endocrinol Metabol 54(2):123–132

15.

Wauquier F, Leotoing L, Coxam V, Guicheux J, Wittrant Y (2009) Oxidative stress in bone remodelling and disease. Trends Mol Med 15(10):468–477. doi:10.1016/j.molmed.2009.08.004

16.

Park EK, Kim MS, Lee SH, Kim KH, Park JY, Kim TH, Lee IS, Woo JT, Jung JC, Shin HI, Choi JY, Kim SY (2004) Furosin, an ellagitannin, suppresses RANKL-induced osteoclast differentiation and function through inhibition of MAP kinase activation and actin ring formation. Biochem Biophys Res Commun 325(4):1472–1480. doi:10.1016/j.bbrc.2004.10.197

17.

Shen CL, Wang P, Guerrieri J, Yeh JK, Wang JS (2008) Protective effect of green tea polyphenols on bone loss in middle-aged female rats. Osteoporos Int 19(7):979–990. doi:10.1007/s00198-007-0527-5

18.

Welch A, MacGregor A, Jennings A, Fairweather-Tait S, Spector T, Cassidy A (2012) Habitual flavonoid intakes are positively associated with bone mineral density in women. J Bone Miner Res 27(9):1872–1878. doi:10.1002/jbmr.1649

19.

Rosillo MA, Sanchez-Hidalgo M, Cardeno A, Aparicio-Soto M, Sanchez-Fidalgo S, Villegas I, de la Lastra CA (2012) Dietary supplementation of an ellagic acid-enriched pomegranate extract attenuates chronic colonic inflammation in rats. Pharmacol Res 66(3):235–242. doi:10.1016/j.phrs.2012.05.006

20.

Adams LS, Seeram NP, Aggarwal BB, Takada Y, Sand D, Heber D (2006) Pomegranate juice, total pomegranate ellagitannins, and punicalagin suppress inflammatory cell signaling in colon cancer cells. J Agric Food Chem 54(3):980–985. doi:10.1021/jf052005r

21.

Afaq F, Saleem M, Krueger CG, Reed JD, Mukhtar H (2005) Anthocyanin- and hydrolyzable tannin-rich pomegranate fruit extract modulates MAPK and NF-kappaB pathways and inhibits skin tumorigenesis in CD-1 mice. Int J Cancer 113(3):423–433. doi:10.1002/ijc.20587

22.

Lindstedt SL, Schaeffer PJ (2002) Use of allometry in predicting anatomical and physiological parameters of mammals. Lab Anim 36(1):1–19

23.

Kalu DN (1991) The ovariectomized rat model of postmenopausal bone loss. Bone Miner 15(3):175–191

24.

Lei Z, Xiaoying Z, Xingguo L (2009) Ovariectomy-associated changes in bone mineral density and bone marrow haematopoiesis in rats. Int J Exp Pathol 90(5):512–519. doi:10.1111/j.1365-2613.2009.00661.x

25.

Mori-Okamoto J, Otawara-Hamamoto Y, Yamato H, Yoshimura H (2004) Pomegranate extract improves a depressive state and bone properties in menopausal syndrome model ovariectomized mice. J Ethnopharmacol 92(1):93–101. doi:10.1016/j.jep.2004.02.006

26.

Ismail T, Sestili P, Akhtar S (2012) Pomegranate peel and fruit extracts: a review of potential anti-inflammatory and anti-infective effects. J Ethnopharmacol 143(2):397–405. doi:10.1016/j.jep.2012.07.004

27.

Viuda-Martos M, Fernández-López J, Pérez-Álvarez JA (2010) Pomegranate and its many functional components as related to human health: a review. Compr Rev Food Sci Food Saf 9(6):635–654

28.

Mastrodi Salgado J, Baroni Ferreira TR, de Oliveira Biazotto F, Dos Santos Dias CT (2012) Increased antioxidant content in juice enriched with dried extract of pomegranate (Punica granatum) Peel. Plant Foods Hum Nutr 67(1):39–43. doi:10.1007/s11130-011-0264-y

29.

Gautam AK, Bhargavan B, Tyagi AM, Srivastava K, Yadav DK, Kumar M, Singh A, Mishra JS, Singh AB, Sanyal S, Maurya R, Manickavasagam L, Singh SP, Wahajuddin W, Jain GK, Chattopadhyay N, Singh D (2011) Differential effects of formononetin and cladrin on osteoblast function, peak bone mass achievement and bioavailability in rats. J Nutr Biochem 22(4):318–327. doi:10.1016/j.jnutbio.2010.02.010

30.

Monsefi M, Parvin F, Talaei-Khozani T (2011) Effects of pomegranate extracts on cartilage, bone and mesenchymal cells of mouse fetuses. BrJ Nutr 1–8. doi:10.1017/S0007114511003394

31.

Mundy GR (2007) Osteoporosis and inflammation. Nutr Rev 65(12 Pt 2):S147–S151

32.

Muthusami S, Ramachandran I, Muthusamy B, Vasudevan G, Prabhu V, Subramaniam V, Jagadeesan A, Narasimhan S (2005) Ovariectomy induces oxidative stress and impairs bone antioxidant system in adult rats. Clin Chim Acta 360(1–2):81–86. doi:10.1016/j.cccn.2005.04.014
Acknowledgments
Greentech (GREENTECH SA, Saint-Beauzire, France) is kindly acknowledged for providing financial support for this study. The authors are as well grateful to (1) Paul Pilet for his assistance in collecting data of bone micro-architecture from micro-CT, (2) the people from the "Animal lab: Installation Experimentale de Nutrition" who provided every day cares to mice. This study was supported by INRA, UMR 1019, UNH, Clermont-Ferrand, France.
Conflict of interest
The authors have no conflict of interest to declare.
About this article
Cite this article
Spilmont, M., Léotoing, L., Davicco, M. et al. Pomegranate and its derivatives can improve bone health through decreased inflammation and oxidative stress in an animal model of postmenopausal osteoporosis. Eur J Nutr 53, 1155–1164 (2014). https://doi.org/10.1007/s00394-013-0615-6
Received:

Accepted:

Published:

Issue Date:
Keywords
Pomegranate

Nutritional prevention

Osteoporosis

Animal model

Inflammation

Oxidative stress