Abstract
Purpose
Heme iron may contribute to the development of atherosclerosis by catalyzing production of hydroxyl-free radicals and promoting low-density lipoprotein oxidation. However, epidemiologic findings regarding the association between heme iron intake and risk of coronary heart disease (CHD) are inconsistent. We aimed to investigate the association by carrying out a meta-analysis of prospective studies.
Methods
Relevant studies were identified by using PubMed and EMBASE databases between January 1966 and April 2013 and also by manually reviewing the reference lists of retrieved publications. Summary relative risks (RRs) with corresponding 95 % confidence intervals (CIs) were computed using a random-effects model.
Results
Six prospective studies, which contained a total of 131,553 participants and 2,459 CHD cases, met the inclusion criteria. Combined results indicated that participants with higher heme iron intake had a 31 % increased risk of CHD, compared with those with lower intake (RR = 1.31, 95 % CI 1.04–1.67), with significant heterogeneity (P heterogeneity = 0.05, I 2 = 55.0 %). Excluding the only study from Japan (limiting to Western studies) yielded a RR of 1.46 (95 % CI 1.21–1.76), with no study heterogeneity (P heterogeneity = 0.44, I 2 = 0.0 %). The dose–response RR of CHD for an increase in heme iron intake of 1 mg/day was 1.27 (95 % CI 1.10–1.47), with low heterogeneity (P heterogeneity = 0.25, I 2 = 25.8 %). We observed no significant publication bias.
Conclusions
This meta-analysis suggests that heme iron intake was associated with an increased risk of CHD.
This is a preview of subscription content, log in to check access.
Access options
Buy single article
Instant access to the full article PDF.
US$ 39.95
Price includes VAT for USA
Subscribe to journal
Immediate online access to all issues from 2019. Subscription will auto renew annually.
US$ 199
This is the net price. Taxes to be calculated in checkout.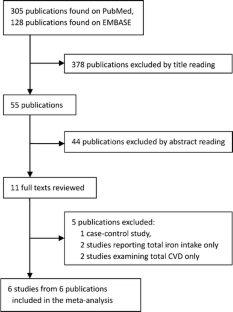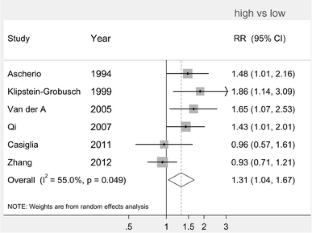 References
1.

de Valk B, Marx JJ (1999) Iron, atherosclerosis, and ischemic heart disease. Arch Intern Med 159:1542–1548

2.

Sullivan JL (1981) Iron and the sex difference in heart disease risk. Lancet 1:1293–1294

3.

Gupta R, Rastogi S, Nagar R, Kastia S, Kaul V (2000) Dietary and serum iron, body iron stores and coronary heart disease. J Assoc Physicians India 48:489–492

4.

Reunanen A, Takkunen H, Knekt P, Seppanen R, Aromaa A (1995) Body iron stores, dietary iron intake and coronary heart disease mortality. J Intern Med 238:223–230

5.

Tavani A, Gallus S, Bosetti C, Parpinel M, Negri E, La Vecchia C (2006) Dietary iron intake and risk of non-fatal acute myocardial infarction. Public Health Nutr 9:480–484

6.

Ascherio A, Willett WC, Rimm EB, Giovannucci EL, Stampfer MJ (1994) Dietary iron intake and risk of coronary disease among men. Circulation 89:969–974

7.

Casiglia E, Tikhonoff V, Bascelli A, Giordano N, Caffi S, Andreatta E, Mazza A, Boschetti G, Grasselli C, Saugo M, Rigoni G, Spinella P, Palatini P (2011) Dietary iron intake and cardiovascular outcome in Italian women: 10-year follow-up. J Womens Health (Larchmt) 20:1565–1571

8.

Klipstein-Grobusch K, Grobbee DE, den Breeijen JH, Boeing H, Hofman A, Witteman JC (1999) Dietary iron and risk of myocardial infarction in the Rotterdam study. Am J Epidemiol 149:421–428

9.

Qi L, van Dam RM, Rexrode K, Hu FB (2007) Heme iron from diet as a risk factor for coronary heart disease in women with type 2 diabetes. Diabetes Care 30:101–106

10.

van der A DL, Peeters PH, Grobbee DE, Marx JJ, van der Schouw YT (2005) Dietary haem iron and coronary heart disease in women. Eur Heart J 26:257–262

11.

Zhang W, Iso H, Ohira T, Date OC, Tanabe N, Kikuchi S, Tamakoshi A (2012) Associations of dietary iron intake with mortality from cardiovascular disease: the JACC study. J Epidemiol 22:484–493

12.

Cook JD (1990) Adaptation in iron metabolism. Am J Clin Nutr 51:301–308

13.

Carpenter CE, Mahoney AW (1992) Contributions of heme and nonheme iron to human nutrition. Crit Rev Food Sci Nutr 31:333–367

14.

Hambraeus L (1999) Animal- and plant-food-based diets and iron status: benefits and costs. Proc Nutr Soc 58:235–242

15.

de Oliveira Otto MC, Alonso A, Lee DH, Delclos GL, Bertoni AG, Jiang R, Lima JA, Symanski E, Jacobs DR Jr, Nettleton JA (2012) Dietary intakes of zinc and heme iron from red meat, but not from other sources, are associated with greater risk of metabolic syndrome and cardiovascular disease. J Nutr 142:526–533

16.

Lee DH, Folsom AR, Jacobs DR Jr (2005) Iron, zinc, and alcohol consumption and mortality from cardiovascular diseases: the Iowa Women's Health Study. Am J Clin Nutr 81:787–791

17.

DerSimonian R, Laird N (1986) Meta-analysis in clinical trials. Control Clin Trials 7:177–188

18.

Higgins JP, Thompson SG (2002) Quantifying heterogeneity in a meta-analysis. Stat Med 21:1539–1558

19.

Egger M, Davey Smith G, Schneider M, Minder C (1997) Bias in meta-analysis detected by a simple, graphical test. BMJ 315:629–634

20.

Greenland S, Longnecker MP (1992) Methods for trend estimation from summarized dose-response data, with applications to meta-analysis. Am J Epidemiol 135:1301–1309

21.

Orsini N, Bellocco R, Greenland S (2006) Generalized least squares for trend estimation of summarized dose-response data. Stata J 6:40–57

22.

Hara A, Sasazuki S, Inoue M, Iwasaki M, Shimazu T, Sawada N, Yamaji T, Takachi R, Tsugane S (2012) Zinc and heme iron intakes and risk of colorectal cancer: a population-based prospective cohort study in Japan. Am J Clin Nutr 96:864–873

23.

Sun Q, Shi L, Rimm EB, Giovannucci EL, Hu FB, Manson JE, Rexrode KM (2011) Vitamin D intake and risk of cardiovascular disease in US men and women. Am J Clin Nutr 94:534–542

24.

Kromhout D (2012) Omega-3 fatty acids and coronary heart disease. The final verdict? Curr Opin Lipidol 23:554–559

25.

Tappel A (2007) Heme of consumed red meat can act as a catalyst of oxidative damage and could initiate colon, breast and prostate cancers, heart disease and other diseases. Med Hypotheses 68:562–564

26.

de Oliveira Otto MC, Alonso A, Lee DH, Delclos GL, Jenny NS, Jiang R, Lima JA, Symanski E, Jacobs DR Jr, Nettleton JA (2011) Dietary micronutrient intakes are associated with markers of inflammation but not with markers of subclinical atherosclerosis. J Nutr 141:1508–1515

27.

Jiang R, Manson JE, Meigs JB, Ma J, Rifai N, Hu FB (2004) Body iron stores in relation to risk of type 2 diabetes in apparently healthy women. JAMA 291:711–717

28.

Tzoulaki I, Brown IJ, Chan Q, Van Horn L, Ueshima H, Zhao L, Stamler J, Elliott P (2008) Relation of iron and red meat intake to blood pressure: cross sectional epidemiological study. BMJ 337:a258

29.

Clarke R, Shipley M, Lewington S, Youngman L, Collins R, Marmot M, Peto R (1999) Underestimation of risk associations due to regression dilution in long-term follow-up of prospective studies. Am J Epidemiol 150:341–353

30.

Thornton A, Lee P (2000) Publication bias in meta-analysis: its causes and consequences. J Clin Epidemiol 53:207–216

31.

Higgins JP, Green S, Collaboration C (2008) Cochrane handbook for systematic reviews of interventions. Wiley Online Library, United States
Conflict of interest
The authors declare that they have no conflict of interest.
About this article
Cite this article
Yang, W., Li, B., Dong, X. et al. Is heme iron intake associated with risk of coronary heart disease? A meta-analysis of prospective studies. Eur J Nutr 53, 395–400 (2014). https://doi.org/10.1007/s00394-013-0535-5
Received:

Accepted:

Published:

Issue Date:
Keywords
Heme iron

Prospective studies

Coronary heart disease

Meta-analysis