Abstract
Purpose
To assess the effect of high-dose oral thiamine supplements on glucose tolerance in patients with impaired glucose metabolism.
Methods
Twelve hyperglycemic subjects (10 cases of impaired glucose tolerance and 2 new cases of type 2 diabetes) completed this randomized, double-blind trial, where all participants received both placebo and thiamine capsules (3 × 100 mg/day) for 6 weeks in a cross-over manner. The main endpoint was changes in 2-h plasma glucose. Fasting plasma glucose and insulin, 2-h plasma insulin, the hemostatic model assessment of insulin resistance (HOMA-IR), renal function measurement and thiamin status were also evaluated at the commencement and completion of each treatment period.
Results
Thiamine supplementation resulted in significant decrease in 2-h plasma glucose relative to baseline (8.78 ± 2.20 vs. 9.89 ± 2.50 mmol/l, p = 0.004), with no significant change in the placebo arm. Fasting plasma glucose and insulin, and HOMA-IR increased significantly from baseline after 6 weeks in the placebo arm (p = 0.003, p = 0.04 and p = 0.02, respectively). These variables did not change with thiamine supplementation. There were no significant changes in 2-h plasma insulin or renal function marker, within or between arms.
Conclusion/interpretation
Supplementation with high-dose thiamine may prevent deterioration in fasting glucose and insulin, and improve glucose tolerance in patients with hyperglycemia. High-dose thiamine supplementation may prevent or slow the progression of hyperglycemia toward diabetes mellitus in individuals with impaired glucose regulation.
Access options
Buy single article
Instant access to the full article PDF.
USD 39.95
Price includes VAT (USA)
Tax calculation will be finalised during checkout.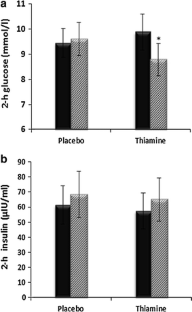 Abbreviations
eGFR:

Estimated glomerular filtration rate

IGT:

Impaired glucose tolerance

GFAT:

Glutaminefructose-6-phosphate amidotransferase

RBC:

Red blood cell

TPP:

Thiamine pyrophosphate

TRMA:

Thiamine-responsive megaloblastic anemia
References
1.

Thornalley P (2005) The potential role of thiamine (vitamin B1) in diabetic complications. Curr Diabetes Rev 1(3):287–298

2.

Hassan R, Qureshi H, Zuberi SJ (1991) Effect of thiamine on glucose utilization in hepatic cirrhosis. J Gastroenterol Hepatol 6(1):59–60

3.

Bakker SJ, Hoogeveen EK, Nijpels G, Kostense PJ, Dekker JM, Gans RO, Heine RJ (1998) The association of dietary fibres with glucose tolerance is partly explained by concomitant intake of thiamine: the Hoorn Study. Diabetologia 41(10):1168–1175

4.

Batty G, Kivimäki M, Davey Smith G, Marmot M, Shipley M (2008) Post-challenge blood glucose concentration and stroke mortality rates in non-diabetic men in London: 38-year follow-up of the original Whitehall prospective cohort study. Diabetologia 51(7):1123–1126

5.

Oishi K, Hofmann S, Diaz GA, Brown T, Manwani D, Ng L, Young R, Vlassara H, Ioannou YA, Forrest D, Gelb BD (2002) Targeted disruption of Slc19a2, the gene encoding the high-affinity thiamin transporter Thtr-1, causes diabetes mellitus, sensorineural deafness and megaloblastosis in mice. Hum Mol Genet 11(23):2951–2960

6.

Babaei-Jadidi R, Karachalias N, Kupich C, Ahmed N, Thornalley PJ (2004) High-dose thiamine therapy counters dyslipidaemia in streptozotocin-induced diabetic rats. Diabetologia 47(12):2235–2246. doi:10.1007/s00125-004-1582-5

7.

Mitrakou A, Kelley D, Mokan M, Veneman T, Pangburn T, Reilly J, Gerich J (1992) Role of reduced suppression of glucose production and diminished early insulin release in impaired glucose tolerance. N Engl J Med 326(1):22–29. doi:10.1056/NEJM199201023260104

8.

Gonzalez-Ortiz M, Martinez-Abundis E, Robles-Cervantes JA, Ramirez–Ramirez V, Ramos-Zavala MG (2011) Effect of thiamine administration on metabolic profile, cytokines and inflammatory markers in drug-naive patients with type 2 diabetes. Eur J Nutr 50(2):145–149. doi:10.1007/s00394-010-0123-x

9.

Rabbani N, Alam SS, Riaz S, Larkin JR, Akhtar MW, Shafi T, Thornalley PJ (2009) High-dose thiamine therapy for patients with type 2 diabetes and microalbuminuria: a randomised, double-blind placebo-controlled pilot study. Diabetologia 52(2):208–212. doi:10.1007/s00125-008-1224-4
Acknowledgments
This study was funded by an intramural grant.
Conflict of interest
None.
Additional information
Trial registration: Australian New Zealand Clinical Trials Registry ACTRN12611000051943.
About this article
Cite this article
Alaei Shahmiri, F., Soares, M.J., Zhao, Y. et al. High-dose thiamine supplementation improves glucose tolerance in hyperglycemic individuals: a randomized, double-blind cross-over trial. Eur J Nutr 52, 1821–1824 (2013). https://doi.org/10.1007/s00394-013-0534-6
Received:

Accepted:

Published:

Issue Date:
Keywords
Thiamine

Glucose tolerance

Insulin resistance

Hyperglycemia

Type 2 diabetes

Cardiovascular disease