Abstract
Purpose
To evaluate the effects of two dietary patterns in which carbohydrates and proteins were eaten mostly at lunch or dinner on body weight and composition, energy metabolism, and biochemical markers in overweight/obese men.
Methods
Fifty-eight men (30.0 ± 7.4 years; 30.8 ± 2.4 kg/m2) followed a covert hypocaloric balanced diet (−10 % of daily energy requirements) during 8 weeks. Subjects were randomly assigned to three groups: control diet (CT); diurnal carbohydrate/nocturnal protein (DCNP); and nocturnal carbohydrate/diurnal protein (NCDP). Main analyzed outcomes were weight loss, body composition, diet-induced thermogenesis (DIT), and glucose/lipid profile.
Results
In all groups, a significant decrease in body weight, BMI, and fat mass (kg and %) was verified, without differences between groups. Interestingly, within group analyses showed that the fat-free mass (kg) significantly decreased in NCDP and in CT after 8-week intervention, but not in DCNP. A detrimental increase in fasting glucose, insulin, and homeostasis model assessment of insulin resistance (HOMAIR) was verified only in DCNP, while NCDP and CT groups presented a non-significant reduction. Moreover, significant differences between DCNP and the other groups were detected for fasting insulin and HOMAIR. After the adjustments, NCDP presented a significantly higher DIT and energy expenditure after lunch, compared with DCNP, but after dinner, there were no differences among groups.
Conclusion
Eating carbohydrates mostly at dinner and protein mostly at lunch within a hypocaloric balanced diet had similar effect on body composition and biochemical markers, but higher effect on DIT compared with control diet. Moreover, eating carbohydrates mostly at lunch and protein mostly at dinner had a deleterious impact on glucose homeostasis.
This is a preview of subscription content, log in to check access.
Access options
Buy single article
Instant access to the full article PDF.
US$ 39.95
Tax calculation will be finalised during checkout.
Subscribe to journal
Immediate online access to all issues from 2019. Subscription will auto renew annually.
US$ 199
Tax calculation will be finalised during checkout.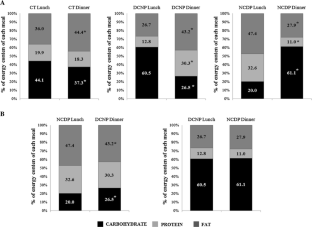 References
1.

Foz M, Barbany M, Remesar X, Carrillo M, Aranceta J, Garcia-Luna P et al (2000) Consenso SEEDO'2000 para la evaluación del sobrepeso y la obesity y el establecimiento de criterios de intervención terapéutica: Sociedad Española para el Estudio de la Obesity (SEEDO). Med Clin (Barc) 115:587–597

2.

Chopra M, Galbraith S, Darnton-Hill I (2002) A global response to a global problem: the epidemic of overnutrition. Bull World Health Organ 80:952–958

3.

Abete I, Astrup A, Martinez JA, Thorsdottir I, Zulet MA (2010) Obesity and the metabolic syndrome: role of different dietary macronutrient distribution patterns and specific nutritional components on weight loss and maintenance. Nutr Rev 68:214–231

4.

Abete I, Parra MD, Zulet MA, Martinez JA (2006) Different dietary strategies for weight loss in obesity: role of energy and macronutrient content. Nutr Res Rev 19:5–17

5.

Barnea M, Madar Z, Froy O (2010) High-fat diet followed by fasting disrupts circadian expression of adiponectin signaling pathway in muscle and adipose tissue. Obesity (Silver Spring) 18:230–238

6.

Dandona P, Ghanim H, Chaudhuri A, Dhindsa S, Kim SS (2010) Macronutrient intake induces oxidative and inflammatory stress: potential relevance to atherosclerosis and insulin resistance. Exp Mol Med 42:245–253

7.

Goyenechea E, Holst C, Saris WH, Jebb S, Kafatos A, Pfeiffer A, Handjiev S, Hlavaty P, Stender S, Larsen TM, Astrup A, Martinez JA (2011) Effects of different protein content and glycemic index of ad libitum diets on diabetes risk factors in overweight adults: the DIOGenes multicentre, randomised, dietary intervention trial. Diabetes Metab Res Rev 27:705–716

8.

Hermsdorff HH, Zulet MA, Abete I, Martinez JA (2011) A legume-based hypocaloric diet reduces proinflammatory status and improves metabolic features in overweight/obese subjects. Eur J Nutr 50:61–69

9.

Navas-Carretero S, Abete I, Zulet MA, Martinez JA (2011) Chronologically scheduled snacking with high-protein products within the habitual diet in type-2 diabetes patients leads to a fat mass loss: a longitudinal study. Nutr J 10:74

10.

Sumithran P, Prendergast LA, Delbridge E, Purcell K, Shulkes A, Kriketos A, Proietto J (2011) Long-term persistence of hormonal adaptations to weight loss. N Engl J Med 365:1597–1604

11.

Ballesteros-Pomar MD, Calleja-Fernandez AR, Vidal-Casariego A, Urioste-Fondo AM, Cano-Rodriguez I (2009) Effectiveness of energy-restricted diets with different protein:carbohydrate ratios: the relationship to insulin sensitivity. Public Health Nutr 13:2119–2126

12.

Sacks FM, Bray GA, Carey VJ, Smith SR, Ryan DH, Anton SD, McManus K, Champagne CM, Bishop LM, Laranjo N, Leboff MS, Rood JC, de Jonge L, Greenway FL, Loria CM, Obarzanek E, Williamson DA (2009) Comparison of weight-loss diets with different compositions of fat, protein, and carbohydrates. N Engl J Med 360:859–873

13.

Golay A, Allaz AF, Ybarra J, Bianchi P, Saraiva S, Mensi N, Gomis R, de Tonnac N (2000) Similar weight loss with low-energy food combining or balanced diets. Int J Obes Relat Metab Disord 24:492–496

14.

Sofer S, Eliraz A, Kaplan S, Voet H, Fink G, Kima T, Madar Z (2011) Greater weight loss and hormonal changes after 6 months diet with carbohydrates eaten mostly at dinner. Obesity (Silver Spring) 19:2006–2014

15.

Wutzke KD, Heine WE, Koster D, Muscheites J, Mix M, Mohr C, Popp K, Wigger M (2001) Metabolic effects of HAY's diet. Isotopes Environ Health Stud 37:227–237

16.

Freedman MR, King J, Kennedy E (2001) Popular diets: a scientific review. Obes Res 9:1S–40S

17.

Holmback U, Forslund A, Forslund J, Hambraeus L, Lennernas M, Lowden A, Stridsberg M, Akerstedt T (2002) Metabolic responses to nocturnal eating in men are affected by sources of dietary energy. J Nutr 132:1892–1899

18.

Institute of Medicine of the National Academies (2002) Dietary reference intakes—energy, carbohydrate, fiber, fat, fatty acids, cholesterol, protein, and amino acids. Washington, DC

19.

Mataix J (2009) Tabla de composición de alimentos, 5th edn. Universidad de Granada, Granada

20.

Moreiras O, Carbajal A, Cabrera L et al (2006) Tabla de composición de alimentos, 10th edn. Ediciones Pirámide, Madrid

21.

Nepa-Unicamp Tabela Brasileira de Composição de Alimentos (TACO). http://www.unicamp.br/nepa/taco/tabela.php?ativo=tabela&PHPSESSID=c4e41d036165ceea9049b81d2ff680b1. Accessed from July 2008 to December 2009

22.

Philippi S (2002) Tabela de composição de alimentos: suporte para decisão nutricional, 2nd edn. Coronário, São Paulo

23.

Hermsdorff HH, Zulet MA, Puchau B, Bressan J, Martinez JA (2009) Association of retinol-binding protein-4 with dietary selenium intake and other lifestyle features in young healthy women. Nutrition 25:392–399

24.

Hermsdorff HH, Puchau B, Zulet MA, Martinez JA (2010) Association of body fat distribution with proinflammatory gene expression in peripheral blood mononuclear cells from young adult subjects. OMICS 14:297–307

25.

Friedewald WT, Levy RI, Fredrickson DS (1972) Estimation of the concentration of low-density lipoprotein cholesterol in plasma, without use of the preparative ultracentrifuge. Clin Chem 18:499–502

26.

Castelli WP (1988) Cholesterol and lipids in the risk of coronary artery disease—the Framingham Heart Study. Can J Cardiol 4:5A–10A

27.

Matthews DR, Hosker JP, Rudenski AS, Naylor BA, Treacher DF, Turner RC (1985) Homeostasis model assessment: insulin resistance and beta-cell function from fasting plasma glucose and insulin concentrations in man. Diabetologia 28:412–419

28.

Schwarz JM, Schutz Y, Froidevaux F, Acheson KJ, Jeanpretre N, Schneider H, Felber JP, Jequier E (1989) Thermogenesis in men and women induced by fructose vs glucose added to a meal. Am J Clin Nutr 49:667–674

29.

Acheson KJ, Blondel-Lubrano A, Oguey-Araymon S, Beaumont M, Emady-Azar S, Ammon-Zufferey C, Monnard I, Pinaud S, Nielsen-Moennoz C, Bovetto L (2010) Protein choices targeting thermogenesis and metabolism. Am J Clin Nutr 93:525–534

30.

Weigle DS, Breen PA, Matthys CC, Callahan HS, Meeuws KE, Burden VR, Purnell JQ (2005) A high-protein diet induces sustained reductions in appetite, ad libitum caloric intake, and body weight despite compensatory changes in diurnal plasma leptin and ghrelin concentrations. Am J Clin Nutr 82:41–48

31.

de Castro JM (2007) The time of day and the proportions of macronutrients eaten are related to total daily food intake. Br J Nutr 98:1077–1083

32.

Challet E, Mendoza J (2010) Metabolic and reward feeding synchronises the rhythmic brain. Cell Tissue Res 341:1–11

33.

Westerterp-Plantenga MS, Lejeune MP, Nijs I, van Ooijen M, Kovacs EM (2004) High protein intake sustains weight maintenance after body weight loss in humans. Int J Obes Relat Metab Disord 28:57–64

34.

Halton TL, Hu FB (2004) The effects of high protein diets on thermogenesis, satiety and weight loss: a critical review. J Am Coll Nutr 23:373–385

35.

Hermsdorff HH, Volp AC, Bressan J (2007) Macronutrient profile affects diet-induced thermogenesis and energy intake. Arch Latinoam Nutr 57:33–42

36.

Oliveira F, Abranches M, Bressan J (2010) Incretins and proteins: new option in the management of diabetes mellitus and obesity. Braz J Clin Nutr 25:66–72

37.

Westerterp-Plantenga MS (2008) Protein intake and energy balance. Regul Pept 149:67–69

38.

Chwalibog A, Thorbek G (2002) Energy expenditure and oxidation of carbohydrate and fat in humans during day and night. Thermochim Acta 394:247–252

39.

Leproult R, Van Cauter E (2010) Role of sleep and sleep loss in hormonal release and metabolism. Endocr Dev 17:11–21

40.

Scheen AJ, Van Cauter E (1998) The roles of time of day and sleep quality in modulating glucose regulation: clinical implications. Horm Res 49:191–201

41.

Simon C, Weibel L, Brandenberger G (2000) Twenty-four-hour rhythms of plasma glucose and insulin secretion rate in regular night workers. Am J Physiol Endocrinol Metab 278:E413–E420

42.

Atkinson G, Fullick S, Grindey C, Maclaren D (2008) Exercise, energy balance and the shift worker. Sports Med 38:671–685

43.

Garg A (2004) Regional adiposity and insulin resistance. J Clin Endocrinol Metab 89:4206–4210

44.

Grundy SM, Cleeman JI, Daniels SR, Donato KA, Eckel RH, Franklin BA, Gordon DJ, Krauss RM, Savage PJ, Smith SC Jr, Spertus JA, Costa F (2005) Diagnosis and management of the metabolic syndrome. an american heart association/national heart, lung, and blood institute scientific statement. executive summary. Cardiol Rev 13:322–327

45.

Scagliusi F, Lancha-Júnior A (2003) Underreporting of energy intake in dietary assessment methods. Braz J Nutr 16:471–478

46.

Swinburn BA, Ravussin E (1994) Energy and macronutrient metabolism. Baillieres Clin Endocrinol Metab 8:527–548
Acknowledgments
We wish to thank Carolina P. Zuconi, Navarra's dietitians, all technical staff and individuals who volunteered for this study. This work was supported by the National Council for Scientific and Technological Development (CNPq/MCT/Brazil), CIBERon and RETICS (Spain) as well as a LE/97 from University of Navarra (Spain). The CAPES Foundation (CAPES/MEC/Brazil) provided research grants to R.D.M. Alves and to F.C.E. Oliveira. Finally, The Capes Foundation (Brazil, CAPES/MECD-DGU 218/10) as well as to Ministry of Education of Spain (Spain, HB-2009-0050-PC) funded the Interuniversity Cooperation between the Federal University of Viçosa and the University of Navarra.
Conflict of interest
The authors declared no conflict of interest.
About this article
Cite this article
Alves, R.D.M., de Oliveira, F.C.E., Hermsdorff, H.H.M. et al. Eating carbohydrate mostly at lunch and protein mostly at dinner within a covert hypocaloric diet influences morning glucose homeostasis in overweight/obese men. Eur J Nutr 53, 49–60 (2014). https://doi.org/10.1007/s00394-013-0497-7
Received:

Accepted:

Published:

Issue Date:
Keywords
Obesity

Weight management

Body composition

Macronutrients

Energy metabolism

Glucose homeostasis