Abstract
Purpose
Fruit consumption is associated with a decreased risk of CVD in cohort studies and is therefore endorsed by health authorities as part of the '5 or more a day' campaigns. A glass of fruit juice is generally counted as one serving. Fruit may cause protection by affecting common risk factors of CVD.
Methods
Apples are among the most commonly consumed fruits and were chosen for a comprehensive 5 × 4 weeks dietary crossover study to assess the effects of whole apples (550 g/day), apple pomace (22 g/day), clear and cloudy apple juices (500 ml/day), or no supplement on lipoproteins and blood pressure in a group of 23 healthy volunteers.
Results
The intervention significantly affected serum total and LDL-cholesterol. Trends towards a lower serum LDL-concentration were observed after whole apple (6.7 %), pomace (7.9 %) and cloudy juice (2.2 %) intake. On the other hand, LDL-cholesterol concentrations increased by 6.9 % with clear juice compared to whole apples and pomace. There was no effect on HDL-cholesterol, TAG, weight, waist-to-hip ratio, blood pressure, inflammation (hs-CRP), composition of the gut microbiota or markers of glucose metabolism (insulin, IGF1 and IGFBP3).
Conclusions
Apples are rich in polyphenols and pectin, two potentially bioactive constituents; however, these constituents segregate differently during processing into juice products and clear juice is free of pectin and other cell wall components. We conclude that the fibre component is necessary for the cholesterol-lowering effect of apples in healthy humans and that clear apple juice may not be a suitable surrogate for the whole fruit in nutritional recommendations.
Access options
Buy single article
Instant access to the full article PDF.
US$ 39.95
Tax calculation will be finalised during checkout.
Subscribe to journal
Immediate online access to all issues from 2019. Subscription will auto renew annually.
US$ 159
Tax calculation will be finalised during checkout.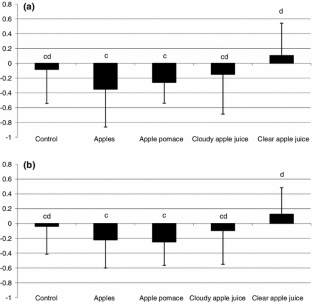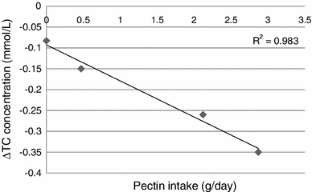 References
1.

Bazzano LA, He J, Ogden LG, Loria CM, Vupputuri S, Myers L, Whelton PK (2002) Fruit and vegetable intake and risk of cardiovascular disease in US adults: the first National Health and Nutrition Examination Survey Epidemiologic Follow-up Study. Am J Clin Nutr 76:93–99

2.

Joshipura KJ, Hu FB, Manson JE, Stampfer MJ, Rimm EB, Speizer FE, Colditz G, Ascherio A, Rosner B, Spiegelman D, Willett WC (2001) The effect of fruit and vegetable intake on risk for coronary heart disease. Ann Intern Med 134:1106–1114

3.

Ness AR, Powles JW (1997) Fruit and vegetables, and cardiovascular disease: a review. Int J Epidemiol 26:1–13

4.

Bazzano LA, He J, Ogden LG, Loria CM, Whelton PK (2003) Dietary fiber intake and reduced risk of coronary heart disease in US men and women: the National Health and Nutrition Examination Survey I Epidemiologic Follow-up Study. Arch Intern Med 163:1897–1904

5.

Hertog MG, Feskens EJ, Hollman PC, Katan MB, Kromhout D (1993) Dietary antioxidant flavonoids and risk of coronary heart disease: the Zutphen Elderly Study. Lancet 342:1007–1011

6.

Hertog MG, Kromhout D, Aravanis C, Blackburn H, Buzina R, Fidanza F, Giampaoli S, Jansen A, Menotti A, Nedeljkovic S (1995) Flavonoid intake and long-term risk of coronary heart disease and cancer in the seven countries study. Arch Intern Med 155:381–386

7.

Bazzano LA, Serdula MK, Liu S (2003) Dietary intake of fruits and vegetables and risk of cardiovascular disease. Curr Atheroscler Rep 5:492–499

8.

Brown L, Rosner B, Willett WW, Sacks FM (1999) Cholesterol-lowering effects of dietary fiber: a meta-analysis. Am J Clin Nutr 69:30–42

9.

Erkkila AT, Lichtenstein AH (2006) Fiber and cardiovascular disease risk: how strong is the evidence? J Cardiovasc Nurs 21:3–8

10.

Fernandez ML (2001) Soluble fiber and nondigestible carbohydrate effects on plasma lipids and cardiovascular risk. Curr Opin Lipidol 12:35–40

11.

Theuwissen E, Mensink RP (2008) Water-soluble dietary fibers and cardiovascular disease. Physiol Behav 94:285–292

12.

Groudeva J, Kratchanova MG, Panchev IN, Kratchanov C (1997) Application of granulated apple pectin in the treatment of hyperlipoproteinaemia. I. Deriving the regression equation to describe the changes. Zeitschrift-fuer-Lebensmittel-Untersuchung-und–Forschung-A 204:374–378

13.

Hillman LC, Peters SG, Fisher CA, Pomare EW (1985) The effects of the fiber components pectin, cellulose and lignin on serum cholesterol levels. Am J Clin Nutr 42:207–213

14.

Jenkins DJ, Newton C, Leeds AR, Cummings JH (1975) Effect of pectin, guar gum, and wheat fibre on serum-cholesterol. Lancet 1:1116–1117

15.

Judd PA, Truswell AS (1982) Comparison of the effects of high- and low-methoxyl pectins on blood and faecal lipids in man. Br J Nutr 48:451–458

16.

Kay RM, Truswell AS (1977) Effect of citrus pectin on blood lipids and fecal steroid excretion in man. Am J Clin Nutr 30:171–175

17.

Keys A, Grande F, Anderson JT (1961) Fiber and pectin in the diet and serum cholesterol concentration in man. Proc Soc Exp Biol Med 106:555–558

18.

Palmer GH, Dixon DG (1966) Effect of pectin dose on serum cholesterol levels. Am J Clin Nutr 18:437–442

19.

Stasse-Wolthuis M, Albers HF, van Jeveren JG, Wil DJ, Hautvast JG, Hermus RJ, Katan MB, Brydon WG, Eastwood MA (1980) Influence of dietary fiber from vegetables and fruits, bran or citrus pectin on serum lipids, fecal lipids, and colonic function. Am J Clin Nutr 33:1745–1756

20.

Chandalia M, Garg A, Lutjohann D, von Bergmann K, Grundy SM, Brinkley LJ (2000) Beneficial effects of high dietary fiber intake in patients with type 2 diabetes mellitus. N Engl J Med 342:1392–1398

21.

McKeown NM, Meigs JB, Liu S, Saltzman E, Wilson PW, Jacques PF (2004) Carbohydrate nutrition, insulin resistance, and the prevalence of the metabolic syndrome in the Framingham Offspring Cohort. Diabetes Care 27:538–546

22.

Ylonen K, Saloranta C, Kronberg-Kippila C, Groop L, Aro A, Virtanen SM (2003) Associations of dietary fiber with glucose metabolism in nondiabetic relatives of subjects with type 2 diabetes: the Botnia Dietary Study. Diabetes Care 26:1979–1985

23.

Lairon D, Bertrais S, Vincent S, Arnault N, Galan P, Boutron MC, Hercberg S (2003) Dietary fibre intake and clinical indices in the French Supplementation en Vitamines et Mineraux AntioXydants (SU.VI.MAX) adult cohort. Proc Nutr Soc 62:11–15

24.

Lairon D, Arnault N, Bertrais S, Planells R, Clero E, Hercberg S, Boutron-Ruault MC (2005) Dietary fiber intake and risk factors for cardiovascular disease in French adults. Am J Clin Nutr 82:1185–1194

25.

Jenkins DJ, Kendall CW, Marchie A, Faulkner DA, Wong JM, de Souza R, Emam A, Parker TL, Vidgen E, Lapsley KG, Trautwein EA, Josse RG, Leiter LA, Connelly PW (2003) Effects of a dietary portfolio of cholesterol-lowering foods vs lovastatin on serum lipids and C-reactive protein. JAMA 290:502–510

26.

Dragsted LO, Pedersen A, Hermetter A, Basu S, Hansen M, Haren GR, Kall M, Breinholt V, Castenmiller JJ, Stagsted J, Jakobsen J, Skibsted L, Rasmussen SE, Loft S, Sandstrom B (2004) The 6-a-day study: effects of fruit and vegetables on markers of oxidative stress and antioxidative defense in healthy nonsmokers. Am J Clin Nutr 79:1060–1072

27.

Young JF, Nielsen SE, Haraldsdottir J, Daneshvar B, Lauridsen ST, Knuthsen P, Crozier A, Sandstrom B, Dragsted LO (1999) Effect of fruit juice intake on urinary quercetin excretion and biomarkers of antioxidative status. Am J Clin Nutr 69:87–94

28.

Nielsen SE, Young JF, Daneshvar B, Lauridsen ST, Knuthsen P, Sandstrom B, Dragsted LO (1999) Effect of parsley (Petroselinum crispum) intake on urinary apigenin excretion, blood antioxidant enzymes and biomarkers for oxidative stress in human subjects. Br J Nutr 81:447–455

29.

Ravn-Haren G, Olsen A, Tjonneland A, Dragsted LO, Nexo BA, Wallin H, Overvad K, Raaschou-Nielsen O, Vogel U (2006) Associations between GPX1 Pro198Leu polymorphism, erythrocyte GPX activity, alcohol consumption and breast cancer risk in a prospective cohort study. Carcinogenesis 27:820–825

30.

Tang NP, Wang LS, Yang L, Gu HJ, Sun QM, Cong RH, Zhou B, Zhu HJ, Wang B (2008) Genetic variant in glutathione peroxidase 1 gene is associated with an increased risk of coronary artery disease in a Chinese population. Clin Chim Acta 395:89–93

31.

Hamanishi T, Furuta H, Kato H, Doi A, Tamai M, Shimomura H, Sakagashira S, Sakagashira S, Nishi M, Sasaki H, Sanke T, Nanjo K (2004) Functional variants in the glutathione peroxidase-1 (GPx-1) gene are associated with increased intima-media thickness of carotid arteries and risk of macrovascular diseases in japanese type 2 diabetic patients. Diabetes 53:2455–2460

32.

Nemoto M, Nishimura R, Sasaki T, Hiki Y, Miyashita Y, Nishioka M, Fujimoto K, Sakuma T, Ohashi T, Fukuda K, Eto Y, Tajima N (2007) Genetic association of glutathione peroxidase-1 with coronary artery calcification in type 2 diabetes: a case control study with multi-slice computed tomography. Cardiovasc Diabetol 6:23

33.

Winter JP, Gong Y, Grant PJ, Wild CP (2003) Glutathione peroxidase 1 genotype is associated with an increased risk of coronary artery disease. Coron Artery Dis 14:149–153

34.

Fagt S, Matthiessen J, Biltoft-Jensen A, Groth MV, Christensen T, Hinsch H-J, Hartkopp HB, Trolle E, Lyhne N, Møller A (2004) Udviklingen i danskernes kost 1985–2001—med fokus på sukker og alkohol samt motivation og barrierer for en sund livsstil [Development in the Danish diet 1985–2001—with focus on added sugars and alcohol and motivation and barriers for a healthy lifestyle]. In: Danish with an English summary. 2004. Danish Institute for Food and Veterinary Research

35.

Boyer J, Liu RH (2004) Apple phytochemicals and their health benefits. Nutr J 3:5

36.

Mink PJ, Scrafford CG, Barraj LM, Harnack L, Hong CP, Nettleton JA, Jacobs DR Jr (2007) Flavonoid intake and cardiovascular disease mortality: a prospective study in postmenopausal women. Am J Clin Nutr 85:895–909

37.

Sesso HD, Gaziano JM, Liu S, Buring JE (2003) Flavonoid intake and the risk of cardiovascular disease in women. Am J Clin Nutr 77:1400–1408

38.

Licht TR, Hansen M, Bergstrom A, Poulsen M, Krath BN, Markowski J, Dragsted LO, Wilcks A (2010) Effects of apples and specific apple components on the cecal environment of conventional rats: role of apple pectin. BMC Microbiol 10:13

39.

Tsao R, Yang R (2003) Optimization of a new mobile phase to know the complex and real polyphenolic composition: towards a total phenolic index using high-performance liquid chromatography. J Chromatogr A 1018:29–40

40.

Markowski J, Plocharski W (2006) Determination of phenolic compounds in apples and processed apple products. J Fruit Ornam Plant Res 14:133–142

41.

Leser TD, Lindecrona RH, Jensen TK, Jensen BB, Moller K (2000) Changes in bacterial community structure in the colon of pigs fed different experimental diets and after infection with Brachyspira hyodysenteriae. Appl Environ Microbiol 66:3290–3296

42.

Walter J, Tannock GW, Tilsala-Timisjarvi A, Rodtong S, Loach DM, Munro K, Alatossava T (2000) Detection and identification of gastrointestinal Lactobacillus species by using denaturing gradient gel electrophoresis and species-specific PCR primers. Appl Environ Microbiol 66:297–303

43.

Matsuki T, Watanabe K, Fujimoto J, Miyamoto Y, Takada T, Matsumoto K, Oyaizu H, Tanaka R (2002) Development of 16S rRNA-gene-targeted group-specific primers for the detection and identification of predominant bacteria in human feces. Appl Environ Microbiol 68:5445–5451

44.

Vanhoutte T, Huys G, Brandt E, Swings J (2004) Temporal stability analysis of the microbiota in human feces by denaturing gradient gel electrophoresis using universal and group-specific 16S rRNA gene primers. FEMS Microbiol Ecol 48:437–446

45.

Vanhoutte T, De Preter V, De Brandt E, Verbeke K, Swings J, Huys G (2006) Molecular monitoring of the fecal microbiota of healthy human subjects during administration of lactulose and Saccharomyces boulardii. Appl Environ Microbiol 72:5990–5997

46.

Bernbom N, Norrung B, Saadbye P, Molbak L, Vogensen FK, Licht TR (2006) Comparison of methods and animal models commonly used for investigation of fecal microbiota: effects of time, host and gender. J Microbiol Methods 66:87–95

47.

Benzie IF, Strain JJ (1996) The ferric reducing ability of plasma (FRAP) as a measure of "antioxidant power": the FRAP assay. Anal Biochem 239:70–76

48.

Ou B, Hampsch-Woodill M, Prior RL (2001) Development and validation of an improved oxygen radical absorbance capacity assay using fluorescein as the fluorescent probe. J Agric Food Chem 49:4619–4626

49.

Roldan-Marin E, Krath BN, Poulsen M, Binderup ML, Nielsen TH, Hansen M, Barri T, Langkilde S, Cano MP, Sanchez-Moreno C, Dragsted LO (2009) Effects of an onion by-product on bioactivity and safety markers in healthy rats. Br J Nutr 102:1574–1582

50.

Wheeler CR, Salzman JA, Elsayed NM, Omaye ST, Korte DW Jr (1990) Automated assays for superoxide dismutase, catalase, glutathione peroxidase, and glutathione reductase activity. Anal Biochem 184:193–199

51.

Mayer B, Schumacher M, Brandstatter H, Wagner FS, Hermetter A (2001) High-throughput fluorescence screening of antioxidative capacity in human serum. Anal Biochem 297:144–153

52.

Girault A, Bled F, Bouvier J-M, Cornet D, Girault M (1988) Effets bénéfiques de la consommation de pommes sur le métabolisme lipidique chez l'homme. Cardiologie 12:76–79

53.

Gormley TR, Kevany J, Egan JP, McFarlane R (1977) Effect of apples on serum cholesterol levels in humans. Ir J Food Sci Technol 1:117–128

54.

Sable-Amplis R, Sicart R, Agid R (1983) Further studies on the cholesterol-lowering effect of apple in human. Biochemical mechanism involved. Nutr Res 3:325–328

55.

Hyson D, Studebaker-Hallman D, Davis PA, Gerschwin E (2000) Apple juice consumption reduces plasma low-density lipoprotein oxidation in healthy men and women. J Med Food 3:159–166

56.

Mahalko JR, Sandstead HH, Johnson LK, Inman LF, Milne DB, Warner RC, Haunz EA (1984) Effect of consuming fiber from corn bran, soy hulls, or apple powder on glucose tolerance and plasma lipids in type II diabetes. Am J Clin Nutr 39:25–34

57.

Mayne PD, McGill AR, Gormley TR, Tomkin GH, Julian TR, O'Moore RR (1982) The effect of apple fibre on diabetic control and plasma lipids. Ir J Med Sci 151:36–41

58.

Mee KA, Gee DL (1997) Apple fiber and gum arabic lowers total and low-density lipoprotein cholesterol levels in men with mild hypercholesterolemia. J Am Diet Assoc 97:422–424

59.

Davidson MH, Dugan LD, Stocki J, Dicklin MR, Maki KC, Coletta F, Cotter R, McLeod M, Hoersten K (1998) A low-viscosity soluble-fiber fruit juice supplement fails to lower cholesterol in hypercholesterolemic men and women. J Nutr 128:1927–1932

60.

de Conceicao OM, Sichieri R, Sanchez MA (2003) Weight loss associated with a daily intake of three apples or three pears among overweight women. Nutrition 19:253–256

61.

Nagasako-Akazome Y, Kanda T, Ikeda M, Shimasaki H (2005) Serum cholesterol-lowering effect of apple polyphenols in healthy subjects. J Oleo Sci 54:143–151

62.

Nagasako-Akazome Y, Kanda T, Ohtake Y, Shimasaki H, Kobayashi T (2007) Apple polyphenols influence cholesterol metabolism in healthy subjects with relatively high body mass index. J Oleo Sci 56:417–428

63.

Aleixandre A, Miguel M (2008) Dietary fiber in the prevention and treatment of metabolic syndrome: a review. Crit Rev Food Sci Nutr 48:905–912

64.

Aprikian O, Duclos V, Guyot S, Besson C, Manach C, Bernalier A, Morand C, Remesy C, Demigne C (2003) Apple pectin and a polyphenol-rich apple concentrate are more effective together than separately on cecal fermentations and plasma lipids in rats. J Nutr 133:1860–1865

65.

Sembries S, Dongowski G, Mehrlander K, Will F, Dietrich H (2004) Dietary fiber-rich colloids from apple pomace extraction juices do not affect food intake and blood serum lipid levels, but enhance fecal excretion of steroids in rats. J Nutr Biochem 15:296–302

66.

Kay RM (1982) Dietary fiber. J Lipid Res 23:221–242

67.

Hill MJ, Taylor AJ, Thompson MH, Wait R (1982) Fecal steroids and urinary volatile phenols in four Scandinavian populations. Nutr Cancer 4:67–73

68.

Wilms LC, Hollman PC, Boots AW, Kleinjans JC (2005) Protection by quercetin and quercetin-rich fruit juice against induction of oxidative DNA damage and formation of BPDE-DNA adducts in human lymphocytes. Mutat Res 582:155–162

69.

Cao G, Prior RL (1998) Comparison of different analytical methods for assessing total antioxidant capacity of human serum. Clin Chem 44:1309–1315

70.

Delroisse JM, Boulvin AL, Parmentier I, Dauphin RD, Vandenbol M, Portetelle D (2008) Quantification of Bifidobacterium spp. and Lactobacillus spp. in rat fecal samples by real-time PCR. Microbiol Res 163:663–670
Acknowledgments
This work was supported by the Commission of the European Communities under the Sixth Framework Programme: Food Quality and Safety, contract no. 016279 'Increasing fruit consumption through a trans-disciplinary approach delivering high quality produce from environmentally friendly, sustainable production methods (ISAFRUIT)'. It does not necessarily reflect its view and in no way anticipates the Commission's policy in this area. We thank all the persons who volunteered for this study, Hanne L. Pedersen, Vibeke Kegel, Berit Hoielt, Karina G. Rossen, Annette Landin, Bodil Madsen, Kate V. Vibefeldt, Pia Madsen and Lars Bentzen for excellent technical support and Claude Mona for her assistance with the proofreading of the final draft version of the manuscript.
Conflict of interest
All authors declare that they have no conflict of interest.
Electronic supplementary material
Below is the link to the electronic supplementary material.
About this article
Cite this article
Ravn-Haren, G., Dragsted, L.O., Buch-Andersen, T. et al. Intake of whole apples or clear apple juice has contrasting effects on plasma lipids in healthy volunteers. Eur J Nutr 52, 1875–1889 (2013). https://doi.org/10.1007/s00394-012-0489-z
Received:

Accepted:

Published:

Issue Date:
Keywords
Apples

Pomace

Clear juice

Blood lipids

CVD

ISAFRUIT