Abstract
Background and purpose
Capsaicin, the active ingredient of chilli, and medium-chain triglycerides (MCT) have been shown to increase diet-induced thermogenesis (DIT), improve satiety and decrease energy intake. Combinations of thermogenic ingredients have previously been investigated such as mustard and chilli, or capsaicin and green tea with positive effects. The aim of this study was to investigate the combined effects of chilli and MCT feeding on DIT and satiety in healthy volunteers.
Methods
Seven healthy volunteers were tested on four occasions following an overnight fast. Volunteers were fed a breakfast containing chilli and MCT oil, chilli and sunflower oil, bell pepper and sunflower oil or bell pepper and MCT oil. Satiety and gastrointestinal comfort were measured using visual analogue scales (VAS) and category scales. Baseline energy expenditure, and DIT and fat oxidation were measured for 6 h using indirect calorimetry.
Results
There were significant differences in DIT between the meals (P = 0.003) which increased from 7.0 % for pepper–sunflower oil to 10.7 % for chilli–MCT oil. The predominant differences existed between the chilli–MCT oil and chilli–sunflower oil (P = 0.013), between chilli–MCT oil and pepper–sunflower oil (P = 0.007) and between pepper–sunflower oil and pepper–MCT oil (P = 0.004). There was a significant difference in fat oxidation between the pepper–sunflower oil and pepper–MCT oil (P = 0.032). There were no differences in any VAS satiety parameters or gastrointestinal comfort ratings.
Conclusion
Adding chilli and MCT to meals increases DIT by over 50 % which over time may cumulate to help induce weight loss and prevent weight gain or regain.
Access options
Buy single article
Instant access to the full article PDF.
USD 39.95
Price includes VAT (USA)
Tax calculation will be finalised during checkout.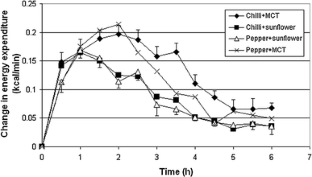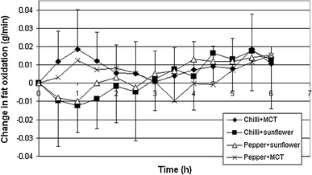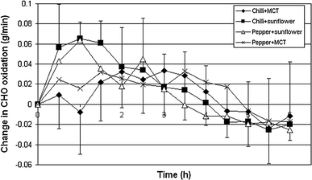 References
1.

Ahuja KD, Ball MJ (2006) Effects of daily ingestion of chilli on serum lipoprotein oxidation in adult men and women. Br J Nutr 96:239–242

2.

Ahuja KD, Robertson IK, Geraghty DP, Ball MJ (2007) The effect of 4-week chilli supplementation on metabolic and arterial function in humans. Eur J Clin Nutr 61:326–333

3.

Ahuja KD, Robertson IK, Geraghty DP, Ball MJ (2006) Effects of chili consumption on postprandial glucose, insulin, and energy metabolism. Am J Clin Nutr 84:63–69

4.

Astrup A, Raben A, Buemann B, Toubro S (1997) Fat metabolism in the predisposition to obesity. Ann N Y Acad Sci 827:417–430

5.

Bach AC, Babayan VK (1982) Medium-chain triglycerides: an update. Am J Clin Nutr 36:950–962

6.

Belza A, Jessen AB (2005) Bioactive food stimulants of sympathetic activity: effect on 24-h energy expenditure and fat oxidation. Eur J Clin Nutr 59:733–741

7.

Bloom B, Chaikoff IL, Reinhardt WO (1951) Intestinal lymph as pathway for transport of absorbed fatty acids of different chain lengths. Am J Physiol 166:451–455

8.

Blundell JE, Cooling J (2000) Routes to obesity: phenotypes, food choices and activity. Br J Nutr 83(Suppl 1):S33–S38

9.

Caterina MJ, Leffler A, Malmberg AB, Martin WJ, Trafton J, Petersen-Zeitz KR, Koltzenburg M, Basbaum AI, Julius D (2000) Impaired nociception and pain sensation in mice lacking the capsaicin receptor. Science 288:306–313

10.

Clegg ME (2010) Medium-chain triglycerides are advantageous in promoting weight loss although not beneficial to exercise performance. Int J Food Sci Nutr 61:653–679

11.

Dulloo AG (2011) The search for compounds that stimulate thermogenesis in obesity management: from pharmaceuticals to functional food ingredients. Obes Rev 12:866–883

12.

Dulloo AG, Fathi M, Mensi N, Girardier L (1996) Twenty-four-hour energy expenditure and urinary catecholamines of humans consuming low-to-moderate amounts of medium-chain triglycerides: a dose-response study in a human respiratory chamber. Eur J Clin Nutr 50:152–158

13.

Flatt JP, Ravussin E, Acheson KJ, Jequier E (1985) Effects of dietary fat on postprandial substrate oxidation and on carbohydrate and fat balances. J Clin Investig 76:1019–1024

14.

Galgani JE, Ravussin E (2010) Effect of dihydrocapsiate on resting metabolic rate in humans. Am J Clin Nutr 92:1089–1093

15.

Goedecke JH, Clark VR, Noakes TD, Lambert EV (2005) The effects of medium-chain triacylglycerol and carbohydrate ingestion on ultra-endurance exercise performance. Int J Sport Nutr Exerc Metab 15:15–27

16.

Henry CJ, Emery B (1986) Effect of spiced food on metabolic rate. Hum Nutr Clin Nutr 40:165–168

17.

Jeukendrup AE, Thielen JJ, Wagenmakers AJ, Brouns F, Saris WH (1998) Effect of medium-chain triacylglycerol and carbohydrate ingestion during exercise on substrate utilization and subsequent cycling performance. Am J Clin Nutr 67:397–404

18.

Kasai M, Nosaka N, Maki H, Suzuki Y, Takeuchi H, Aoyama T, Ohra A, Harada Y, Okazaki M, Kondo K (2002) Comparison of diet-induced thermogenesis of foods containing medium- versus long-chain triacylglycerols. J Nutr Sci Vitaminol 48:536–540

19.

Kawada T, Watanabe T, Takaishi T, Tanaka T, Iwai K (1986) Capsaicin-induced beta-adrenergic action on energy metabolism in rats: influence of capsaicin on oxygen consumption, the respiratory quotient, and substrate utilization. In: Proceedings of the Society for Experimental Biology and Medicine, vol 183. Society for Experimental Biology and Medicine, New York, NY, pp 250–256

20.

Lejeune MP, Kovacs EM, Westerterp-Plantenga MS (2003) Effect of capsaicin on substrate oxidation and weight maintenance after modest body-weight loss in human subjects. Br J Nutr 90:651–659

21.

Lim K, Yoshioka M, Kikuzato S, Kiyonaga A, Tanaka H, Shindo M, Suzuki M (1997) Dietary red pepper ingestion increases carbohydrate oxidation at rest and during exercise in runners. Med Sci Sports Exerc 29:355–361

22.

Lusk G (1928) The elements of the science of nutrition. WB Saunders Co, Philadeiphia, PA

23.

McLaughlin J, Grazia Luca M, Jones MN, D'Amato M, Dockray GJ, Thompson DG (1999) Fatty acid chain length determines cholecystokinin secretion and effect on human gastric motility. Gastroenterology 116:46–53

24.

National Centre for Social Research and University College London. Department of Epidemiology and Public Health (2009) Health Survey for England. In: Colchester, Essex: UK data archive [distributor]

25.

Reed GW, Hill JO (1996) Measuring the thermic effect of food. Am J Clin Nutr 63:164–169

26.

Reinbach HC, Smeets A, Martinussen T, Moller P, Westerterp-Plantenga MS (2009) Effects of capsaicin, green tea and CH-19 sweet pepper on appetite and energy intake in humans in negative and positive energy balance. Clin Nutr 28:260–265

27.

Scalfi L, Coltorti A, Contaldo F (1991) Postprandial thermogenesis in lean and obese subjects after meals supplemented with medium-chain and long-chain triglycerides. Am J Clin Nutr 53:1130–1133

28.

Schutz Y, Bessard T, Jequier E (1984) Diet-induced thermogenesis measured over a whole day in obese and nonobese women. Am J Clin Nutr 40:542–552

29.

Secor SM (2009) Specific dynamic action: a review of the postprandial metabolic response. J Comp Physiol 179:1–56

30.

Snitker S, Fujishima Y, Shen H, Ott S, Pi-Sunyer X, Furuhata Y, Sato H, Takahashi M (2009) Effects of novel capsinoid treatment on fatness and energy metabolism in humans: possible pharmacogenetic implications. Am J Clin Nutr 89:45–50

31.

St-Onge MP, Bourque C, Jones PJ, Ross R, Parsons WE (2003) Medium- versus long-chain triglycerides for 27 days increases fat oxidation and energy expenditure without resulting in changes in body composition in overweight women. Int J Obes Relat Metab Disord 27:95–102

32.

Stock MJ (1999) Gluttony and thermogenesis revisited. Int J Obes Relat Metab Disord 23:1105–1117

33.

Stubbs RJ, Harbron CG (1996) Covert manipulation of the ratio of medium- to long-chain triglycerides in isoenergetically dense diets: effect on food intake in ad libitum feeding men. Int J Obes Relat Metab Disord 20:435–444

34.

Stubbs RJ, Hughes DA, Johnstone AM, Rowley E, Reid C, Elia M, Stratton R, Delargy H, King N, Blundell JE (2000) The use of visual analogue scales to assess motivation to eat in human subjects: a review of their reliability and validity with an evaluation of new hand-held computerized systems for temporal tracking of appetite ratings. Br J Nutr 84:405–415

35.

Vogel G (2000) Hot pepper receptor could help manage pain. Science 288:241–242

36.

Westerterp-Plantenga MS, Smeets A, Lejeune MP (2005) Sensory and gastrointestinal satiety effects of capsaicin on food intake. Int J Obes 29:682–688

37.

Westerterp KR (2004) Diet induced thermogenesis. Nutr Metab 1:5

38.

WHO (2000) Obesity: preventing and managing the global epidemic. Report of a WHO consultation. World Health Organization technical report series 894:i–xii, pp 1–253

39.

Williamson JR, Browning ET, Scholz R, Kreisberg RA, Fritz IB (1968) Inhibition of fatty acid stimulation of gluconeogenesis by (+)-decanoylcarnitine in perfused rat liver. Diabetes 17:194–208

40.

Yoshioka M, Doucet E, Drapeau V, Dionne I, Tremblay A (2001) Combined effects of red pepper and caffeine consumption on 24 h energy balance in subjects given free access to foods. Br J Nutr 85:203–211

41.

Yoshioka M, Imanaga M, Ueyama H, Yamane M, Kubo Y, Boivin A, St-Amand J, Tanaka H, Kiyonaga A (2004) Maximum tolerable dose of red pepper decreases fat intake independently of spicy sensation in the mouth. Br J Nutr 91:991–995

42.

Yoshioka M, St-Pierre S, Drapeau V, Dionne I, Doucet E, Suzuki M, Tremblay A (1999) Effects of red pepper on appetite and energy intake. Br J Nutr 82:115–123

43.

Yoshioka M, St-Pierre S, Suzuki M, Tremblay A (1998) Effects of red pepper added to high-fat and high-carbohydrate meals on energy metabolism and substrate utilization in Japanese women. Br J Nutr 80:503–510
Acknowledgments
Funding for the study was provided by Oxford Brookes University. There were no conflicts of interest associated with any of the authors.
About this article
Cite this article
Clegg, M.E., Golsorkhi, M. & Henry, C.J. Combined medium-chain triglyceride and chilli feeding increases diet-induced thermogenesis in normal-weight humans. Eur J Nutr 52, 1579–1585 (2013). https://doi.org/10.1007/s00394-012-0463-9
Received:

Accepted:

Published:

Issue Date:
Keywords
Chilli

Energy expenditure

Medium-chain triglyceride

Satiety

Diet-induced thermogenesis