Abstract
Purpose
To determine the relative impact of three iso-caloric breakfast meals, of variable composition, on satiety, hunger and subsequent intake of energy.
Methods
In a three-way, crossover design, 30 healthy men (age of 21.7 ± 1.2 years; BMI, 23.1 ± 2.7 kg/m2) were randomised to one of three test breakfasts, on three separate occasions, separated by 1 week. The breakfasts consisted of eggs on toast, cereal (cornflakes) with milk and toast, or a croissant and orange juice. Subjective ratings of satiety, hunger, fullness and desire to eat were recorded at 30-min intervals by electronic visual analogue scales (VAS). Energy intake was assessed by weighed food intake at an ad libitum lunch and evening meal.
Results
Participants showed increased satiety, less hunger and a lower desire to eat after the breakfast containing eggs relative to the cereal (p < 0.02), and croissant-based meals (p < 0.0001). The egg breakfast was also accompanied by a significantly lower intake of energy relative to the croissant- and cereal-based breakfasts at the buffet lunch and evening meal, respectively, 1,284 ± 464 (egg) versus 1,442 ± 426 kcal (croissant), p = 0.03, 1,407 ± 379 (cereal) at lunch and 1,899 ± 729 (egg) versus 2,214 ± 620 kcal (cereal), p = 0.02, 2,047 ± 712 (croissant) at evening meal. The breakfast meal with the greatest effect on satiety and subsequent intake of energy was distinct in having the highest protein and lowest carbohydrate content relative to the other two breakfasts.
Conclusion
These findings provide evidence to support the importance of food choice at breakfast as a means of increasing satiety in the morning and reducing energy intake at lunch.
Access options
Buy single article
Instant access to the full article PDF.
US$ 39.95
Tax calculation will be finalised during checkout.
Subscribe to journal
Immediate online access to all issues from 2019. Subscription will auto renew annually.
US$ 159
Tax calculation will be finalised during checkout.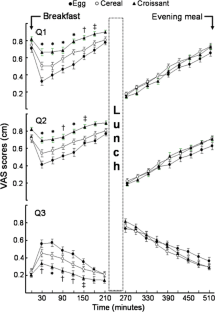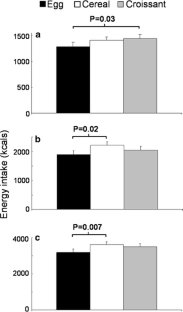 References
1.

Kopelman PG (2000) Obesity as a medical problem. Nature 404:635–643

2.

Hill A, Blundell JE (1986) Macronutrients and satiety: the effects of a high-protein or high-carbohydrate meal on subjective motivation to eat and food preferences. Nutr Behav 3:133–144

3.

de Graaf C, Hulshof T, Weststrate JA, Jas P (1992) Short-term effects of different amounts of protein, fats and carbohydrates on satiety. Am J Clin Nutr 55:33–38

4.

Lang V, Bellisle F, Oppert J, Craplet C, Bornet FRJ, Slama G, Guy-Grand B (1998) Satiating effect of proteins in healthy subjects: a comparison of egg albumin, casein, gelatin, soy protein, pea protein, and wheat gluten. Am J Clin Nutr 67:1197–1204

5.

Paddon-Jones D, Westman E, Mattes RD, Wolfe RR, Astrup A, Westerterp-Plantenga M (2008) Protein, weight management and satiety. Am J Clin Nutr 87:1558S–1561S

6.

Leidy HJ, Bossingham MJ, Mattes RD, Campbell WW (2009) Increased dietary protein consumed at breakfast leads to an initial and sustained feeling of fullness during energy restriction compared to other meal times. Br J Nutr 101:798–803

7.

Holt SH, Miller JC, Petocz P, Farmakalidis E (1995) A satiety index of common foods. Eur J Clin Nutr 49:675–690

8.

Pombo-Rodrigues S, Calame W, Re R (2011) The effect of consuming eggs for lunch on satiety and subsequent food intake. Int J Food Sci Nutr 62:593–599

9.

Van der Wal JS, Marth JM, Khosla P, Jen KC, Dhurandhar NV (2005) Short term effect of eggs on satiety in overweight and obese subjects. J Am Coll Nutr 24:510–515

10.

Van der Wal JS, Gupta A, Khosla P, Dhurandhar NV (2008) Egg breakfast enhances weight loss. Int J Obes 32:1545–1551

11.

Ratliff J, Leite JO, de Ogburn R, Puglisi MJ, VanHeest J, Fernandez ML (2010) Consuming eggs for breakfast influences plasma glucose and ghrelin, while reducing energy intake during the next 24 hours in adult men. Nutr Res 30:96–103

12.

Flint A, Raben A, Blundell JE, Astrup A (2000) Reproducibility, power and validity of visual analogue scales in assessment of appetite sensations in single test meal studies. Int J Obes 24:38–48

13.

Stubbs RJ, Hughes DA, Johnstone AM, Rowley E, Reid C, Elia M, Stratton R, Delargy H, King JE, Blundell JE (2000) The use of visual analogue scales to assess motivation to eat in human subjects: a review of their reliability and validity with an evaluation of new hand-held computerized systems for temporal tracking of appetite ratings. Br J Nutr 84:405–415

14.

van Strien T, Frijters JER, Bergers GPA, Defares PB (1986) The Dutch Eating Behaviour Questionnaire (DEBQ) for assessment of restrained, emotional and external eating behaviour. Int J Dis Eat 5:295–315

15.

Morgan JF, Reid F, Lacey JH (1999) The SCOFF questionnaire: assessment of a new screening tool for eating disorders. Br Med J 319:1467–1468

16.

Atkinson KE (1989) An introduction to numerical analysis, 2nd ed, Wiley, New York, ISBN: 978-0-471-50023-0

17.

McCance RA, Widdowson EM (2007) McCance and Widdowson's the composition of foods, sixth summary edition. RSC publishing, London

18.

Department of Health (DoH) (2008) 41 Dietary Reference Values for Food Energy and Nutrients for the United Kingdom, Eighteenth Impression. TSO publishing, Norwich

19.

Goldberg GR, Black AE (1998) Assessment of the validity of reported energy intakes—review and recent developments. Scand J Nutr 42:6–9

20.

Goris AHC, Westerterp-Plantenga MS, Westerterp KR (2000) Under-eating and under-recording of habitual food intake in obese men: selective under-reporting of fat intake. Am J Clin Nutr 71:130–134

21.

Harper A, James A, Flint A, Astrup A (2007) Increased satiety after intake of a chocolate milk drink compared with a carbonated beverage, but no difference in subsequent ad libitum lunch intake. Br J Nutr 97:579–583

22.

Veldhorst MA, Nieuwenhuizen AG, Hochstenbach-Waelen A, Westerterp KR, Engelen MP, Brummer RJ, Deutz NE, Westerterp-Plantenga MS (2009) Comparison of the effects of a high- and normal-casein breakfast on satiety, 'satiety' hormones, plasma amino acids and subsequent energy intake. Br J Nutr 101:295–303

23.

de Graaf C, Hulshof T, Weststrate JA, Jas P (1992) Short-term effects of different amounts of protein, fats and carbohydrates on satiety. Am J Clin Nutr 55:33–38

24.

Raben A, Agerholm-Larsen L, Flint A, Holst JJ, Astrup A (2003) Meals with similar energy densities but rich in protein, fat, carbohydrate, or alcohol have different effects on energy expenditure and substrate metabolism but not on appetite and energy intake. Am J Clin Nutr 77:91–100

25.

Stubbs RJ, O'Reilly LM, Johnstone AM, Harrison CL, Clark H, Franklin MF, Reid CA, Mazlan N (1999) Description and evaluation of an experimental model to examine changes in selection between high-protein, high-carbohydrate and high-fat foods in humans. Eur J Clin Nutr 53:13–21

26.

Anderson GH, Moore SE (2004) Dietary proteins in the regulation of food intake and body weight in humans. J Nutr 134:974S–979S

27.

Scisco JL, Muth ER, Dong Y, Hoover AW (2011) Slowing bite rate reduces energy intake: an application of the bite counter device. J Am Diet Assoc 111:1231–1235

28.

Berthoud H (2007) Interactions between the "cognitive" and "metabolic" brain in the control of food intake. Physiol Behav 91:486–498

29.

Stubbs JR (1999) Peripheral signals affecting food intake. Nutrition 15:614–625

30.

Yeomans MR, Chambers L (2011) Satiety-relevant sensory qualities enhance the satiating effects of mixed carbohydrate-protein pre-loads. Am J Clin Nutr 94:1410–1417

31.

Dietary reference values for food energy and nutrients for the United Kingdom. Report of the panel on dietary reference values of the committee on medical aspects of food policy (1991) Rep Health Soc Subj (Lond) 41:1–210

32.

Blundell J (2010) Making claims: functional foods for managing appetite and weight. Nat Rev Endocrinol 6:53–56

33.

Livingstone BE, Robson PJ, Welch RW, Burns AA, Burrow MS, McCormack C (2000) Methodological issues in the assessment of satiety. Scand J Nutr 44:98–103
Acknowledgments
This work was supported by a small undergraduate student project grant from the University of Surrey. Foods for the breakfasts, lunches and evening meals were purchased with the support from the British Egg Industry Council.
Conflict of interest
Juliet Gray and Bruce Griffin have acted as scientific advisors to the British Egg Information Service. The study was originally conceived and conducted at the University of Surrey as an independent undergraduate research project. The authors did not receive any payment, or external input into the study design, interpretation of results or conclusions, or any financial support, other than that described above.
About this article
Cite this article
Fallaize, R., Wilson, L., Gray, J. et al. Variation in the effects of three different breakfast meals on subjective satiety and subsequent intake of energy at lunch and evening meal. Eur J Nutr 52, 1353–1359 (2013). https://doi.org/10.1007/s00394-012-0444-z
Received:

Accepted:

Published:

Issue Date:
Keywords
Satiety

Dietary protein

Breakfast

Eggs